What It Was Really Like To Film The Red Wedding On Game Of Thrones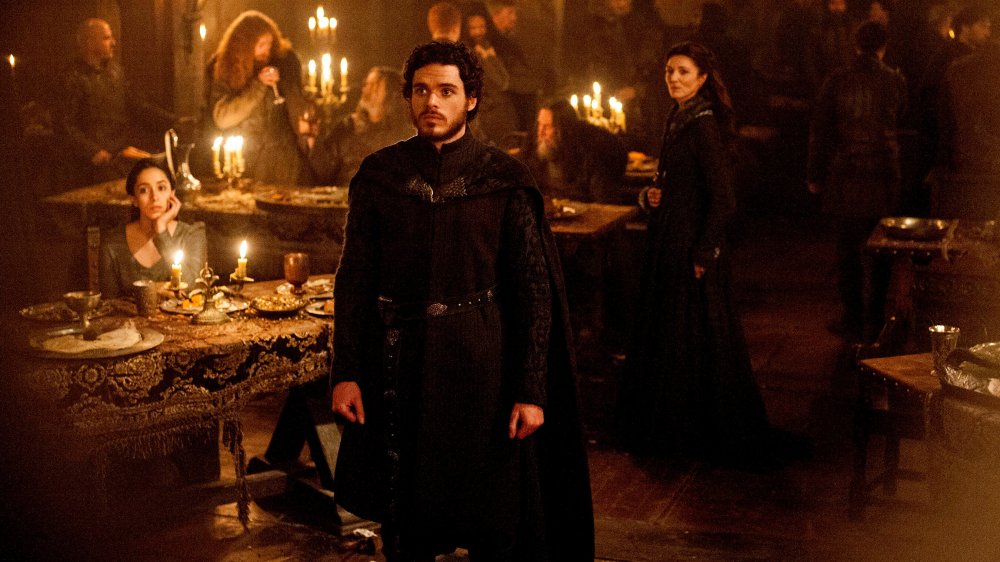 HBO
One of Game of Thrones' most intense sequences was also one of the most harrowing filming experiences of the entire series.
As James Hibberd details in his oral history, Fire Cannot Kill a Dragon, which offers never-before-seen behind the scenes details of HBO's fantasy epic, the series' infamous Red Wedding was quite a challenge. Any Thrones fan vividly remembers this viscerally upsetting, devastating sequence — which involves the total slaughter of several of the show's most beloved characters at a wedding — and as it turns out, it wasn't any easier for the actors and crew involved to pull off this legendarily brutal sequence. Spoilers ahead for the Red Wedding!
As King in the North Robb Stark (Richard Madden), his mother Catelyn (Michelle Fairley), and Robb's pregnant wife Talisa (Oona Chaplin) wage war against their enemies in southern Westeros, they must seek aid from the cantankerous Walder Frey (David Bradley), who demands that Robb wed one of his eligible daughters. However, when Robb marries Talisa for love, Catelyn and Robb offer Catelyn's brother Edmure Tully (Tobias Menzies), and Walder Frey seems mollified... at first. At Edmure's wedding to one of Walder's many daughters, the elderly lord takes his revenge, teaming up with the rival Lannisters and Boltons to effectively eliminate all Stark forces from the battlefield in a stomach-turning sequence that leaves Robb, Talisa, and Catelyn dead.
If you had trouble watching the Red Wedding, rest assured that the on set atmosphere wasn't any easier. Here's what it really felt like to film the Red Wedding on Game of Thrones.
The buildup to the Red Wedding was intense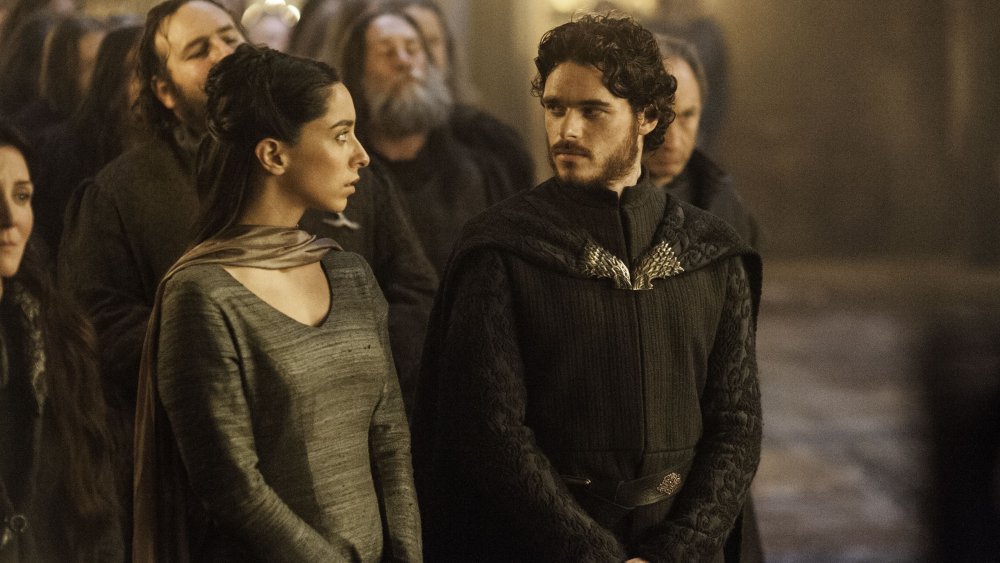 HBO
After reading the sequence in George R.R. Martin's original series, A Song of Ice and Fire, showrunners David Benioff and Dan Weiss knew it would be incredibly difficult yet important to pull off the Red Wedding. As Weiss told Hibberd, "The Red Wedding was the thing we always told ourselves that if we got to that moment, and if we did it right, did it justice, then [the show would] be in a pretty good place. The energy that it injected into the story would be enough to get us through to the end of the show."
Since the Red Wedding was detailed in Martin's books, the actors involved knew what was coming. Madden, for one, tried to avoid spoilers. "I read [the books] season by season," Madden recalled. "I didn't want to preempt where Robb is going. But a thousand people spoiled it for me before I had a chance to pick up the third book. I also made the fatal flaw of googling. So that reinforced what people were hinting, saying something terrible was going to happen and giggling."
Meanwhile, Fairley "knew what was coming." As she told Hibberd, "It's something that anyone who's read the books will talk about, so people took great delight in knowing. There's something so incredibly dramatic and brutal about the Red Wedding, the shock of it. I met somebody who read it on the plane and they were so heartbroken they left the book on the plane. For an actor to be given that part to play, you want to grab it and go straight into it."
Chaplin agreed, saying, "I [...] knew I was going to come to a demise at the end of season three. I was praying for a cool death, and when I read [the script], I was like, 'F**k, everyone dies!' But what it was on the page was nothing compared to what it was like on the day of shooting."
The Red Wedding was actually shot (mostly) in order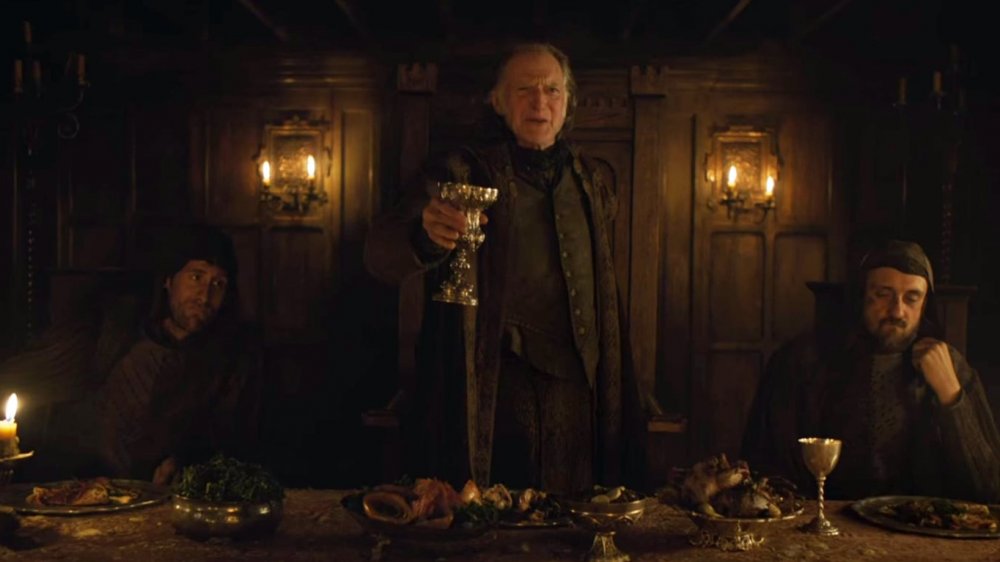 HBO
In an unusual move, the Red Wedding was (mostly) shot in the correct order, according to Fairley. "We were very fortunate," said the actress. "We had a week to shoot the whole wedding sequence and did it chronologically as well. So every day we edged closer to the slaughter."
Director David Nutter clarified Fairley's point, saying, "Pretty chronological; you can't do it too chronologically, but I made sure that the most powerful points were near the end of the shoot. These are beloved characters that everybody loved being around. You want to build up the emotional journey of the sequence."
Meanwhile, the actors tried to forget what was coming. "We had become such a family," Chaplin said. "I hadn't clocked that the end was nigh. I was in quite happy disbelief for all the scenes leading up to it." Madden agreed, recalling, "We had put it out of our minds. Then I'd go off to Croatia [one of Game of Thrones' main filming locations] and [a crew member would] say, 'Oh, this is the last time I'll see you on this show.'"
Weiss also remembers how impossibly complicated the sequence felt before shooting: "When it came time to shoot it there was so much pressure. We had gotten to it, which was great, but given where the show was at the time [in terms of its budget], it was a very complex thing to shoot and get right."
The Red Wedding featured some famous musicians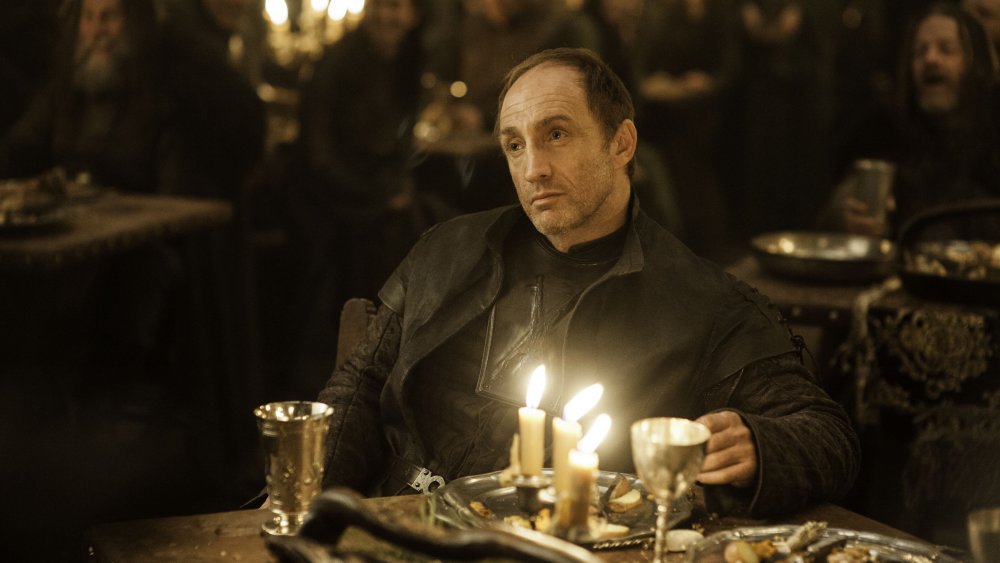 HBO
In one of the scene's most unforgettable moments, Walder Frey cues the slaughter of the Stark forces with a song, "The Rains of Castamere," which is about the slaughter of a different ancient house of Westeros. "In the book, when the band started playing 'Rains of Castamere,' you knew something bad is going to happen," Benioff said. Now that Thrones was incredibly popular, the band who would strike up this mournful tune was incredibly famous, but one of the scene's main players didn't even recognize them on set.
Michael McElhatton, who played Roose Bolton — an apparent Stark ally who betrays the family — told Hibberd that when he came face to face with the famous band, he couldn't quite figure out who they were. "I was in the makeup trailer, and there was another guy there who I thought was an extra," McElhatton recalled. "I asked who he was playing and he said he was one of the musicians, the drummer. I said, 'Why'd they bring in an English musician when there are perfectly good local Irishmen who could play the bodhrán [a type of Irish drum]?'"
McElhatton had a point, but as the conversation progressed, he realized what was happening. As the actor told Hibberd, "Then I asked, 'Are you in a band?' He said, 'Yeah, I'm in a band.' 'You having any luck?' 'Yeah, we're doing okay.' You know the punch line for this. I asked what his band was called. He said, 'We're called Coldplay,' and I felt like such a d**k."
The buildup of the Red Wedding was insanely intense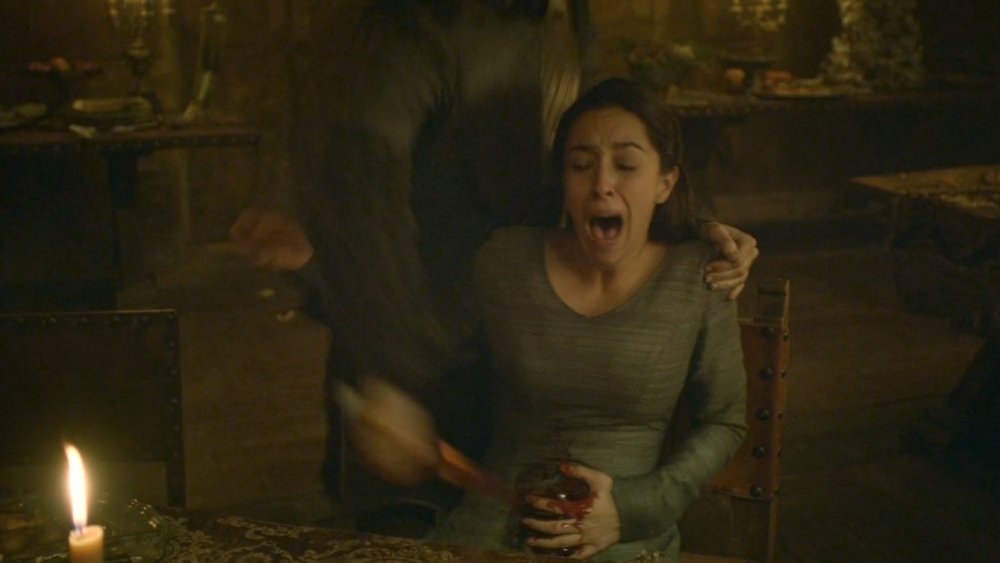 HBO
The key to shooting the Red Wedding, according to Nutter, was to trick the audience into a false sense of complacency before pulling the rug out from under them. "I wanted the tightest bond moment with our heroes before it began and to give the audience a sense of ease, that this is a happy ending, and give them some home that everything is going to turn out well. I didn't want to make the audience feel like something bad was going to happen until the big switch [...] It was all about touching it softly, not quite hard, so it could build up even more."
The worst turn comes right after "Rains of Castamere" begins to play, and Catelyn realizes that Roose Bolton, her supposed friend, is in on the ruse. According to producer Christopher Newman, McElhatton delivered the scene perfectly: "I noticed there was something animalistic about the way Michael looked at Catelyn during rehearsal [...] So I pointed that out to David Nutter, and he talked to Michael about doing it during the shot.'"
However, McElhatton put up a bit of a fight. "David had to drag that look out of me," the actor admitted. "Because it's quite theatrical, that half-smile glare down at her. David was like, 'I don't want subtlety, I want melodrama.'"
When the cameras actually started rolling, the actors barely had to, well, act, as they were so shocked and saddened by their own on-screen deaths. According to Chaplin, she kept "crying while [she] was dead" and was repeatedly reprimanded, and just off-camera, Benioff saw a script supervisor sobbing. This was Nutter's whole goal, as it turns out. "I remember hearing people crying, and it was the hair and makeup people," Nutter recalled. "I'm a big believer that if a scene is not emotionally driving you as you're making it, how can you expect the audience to feel the same? I thought, 'If we can make ourselves feel something, then this will translate.'"
The Red Wedding builds to Catelyn Stark's last stand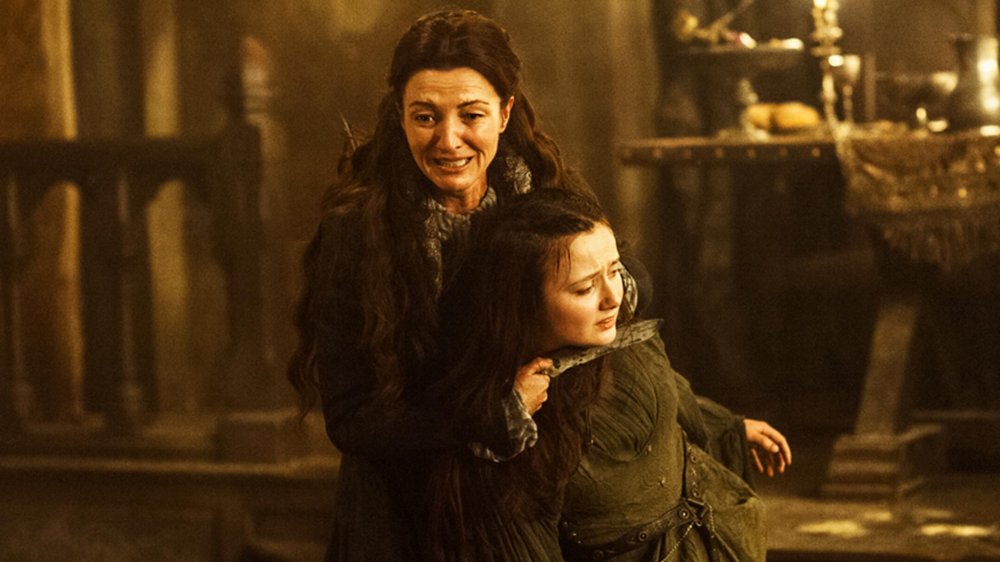 HBO
After Robb and Talisa are murdered by Frey and Bolton forces, a desperate Catelyn takes Walder Frey's inexplicably young wife hostage. After losing everything dearest to her in the world, Catelyn is at a breaking point, and her death — which comes immediately after she kills Lady Frey — is one of the most memorable moments in the series.
"I'd lost all my children and my husband," Fairley pointed out. "So what else did I have to live for? She came from a very honorable family. Her whole life has been about honor and doing the right thing. In some way she'd been held back by her sense of honor and duty. She constantly questioned her motives and actions. This was one where she didn't. 'I'm not questioning this, I'm just doing it.' I think that's incredibly liberating. Then she was standing there after like there was nothing left for her. She was dead already. She wanted it. She couldn't go on."
Nutter scheduled basically the entire shoot around Catelyn's last stand, as it turns out: "We organized it so Catelyn losing it at the end was the last scene we'd shoot. And we talked about how long she would stand there before the guy comes up and puts a knife in her throat."
Benioff and Nutter agreed that she would kill Lady Frey, and then the two would cue another actor to come in and cut Catelyn's throat. The moment didn't transpire perfectly on set — as Nutter said, "The knife cut wasn't exactly the right positioning, it wasn't the right inch, but it looked so good" — but on screen, it's unforgettably haunting.
The cast and crew were left reeling after the Red Wedding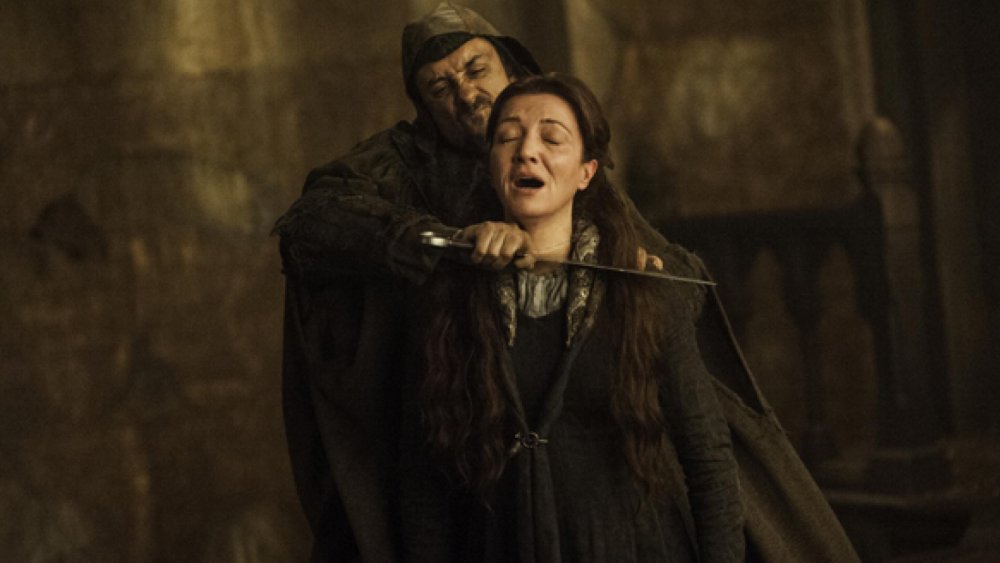 HBO
If watching the Red Wedding was exhausting for fans, it's nothing compared to how the actors felt after shooting it. "We were mentally exhausted," Madden remembered. "I cried my eyes out, completely, as did a lot of the crew and other actors. It was very emotional. The wrap party was that night, but I had to start filming another job the next day. So I washed my blood off and got on a plane."
Other actors, like Fairley, chose to go off the grid. As Weiss recalled, "We tried to call Michelle afterward. She wasn't answering. A week later she wrote an email saying, 'Sorry, I haven't been able to talk to anybody about the show for the past week because I've been so shattered.' Fairley confirmed it, saying, "Dan had left me a voicemail, and I did try to ring him back. But by the end of the day I was a walking shell."
Even though the scene went well, it was clearly bittersweet for everybody involved. "It's weird to say, 'Oh, it went great,'" Benioff joked. "Because we're not just killing characters, we're losing these actors who have been with us since the beginning. It's hard, because you love the actors."
When all was said and done, the on-screen version of the Red Wedding won over the most important Game of Thrones fan of all: Martin himself. "They pulled it off correctly," Martin told Hibberd. "They picked perhaps the most brutal scene I ever wrote and made it more brutal. They dialed it up to eleven."
All of Game of Thrones, including the Red Wedding, is streaming on HBO Max now.