The Reason Fans Are So Angry Over The Friends Reunion Special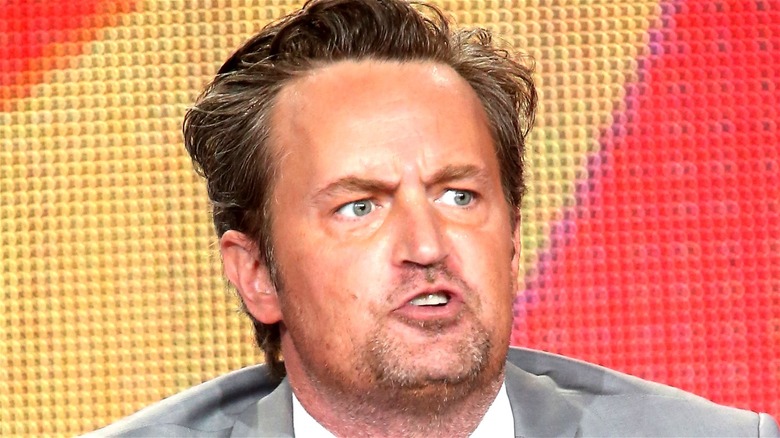 Frederick M. Brown/Getty Images
It took them 17 years, but the first "Friends" reunion finally hit HBO Max — and from the looks of it, there will never be another. It's probably fair to say that fans have been itching for Ross (David Schwimmer), Monica (Courteney Cox), Chandler (Matthew Perry), Rachel (Jennifer Aniston), Joey (Matt LeBlanc), and Phoebe (Lisa Kudrow) to get back together ever since the show ended in 2004, and seeing the cultural status that "Friends" enjoys, it's hardly a wonder.
As the actors behind the famous social group returned to their old stomping grounds, people had high hopes for a nostalgic revisit to the show's heyday, and in many ways, the reunion gave fans exactly what they wanted all along. The group's chemistry continues to be intact. Viewers found out that Jennifer Aniston and David Schwimmer crushed on each other in real life, as well. The question of whether a "Friends" movie will happen or not was addressed. 
Unfortunately, the long-anticipated show had its less than stellar side, as well. In fact, some fans have been outright angry about the "Friends: The Reunion" special. Let's see why. 
Technical problems plagued the Friends reunion special
Though "Friends: The Reunion" proved to be a very capable nostalgia moment, some fans were extremely irritated to find out that unpleasant technical troubles prevented them from actually watching the event as it unfolded. Per The Daily Mail, many viewers complained about assorted tech issues that, in all fairness, might have caused less comment if they hadn't waited for so many years to see the show. 
"The One Where HBO GO Crashes," Twitter user @gatus_bea turned the situation into the show's classic episode title format. "HBO GO crashed a minute after 'Friends: The Reunion' started streaming." Others had similar issues, and voiced their grievances in the same tried-and-tested format. "The One Where No One Can Watch Because HBO GO Crashed," user @mayeltapic tweeted. 
While there's a fair chance that the masses flocking to see their longtime idols together once more may have simply overwhelmed HBO Go (per The Sun), it's easy to see that the experience of being locked out of seeing the "Friends" cast reminisce about the good times could cause no small amount of anguish. Fortunately, "Friends: The Reunion" continues to be available for streaming on HBO Max, so everyone will be able to stream the historic reunion at their leisure.