The Best Love Triangles In TV Shows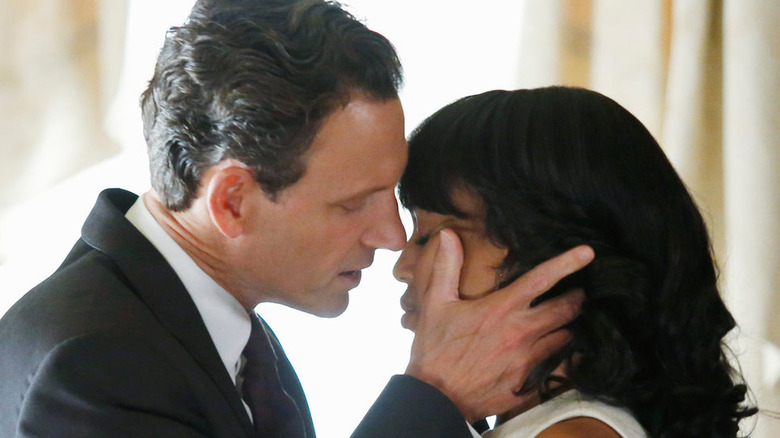 Disney–ABC Domestic Television
Love triangles can be seen as a moneymaker in television. They create new opportunities for drama and increase the stakes for characters that audiences have gotten invested in, for better or for worse. That's why it's so great when love triangles are used as a tool to help their characters grow and develop. And swooning over adorable moments isn't half bad either!
The best and most memorable love triangles create believable and compelling relationships between their characters. They can often lead to an intense preference for which person you want your favorite character to end up with, and thus, we have the rise of shipping (where a fandom wants two people to end up together over another potential love interest). Let's dive into some of the best and biggest love triangles in TV shows. While we're always getting juicy new triangles to dig into (Netflix's Never Have I Ever, anyone?), these relationships have the biggest fan bases, the strongest shippers, and the most drama.
Jason, Lyla, and Tim - Friday Night Lights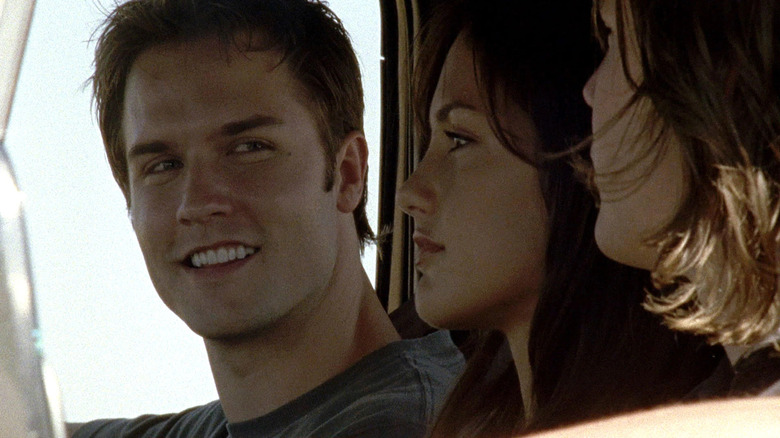 NBCUniversal Television Distribution
Coach Taylor and his wife Tami may be considered "couple goals" with their realistic display of marriage on TV, but it is the love triangle between Jason (Scott Porter), Lyla (Minka Kelly), and Tim (Taylor Kitsch) that has our attention throughout the first season. "Friday Night Lights" takes place in the fictional small town of Dillon, Texas. It's the show that made us quote "Texas forever!" when watching, and introduced Coach Taylor as everyone's TV dad. And while the series is set for a reboot, the jury is still out on whether or not it will have the drama that the love triangle between Jason, Lyla, and Tim provide.
Lyla is the cheerleader and Jason is the star football player. She has their entire future planned out until Jason suffers a terrible accident on the field, leaving him paralyzed. While Lyla tries to stand by him and act as though nothing has changed, she feels a pull towards Jason's best friend Tim. And though she tries to deny it, their chemistry is off the charts. Eventually, Lyla realizes that neither man is right for her. No longer feeling like she needs to be tied to either of them (or any man, for that matter), she moves on with her life and leaves Texas behind her. Guess Texas forever isn't for Lyla.
Fauxlivia, Peter, and Olivia - Fringe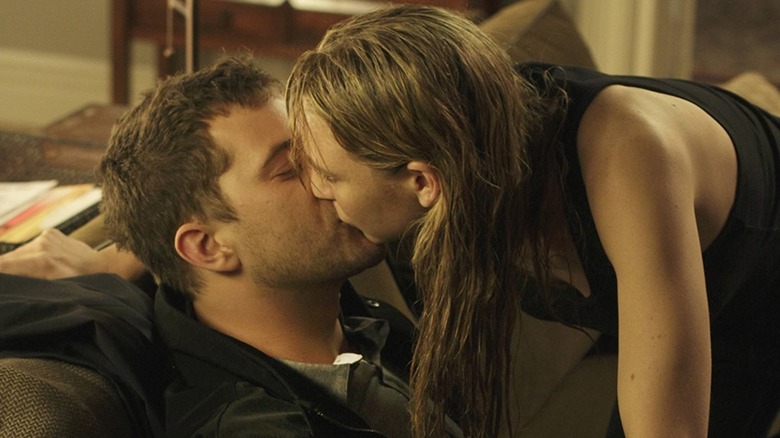 Warner Bros. Television Distribution
"Fringe" is essentially a modern sci-fi retelling of "The X-Files." The series follows a special unit of the FBI known as the "Fringe Division," which investigates abnormal cases involving fringe science like teleportation, reanimation, and other seemingly unbelievable events. The series finds its footing when it introduces a parallel world, with each character having an alter ego of themselves working for "the other side."
This is when audiences are introduced to the other Olivia, also known as Fauxlivia. When the main protagonist Olivia (Anna Torv) crosses over to the other universe to find and bring back Peter (Joshua Jackson), Fauxlivia switches places with her. She begins a relationship with Peter and ultimately falls in love with him. Unfortunately, Peter doesn't realize that she's not his Olivia, and begins to open up to her. (This was a huge blow to fans, who spent two seasons rooting for Olivia and Peter to get together, only for it to finally happen with Fauxlivia instead.) Luckily, all is set right in the world, and the real Olivia makes her way back to Peter. But things are touch-and-go there for a minute!
Daniel, Issa, and Lawrence - Insecure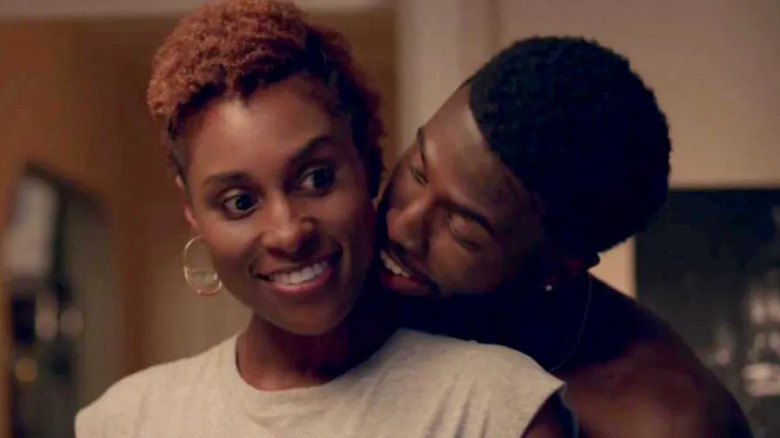 Warner Bros. Television Distribution
Created by star Issa Rae, "Insecure" is a love letter to her 20s and 30s, as she outlines her experiences with young adulthood. Two of the biggest relationships in the series are between her, Daniel King (Y'lan Noel), and Lawrence (Jay Ellis). A love triangle, ladies and gentlemen! And an iconic one at that.
Daniel is Issa's ex-boyfriend who comes back into the picture while Issa is trying to figure things out with Lawrence. Naturally, shenanigans ensue, and Issa ends up sleeping with Daniel while Lawrence sleeps with someone else. What a tangled web we weave. With the final season of "Insecure," audiences finally got the answer they were looking for: Issa ending up with Lawrence. Those shipping Issa and Lawrence's relationship probably knew that they would be endgame, but it's the fact that Issa is finally able to feel confident in their relationship that makes her choice so special.
Addison, Derek, and Meredith - Grey's Anatomy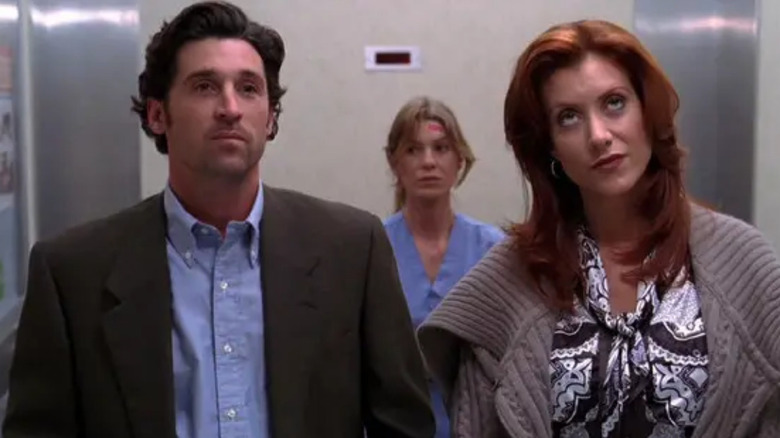 Touchstone Television
Over the course of nearly two decades, "Grey's Anatomy" has taken over our screens. And while the series has had no shortage of drama surrounding love triangles, it's the OG triangle that has earned a spot on our list: Addison, Derek, and Meredith. Who could forget the Season 1 finale, when Meredith (Ellen Pompeo) and Derick's (Patrick Dempsey) relationship looks like it's finally going somewhere. And then, in walks Addison (Kate Walsh) to say that Derek is her husband. Sorry, pardon?
Season 2 dedicates most of its run time to watching Derek balance his feelings for the two women. While he's technically married to Addison, she cheats on him with his best friend, and he isn't sure if he could ever forgive her. Meanwhile, it's clear that he has feelings for Meredith — only with Addison back, he doesn't know if he should act on them. This drama leads to Meredith saying the now-famous line, "Pick me. Choose me. Love me." And he does, right up until his death in Season 11.
Michael, Jane, and Rafael - Jane The Virgin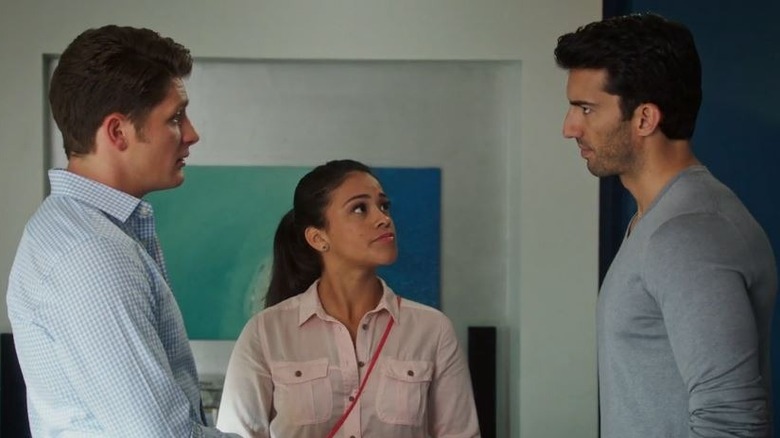 Warner Bros. Television Distribution & CBS Television Distribution
When it comes to TV drama, the telenovela-inspired series "Jane the Virgin" is among the best. The premise of the show brings drama right to the forefront, with Jane (Gina Rodriguez) accidentally inseminated with Rafael's (Justin Baldoni) baby. And as the title suggests, she's also a virgin. And in a relationship with Michael (Brett Dier). Yeah, it's a lot.
Due to Jane's newfound situation with Rafael, the lines get blurry between him being just her baby daddy and them becoming a real family. While the show has been over for a few years now, the debate of whether Jane should have ended up with Michael over Rafael rages on to this day. Those on Team Michael state that she does, in fact, choose him: It isn't until after his death that she goes to Rafael. However, those on Team Rafael say that when Michael turns up alive with memory loss (this show is dramatic) she ultimately chooses Rafael. But in the end, it's clear that the main man in Jane's life will always be her son, Mateo, also known as Mr. Sweet Face.
Brenda, Dylan, and Kelly - Beverly Hills 90210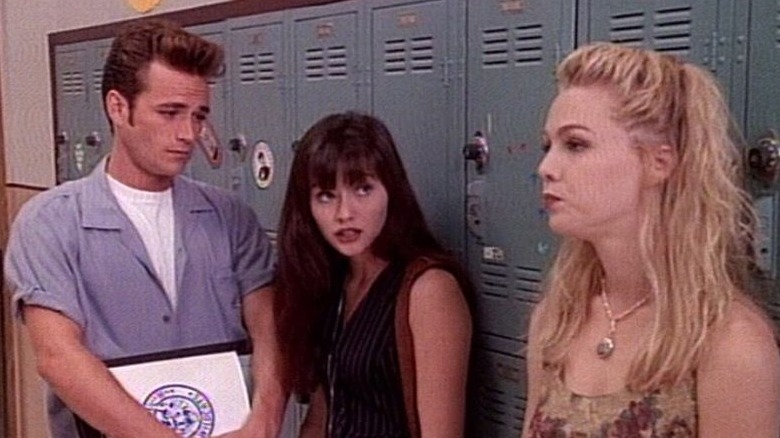 CBS Television Distribution
"Beverly Hills 90210" was the teen drama show of 1990s television. Thought to be the first of its kind, "90210" was the original series that centered around teen drama, angst, and love. And this is never more prevalent than when we are introduced to the love triangle to start them all: Brenda, Dylan, and Kelly.
"90210" divides fans right down the center, with some arguing that Dylan (Luke Perry) and Brenda (Shannen Doherty) are meant for each other, and others insisting that Kelly (Jennie Garth) is obviously the better match. This love triangle is a central plot that comes up a few times throughout the ten seasons of the show. And while both characters have their shippers, watching Dylan flounder between the two is top-notch entertainment. Between the breakups of each couple, the fights between the ladies, and the cheating scandals, these three characters are the gold standard for messy TV relationships.
Stefan, Elena, and Damon - The Vampire Diaries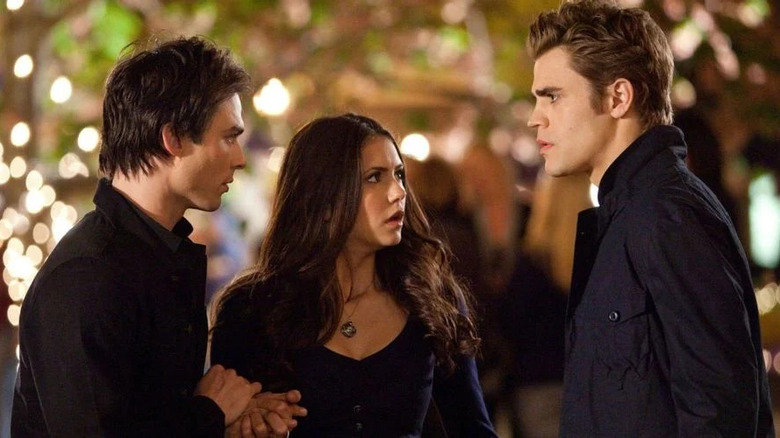 CBS Television Distribution & Warner Bros. Television Distribution
While other entries on this list include love triangles between friends and frenemies, "The Vampire Diaries" takes it one step further by involving brothers Damon (Ian Somerhalder) and Stefan (Paul Wesley) Salvatore. Oh, and they also happen to be vampires. Nothing like having two immortal beings fighting over you, right?
Initially, it's Stefan that Elena's heart belongs to. However, over time she must accept the natural pull and chemistry she has with bad boy Damon. Could this be because actress Nina Dobrev and Ian Somerhalder dated in real life? The chemistry is so strong between both the characters and the actors, it seems as though art is imitating life. While the series itself is no stranger to love triangles, as many characters find themselves in various messy love situations, the dynamic between the Salvatore brothers and Elena is the driving force for the series.
Brooke, Lucas, and Peyton - One Tree Hill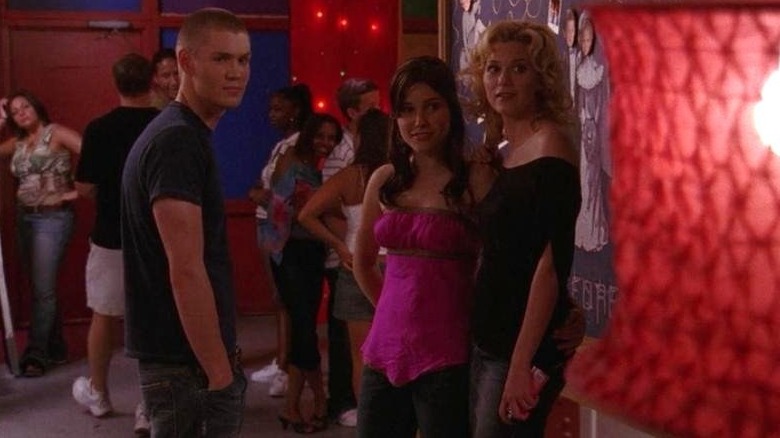 Warner Bros. Television Distribution
"One Tree Hill" may take place in a small fictional town in North Carolina, but the drama is anything but small. Lucas Scott (Chad Michael Murray) is raised by his single mother, while his father ignores him and has an entirely different wife and son on the other side of town. Unfortunately, the boys go to high school together, with younger brother Nathan (James Lafferty) a popular basketball star. Lucas has a crush on his brother's girlfriend Peyton (Hilary Burton), but once she decides that she doesn't want to make their relationship official, he moves on to her best friend Brooke (Sophia Bush). And so, one of the messiest and longest TV love triangles begins.
Unfortunately, Lucas's relationship with the two women ruins their friendship for a time. And while all is eventually forgiven between the two women, and Lucas and Peyton end up together, there are many fans who will always ship Lucas with Brooke. However, when actors Chad Michael Murray and Sophia Bush's whirlwind romance came crashing down during filming, it's no wonder that the writers chose not to make Lucas and Brooke an endgame.
Frank, Claire, and Jamie - Outlander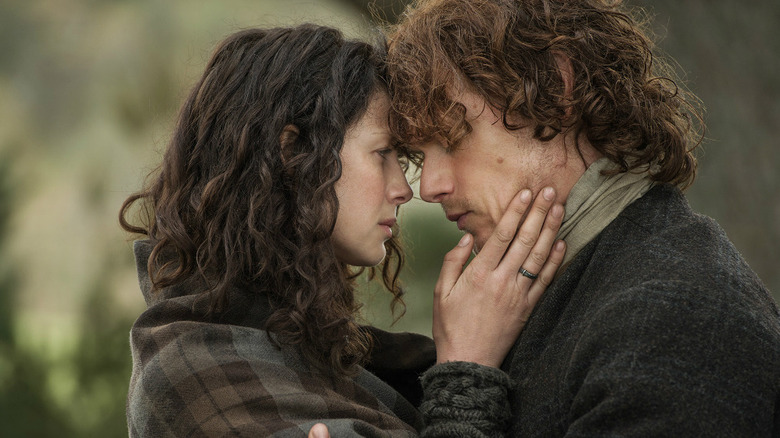 Sony Pictures Television
Based on the novels by Diana Gabaldon, the Starz series "Outlander" depicts the love story between Claire (Caitriona Balfe) and Jamie (Sam Heughan). Their romance crosses various time periods and countries, and yet the two always find their way back to each other.
The series begins with Claire on vacation with her husband Frank (Tobias Menzies) in Scotland. After exploring a mysterious stone circle, she is carried back in time to 1743, amidst a war between the ​​British redcoats and the rebel Highlanders. There, she meets and falls in love with Jamie — however, she is torn. Should she go back to her timeline and her husband, or stay with Jamie in the brutal past? While the chemistry between Claire and Jamie is undeniable, it's hard not to feel bad for Frank, who is desperately trying to find his wife. However, once she's returned back to her original time seasons later, it's clear that while she tries to make the best of being with Frank, her heart remains in the past with Jamie.
Blair, Nate, and Serena - Gossip Girl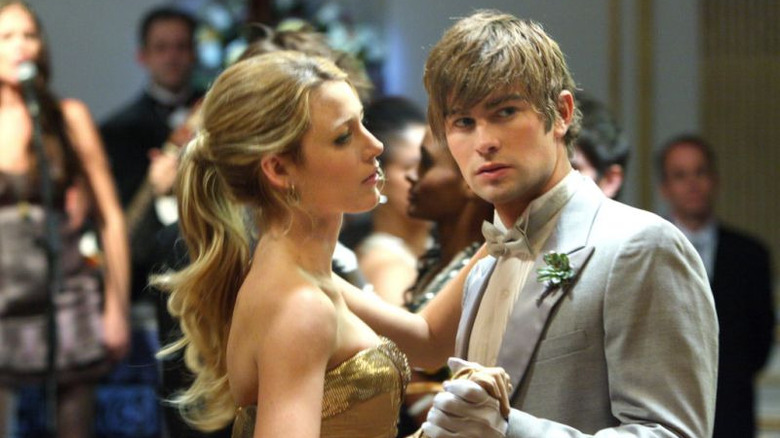 Warner Bros. Domestic Television Distribution
Long before the "Gossip Girl" reboot took over screens, the original series was the teen drama to end all teen dramas. During the first two seasons, Nate (Chace Crawford) and Blair (Leighton Meester) are considered to be a power couple by those on the outside looking in. However, their relationship is filled will drama and lies, and this is mainly due to the fact that Nate secretly wants to be with Serena (Blake Lively), who he hooked up with behind Blair's back.
The show begins with Serena returning to the Upper East Side, after disappearing from the limelight for some unknown reason. Well, that reason is Nate, as Serena can't own up to the fact that she cheated with her best friend's boyfriend. Naturally, once Blair discovers their secret, it's an all-out war between resident It Girl Serena and Queen Bee Blair. Eventually, the two realize that a man should never come between their friendship, and in the end, neither Serena nor Blair's relationship with Nate lasts.
Sawyer, Kate, and Jake - Lost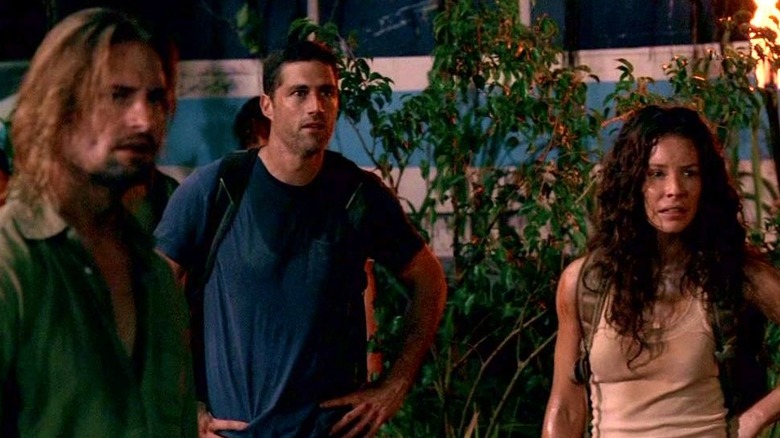 Buena Vista Television
If there is one show's love triangle that well and truly divided fans, it's Sawyer, Kate, and Jake on "Lost." On what was at the time a hit network TV show, the central love triangle between the three is introduced in the first season of "Lost" and concluded in the final one.
As is often the case with love triangles, this trio features a woman and two very different men. Kate (Evangeline Lilly) has two polar opposites with the intelligent group leader Jack Sheppard (Matthew Fox) and resident sweet-talking bad boy James Sawyer (Josh Holloway). By the end of the show, it's made clear that if Jack would survive the final battle, Kate would pick him. Still, as Kate and Sawyer leave the island together, their fans held out hope that they would end up in a relationship. Unfortunately, that isn't in the cards for Kate and Sawyer, no matter how great their chemistry is.
Jake, Olivia, and Fitz - Scandal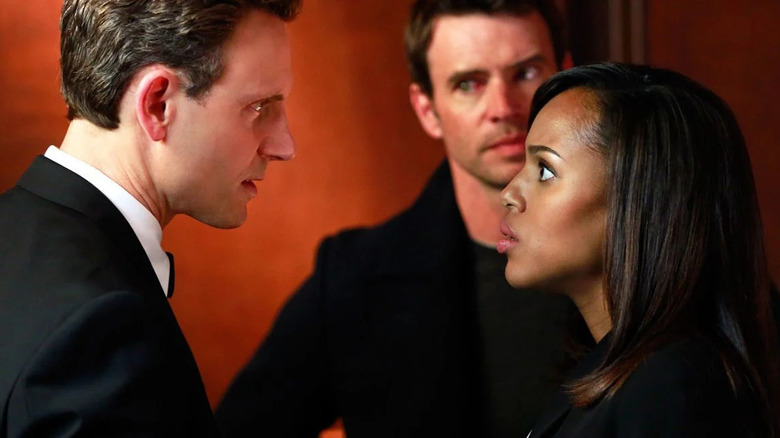 Disney–ABC Domestic Television
"Scandal" is another hit show from the brilliant Shonda Rhimes. With shows like "Grey's Anatomy", "Private Practice", and "Bridgerton," it's no wonder that "Scandal" was such a success. The series starts out strong, introducing Olivia Pope (Kerry Washington) and her team of 'Gladiators' who clean up messes made by powerful political figures. Her affair with the President of the United States, Fitz (Tony Goldwyn), is TV gold. However, once Jake (Scott Foley) is introduced in the second season and becomes a love interest for Olivia, a dramatic love triangle is born.
Fitz and Jake are friends, with Fitz hiring Jake to keep an eye on Olivia. Little does he know that the two would develop a steamy relationship that had some fans forgetting about Fitz and Olivia's fated-to-be love story. Unfortunately, as the series goes on, Jake's character moves away from being a love interest and turns into more of a rival. The series ends with Jake locked away in prison, while Olivia and Fitz are seemingly together. C'est la vie.
Spike, Buffy, and Angel - Buffy The Vampire Slayer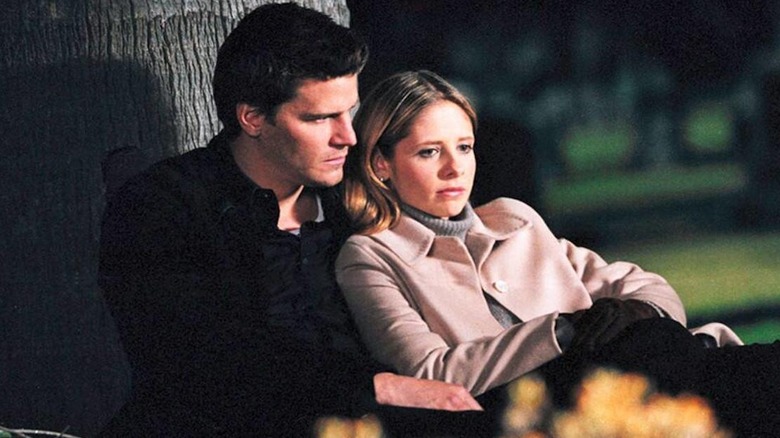 20th Television
When audiences were first introduced to young vampire slayer Buffy (Sarah Michelle Gellar) and brooding vampire-with-a-soul Angel (David Boreanaz), it was clear that they were each other's greatest love. Regardless of him being a vampire and all, fans wanted them to be together forever. And then, in comes Spike in Season 2.
Spike (James Marsters) is initially an antagonist for Buffy. However, James Marsters makes him so likable that Spike stays on for seasons to come. He eventually develops feelings for the Slayer, and the two began an incredibly dysfunctional relationship. While Buffy would never admit her true feelings for him, she does tell him that she loves him in the "Buffy the Vampire Slayer" series finale, when Spike sacrifices himself to save the day. But Spike tells her that she doesn't actually love him, and she never corrects him. Buffy never ends up with Angel or Spike, so fans are left to speculate whether her young love with Angel is stronger than her rollercoaster relationship with Spike. The question of who is ultimately better for the Slayer is still up for debate.
Dawson, Joey, and Pacy - Dawson's Creek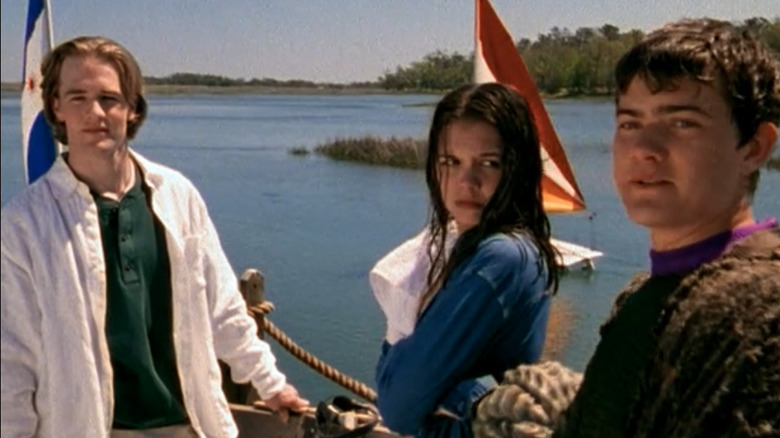 Sony Pictures Television
And our list finally brings us to "Dawson's Creek." Is there really any doubt that these three wouldn't make it on this list? Dawson (James Van Der Beek), Joey (Katie Holmes), and Pacey (Joshua Jackson): The relationship between these three has divided fans for years.
"Dawson's Creek" was teen melodrama at its prime. The pilot of the show introduces the girl next door Joey, and her crush on her best friend Dawson. However, over time the chemistry between real-life couple Joshua Jackson and Katie Holmes is too much to deny. Bringing Pacey and Joey together effectively ruins Dawson and Pacey's friendship, and Joey flip-flopping back and forth between the two doesn't help. While she finally makes her decision in the series finale, which sees the characters after a five-year time jump, Joey picks Pacey, enraging half the fanbase while making the other half overjoyed.