The Teeter Scene That Made No Sense On Yellowstone
With a Ryan Murphy-sized lineup of projects in the queue (via Business Insider) right now and four seasons of "Yellowstone" under his belt, it seems there's no stopping Taylor Sheridan. Although "Yellowstone" Season 4 received its fair share of criticism from both disappointed fans (via Reddit) and unimpressed critics (via Forbes) alike, the season's mixed reception hardly hurt the series' ever-growing viewership (via Deadline). If anything, it only served to further prove the unbreakable hold that "Yellowstone" has over its audience. Of course, part of the show's unending appeal comes from its ability to create standout characters out of even its most minor of supporting players.
Among the many fan-favorite characters that the record-breaking series has introduced viewers to is Teeter (Jen Landon), a pink-haired and foul-mouthed ranch hand whose infamously inscrutable accent is just one of her many endearing qualities. She provides the series with some much-needed comedic relief and levity, and she stands as a reminder that strong female characters needn't fall into just one of two categories the same way Kelsey Asbille's long-suffering, virtuous Monica and Kelly Reilly's impulsive, highly sexualized, and possibly psychotic Beth very much do. 
When Teeter was nearly fired by John Dutton (Kevin Costner) for a bunkhouse feud she had no part in, "Yellowstone" fans all but revolted and were relieved to find out that Landon wasn't leaving the series. However, one scene in the "Yellowstone" Season 4 finale does raise some serious questions about the ranch hand that viewers have so fervently defended up to this point. 
Chaos ensues when Jimmy returns to the ranch with Emily
In the "Yellowstone" Season 4 finale, Jimmy (Jefferson White) returns to the ranch and its bunkhouse with his new fiancée, Emily (Kathryn Kelly), at his side. Considering that his ex-girlfriend, Mia (Eden Brolin), is there with her faithful sidekick Laramie (Hassie Harrison), the unexpected homecoming goes over, as one of the ranch hands so efficiently puts it, "like a fart in church." Prior to Jimmy and Emily's entrance, it had appeared as though the Yellowstone staff had fully welcomed Mia and Laramie into their ragtag team.
In fact, Mia holds her own against Ryan (Ian Bohen) in a poker game and seems perfectly at home among the branded crew she'd previously judged for their zealous loyalty to John Dutton. At one point, Teeter even high-fives Mia, and considering that Teeter never really felt like Mia or Laramie were actually responsible for the pride and testosterone-fueled feud between Lloyd (Forrie J. Smith) and Walker (Ryan Bingham), it's not surprising to see her openly welcome them back. John's decision to fire all the women at Yellowstone, Teeter included, merely demonstrated how out of touch he is with his own employees and is hardly something Teeter would blame Laramie for. 
All of which is to say that everything Teeter initially does in the scene makes sense. It's only Teeter's reaction to Mia and Emily's throwdown — and the reaction of her fellow ranch hands — that doesn't quite track given all we know about both Teeter's character and the general mechanics of the bunkhouse in "Yellowstone."
Teeter's reaction to Mia and Emily's fight makes no sense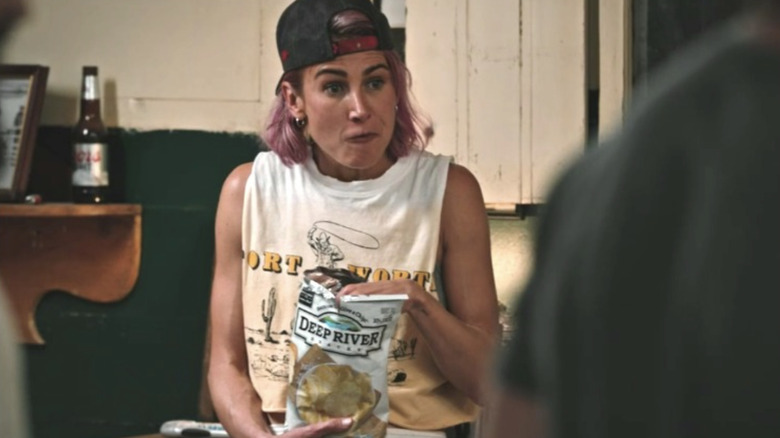 Paramount Network
Taking into account that Teeter, a branded employee of the Yellowstone ranch, just narrowly escaped losing her job due to fighting in the bunkhouse, the enthusiasm with which she embraces the fight between Mia and Emily in the "Yellowstone" Season 4 finale makes no sense. 
While Teeter's relationship with Mia hasn't been given a lot of screentime, it's clear that she's developed a kind of loyalty to and affection for the barrel racer (even if fans still haven't). That said, for all she knows, Mia and Emily's brawl could be yet another fight that results in John trying to "clean house." Therefore, while the sight of Teeter snacking on potato chips during the fight is undeniably funny, it doesn't make any sense whatsoever, nor does her immediate, post-fight acceptance of Emily.
"Yellowstone" Season 4 spent a good deal of time adding layers and individual personalities to the devoted staff of the Dutton ranch only to ultimately make it seem like all it takes to win over those in the bunkhouse, Teeter included, is a solid right hook. The team all but lifts Emily onto their shoulders and carries her around in celebration after the fight, and while her literal usurping of Mia's chair may be a reminder to audiences that "6666" is coming, it feels cartoonish in the moment.
Had audiences not come to know Teeter as well as they did prior to the fight, her playground antics in the "Yellowstone" Season 4 finale might not have seemed so odd. Unfortunately, the scene turns everyone in the bunkhouse into nothing more than one-dimensional caricatures of themselves.