What You Never Noticed About The Bunkhouse In Yellowstone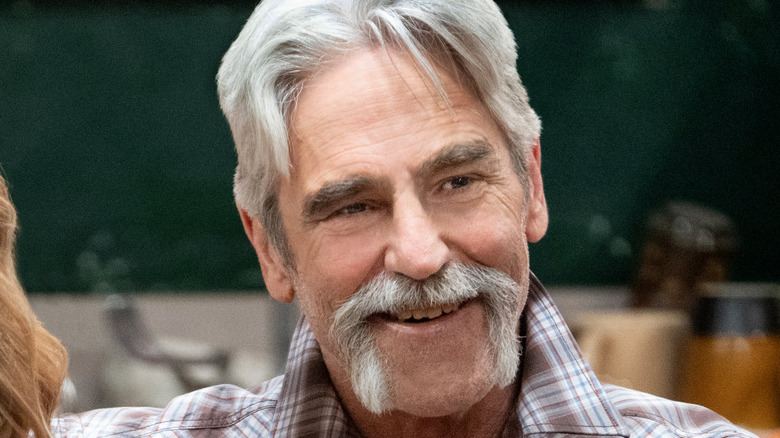 Paramount Network
The bunkhouse is one of the most iconic locations on Paramount Network's hit neo-Western drama "Yellowstone." The communal living quarters for the Yellowstone Ranch's cowboys is a rough-and-tumble place where drinks get drunk, punches get thrown, and paychecks get blown in card games. Anytime we get to pay a visit to the bunkhouse on "Yellowstone" is a fun time.
The bunkhouse — and all of the sets on "Yellowstone" — come to life via the hard work of production designer Cary White, set decorator Carly Curry, and art director Yvonne Boudreaux, who are collectively nominated for the show's first-ever Emmy Award, in the category of Outstanding Production Design for a Narrative Contemporary Program for their work on the show's third season. 
The trio gave an interview to Deadline wherein they talked about how they craft these impressive and evocative sets. The most important thing is authenticity. The show is filmed on a real ranch in Montana, and creator Taylor Sheridan owns a ranch himself. If anything lacks in authenticity, somebody's going to notice. Of course, the bunkhouse is the design team's favorite location to work on, and they shared some behind-the-scenes details you might not notice if you don't know what to look for.
Forrie J. Smith knows cowboy authenticity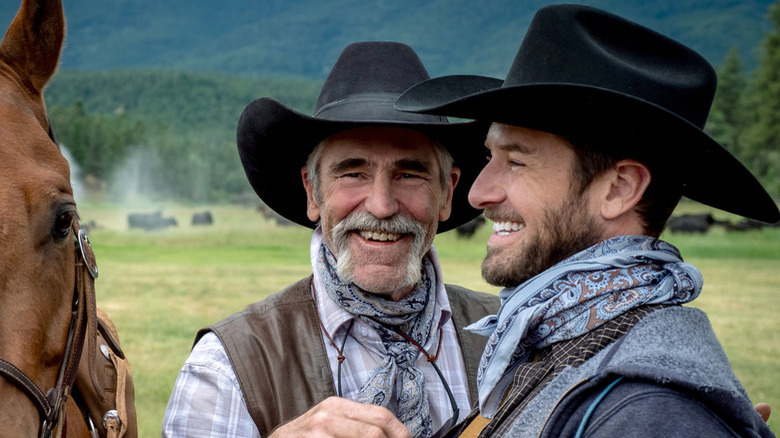 Paramount Network
"We don't do fake on 'Yellowstone,' and the bunkhouse is everyone's favorite set," said set decorator Carly Curry. She explained how one of the show's actors helped her decorate the bunkhouse by sharing his life experience.
"Forrie Smith, who plays Lloyd in our show, he is the real deal, a cowboy who lived that life. When we started putting our details into this, I had a pretty good sense of how cowboys live because I live with one. [According to Deadline, Curry and her husband own a ranch of their own.] But talking to Forrie, he was able to give us a lot of little details you wouldn't think of. Like the bottle of Tylenol by his bed for his arthritis, the snuff cans that are all over the place, the Louis L'Amour paperbacks." Louis L'Amour was a Western novelist whose books sold over 110 million copies during his lifetime, according to the New York Times.
All that attention to detail impressed Taylor Sheridan, which is when they knew for certain that they had done a good job. "When Taylor walked in for the first time, he was kind of blown away," Curry said. "He only had a few scenes written for that, but once he saw what was there, he brought it. He said, 'I definitely need more scenes in the bunkhouse.'" 
We do too, Mr. Sheridan. We do too.