The Untold Truth Of 1883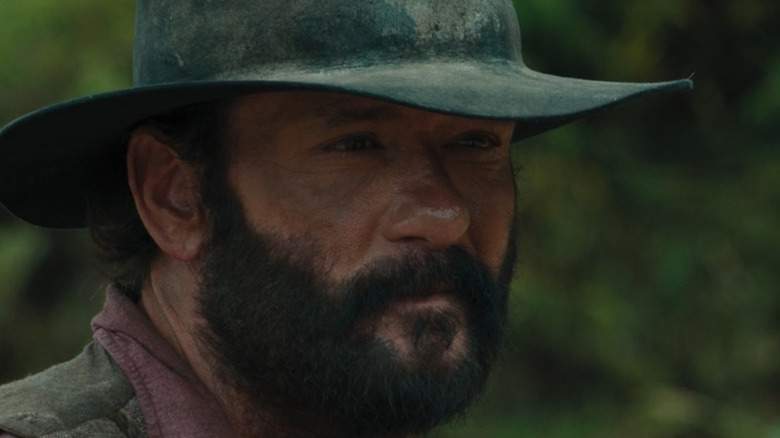 ViacomCBS Domestic Media Networks
Spun off from the highly acclaimed neo-western "Yellowstone," the period Western series "1883" also comes from the mind of Taylor Sheridan, who has once again turned out another hit that's receiving praise from critics and fans alike. Set amidst the backdrop of the untamed American west, the series opens on the disillusioned Shea Brennan and his partner Thomas, who've been hired to help shepherd a group of German immigrants across the country on a wagon train to Oregon. As they prepare to head out, they hook up with gunslinger and fellow traveler James Dutton and his family, who join the group, and they all set out to make their way north and start new lives. 
More than just a history lesson for "Yellowstone" fans, "1883" is a story of discovery at a time of manifest destiny — of hope and family in a grim world of despair and lawlessness. With an all-star cast to rival "Yellowstone," the series is already getting rave reviews from critics. Notably, The A.V. Club called it "unflinching" in its exploration of the wild west, as it "rips the rose-colored veneer off of frontier stories." Grim, gritty, and ambitious, Sheridan once again tells an intimate story in grand fashion and seems almost duty-bound to do so with sincerity and doggedly determined detail.
If you haven't dived into the series just yet, or maybe you just want to know more, look no further. This is the untold truth of "1883."
It started as a flashback in Yellowstone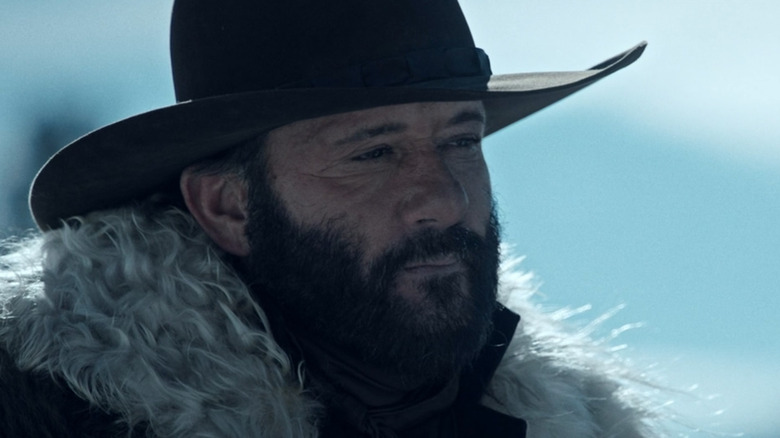 ViacomCBS Domestic Media Networks
The "Yellowstone" 4th season premiere "Half The Money" gave viewers a tantalizing glimpse into the history of the Dutton family and the Yellowstone ranch. An extended flashback saw John Dutton's great-great-grandfather, James Dutton — along with two sons — encountering a group of Native Americans on his newly acquired land, seeking to bury their own ancestor on the Dutton ranch that was once their home. Unexpectedly, the elder Dutton accepts their request and even offers them a calf to help get them through the rough winter. It's an intriguing insight into the beginnings of the Dutton family and gives backstory to some important "Yellowstone" moments. Notably, John Dutton (Kevin Costner) had spoken of his family's six generations on the ranch and how they had vowed to never let it go.
Paramount and Sheridan took that flashback and expanded it to create "1883" — the "origin story" of "Yellowstone." The new series introduces James Dutton again, this time 10 years before the scene we witnessed in "Half The Money." Here, James has a daughter and just one son — with the other yet to be born — and we see them beginning the long journey north to what will eventually become their home in Montana. It remains to be seen if we will see more direct connections to "Yellowstone" beyond the early Dutton pioneers, but given the history of the region we've heard from the likes of John Dutton and Chief Rainwater on that series, it's hard to believe we won't. We've already seen some moments in "1883" that mirror, parallel, and give added context to what we've seen on "Yellowstone," and we suspect that will continue.
It came together fast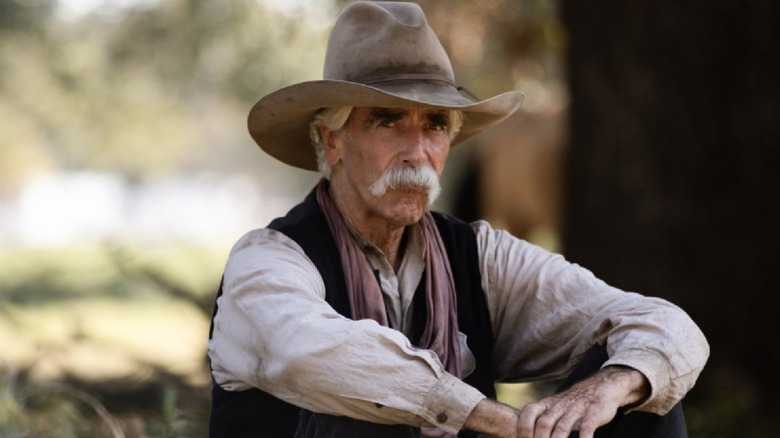 ViacomCBS Domestic Media Networks
Speaking to Deadline, actor Tim McGraw said it was the flashback scenes shot for "Yellowstone" that got the ball rolling on the spin-off. After shooting the scenes, he received a call from series creator Taylor Sheridan, who suggested the studio wanted a prequel. But Sheridan wasn't given a long leash. On the contrary, Sheridan says the studio was so impressed by the flashback to James Dutton that they wanted the new series off the ground and airing by the end of 2021, fast-tracking the series so it could debut not long after the relaunch of the studio's streaming service, now rebranded as Paramount+.
Sheridan told Deadline: "The studio read it April 12, and I was flying out May 2 to go film another TV show in another country. [ViacomCBS executive] Keyes [Hill-Edgar] calls and says, 'We can hang our hat on this, launch our streaming service with it.' I say, 'That's great.' He says, 'We need it this year.' I said, 'Keyes, that's not possible, I can start production in February, maybe.' He said, 'No Taylor, we need it to air this year.' " Sheridan wasn't happy about the way the studio was rushing production and pushed back, saying he needed more time. "It was impossible to have something air in seven months that wasn't cast, with no locations, and no other scripts." To make it happen, Sheridan made demands of his own, saying, "I need the toys, I need the cast, I need the team. ... And I did not hear the word no, at all."
Isabel May's audition helped clear Sheridan's writer's block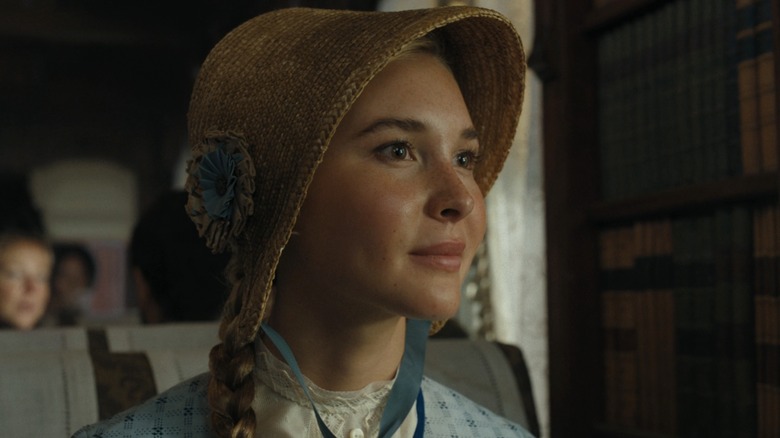 ViacomCBS Domestic Media Networks
With a vague series concept sparked by the flashback scenes to the 19th-century pioneers of the Dutton family, the studio was ready to go, but that doesn't mean "Yellowstone" creator Taylor Sheridan had any idea where to begin. He spoke to The New York Times during the production of the 1st season and talked about how he struggled with writer's block while sitting down to craft the premise of "1883" with little more to go off of than the notion of the early days of James Dutton. What characters might round out the rest of the cast, and what problems would James face? It was a nearly blank canvas, and with a deadline for a series pitch fast approaching, he began casting before a concept had even materialized. Thankfully, that's when the puzzle pieces began falling into place.
During auditions for various roles on the new Western series, one actress helped crystalize the story in Sheridan's mind: Isabel May. At first, Sheridan felt that the young actress seemed out of place testing for the role of Elsa Dutton, the teenaged daughter of James, saying the actress "looks like American hope." Her dreamful attitude didn't fit in with the bleak, dark story he had in mind, set in a post-Civil War wagon train. But with time to stew on what he'd seen, May's optimistic, cheerful personality struck a chord, and he immediately found his light at the end of his writer's block tunnel. "We needed to see this story through her lens," he realized. "I had the pilot written within a week."
It stars a famous country music couple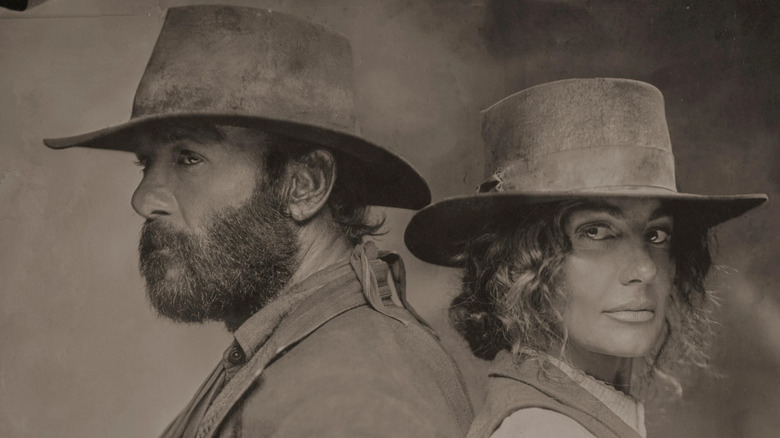 ViacomCBS Domestic Media Networks
The two central characters at the start of "1883" are widower Captain Shea Brennan and the dedicated Pinkerton Agent Thomas, the two men who are hired by a group of German settlers to help them travel north to find a new home. But by the end of the opener, we meet the two real stars of the series, the ancestors of "Yellowstone" protagonist John Dutton. Delivering a pair of powerful performances, you'd think the two leads were Hollywood veterans, but those in the know recognize them as country music stars and husband and wife team of Tim McGraw and Faith Hill. While actor Sam Elliot as Brennan brings the veteran acting leadership to the cast, McGraw and Hill bring a crossover celebrity to the series, as both have individually become icons in their own right outside of the acting world. Though both have dabbled in front of the camera with bit parts here and there, "1883" marks the first time each will star in a leading role.
In an interview with Us Magazine, Hill spoke about what drew them to the series, comparing the decision to their musical careers, saying, "If the song is right, then you don't give it a second thought, because writing is a real craft that should be respected. We read the material, and we were like, 'How can we not do it?'" According to Hill's husband, Tim McGraw, the married couple was always a package deal. Their latest album, 2017's "The Rest of Our Life," was their first joint musical effort, and "1883" is the first time they team up on the screen.
Courtright is based on a real life U.S. Marshal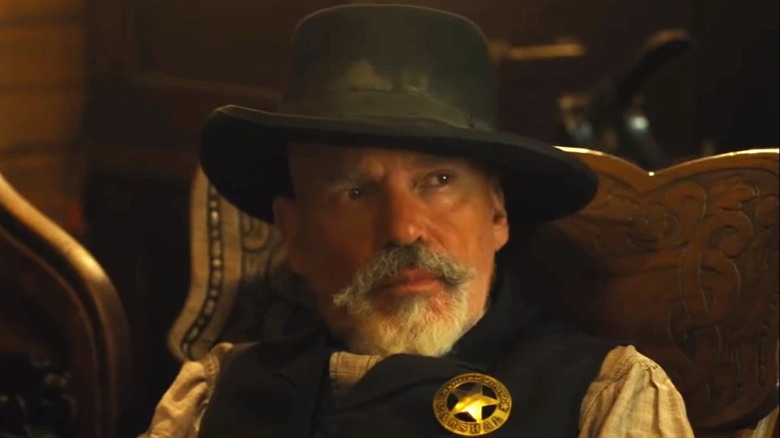 ViacomCBS Domestic Media Networks
It remains to be seen how important real-life American history will be to the story of "1883," but if the presence of Billy Bob Thornton as U.S. Marshal Jim Courtright is any indication, we may see historical figures and events make quite a mark on the Dutton's family legacy. That said, history may be skewed for dramatic purposes as it is here, as the real Marshal Courtright had actually lost his third election to the Marshal post in 1879 — four years before the series is set — when he left the city of Fort Worth, where we see him in the series' second episode. Dramatization notwithstanding, the real-life Courtwright was a fascinating enough man on his own merits to make him a compelling inclusion to the Western series. In addition to his Marshal duties in Texas, he was a legendary gunman who earned the nickname "Longhair Jim" thanks to the hairstyle he kept from his days as a scout in the U.S. Army, where he served the Union during the Civil War. 
And if you think modern-day elections are rife with controversy, consider that on his first election to the Marshal office, he won by a scant three votes. But it wasn't a close election that brought him fame, it was his skills with his trigger finger, and he was known for his involvement with a number of violent shootouts while serving in Fort Worth. Eventually, however, Courtright would get caught in several scandals and was killed in 1887 in a duel with a gunfighter named Luke Short. But who knows what we'll see him do in "1883."
It can be enjoyed on its own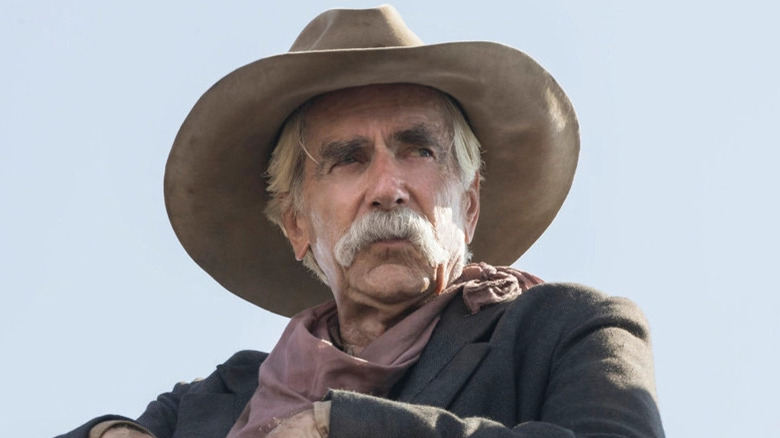 ViacomCBS Domestic Media Networks
More than just a spin-off of a hit network drama, "1883" is a sprawling western epic that stands on its own. Though the connections to its parent series "Yellowstone" are there, and fans of both series will be enriched by watching them side by side, "1883" is more than anything a self-contained series about a family of pioneers looking to make a new life for themselves on the American frontier. Though centered on the post-Civil War ancestors of the "Yellowstone" family, the series also stars Hollywood legend Sam Elliott as Shea Brennan, a man with no connection to the prior series (at least, none that we've seen thus far). To his credit, series creator Taylor Sheridan has crafted an origin story for his prior series that requires no knowledge of "Yellowstone" and can be enjoyed all on its own as a new period western. 
Set more than a hundred years before "Yellowstone," there's enough of a time gap that we won't be seeing any familiar faces, making any connections loose ones. The world of "1883" is a very different one, too, with a lawless land of outlaws and gunslingers. Although tonally, these elements may recall shades of the neo-western "Yellowstone," they offer up very different opportunities for drama. The political landscape is also a stark contrast to "Yellowstone," with the West largely unexplored and no corporations or big business interests looking to seize land from the Duttons just yet. Indeed, "1883" has proven to be a very different series, more somber Western than family drama. That said, it's hard to deny that watching both series won't help weave a richer tapestry.
It's been a laborious production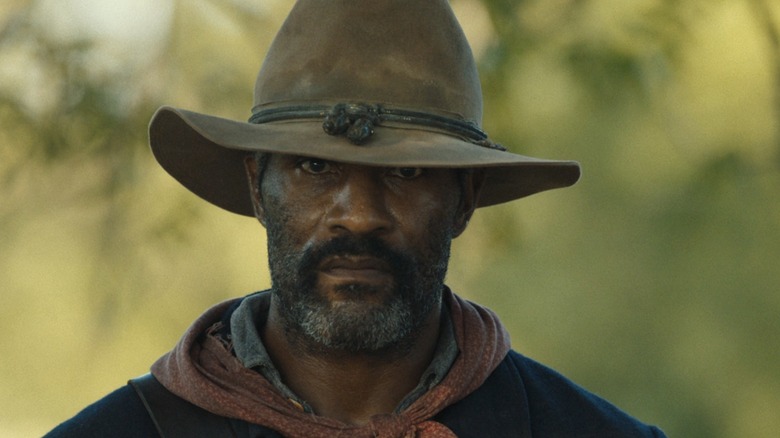 ViacomCBS Domestic Media Networks
Production on the elaborate period Western wasn't an easy one, and everyone knew it going in. "Once we committed to the show, we spent a lot of time speaking to Taylor [Sheridan], and he was adamant about this fact: 'This is going to be really, really hard,'" actress Faith Hill told The New York Times. "We're not afraid of hard work, but wow, he was not joking."
A challenging five-month shoot that was still ongoing when the third episode premiered on Christmas Day, the production headed to Texas and Montana for much of the filming, which took place mostly outdoors and forced the cast to endure harsh conditions, brutal winds, and long hours. In August, they had to contend with a 100-degree heatwave, while in Montana, it was a single-digit freeze. Despite the rough conditions, series lead Tim McGraw had no regrets, telling Entertainment Weekly, "It's super dusty and super hot. There's no way around it. At the same time, it's like every kid's fantasy to do something like this, to put your chaps on, your cowboy hat, and your gun holsters every day. Then you get on a horse and try to survive this journey."
Actor LaMonica Garrett, who plays Pinkerton Agent Thomas, told Deadline about the difficult situations they were in while filming, saying, "There's a reason they don't try things like this that often and why 'Lonesome Dove' was one of the last ones. It's difficult. You're traveling with all these wagons, these weather conditions, the wind, the river-crossing, the horses." But all seems to have gone smoothly for the cast and crew, with Sheridan noting that "fortunately, no one got hurt. But it was a pretty dicey deal."
It's been a record setter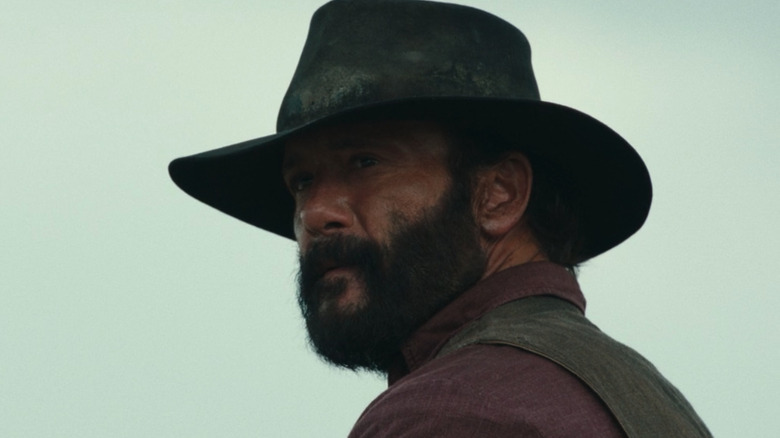 ViacomCBS Domestic Media Networks
As its parent series "Yellowstone" has been a big hit, its first spin-off "1883" has been one of the most highly anticipated streaming dramas of the year, and the numbers for Paramount+ have backed up those lofty claims. "1883" launched on the streaming service on Sunday, December 17, 2021, with the first two episodes releasing the same day. The "Yellowstone" sequel blew away all previous debuts for the service, setting a new record for a Paramount+ original series premieres. According to a press release, "1883" proved to be the most-watched debut for a new original and more than doubled the previous record holder in terms of viewership across the service's platforms.
The series premiere was also broadcast following the week's new episode of "Yellowstone" as a standard network broadcast and drew an additional 4.9 million estimated viewers. Paramount's parent company ViacomCBS was clearly pleased with the launch, too. "The results of '1883's' debut are truly phenomenal," said Tanya Giles, ViacomCBS Streaming programming chief. "The Day 1 streaming numbers coupled with the results of the linear sampling effort, and social response from our audience show the tremendous promise for this series. We look forward to continuing on this epic journey with our subscribers." With "Yellowstone" proving a big hit and "1883" off to a fast start, it seems Taylor Sheridan's Western expansion may prove to be his own manifest destiny, with at least one more spin-off in the works.
Star Sam Elliott signed on thanks to a stellar script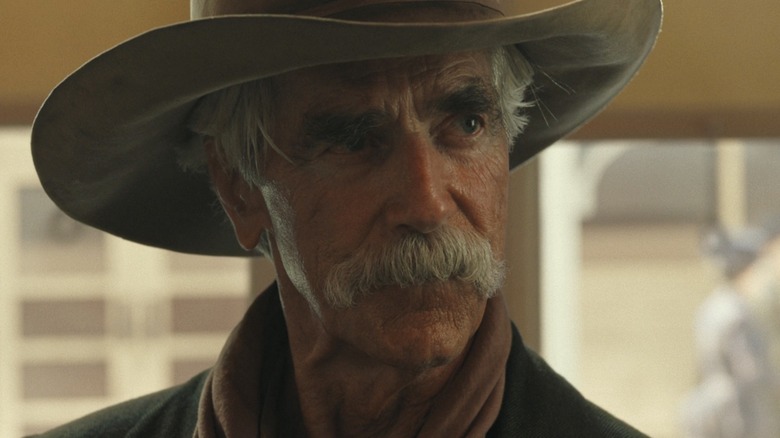 ViacomCBS Domestic Media Networks
Sam Elliott has had roles in old classics like "Butch Cassidy and the Sundance Kid," as Virgil Earp in the 90s western crime drama "Tombstone," and was the lead in "The Quick and the Dead." So why would a big-screen gunslinger like Elliott want to strap on the holster for a TV series? Talking to Deadline, the actor had a pretty straightforward answer, telling them it was "Taylor's script." Series creator Taylor Sheridan had made a name for himself in Hollywood with some of the best thrillers in recent years, and Elliott was well aware of his reputation in front of and behind the camera. "I knew his work as an actor, and because of his films. ... The guy writes brilliant stuff. I love his dialogue."
When initially approached, Elliott wasn't without some concerns, mainly of his continued typecasting in westerns. "You got to be careful, I guess, how many westerns you do, or they're going to think that's all you can do." Still, Elliott was able to overlook that concern thanks to Sheridan, and the sterling script he received more than won him over. "His writing is very spare," he told The New York Times in another interview. "That's a joy to work with. When you have dialogue that sounds like people talk, it's a lot of fun to do it." So far, Elliott has been impressed with the finished product, telling Esquire Magazine that the end result has been something special. "I've never seen one that has looked anything like this on television, for sure. It looks like a motion picture on the big screen," he said.
Authenticity is key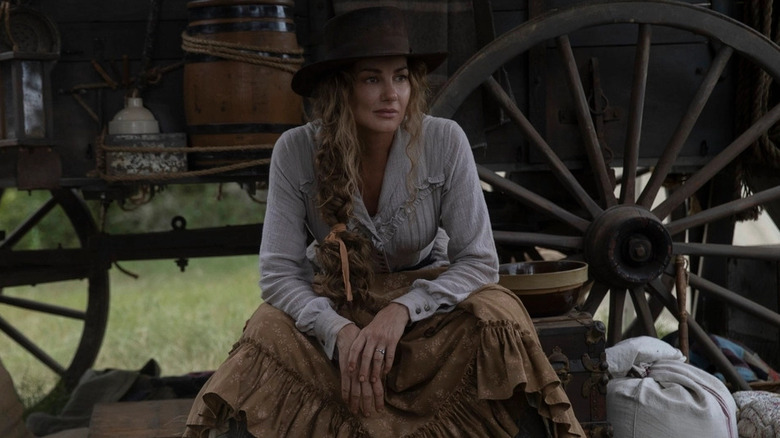 ViacomCBS Domestic Media Networks
Filming on location was important to Taylor Sheridan to preserve the realism of the visuals on screen. "We're not in studios. It's not five wagons that, you know, they CGI into 25. They're traveling with us," he told Deadline. For Sheridan, authenticity was key to the production. Veteran costume designer Janie Bryant talked to The Hollywood Reporter about her experiences and how they made the cast believably dirty, worn, and tired to look their parts. Bryant has worked on several period dramas, including "Mad Men" and "Deadwood," and those programs were both good practice for her experiences in "1883."
"The actresses are all in corsets ... riding horses or driving wagons, and the men are all in wool with the heat and the elements, and you can really feel how taxing it was," she told The Hollywood Reporter. "Think about a hundred-degree weather and wearing a camisole, corset, bloomers, bustle pad, petticoat, and then putting a costume on top of that. I applaud them for being for going with it." Even the way they produce the show harkens back to days gone by. "Everywhere we go, we exhaust all the resources of whatever town we're in. We have like 400 cast and crew. We're living on a ranch, no cable, no cell service, no wifi," Sheridan told Deadline. Speaking to The Hollywood Reporter, actor Tim McGraw praised Sheridan's dedication to the look and feel of the series. "Taylor is a stickler for authenticity. Even to the way you ride ... down to the set design and the costume." For Sheridan, if it wasn't a believable world for the actors, it wouldn't be for the audience either.