Piotr Adamczyk Recalls A Hilarious Jeremy Renner Story From The Set Of Hawkeye - Exclusive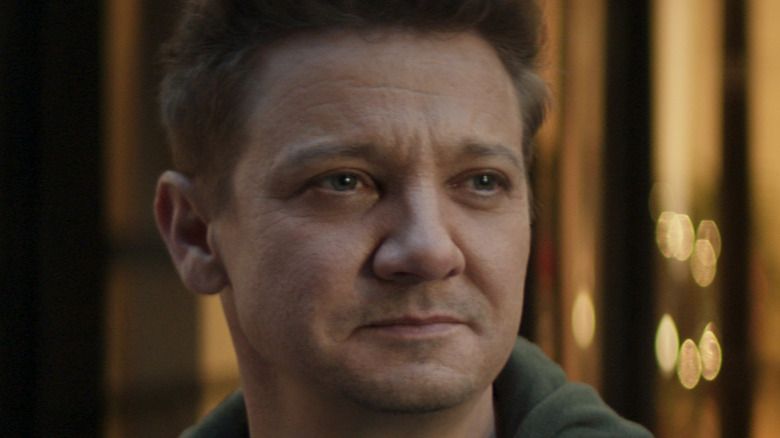 Disney+/Marvel Studios
When it comes to "Hawkeye," the holiday-themed mini-series has even more cheer than most MCU series. While the festive setting certainly doesn't hurt, the actors and directors make the show, and its stars feel extra special. Whether it's ad-libbing while filming or bonding with co-stars, the Tracksuit Mafia's own Piotr Adamczyk had a great time during his time on "Hawkeye." Adamczyk, who has major scenes with Jeremy Renner and Hailee Steinfeld, thinks highly of his time on the series and even recalled a few fun tidbits about his time working with Hawkeye himself — Jeremy Renner. Who knew the MCU's surliest archer has such a fun side in real life?
Looper spoke to Piotr Adamczyk during an exclusive interview where the actor recalled some hilarious moments on set with Jeremy Renner. The actor also spoke about working with his Tracksuit Mafia co-stars and where he hopes to see them go in the future. 
Hanging out with Hawkeye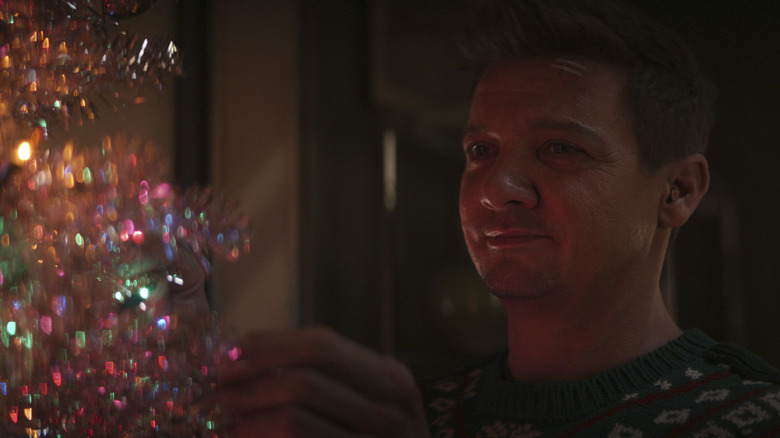 Disney+/Marvel Studios
On what it was like filming with Jeremy Renner, Adamczyk said, "I remember, and I'm very thankful to directors Bert, Bertie, and Rhys Thomas [for allowing] us to add some new stuff to the characters — to the Tracksuit Mafia guys." 
"Hawkeye" directors frequently encouraged actors to improvise, and Adamczyk had his own experience doing so. "So there was a moment during this scene when Tomas is interrogating Hawkeye that Rhys said, 'You could try to improvise, just add some stuff,"' Adamczyk added. "Improvising for me, not being [an] English speaker because English is my second language, it was something I was a bit afraid of. But to do it in this huge production was [a] really incredible debut for me to have [an] improvisation scene with Jeremy Renner."
Things can get tricky when you're speaking a second language. Adamczyk recalled a fun moment with Renner, saying, "There was a moment I mispronounced something, and I said something like, 'We are integrating you,' or something, I don't remember." He added, "And Jeremy started to laugh about it, but he continued to be in the moment, in character. So we were improvising back and forth to the moment when the whole crew burst [into] laughter. And that was something for us as well, because the crew is our first audience." Okay, Disney+, can we get these bloopers?
Adamczyk noted, "So we understood that these lovable idiots are really very funny. And probably [that] was the moment we understood how important this comedy release [would be] on our part."
So, what now?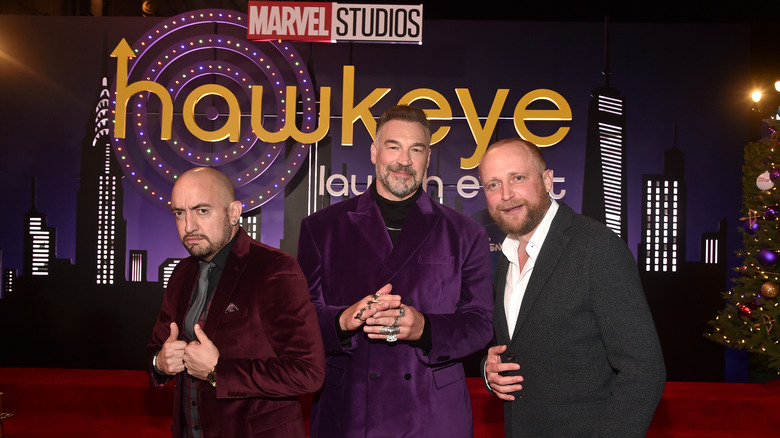 Alberto E. Rodriguez/Getty Images
The Tracksuit Mafia is one of Marvel's more entertaining villainous groups, but fans aren't the only ones who want to see the trio dust off that velvet for more MCU appearances. Adamczyk is on the same page. "It probably would be difficult for Tomas to be important in some of the stories. But of course, I would be happy, and probably we'd all be happy, the Tracksuit Mafia group," he said. "We created [a] bond, a special bond, during the shooting of "Hawkeye," that we are constantly in touch, keeping fingers crossed for the next projects of everybody: Aleks Paunovic, Fra Fee, Alaqua Cox, and Carlos Navarro." It's okay. You can say 'aww.' Let it out.
Even more than getting to appear in the MCU for another show or movie, Adamczyk just wants to hang out with his friends again. "So our dream is to see each other, again, even as a background and even being again [as] these lovable idiots. Just to see each other again and [to] have a blast as we used to," he noted. "This is the moment we are watching [for] the reaction of the audience, and we are enjoying [it]. Because they are not big parts, but they are noticeable. And you being funny, being a comic release, is something [the] audience is looking for. So yeah, we are proud of it and would love to have a chance to meet again." Fingers crossed for Adamczyk and the rest of the Tracksuit Mafia. 
Fans can now tune into the entire first season of "Hawkeye" on Disney+.