Jeremy Renner Dishes On Switching Gears From Hawkeye To Mayor Of Kingstown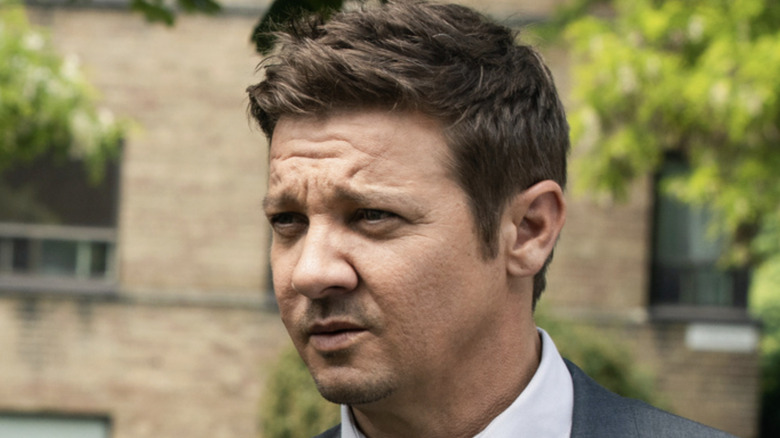 Paramount+
Jeremy Renner fans have two exciting new shows to look forward to: "Mayor of Kingstown" and "Hawkeye." In the Paramount+ series "Mayor of Kingstown," Renner plays Mike McLusky, a man at the helm of the town's massive prison system. In "Hawkeye," Renner reprises his self-titled MCU role. Looper participated in a roundtable interview with Jeremy Renner to chat about the upcoming "Mayor of Kingstown" series.
Hawkeye and Mike McLusky couldn't be more in terms of characterization or even their setting, so we asked Renner what the transition was like between "Hawkeye" and "Mayor of Kingstown." He noted that he wasn't really phased going between the characters, but more so the technical challenges of the pandemic and travel. "Transition is ... Whatever. It's easy enough. I was a different country. That was more of a transition than anything else during a pandemic. That was a little tricky," he said. "But once you're on set, and you got the understanding of it, you fall right into it, and fall right into place. And you're surrounded by different actors, different sets, costumes, and all these things."
From holiday cheer to conjugal visits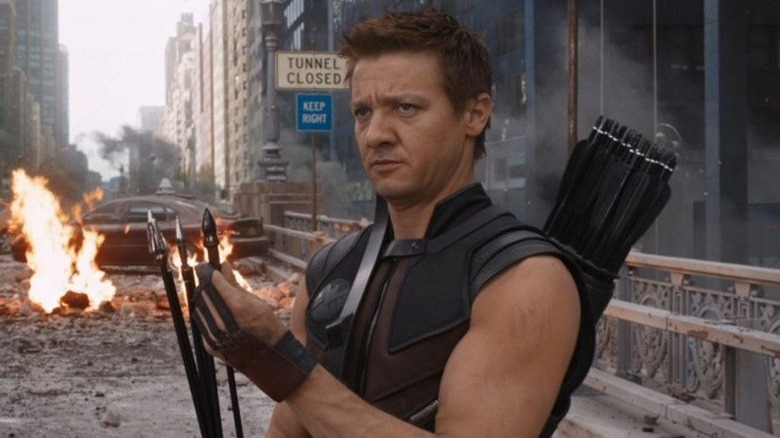 Disney/Marvel Studios
On going into "Mayor of Kingstown," he explained, "I didn't really realize the difference that we were doing until I saw the first or second episode early on in the process. I'm like, wow, this is pretty intense." The tone was certainly different to the seasonal superhero bash that is "Hawkeye," Renner added. "This is pretty intense compared to the 'Hawkeye' show, and the lighter fare, and the happiness and the Christmas music. And then it's like, this is the harrowing storytelling of Taylor Sheridan. 
"But blessed to be able to do both, man. Very, very, very happy to be able to do both," he mused. Well, fans will undoubtedly be pleased to watch both, too. And hey, the lighthearted holiday angle will be a nice lighthearted break between some of the more intense "Mayor of Kingstown" moments.
"The Avengers" alum went from never wholly having led a TV show to leading two in the same period. During the roundtable interview, he revealed what helming a TV show has been like — which, according to Renner, isn't much different than film. "It's the same thing as film, but it was a lot. It was just a lot. And blessed to work, man, and I love it," he said. "The big learning curve was [that] it is every day, and it is relentless, and it just does not stop. And it feels like it's all on me because I guess it is in some ways. But then it isn't because [there are] amazing other cast members. But both these shows were anchored on the characters I played, and with that became the responsibility and the duties that come along with that."
TV's newest leading man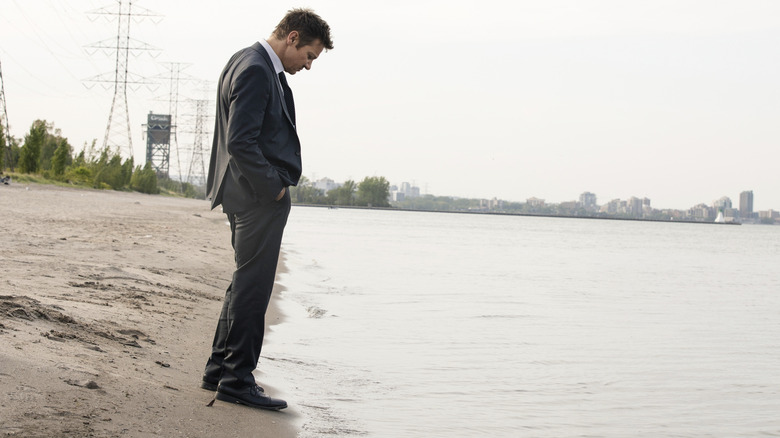 Paramount+
However, his duties don't end with saying his lines. He listed some of his duties, saying, "And responsibility just on and off camera, and setting the tone for the show, and how to work, and work ethic. And I'll always work the hardest. The fellas, the people, could follow suit if they choose. All that was new, but I also enjoyed that." Adding onto the stress of helming his own series, Renner noted how difficult the pandemic and lockdown made everything.
"So I was glad to be able to get up and do it," he said. "But I wonder what it had been like if I was more prepared in the sense of in my body, and the thing, like we were back in our normal lives, if you will, when we're out and about, and really more active in the life in a way, instead of being like ... It's like coming out of a box and like, 'Okay, what are we doing? Bow and arrow, and what are we doing?'"
All in all, it was a great experience for Renner despite the difficulties. He said, "Psychologically, it was a big shift as well to be amongst people all of a sudden — because I wasn't prior. So there [were] a lot of weird shifts from film or music, whatever the heck I've done in my life. And it was all great. I learned a ton, and I was blessed."
"Mayor of Kingstown" premieres with two episodes on Sunday, November 14, on Paramount+. Subsequent episodes will be available to stream weekly on Sundays.