1883's LaMonica Garrett Confirms What We All Suspected About Tim McGraw's On-Set Behavior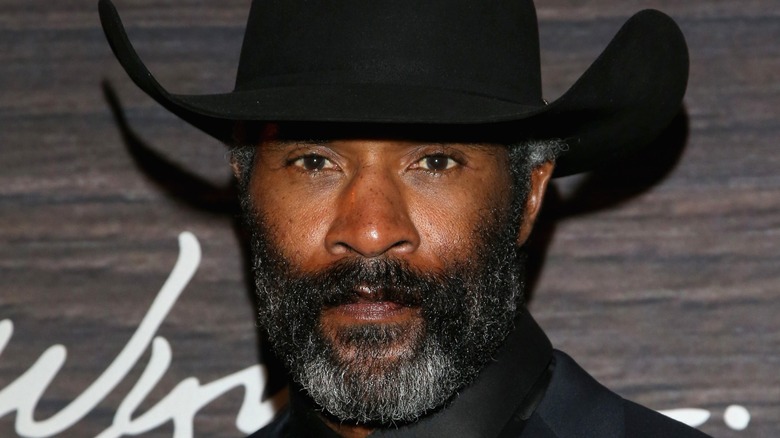 Gabe Ginsberg/Getty
In less than a week, "Yellowstone" fans will get to step into the Dutton family past with the premiere of Taylor Sheridan's hotly-anticipated prequel series "1883." The show will present a whole new story surrounding the great-grandparents of Kevin Costner's John Dutton from "Yellowstone," as they leave Texas to find a new life in Montana, only to face extreme hardship on the journey there. It has not been confirmed how many episodes the first season of Paramount+'s "1883" will have, but it will likely be around 10, similar to seasons of "Yellowstone." While the show is sure to be a hit with viewers, it's what happened behind the scenes — specifically with lead star Tim McGraw — while making this Western series that was truly entertaining, according to his castmate, LaMonica Garrett.
Shot on location in Texas and Montana, Garrett reveals in a new interview that McGraw's antics on the set of "1883" made things extra interesting between takes. The three-time Grammy winner plays James Dutton, the great-grandfather of Costner's "Yellowstone" character. Previews show McGraw going toe-to-toe with Western gunslingers alongside Oscar nominee Sam Elliott and Garrett, who is playing a character named Thomas. "'1883' follows the Dutton family as they embark on a journey west through the Great Plains toward the last bastion of untamed America," Paramount+ details in a YouTube trailer synopsis.
So, what was McGraw up to behind the scenes that got such a kick out of the cast?
Tim McGraw belted out tunes daily on the set of 1883
It doesn't take a rocket scientist to figure out that Tim McGraw would likely do a little crooning while on the set of "1883," but what co-star LaMonica Garrett didn't expect was for the country legend to sing about every little thing under the sun — and on a constant basis, to boot. "On set, Tim sings every day," Garrett told People magazine at the global premiere of "1883," which took place in Las Vegas on Saturday, December 11. "Every day, like in between takes, he's just, he's humming. He's doing something," the actor explained further. "He sings all the time." 
According to McGraw's co-star, it didn't matter what he was doing or what kind of weather it was, the star of the "Yellowstone" prequel series was going to get his notes out. "He'll sing, 'The horse is angry today' in a jingle," Garrett told People. "This is [filmed] outdoors 98 percent of the time, where it'll be a hundred degrees and humid, or you're in Montana and it's 15 degrees or 20 degrees and it's just freezing from sun up to sundown." It's possible that McGraw's singing might be a bit distracting to some of his costars, but it seems that all of the daily crooning while filming the Paramount+ show didn't bother Garrett too much. The actor concluded, "You know, he's a singer and that's what singers do. They sing about their own stuff and everything else." 
Tim McGraw's crooning might've lightened up a tough shoot
The upcoming prequel series takes place in an even more wild setting that "Yellowstone," with the stronger "Wild West" feel adding difficulty to the filming process. In fact, Sam Elliott told Entertainment Weekly that the first month of filming, which took place in Texas, was "brutal" and frequently "100 degrees." Add to that constant dust and sweat, and you'd likely welcome some entertainment to take your mind off of the intense work. So why not listen to a Grammy-winning artist like Tim McGraw?
Also starring in "1883" is McGraw's wife and five-time Grammy-winning singer Faith Hill, who plays Margaret Dutton, the strong-willed matriarch of the Dutton family and McGraw's character's wife. Although there are no reports of Hill joining in with her husband's humming and singing, that would definitely be quite the gift for the cast and crew. Still, Hill must not mind McGraw's constant songs, as he told EW that he's "scared of one thing. She's right over there." The couple has been married since October of 1996, making this year their 25th anniversary (via Taste of Country). 
McGraw and Hill have worked on music and toured together many times in the past, but "1883" will be their first official acting project together. Taking on this classic story of a family protecting themselves and their possessions from the dangerous world of the late 1800s in America, many people are excited to see the entire cast of "1883" bring the rich story to life. The first episode of "1883" is set to debut on December 19 exclusively on Paramount+.