Yellowstone 1883's First Full Trailer Will Leave You On The Edge Of Your Seat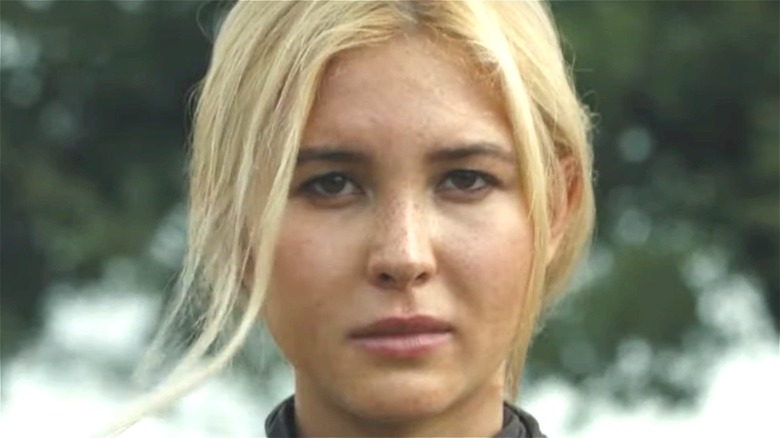 Paramount+
Westerns are back, baby! Television used to be crammed toe-to-tip with gunslingers, as depicted in "Once Upon a Time in Hollywood," and the "Yellowstone" franchise is looking to single-handedly bring them back.
Starring Kevin Costner, Wes Bentley, Kelly Reilly, Luke Grimes, Cole Hauser, and Gil Birmingham, "Yellowstone" centers on the Dutton family as they seek to retain control of the largest ranch in all of Montana. It is a massively popular show; the Season 4 premiere scored over 8 million viewers live and same-day, according to Deadline, making it the most-watched cable show since 2018. Over three days, that number exploded to 14.7 million (via Variety). It's also the most-watched show on the Paramount Network, ever (via The Wrap). So of course they'd want a spin-off.
"1883" is an upcoming "Yellowstone" prequel that will explain how the Duttons first gained control of the land they hold in the present day. And now we've finally gotten a full trailer for the show.
Life is rough on the trail in new 1883 trailer
The trailer for "1883" shows the Dutton family of the 19th century as they journey from Texas to Montana. Sam Elliott's lawman Shea Brennan appears to be leading a wagon train to Oregon. Why the Duttons stop in Montana will, presumably, be a big part of the plot.
The show stars real-life married couple Tim McGraw and Faith Hill as James and Margaret Dutton. Their children are played by Isabel May and Audie Rick. Also spotted in the trailer are Arrowverse star LaMonica Garrett and Billy Bob Thornton as Marshal Jim Courtright.
We see from the trailer that "1883" will feature many of the tribulations encountered in any playthrough of the iconic video game "Oregon Trail." Fording a river, potentially hostile encounters with Native Americans, and maybe one bath a year. It appears that the Duttons will try to weather these hardships through the strength of their family bond. And guns, they'll have lots of guns.
"1883" comes to Paramount+ on December 19, 2021.