Yellowstone Prequel 1883 Finally Announces Its Stacked Cast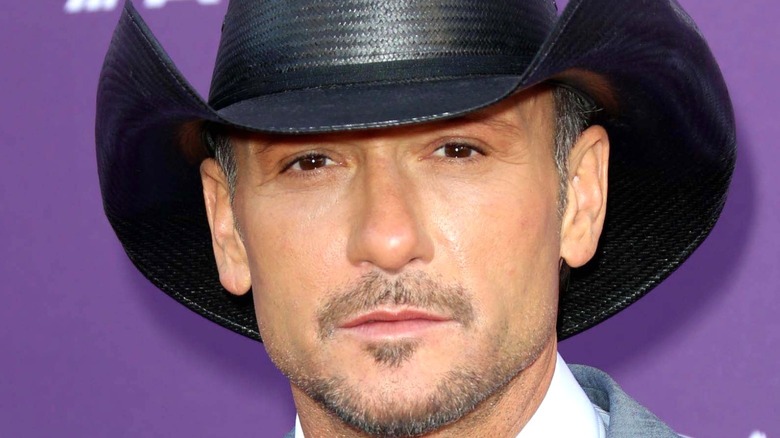 S. Bukley/Shutterstock
Fans of Paramount Network's "Yellowstone" are continuing to learn more information about the upcoming spin-off series "1883." The first of two planned spin-offs led by "Yellowstone" creator Taylor Sheridan, "1883" will focus on the ancestors of the Dutton family portrayed in the original series. 
The upcoming series was first teased with a commercial that aired during the Super Bowl earlier this year (via Variety). The most recent trailer for "1883" gave fans their first glimpses of characters portrayed by previously announced stars like Sam Elliot, Tim McGraw, and Faith Hill — some of whom even appeared in a set-up scene during the Season 4 premiere of the flagship series. 
Elliot will play a character named Shea Brennan, who is described as a "tough as nails, handsome cowboy with immense sadness in his past" (via TV Insider). McGraw will play James Dutton, the grandfather of John Dutton Jr. (Kevin Costner), while Hill will play the matriarch of the Dutton family, Margaret. While these three names will undoubtedly draw in an entire new base of fans to the "Yellowstone" universe, they are far from the only stars of the upcoming series. Today, Paramount released an updated roster of actors and actresses expected to appear in "1883."
The full 1883 cast list will make Taylor Sheridan fans very happy
Today, Deadline exclusively announced that Audie Rick, Marc Rissmann, Eric Nelsen, and James Landry Hébert will join the cast of "1883" as series regulars. Rick is set to portray a young version of John Dutton Sr. (an older version of the character was previously portrayed by Dabney Coleman on "Yellowstone"). Rick previously appeared as a young Luke Skywalker in a 19-minute fan film entitled "Kenobi: A Star Wars Story" (via IMDb). According to Deadline, Rissmann will portray a European immigrant guiding a crew across the frontier, while Nelsen and Hébert will play young cowboys.
Deadline also reports that additional cast members will include Emma Malouff, Dawn Olivieri, Gratiela Brancusi, Alex Fine, Anna Fiamora, Nichole Galicia, Stephanie Nur, Amanda Jaros, Noah Le Gros, and Martin Sensmeier. Sensmeier previously appeared in five episodes of the second season of "Yellowstone," but is expected to play a new character in "1883" (via IMDb).
The newly announced crew of actors join a star-studded cast list that already includes Sam Elliott, Tim McGraw, Faith Hill, Billy Bob Thornton, and LaMonica Garrett. "1883" is set to premiere on Paramount+ on December 19.