Why The Cast Of Spider-Man: No Way Home Is Already Lobbying For Roles In Into The Spider-Verse 2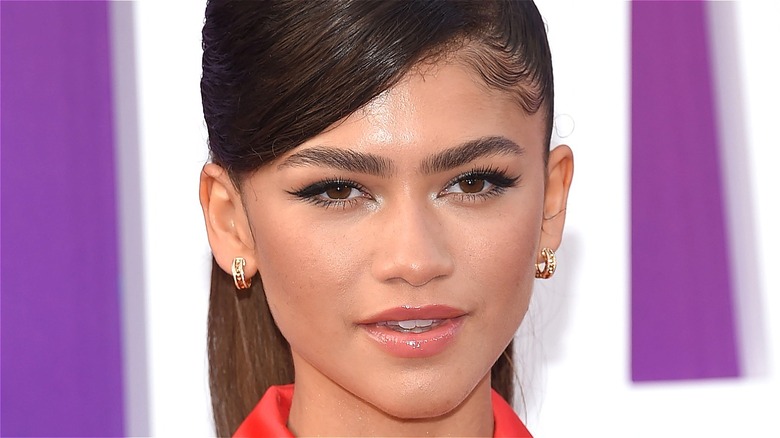 DFree/Shutterstock
"Spider-Man: No Way Home" stars Tom Holland and Zendaya are getting ready to fling open the door to the Marvel multiverse, but that's not all they're wanting to do with the Spidey franchise. With the arrival of "No Way Home" just days away, the actors have begun carving out their future paths with Marvel and Sony Pictures, which they hope will include an appearance someday in the animated Spider-Man universe. 
"Love those movies," gushed Zendaya while speaking to SYFY WIRE alongside Holland and fellow star Jacob Batalon, who plays Ned. "Love them, and I'm just waiting for the phone call," Holland said. "Guys, call us. Put us in your movie. We want to be in it."
2018's "Spider-Man: Into the Spider-Verse" was a major hit for Marvel and Sony (via Rotten Tomatoes). The film ultimately spun its own multiversal web and opened the door for a number of storytelling possibilities, some of which will come up in Miles Morales' next installment, "Spider-Man: Across the Spider-Verse (Part One)," due out next year. While any actor who likes Spider-Man would want to be in one of the "Spider-Verse" movies, there's actually a specific reason why the "No Way Home" cast is so adamant about swinging their way into the animated side of this cinematic franchise.
Holland and Zendaya were once approached about a Spider-Verse appearance
According to Tom Holland and Zendaya, producer Amy Pascal planted the "Spider-Verse" seed in their heads back during production on "Spider-Man: No Way Home." That's why they're so eager to hear back from someone about the next big Miles Morales project, which is set to be "Spider-Man: Across the Spider-Verse (Part Two)."
"Amy actually asked me on the set of this movie and no one has come back to me," Holland told SYFY WIRE, to which Zendaya jokingly replied, "Yeah, what the heck?" 
In May 2020, it was revealed by "Into the Spider-Verse" producer Christopher Miller that Sony execs had actually turned down plans for Holland and previous Spider-Man actors Tobey Maguire and Andrew Garfield to possibly appear in "Into the Spider-Verse." Miller said on Twitter that the studio felt it was "too soon." Co-director Rodney Rothman told ScreenCrush in 2018 that "there were many thoughts about where we could put Tobey Maguire and others," but nothing stuck. "I think after this film, those thoughts might have a little more traction," he hinted.