The Real Reason Tom Holland Didn't Cameo In Spider-Man: Into The Spider-Verse
Looks like no universe is yet big enough for all the Spideys out there.
Spider-Man: Into the Spider-Verse — the Oscar-winning animated flick from co-directors Bob Persichetti, Peter Ramsey, Rodney Rothman — lived up to its title by introducing audiences to a ton of different versions of the famous web-slinging hero. Miles Morales (Shameik Moore) met his universe's Peter Parker (Chris Pine), the blonde-haired vigilante who died at the start of the film, before zapping into an alternate Spider-Man: Peter B. Parker (Jake Johnson) from a totally different universe. Another Spider-person who had been universe-displaced following the explosion of the villainous Kingpin's (Liev Schrieber) Super-Collider was Gwen Stacy (Hailee Steinfeld), whom Miles met at his prestigious new boarding school. Throughout the movie, characters and viewers alike came to know Peter Porker, a.k.a. Spider-Ham (John Mulaney); Peni Parker, a.k.a. SP//dr (Kimiko Glenn); and Spider-Man Noir (Nicolas Cage). They even got a glimpse at Miguel O'Hara, a.k.a. Spider-Man 2099 (Oscar Isaac), in the post-credits of Spider-Man: Into the Spider-Verse. 
If things had gone as the film's team had originally hoped they would, Into the Spider-Verse would have featured even more Spider-Men — namely the three actors who have played Peter Parker in live-action films before. 
Spider-Man: Into the Spider-Verse co-producer Christopher Miller dished during a watch party of the film, held and live-tweeted on Wednesday, March 6, that he and his fellow creatives pitched to Sony Pictures executives cameos for Spider-Man actors Tobey Maguire (from the Sam Raimi-directed trilogy), Andrew Garfield (from the Amazing Spider-Man duology), and Tom Holland (the Marvel Cinematic Universe's Spidey). As everyone knows, those cameos didn't happen. When asked by a fan on Twitter why Holland in particular didn't make a cameo, Miller explained that Sony executives felt the "ambitious" trio of cameos was "too soon." 
The Spider-Man: Into the Spider-Verse cameo that could have been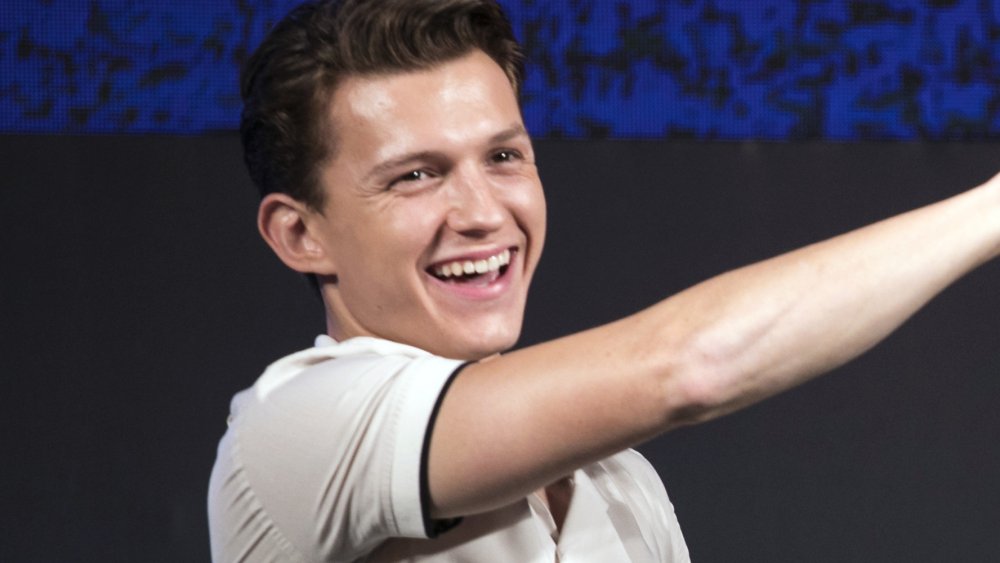 Woohae Cho/Getty Images
To those who have kept a finger firmly on the pulse of all things Spidey-related, hearing that the Spider-Man: Into the Spider-Verse team planned on having Maguire, Garfield, and Holland cameo in the flick will sound familiar. Holland actually confirmed he was meant to lend his voice to the movie while speaking with JOE.co.uk in a June 2019 sit-down interview. The actor shared that he knew about the plans for Spider-Man: Into the Spider-Verse and was devastated when they didn't pan out: "At one point, I was supposed to be in it. Yeah, there was going to be another Peter Parker. It was a scene in a train station or something, and it was going to be like an Easter egg. I was gonna walk through the background and say like, 'Hey, kid!' or something. Never happened. Heartbroken."
The fresh bit of Miller's recent comments is the mention that Sony executives believed it was "too soon" for a triple-Spidey cameo. It seems that concern was likely partially due to the fact that Holland's iteration of Spider-Man had, at the time, died just a handful of months before Spider-Man: Into the Spider-Verse was released. His Peter Parker perished at the end of Avengers: Infinity War, which debuted in April 2018, eight months prior to Into the Spider-Verse opening in theaters in December 2018. 
According to the film's co-director Rodney Rotham, another reason the cameos didn't happen is because there was worry about the potential negative consequences that would arise from including too many Spider-Men in the film, especially ones that audiences would have already been super familiar with — i.e., Maguire, Garfield, and Holland's versions of the character. As Rothman stated on an episode of The Q&A with Jeff Goldsmith in January 2019, "I don't want to get into it, but I did write that [scene with all three live-action Spider-Man actors]. But there was a lot of anxiety, there was a lot of anxiety around the movie generally and there was anxiety about confusing people."
What does Tom Holland think of Spider-Man: Into the Spider-Verse?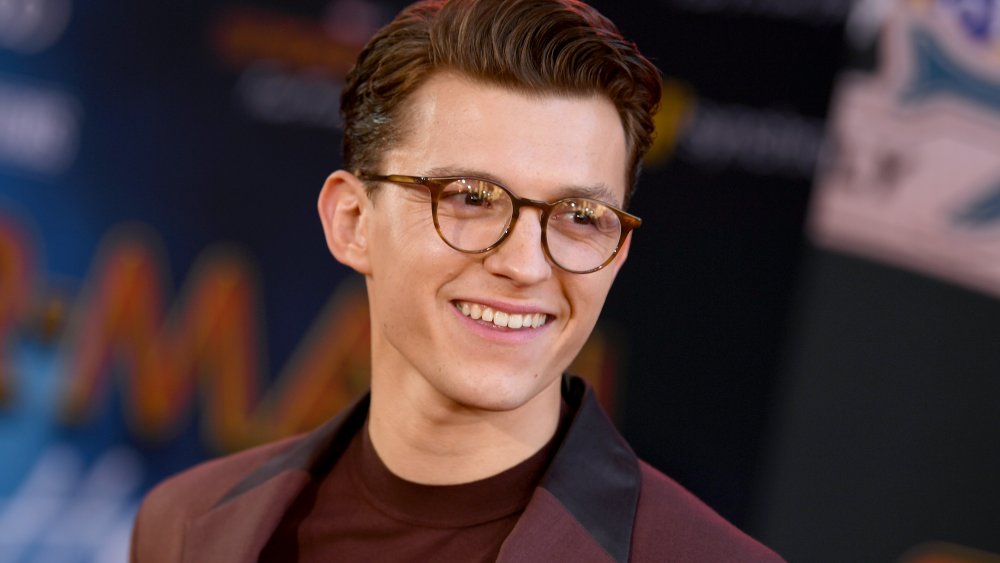 Kevin Winter/Getty Images
Though Holland expressed disappointment over not being in Spider-Man: Into the Spider-Verse, he's as big a fan of the film as the rest of us are. Just days after Into the Spider-Verse launched in cinemas on December 14, 2018, Holland took to his Instagram account to share a promotional photo for the flick and to urge his 30 million-plus followers to flock to theaters to see it for themselves. He wrote in the caption of his post, "Honestly one of the coolest films I've ever seen. Do yourself a favour and go see this movie. #intothespiderverse."
A sequel to Spider-Man: Into the Spider-Verse is already in the works, and since Holland's Spidey is alive and doing quite well for himself as the MCU currently stands, perhaps the English actor will get another shot at an animated movie cameo alongside the Spider-Man actors who preceded him. It's rare that sequels are better than the original, but if Spider-Man: Into the Spider-Verse 2 gets Holland, Garfield, and Maguire on board, it'd certainly be on the right track to subvert the standard. Fingers crossed it'll come to fruition the second time around.