The Netflix Christmas Movie You Are Based On Your Zodiac Sign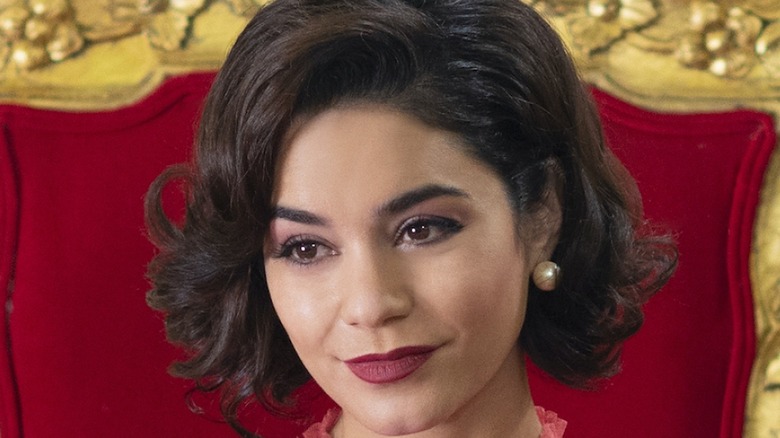 Netflix
Don't lie: We've all watched more than a few cringe Lifetime Christmas movies where the only thing worse than the acting is the plot. Luckily, Netflix has upped the Christmas movie ante over the past few years, bringing us Christmas movies with better budgets, classed-up casts, and exciting spins on some of our favorite tropes. Sure, not all of them are winners — and more than a few have Lifetime-esque plots. But as a whole, Netflix Christmas movies aren't typically too embarrassing to admit you watched them. And at the rate Venessa Hudgens is going as the Netflix Christmas queen, it's reasonable to lie and say you're here for Hudgens instead of the genre.
Like people, movies have a particular vibe — and so do their characters. So if you're bored and in need of a holiday movie fix, why not pick a Netflix Christmas movie that jives along with your zodiac sign? Whether it's the pure adventure of "The Christmas Chronicles" or the multifaceted aspect of "The Princess Switch," Netflix Christmas movies have something for everyone (and every sign). Here is the Netflix Christmas movie you are based on your zodiac sign. Buckle up, ya filthy animals.
Aries: The Christmas Chronicles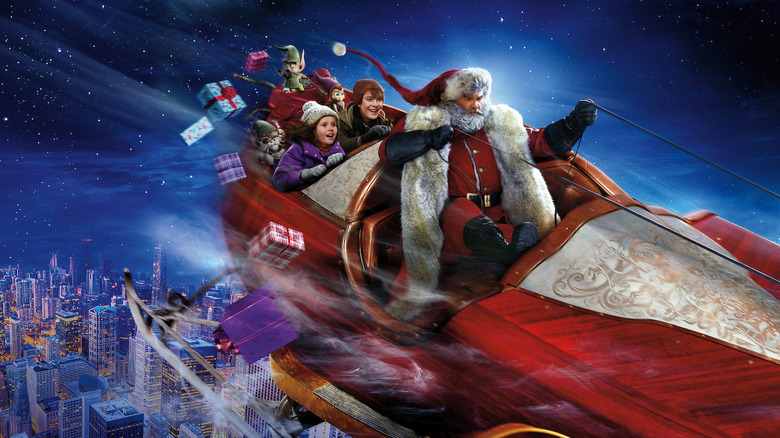 Netflix
Okay, we've had a whole lot of Christmas adventure movies that hone in on children going on an adventure with Santa. Yet "The Christmas Chronicles" takes the thrills ten steps further with epic scenes like Santa (Kurt Russell) having a jam session in a prison cell. The movie and its jolly lead may be unconventional, but that's a vital characteristic of the Aries sign.
"The Christmas Chronicles" competes with plenty of similar films and wins by a long shot. Even adults who roll their eyes at holiday movies can find something to love in this Netflix film. It's a bit impulsively chaotic and witty, but that just adds to its charm — and the Aries vibe.
Honesty is a significant necessity for Aries signs that the main characters also value above all else. Additionally, Teddy (Judah Lewis) has a bit of an anger streak, which some Aries signs grapple with as well. But at the end of the day, the film and its characters are a winning number. Ambition is the name of the game for everyone involved with "The Christmas Chronicles," and it paid off.
Taurus: A Christmas Prince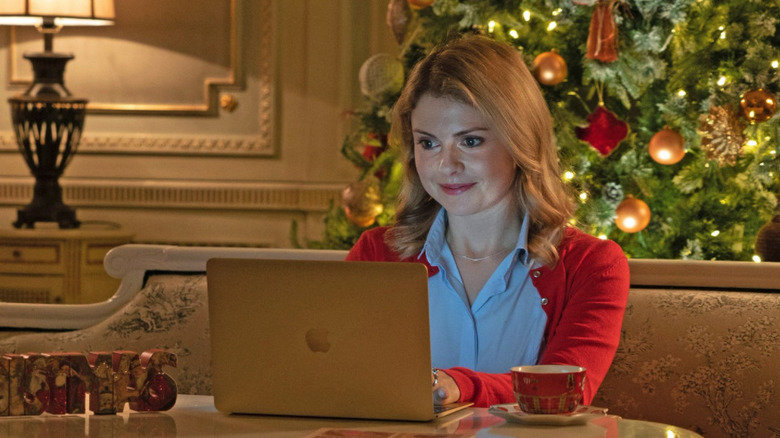 Netflix
If you're a Taurus, you'll love Amber (Rose McIver) from "A Christmas Prince." When it comes to Christmas movie standards, this franchise is relatively drama-free. Sure, there's the bit where Richard's (Ben Lamb) cousin tries to take the throne from him, a money-laundering scheme, and a treaty heist. But even the wildest moments in the movies play out pretty low-key.
As for Amber, our hopeful reporter, she begins the first film by accidentally lying, and it kills her the entire movie. She's certainly not someone who seeks out dishonesty, nor is she well-equipped for it, but her ambition slightly wins out on that front though it plagues her the whole time. Her inability to lie effectively makes her a great Taurus icon.
Additionally, Amber manages to uncover a fraud scheme within the Aldovian kingdom that even the king fails to suss out. But most impressively? She gets an entire kingdom to back off when she wants to blog about Royal life — and that's just not something that ever happens. No one is quite as tenacious as Amber when it comes to holiday movie heroines, so we have to give our Taurus props to the Aldovian queen.
Gemini: The Princess Switch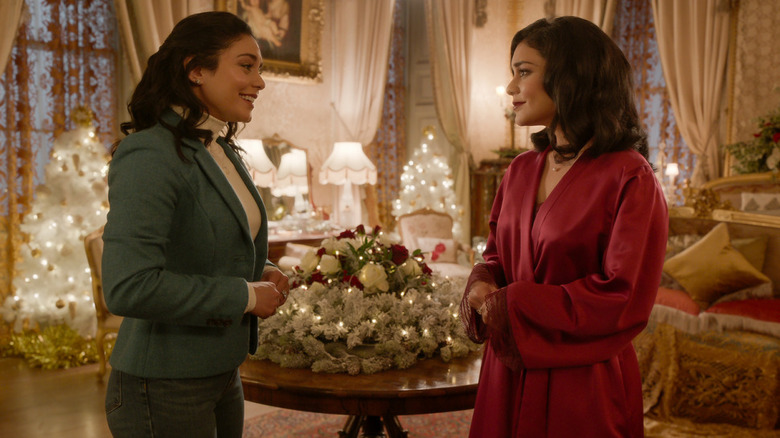 Netflix
Like any great Gemini, "The Princess Switch" has quite a few sides to its slightly bonkers premise. Geminis are known as the twins for their dueling personalities and ability to maneuver into any situation. Well, that fits right into the main characters of "The Princess Switch" — who all look exactly the same but couldn't be more different. There's the kindhearted and fun baker Stacy, the buttoned-up royal (and eventual queen) Margaret, and of course, the loose cannon and mild criminal mastermind Fiona. So, what do these characters have in common besides their looks? They're all played by Vanessa Hudgens.
Despite the ridiculous plotline of surprise doppelgangers, the series manages to be witty and uplifting with a series of events that unfolds somewhat chaotically. When it comes to Netflix Christmas movies, the series is the holiday party queen, always coming up with new ways to surprise its audience. The loyal love stories at the center of the franchise clinch its status as the Gemini movie to watch.
Cancer: A Boy called Christmas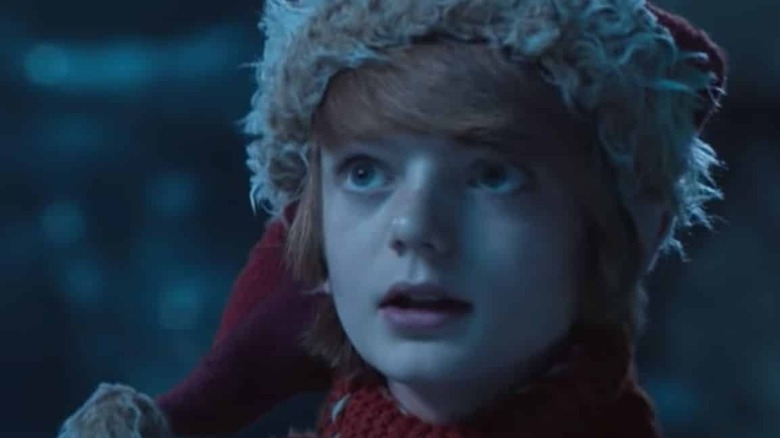 Netflix
What better movie to reign as king crab of the Christmas catalog than "A Boy Called Christmas"? The film begins with a seemingly no-nonsense aunt (Maggie Smith) who looks after a trio of children who lost their mother. Like most Cancers, she seems standoffish at first — until she reads them a bedtime story about what appears to be the origins of Christmas. The Finnish tale centers around, no surprise here, a young boy named Nikolas (and his pet mouse that he somehow teaches to talk).
Nikolas (Henry Lawfull) braves the cruelness of his own aunt and the brutal snowy terrain to discover a land of elves unsubtly called Elfhelm. Yet what makes the story so special is Nikolas' highly emotional and intuitive nature that seeps into every aspect of the movie.
Nikolas wears his heart on his sleeve with refreshing honesty and never lets his hope dwindle. Even more, his loyalty, even to his mouse, knows no bounds. Both the main character and the tale as a whole seep with creativity, and while much of the story is relatively predictable, it still packs a few surprises — as any Cancer story should do.
Leo: Jingle Jangle: A Christmas Story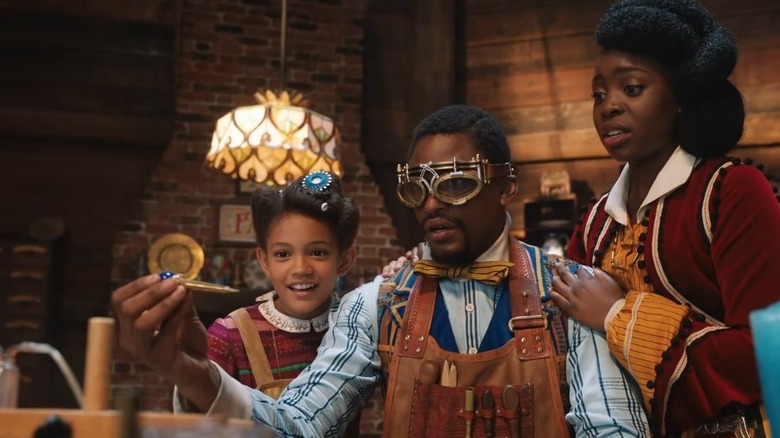 Netflix
There's nothing quite like the boldness of a Leo, and "Jingle Jangle" is the boldest (and most vivacious) Christmas movie in the Netflix catalog. The film centers around a brilliant, talented, and a mildly cocky man named Jeronicus (Forest Whitaker) — who has a particular talent for inventing a blend of technical and magical creations that are beacons for their time. While the musical boasts snappy dialogue and even snappier musical numbers, the film is also soft and heartwarming in the midst of a feud between Jeronicus and his backstabbing mentee Gustafson (played by Keegan-Michael Key).
Each character has as much of a hardworking streak as a playful one. How can you invent toys without being able to let loose? The film itself mirrors that vibe, too. Leos tend to find one thing they're particularly good at and stick to it. "Jingle Jangle" does the same with impressive scenes surrounding the concept of toys with a zest for adventure.
Jeronicus manages to air his confidence despite his superb talent without letting himself get mean. Before he loses everything, the inventor gives the townspeople free toys and greets everyone with a smile. Overall, both the film and the main character make viewers want to go out, create, and live their best lives — just like any Leo in your own life.
Virgo: The Knight Before Christmas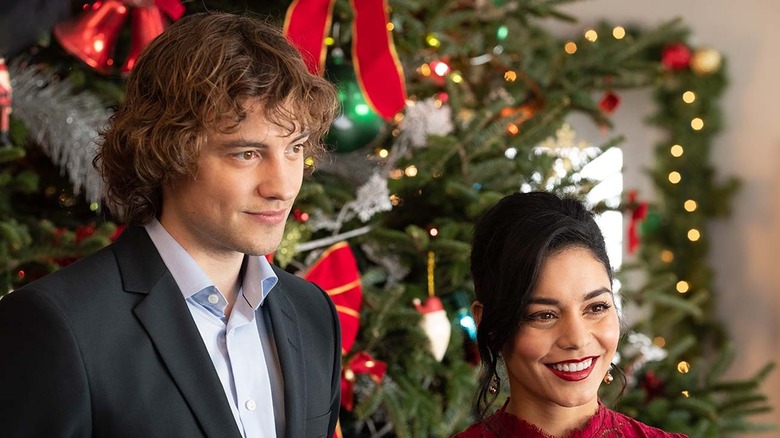 Netflix
As it turns out, to get Virgo vibes in a Christmas movie, you have to pluck a knight straight from the past and throw him into modern-day Ohio to fall in love with a teacher. On one end of "The Knight Before Christmas," we have the prim and proper Sir Cole (Josh Whitehouse), who's used to the chivalry and strict rule-following of his time. On the other hand, there's Brooke (Vanessa Hudgens) — the sweet and sometimes awkward science teacher who's pretty jaded about the whole love thing.
Both characters are perfectionists in their own way, but they bring each other out of their shells before too long. They both have pretty significant expectations for those close to them, but they hold themselves to their individual standards — just like any Virgo would.
As a teacher, Brooke is obviously all about learning, both in education and being a better person. Of course, given the fact that Sir Cole hails from a different time period, he's eager to discover all that modern technology has to offer — as daunting as it may be. Once again, Vanessa Hudgens has proven that she's the queen of Christmas films and both characters in the movie wholly fit the Virgo mentality.
Libra: Operation Christmas Drop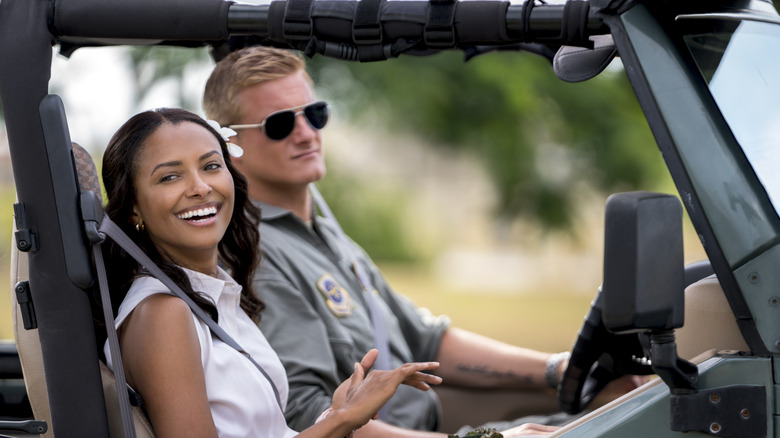 Netflix
How could a Libra movie be anything other than the charming, charity-centric film, "Operation Christmas Drop"? When it comes to owning Netflix holiday films, Kat Graham gives Vanessa Hudgens a run for her money with a pair of lovely Christmas films. While Grahams' character Erica is a bit of a scrooge when she gives up her family holiday under orders to shut down an Air Force base, Alexander Ludwig's character Andrew brings out her more compassionate side in every scene.
The moral of the movie hinges on putting others ahead of personal wants and needs, but the characters themselves follow the Libra way just as much as the general premise. Just as much as the film focuses on the beauty of nature and giving, Erica and Andrew live by these philosophies, too — at least when Erica stops shoving down her compassionate predisposition. Both characters learn to appreciate the others' points of view. Erica convinces Andrew to live a little while he encourages her to embrace her inner humanitarian.
Though both characters have an air of confidence, they still manage to discover new parts of themselves throughout the movie, learning to set aside preconceived notions and working on themselves both as a pair and individuals.
Scorpio: Father Christmas Is Back
If you're looking for a holiday movie featuring a family even more dysfunctional than your own, "Father Christmas is Back" fits the bill. A key Scorpio character trait is to expect the unexpected, which certainly jives with this wild film. Boasting a star-studded cast including Elizabeth Hurley (Joanna), John Cleese (John), Kelsey Grammer (James), most of the acting is pretty solid for a holiday movie. Scorpios often get categorized as villains, but they're usually just misunderstood. The film attempts to showcase a massive misunderstanding with the family's patriarch, James, who — deep down — is a fairly caring person.
However, the movie also fails to hold James accountable for his abysmal actions, which is where handling a Scorpio can go wrong. The movie's absent father puts his daughters through a slew of tests to essentially "earn" his love and reentry into their lives — but regardless of his reasoning for leaving, they don't owe him anything, and he never puts in much work to make amends.
No one is quite as passionate as a Scorpio, but if left unchecked, it can lead to the similarly impulsive and harmful choices that James makes — and his loved ones forgive him far too easily. As a result, he has a kaleidoscope of selves that he displays to the world and is slow to let people in.
Sagittarius: Holiday in the Wild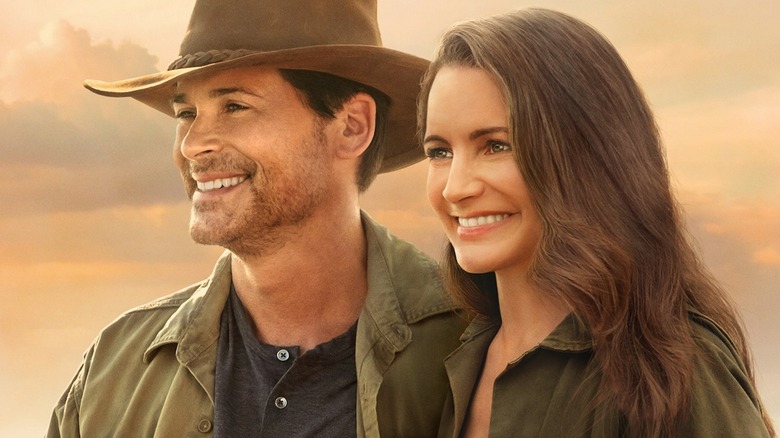 Netflix
We may not have realized we needed a Rob Lowe-led Christmas movie, but Netflix gave us one anyway — and it's the perfect Sagittarius movie. Ready for an adventure, Kristin Davis' Kate doesn't let the recent end of her marriage stop her from going on a trip to Africa for the holidays. Sagittarius signs are determined enough to forge their own path in life, often ditching what's expected of them even if they have to do it alone.
The movie is filled with personality and found love after loss, making it feel authentic and honest — an important Sagittarius trait. Kate may be hurting, but she's able to put that aside to focus on the plight of the elephants in the film, displaying her heightened empathy along with her matter-of-fact honesty. "Holiday in the Wild" defies typical Christmas movie barriers by featuring authentic middle-aged love stories we rarely see depicted in romance films. Still, the focus on conservation is also a welcome change from the typically frivolous plots we see in these films. "Holiday in the Wild" is the right movie for any solo adventurers who want a dash of romance on the side. That, or you just love Rob Lowe. And who can blame you?
The major drawback is that the premise sets up the central white characters as heroes while vastly underutilizing its Black characters. In fact, most don't even have names, and the ones who do are there to guide Kate and Derek's story rather than having their own agency. Maybe we'll get a sequel that focuses more on the Zambezian locals.
Capricorn: Holidate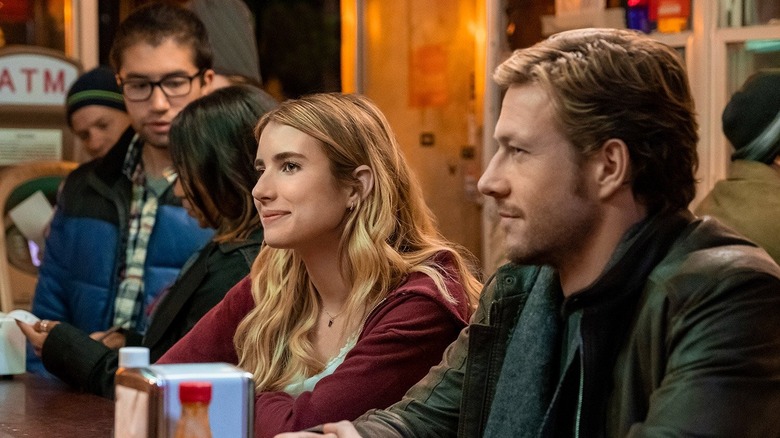 Netflix
For some reason, families love to use the holidays as an excuse to pry into people's personal lives and make what should be a celebration an awkward nightmare. "Holidate" characters Sloane (Emma Roberts) and Jackson (Luke Bracey) have had enough relationship questions during the holidays and make a pact to be each other's "holidate." So, what the hell is a holidate? Exactly what it sounds like — an arrangement between two people to suffer the holidays as a pair and spurn off invasive prying. Now, at first glance, "Holidate" doesn't exactly seem like the perfect Capricorn movie. Its characters aren't necessarily full Capricorn status, but the film itself follows the sign to a T.
Sloane and Jackson aren't super strict rule followers by their own nature, but they create a set of rules to go along with the expectation that everyone must have a date for the holidays. Their rules are rigid, and their most significant one involves not hooking up to avoid adding a layer of complication to an otherwise (sort of) solid plan. We know these rules can't hold up for the whole movie, but they make a pretty valiant effort to keep things platonic.
The unlikely pair both feel the need to present a warped version of who they are to fit into what their families (and society) think of them. That alone makes them align with the Virgo vibe. That being said, like the duo, Capricorns aren't averse to breaking the rules when there's a really good reason. 
Aquarius: Love Hard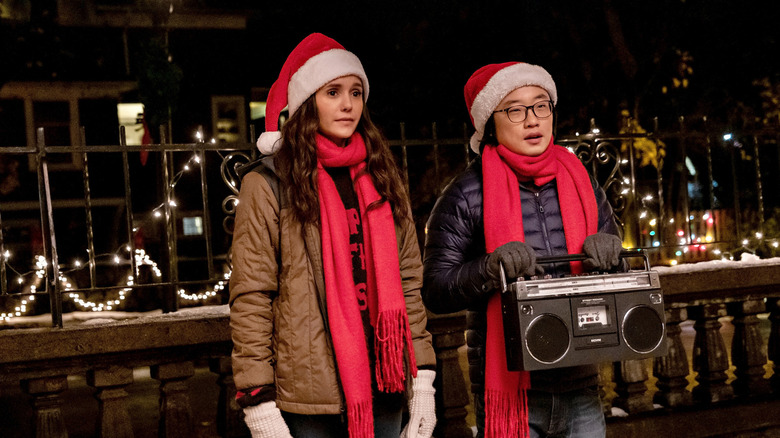 Netflix
If you couldn't tell by the title alone, "Love Hard" is a title mashup of "Love Actually" and "Die Hard." Sure, that seems pretty weird if you haven't seen the movie, but it makes perfect sense if you have. While Natalie's (Nina Dobrev) favorite movie is "Die Hard," Josh (Jimmy O. Yang) prefers the romantic holiday classic, "Love Actually." Okay, that sounds pretty surface-level, but it's more barrier-breaking than it seems.
Instead of conforming to traditional gender stereotypes, Josh has a softer, more romantic approach to life (and movies). At the same time, Natalie is more cynical about love and opts for an action-packed film instead of a romantic classic. Aquariuses tend to be a bit hard to peg down, as each one tends to be individualistic and too unique for boxes or labels — just like our characters in "Love Hard."
In the span of a holiday vacation, both Natalie and Josh have a significant shakeup of their senses of self, helping each other grow exponentially into the best versions of themselves. While Natalie learns to accept love, Josh finally finds the confidence to make his unconventional candlemaking hobby into a career move. Aquarius signs are all about adapting and growing, making them a perfect fit. The duo also exhibits self-awareness on contemporary social issues in scenes like their progressive revamping of the classic song, "Baby It's Cold Outside." While the song's meaning had a much different connotation when it released, it sounds like it's glorifying roofies by today's standards. It's just one more example of our protagonists ditching the status quo and trying to be better than they were yesterday.
Pisces: The Holiday Calendar
The friends-to-lovers trope is alive and well in Netlfix's "The Holiday Calendar." Kat Graham (Abby) shines again in this Christmas movie, though this 2018 film came out long before "Operation Christmas Drop." Acting alongside Quincy Brown as Josh, the actors' creativity shines through into their characters, creating a deeply emotional love story that's over a decade in the making — one that gives off some pretty strong Pisces vibes.
Both characters have creative fields in photography, and while Josh is self-aware of his feelings for Abby, she needs a bit of help to get her to the same realization. So what better way to make this happen than a magical advent calendar that intuits what she needs in reality? When Abby finds a pair of mini boots in the calendar, a new shiny team arrives in real-life. Then, she opens up a tree in the calendar, later running into someone Abby thinks is her dream date when she runs over his Christmas tree.
Of course, the film's biggest crux comes from Abby finally listening to her gut intuition instead of what she thinks she should do. As Pisces territory, the movie is witty, inspirational, and a guide to following your heart both in love and career. Once Abby stops letting her dead-end kitschy photography job take advantage of her, she flourishes in love and life.