Read This Before You See A Boy Called Christmas
This content was paid for by Netflix and created by Looper.
The history of the holidays gets an all-new reimagining in "A Boy Called Christmas." The holly jolly family film centers on the origin story of Father Christmas, with a boy named Nikolas (Henry Lawfull) making pals with a pet mouse and a resourceful reindeer to begin an extraordinary adventure to find his father (Michiel Huisman), a fabled village, and his own destiny.
The star-studded film is adapted from the bestselling 2015 novel of the same name by Matt Haig. It brings all sorts of wintry wonders to life as Nikolas, at just 12 years old, bravely takes the weight of the world on his shoulders on a quest to find the realm of Elfhelm, which is rumored to be a place of joy and merriment. His journey is far from easy, though, as little Nikolas grapples with the harsh elements of the Far North, as well as the darkness of the world and his own losses.
Before "A Boy Called Christmas" arrives to select theaters on November 18 and on Netflix on November 24, here's a look at everything you need to know about this touching holiday tale.
A different origin story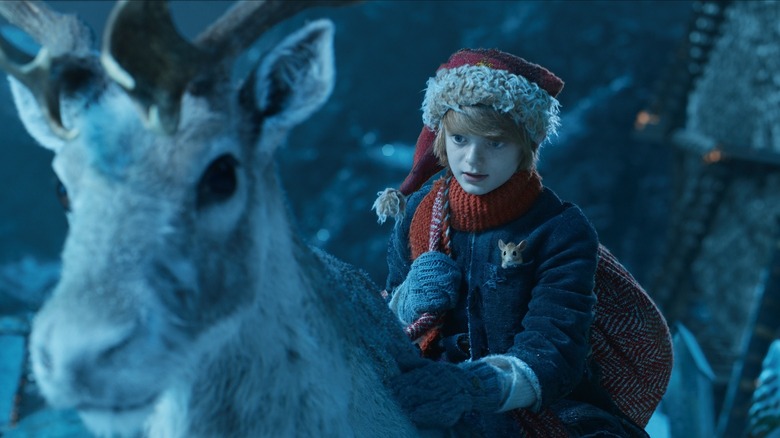 StudioCanal/Netflix
The cast of "A Boy Called Christmas" is full of some of the most established actors in the business, but the boy at the center of the action, Henry Lawfull, is a true star on the rise. Before landing this incredible role, the actor who plays Nikolas had only starred as Petit-Gervais in the BBC's 2018 television miniseries adaptation of "Les Misérables," but it's his fresh face that made him such a shoo-in for the part of Nikolas.
Lawfull was among many who auditioned for the role, but as producer Graham Broadbent remembered, "We all went, 'He's got a great look, with his red hair and innocent eyes, and something rather beautiful about him." Though they still saw other actors for the part, Lawfull was always their top choice, and perhaps it had a little something to do with just how well the young actor understood his character. As Lawfull himself said, "I think Nikolas is really optimistic. He's really magical, and he believes in everything, and I think he gets that from his mother. She was a massive influence on him."
For his debut movie experience, Lawfull got to be surrounded by some of the very finest actors in the industry. Starring as Nikolas' doting and brave father, Joel, is Michiel Huisman, who audiences undoubtedly know for his work in series like "Game of Thrones," "The Haunting of Hill House," and "The Flight Attendant," along with unforgettable films like "The Invitation," "The Age of Adaline," and "Irreplaceable You." And that's just the start of the A-list call sheet that "A Boy Called Christmas" boasts.
A magical cast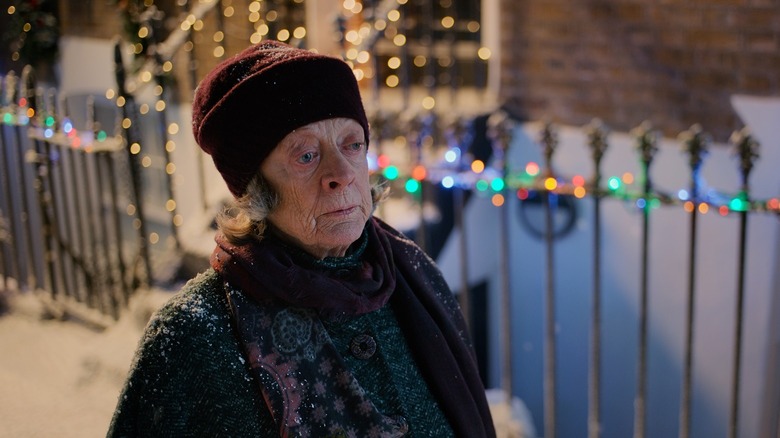 StudioCanal/Netflix
The hilarious Kristen Wiig also stars in the film as Aunt Carlotta, and she's known for her work in TV's "Saturday Night Live," along with movies like "Bridesmaids" and "Wonder Woman 1984." Stephen Merchant lends his vocals to the role of the smart mouse Miika, and though he's a renowned producer, fans are likely to know his voice from his screenwork in pictures like "Logan" and "Jojo Rabbit."
Audiences will no doubt recognize actor Jim Broadbent in the role of the king, thanks to his Oscar-winning role in "Iris," as well as his standout work in movies like "Gangs of New York," "Harry Potter and the Half-Blood Prince," and "The Iron Lady," just to name a few recent successes. Emmy-nominated "The Girl" actor Toby Jones portrays Father Topo, and he's known for his turns in "The Hunger Games" series, "Captain America: The First Avenger," and the blistering 2007 adaptation of Stephen King's "The Mist." And two-time Oscar nominee Sally Hawkins lends her talents to the film as Mother Vodol, the ruler of Elfhelm who banishes the traditions that make it such a magical place. Hawkins is known for her celebrated work in pics like "Blue Jasmine" and "The Shape of Water."
As if all that wasn't enough star power for one film, "A Boy Called Christmas" also features Dame Maggie Smith as Aunt Ruth, the woman who regales us all with the story of Nikolas. Smith is one of film's finest treasures, having won two Oscars for her work in "The Prime of Miss Jean Brodie" and "California Suite" and netting four additional nominations for "Othello," "Travels with My Aunt," "Room with a View," and "Gosford Park." Audiences may also know Smith for her iconic role as the Dowager Countess of Grantham in "Downton Abbey" or as the unconquerable Minerva McGonagall in the "Harry Potter" film series.
An instant holiday favorite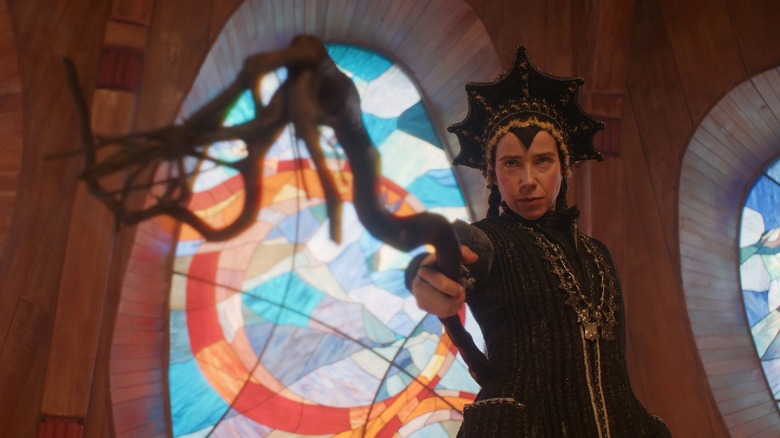 StudioCanal/Netflix
"A Boy Called Christmas" is directed by Gil Kenan, who was previously nominated for an Oscar for his work on the animated film "Monster House" and is also known for his work on "City of Ember," 2015's "Poltergeist," and "Scream: The TV Series." Kenan said that he was drawn to the story of "A Boy Called Christmas" because, "What I was excited about was doing justice to that breadth of theme, and capturing the human experience, on the back of a holiday that we can take for granted."
Kenan had a distinct vision for how to bring the fabled town of Elfhelm to life, saying, "The only way that I could believe that Elfhelm was actually out there was by grounding the journey and the photography in the natural world." So he chose to locate the shoot for "A Boy Called Christmas" right on "the edge" of the actual Arctic Circle for authenticity's sake.
The script for "A Boy Called Christmas" was adapted by Kenan and screenwriter Ol Parker, who first had the idea of introducing the storytelling character of Aunt Ruth into the picture. And producer Graham Broadbent was particularly eager to bring this adaptation to screen life because of how grounded in reality Matt Haig's fantastic tale manages to be. As Broadbent explained, "If you look at the best European stories, the Hans Christian Andersen fairy tales, they often have some darkness, and they often have some light. ... I think the most interesting stories are ones where there's a true emotional journey. And that often involves some sadness. And the joy is all the better because you've experienced the sadness too. There is something universal in that."
The filmmakers and cast certainly seem to agree. Stephen Merchant teased that audiences can expect action, including "explosions ... climbing of trees ... magical laser-type things," as well as a lot of "emotion." Director of photography Zac Nicholson loves the tale because it is "not sugar-coated," and Jim Broadbent praised the story for being a multi-faceted Christmas film full of imagination.
So prepare to get into the spirit of the holidays in a big way when "A Boy Called Christmas" arrives in theaters and on Netflix this November.