19 Christmas Movies That Always Make Us Cry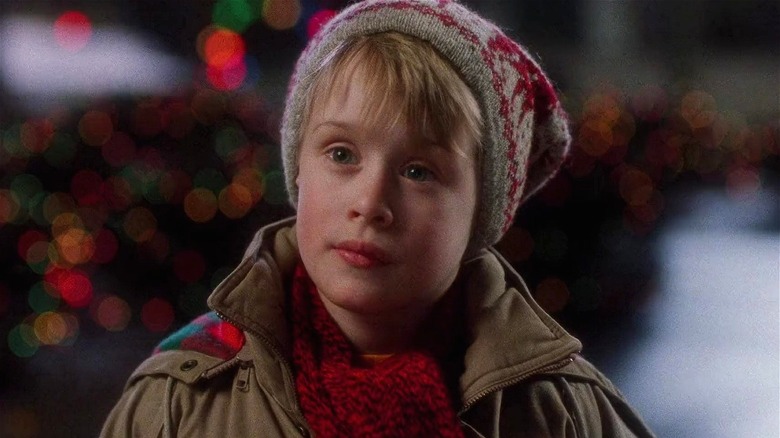 20th Century Fox
Perhaps it's the snow flurries in our eyes or too much spiked eggnog, but there's something about the Christmas season that brings out all the emotions. Christmas is typically a joyous occasion of giving, gratitude, and spending time with family and loved ones. However, it can also be a time of melancholy reflection, a dichotomy that the best Christmas movies have a tendency to tap into.
Behind the bright lights and shiny gift wrap, many festive films examine the idea of loneliness and grief, feelings that exist all year round but feel amplified and more intense against the backdrop of a season intended to highlight togetherness, unity and brotherhood. Christmas means different things to different people, and Christmas movies often encapsulate all these conflicting emotions, together in one package that — like life — could contain a lump of coal just as easily as it could a Red Ryder BB gun. 
Further amplifying matters, Christmas is a nostalgic time, and nostalgia is a powerful way of provoking a strong emotional reaction around traditions and memories of those you love — or those who are no longer around to be loved. Whether it is tears of joy or full-blown ugly crying, these are 19 Christmas movies that we think tap into the season and are guaranteed to make us all weep.
1. It's a Wonderful Life (1946)
A holiday staple for 75 years, Frank Capra's classic is perhaps the most emotional holiday movie ever made. Even if you watch it every year, like so many people, you're likely annually caught off guard by how much emotional resonance it packs into its weighty, ambitious themes.
The film stars the iconic Jimmy Stewart as George Bailey, alongside Donna Reed, Lionel Barrymore, and Henry Travers. Loosely based on "A Christmas Carol" — another melancholic festive classic — "It's A Wonderful Life" tells George's story largely through flashbacks, as we learn what drove him to contemplate throwing himself off that Bedford Falls bridge. Despite having a loving wife and a beautiful family, George gets run down by money woes and everyday pressures, and one Christmas he wishes he had never been born. Guided by an endearingly silly guardian angel named Clarence (Travers), George is shown the terrifying reality of what life would be like if he had never existed, and all the lives he has impacted, leading him to realize that no one is in this thing called life alone.
From the utter joy when George runs through the town, newly appreciative of all that had been previously bogging him down, to the emotional reunion with his family and the way the people of the town come together to help, "It's A Wonderful Life" is an emotional rollercoaster from start to finish, and a truly wonderful film.
2. Klaus (2019)
While it tends to be the reliable, nostalgic Christmas classics that get viewers in the feels, this surprise hit (which debuted on Netflix in 2019) proved that there was still room at the table for some new contenders. Nominated for an Oscar for best animated film, "Klaus" brought us an alternative Santa origin story, offering some fresh perspective on well-known lore.
Boasting an impressive cast including Jason Schwartzman, J.K. Simmons, Rashida Jones, and Joan Cusack, as well as some truly gorgeous animation, "Klaus" tells the charming story of a warring town that gradually learns to be kind to one another, with a little help from a reclusive woodsman called Klaus (Simmons). With a disarmingly humorous sensibility, "Klaus" perfectly taps into the emotional side of the season, concluding with a surprising yet devastating revelation about the titular character. "Klaus" feels like a Christmas classic, and it is one guaranteed to make you cry.
3. Love Actually (2003)
With overlapping, interweaving narratives that keep you hopping from one engrossing rom-com story to the next, this Richard Curtis romantic classic will spoil you for choice when it comes to which one is likely to make you sob. Whether it's the sweet love story of Jamie (Colin Firth) and Aurélia (Lúcia Moniz) or Daniel (Liam Neeson) mourning the tragic loss of his wife, there's something for everybody in "Love Actually."
The story guaranteed to have everybody reaching for the tissues, however, is the one involving married couple Harry (Alan Rickman) and Karen (Emma Thompson). While at work, Harry starts to become close with his new secretary Mia (Heike Makatsch), under the nose of his loving wife who has no idea about his infidelity. The bit that really gets the tears flowing is when Karen believes Harry has bought her a beautiful necklace for Christmas after finding it in her husband's coat pocket. On Christmas morning, however, she is given a CD — realizing the necklace was for someone else.
The true heartbreak is in seeing Thompson's Karen keep her emotions together for the sake of her family before finally breaking down alone in her room. While the majority of the characters in "Love Actually" seem to have some upbeat resolution by the end of the film, questions about Karen's future happiness linger unanswered, making it all feel even more devastating. 
4. Last Christmas (2019)
Much like Christmas staples "It's A Wonderful Life" and "A Christmas Carol," "Last Christmas" explores the not-so-jolly subject of mortality with a unique spin. Emilia Clarke gives an effervescent performance as Kate, a young woman who seems destined to keep making bad decisions — that is until she meets mysterious stranger Tom (Henry Golding).
After spending time together, Kate begins to course-correct her life, reconnecting with estranged family and rediscovering a love of singing. Familiarity with the Wham! song which inspired the film's title may already give the game away, but there is a big — and somewhat insane — twist that changes everything about Kate and Tom's relationship. It won't work for everybody, but as long as you don't overthink it too much, it can be surprisingly touching. There's even a big sing-a-long scene at a Christmas concert, bound to soften even the hardest of hearts.
While it struck the right emotional chord with audiences, "Last Christmas" was panned by critics, with The Guardian describing it as "a clunky, charmless disappointment." If you can get past the absurdity, however, "Last Christmas" is a surprisingly sweet film about second chances and being afforded the opportunity to right past wrongs — a sentiment that is hard to resist.
5. Jack Frost (1998)
Not to be confused with the serial-killer-snowman flick "Jack Frost" that came out just a year prior (and will make you cry for far different reasons), this schmaltzy family film brings us Michael Keaton as a musician and father who fails to deliver on his promise to be there for his son — and before having the chance to make it up to him, he dies in a tragic accident.
Distraught over the loss of his father, young Charlie (Joseph Cross) wishes that he could see him again — and as can only happen in a film like this, that wish transfers the spirit of dear ol' dad into a snowman. Once you recover from the initial horror of seeing a late '90s, crudely-CGI'd snowman — and the line between horror and family film is fine in "Jack Frost" – there's actually a sweet little story in here about a father and son having the opportunity to spend some more time together.
The big emotional moment comes towards the end, as the snowman begins to melt. There's a genuinely lovely moment shared between the family, and for anyone who has lost someone, just the idea of being able to say a proper goodbye is enough to bring a lump to your throat.
Unfortunately, the film did not hit the right notes with the critics. For years it became something of a punchline, with Robert Ebert being particularly critical of the snowman, saying: "Never have I disliked a movie character more."
6. Home Alone 2: Lost in New York (1992)
The first movie has its fair share of emotion as well, but there's just something about "Home Alone 2" — particularly in the subplot involving the pigeon lady (Brenda Fricker) — that really gets you in the feels. After previously being stranded at home, the plucky Kevin McAllister (Macaulay Culkin) is now alone in big bustling New York, and of course the bumbling "wet bandits" Harry and Marv (Joe Pesci and Daniel Stern) aren't far behind.
As always, pranks and pratfalls propel the story, but there is a surprisingly sweet center to this sequel when Kevin meets the unnamed homeless lady in Central Park who cares for the park's pigeons. After initially being frightened of her, Kevin soon realizes she can be trusted and the pair become unlikely friends. She confides in him about her sad past, they share some warmth in the spirit of the holidays, and she later helps Kevin in an attack against Harry and Marv.
You'll be reaching for the tissues when Kevin gives her a present: a turtle dove ornament. Kevin is told by Mr. Duncan (Eddie Bracken), the owner of a toy store, that they are a symbol of friendship, so Kevin decides to give one to the pigeon lady and keep one for himself so they will be friends forever. It's a genuinely lovely moment in the film, one that teaches us not to judge on first appearances and to show kindness to those we meet.
7. The Family Stone (2005)
Meeting the parents is a whole rom-com trope in itself, but when you add in the extra pressure of doing it at Christmas — with the season's emphasis on family and unity — there is even more potential for disaster. 
This gut-punch drama focuses on Everett Stone (Dermot Mulroney), who decides that Christmas is not just the perfect time for his family to meet his girlfriend Meredith (Sarah Jessica Parker), but that he also wants to propose to her with a precious family heirloom. The Stone family are particularly close and initially hostile to Meredith, resulting in some embarrassing moments. Amongst the chaos, however, the matriarch of the family (Diane Keaton) is hiding a secret that will impact them all.
Most Christmas movies conclude with a happy ending, but "Stone" has the guts to portray life as ... well, life. Left to reminisce about their precious memories, the "Stone" family brings those brave enough to visit with them an annual heartfelt reminder that those we love won't always be with us, so hug them while you can.
8. The Holiday (2006)
For many, "The Holiday" has become a staple of the festive season — and while its outcomes may be predictable, there are plenty of moments along the way that tug on your heartstrings. 
The film introduces us to Iris (Kate Winslet) and Amanda (Cameron Diaz), two women who have been unlucky in love, so they decide to swap houses for the holidays to escape and find themselves. Of course, this being a rom-com, what they actually find are their perfect partners in Miles (Jack Black) and Graham (Jude Law), respectively.
Amanda is particularly guarded and reveals that she has been unable to cry since her parents divorced when she was a teenager. However, she soon begins to fall for Iris' brother Graham, a widower and father of two young girls. There's a particularly lovely moment when they're all lying in the girls' tent and refer to themselves as the Three Musketeers, something which Amanda had previously used to describe her family. Without saying a word, Graham finds Amanda's hand to offer comfort.
Eventually, Amanda realizes how much she likes Graham and is finally able to cry again, but it is this sweet moment in the tent that will gets you crying — and by the film's conclusion, those might just switch over to tears of joy. Christmas is the perfect time for cheesy films, and they don't get much cheesier than "The Holiday."
9. The Christmas Chronicles (2018)
For the Pierce family, Christmas is a time packed with treacherous emotional baggage, as we see in the film's opening scenes featuring happy home videos of past Christmases when the family was together. As we soon learn, the family father has passed away, leaving siblings Teddy (Judah Lewis) and Kate (Darby Camp) to face their first Christmas without him.
Teddy, the eldest sibling, has become a bit of a troublemaker and has lost his Christmas spirit following the death of his father. Kate, however, remains a true believer in Santa Claus and sets out to prove that he is real by capturing him on video. Teddy and Kate soon end up as stowaways on the real Santa's (Kurt Russell) sleigh, caught up in a whirlwind adventure to find the jolly man's hat and his magic bag of presents.
Unlike some other Christmas films, "The Christmas Chronicles" wisely keeps its sentiment to a minimum, focusing on the fun, vicarious adventure of hitching a ride with the man of the hour on Christmas Eve. This means that when it does decide to hit your emotions, it really works. Previously skeptical about Santa, Teddy becomes a believer again — but a wish to see his dad again proves tricky for even Santa to fulfill. The resulting payoff will have you wondering if someone is chopping onions nearby.
Despite it being a relatively recent release, "The Christmas Chronicles" has the perfect balance of emotion and festive fun, making it a new holiday season staple.
10. How The Grinch Stole Christmas (2000)
With Jim Carrey in the lead, big laughs were expected from this adaptation of the Dr. Seuss seasonal classic — and even under all the make-up and prosthetics, Carrey makes his presence known. This expanded, live-action, Ron Howard-engineered remake of the 1966 animated classic manages to tap into the unique aesthetic and off-beat humor of Dr. Seuss's book, delivering some eye-popping visuals and surprisingly heartfelt moments.
If Cindy Lou Who's (Taylor Momsen) heartfelt rendition of "Where Are You Christmas" doesn't get you welling up, then the scenes of a young Grinch being bullied for being different just might do it. While he is, of course, a "mean one," there is still something deeply upsetting about the rejection the character has experienced in the past — something which we see in some flashbacks.
This "Grinch" is one of those rare family films that plays well for all ages. For kids, the hilarious grumpy antics of the Grinch will make them smile, and for adults, there is something relatable about the character's dislike of the festive season. Whatever age you are, it is hard not to feel something for the character, and a wonderfully endearing performance from Jim Carrey certainly helps.
11. The Family Man (2000)
An occasionally flawed but well-intentioned attempt to drag Frank Capra sentiment into the 21st century, Brett Ratner's "The Family Man" is a largely forgotten, underrated holiday choice deserving of a revisit.
Following a similar blueprint to "It's A Wonderful Life," instead of Jimmy Stewart we get Nicolas Cage as businessman Jack Campbell. One again we get an alternate timeline, one in which the main character is no longer in the rat race but is happily married to Kate (Téa Leoni), his college girlfriend and "the one that got away." He has kids with her, a job working in a garage, and a minivan instead of his sports car.
While initially resistant to this alternate life he has seemingly woken up in, Jack discovers happiness, learning to appreciate the small and simple things away from the cut-throat world of his former life. Cruelly, he is then torn from this timeline back into his old corporate life. It's a huge blow to the character, and to us as the audience having experienced this glimpse of true happiness alongside him.
When a glimmer of hope appears, the film builds to an undeniably emotional conclusion. "The Family Man" is a powerful, reflective holiday tale that can sometimes feel like a lot to deal with, but it's the perfect December movie if you want a guaranteed cry.
12. Home Alone (1990)
For at least part of "Home Alone," young Kevin McAllister (Macaulay Culkin) gets to live every kid's dream: having free reign of the house with no parents and no annoying siblings. After raiding the house for snacks, and generally running amok, Kevin soon has to contend with two home invaders in the form of "Wet Bandits" Harry (Joe Pesci) and Marv (Daniel Stern).
Obviously the ensuing hijinks are the film's selling point, but it would just be shallow noise without the heart and soul of exploring the lonely feelings Kevin experiences without his family — moments likely to get the tears flowing. 
At one point, Kevin goes off in search of Santa, to tell him that instead of presents he just wants his family back. He wanders the streets, seeing other families getting together and having fun, before coming across the town's church. Inside he finds "Old Man Marley" (Roberts Blossom), his neighbor of whom he had previously been frightened, but who is revealed to be just like Kevin — lonely and distant from his family. It's a lovely, quiet, reflective moment before the mayhem truly begins, and a heartfelt reminder of what the season is all about.
"Home Alone" is of course packed with plenty of funny moments and memorable lines — but at its heart, this John Hughes-penned classic is about the importance of family at this time of year, and that there is more value in that than anything you could ever find under a tree.
13. The Muppet Christmas Carol (1992)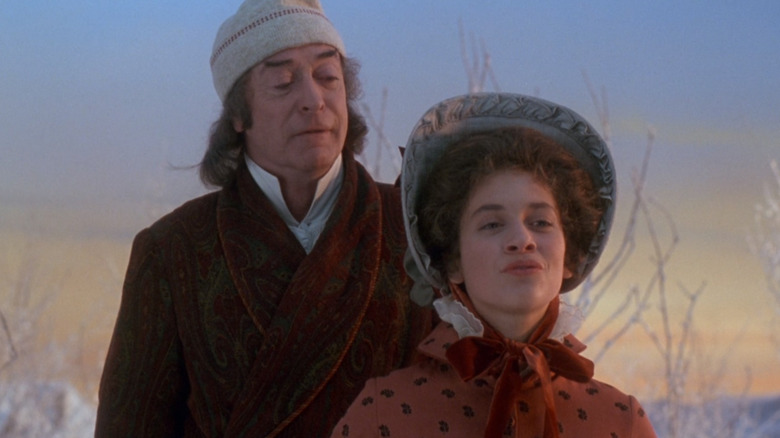 Buena Vista Pictures
Offering the Muppets' quintessentially zany take on the classic Charles Dickens story, "The Muppet Christmas Carol" boasts brilliant songs as well as a hilariously straightlaced performance from Michael Caine as the crotchety Ebenezer Scrooge. In the familiar tale, Scrooge is given the opportunity to leave his money-grabbing and selfish ways behind him when he is visited by the ghosts of Christmas past, Christmas present, and Christmas yet-to-come.
Alongside the film's wonderfully offbeat sense of humor and its clear reverence of the source material, there are some beautifully tender moments, particularly when Scrooge reflects on the life he could have had with his lost love, Belle (Meredith Braun). The moment she walks away from him is devastating enough, but the previously cut song, "When Love is Gone" — with the older Scrooge joining the younger Belle to lament — adds further emotional weight.
Up until recently, this song was not in the film, but in December 2022 it was finally added to Disney+, although it's not in the default cut of the film — you have to go to the extras section for "The Muppet Christmas Carol" to find it in the full-length version. The song is emotional enough on its own, but as director Brian Henson also explained, it is the perfect counterpoint to the closing song "The Love We Found" (via Playbill). No longer alone and heartbroken, Scrooge has reconciled with his nephew (Steven Mackintosh) and found a new family in the Cratchits. The two songs complement each other perfectly.
14. Meet Me in St. Louis (1944)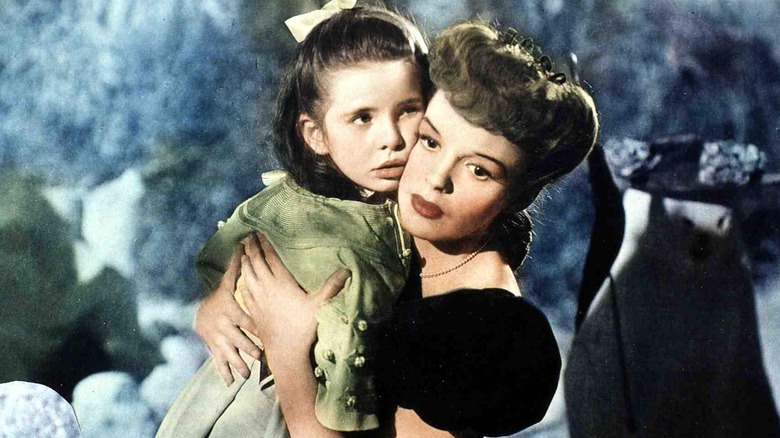 United Archives/Getty Images
Classic movie musical "Meet Me in St. Louis" might not immediately spring to mind when you think of tear-jerking Christmas movies — particularly if your predominant memory is of colorful and spirited numbers such as "The Trolley Song" and "Skip to My Lou." However, it is also the film that brought us the beautifully melancholic, "Have Yourself a Merry Little Christmas," which is the emotional core of the film.
"Meet Me in St. Louis" focuses on the Smith family, who are facing the prospect of leaving behind their beloved St. Louis for a new life in New York. The whole family is trepidatious about the big change, but it is most keenly felt by the youngest Smith daughter Tootie (Margaret O'Brien), and Esther (Judy Garland) who is enjoying a blossoming romance with John Truett (Tom Drake).
We see the characters reflect on what they love so much about their hometown, and how the idea of leaving it behind almost feels like they are grieving a cherished family member. There's a deep sadness that runs through this classic film, but perhaps the most emotional moment comes when the inconsolable Tootie runs outside to destroy the snowmen the family built, heartbroken that she can't take them with her to New York. It may be a childlike notion to be so distraught over something that will melt anyway, but it perfectly encapsulates the emotional attachment the family feels to St. Louis and is a moment that will resonate with anyone who is facing being away from their hometown over the holidays.
15. Joyeux Noël (2005)
Based on the well-documented true story of the Christmas Truce of 1914 during World War I, "Joyeux Noël" is an underseen film — despite its Oscar nomination — that speaks to the importance of peace and reconciliation that seems to underpin many other holiday favorites. Rooted in the harsh realities of war, "Joyeux Noël" has a warm and compassionate message juxtaposed against the violence.
The film introduces us to characters on all sides of the conflict including German Lieutenant Horstmayer (Daniel Brühl), Lieutenant Gordon (Alex Ferns) of the Royal Scots Fusiliers, and French Lieutenant Audebert (Guillaume Canet). Amid the fighting, a temporary truce allows the soldiers to come together to share in their country's Christmas greetings and traditions and play a soccer match on Christmas Eve.
Many factors contribute to making "Joyeux Noël" a moving film. It strikes us that these soldiers who are thrust into circumstances they would never wish to be in are very young, and the temporary respite of the soccer game provides a rare moment of joy for them. However, the gut punch comes when the soldiers have to return to their trenches and resume fighting. The Christmas camaraderie they enjoyed together is fleeting, and the brief moment of shared humanity fades away into violence once more. More than anything, this film highlights the futility and senselessness of war and how peace and goodwill can — and should — triumph in the most unlikely places.
16. One Magic Christmas (1985)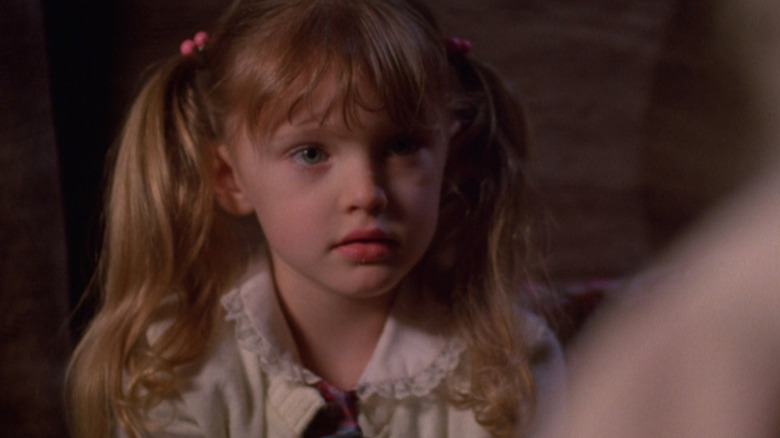 Buena Vista Distribution Company
Where many films show the excess that often comes with the season, "One Magic Christmas" favors a more realistic approach. In this 1985 Disney film, we see various families struggling to make ends meet. This includes a woman who has to choose what to take off her grocery list as she only has $25 in food vouchers to shop with, and a desperate father driven to take extreme action by his poverty. It might not be particularly cheerful, but it is nonetheless refreshing, and there's still plenty of Christmas magic in this charming film.
In the lead-up to Christmas, Ginnie Grainger (Mary Steenburgen) struggles to get into the spirit of the holidays. After her husband Jack (Gary Basaraba) loses his job in the summer, they find it difficult to get by and are feeling the pressure to keep up with the demands of their children Abbie (Elisabeth Harnois) and Cal (Robbie Magwood). Thankfully, guardian angel Gideon (Harry Dean Stanton) is assigned to the Graingers and is tasked with helping Ginnie find her Christmas spirit, as well as getting the family to realize the true meaning of the holidays.
The presence of Gideon gives this film a flavor of the holiday classic "It's a Wonderful Life," and like that film, "One Magic Christmas" has as much tragedy as it does festive cheer. It may be a little hokey in places, but this movie is well-meaning and has everything you could want from a Christmas film: plenty of snow, a heart-warming message, the wonderful Harry Dean Stanton, and even future Oscar winner Sarah Polley breaking into the biz as a child actor. 
17. Anna and the Apocalypse (2017)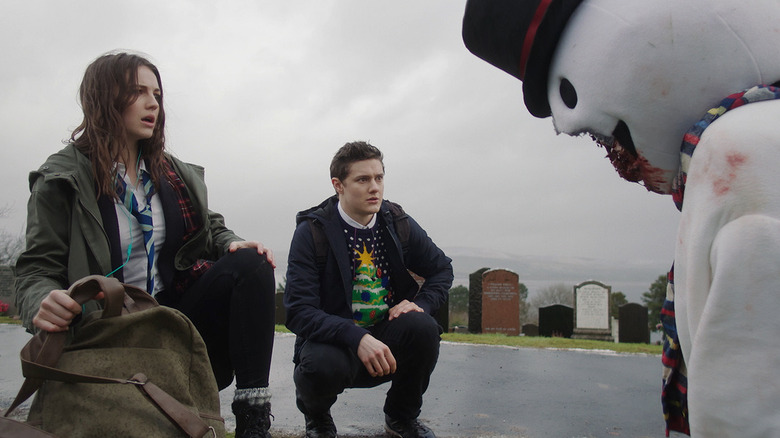 Orion Pictures
In 2004, "Shaun of the Dead" gave us the "rom-zom-com," and 10 years later, "Anna and the Apocalypse" delivered the rom-zom-com-musical. If it sounds like a strange combination, that's because it is. This genre-bending movie combines wholesome toe-tapping songs — ones that would be at home in the "High School Musical" franchise — with blood-splattered zombie mayhem ... oh, and it all happens at Christmas time.
The film focuses on Anna (Ella Hunt), a normal teenage girl who has her life turned upside down when the zombie apocalypse arrives. While there is a light-hearted tone to this film — particularly evident in the effervescent musical numbers such as "Hollywood Ending" — it also doesn't shy away from the grim realities of a zombie outbreak. Anna and her cohorts have to see their friends and relatives turn into flesh-eating creatures, and inevitably, not all of them make it to the other side. The saddest moment comes when John (Malcolm Cumming) — Anna's best friend who is also in love with her — succumbs to the monsters, sacrificing himself to save Anna. What makes it even more heartbreaking is it comes shortly after John subtly admits he has feelings for Anna, and she in turn lets him know that she sees him as a friend and nothing more.
There aren't many films that can make you laugh, cry, sing, and scream, but "Anna and the Apocalypse" ticks all of those boxes.
18. Frosty the Snowman (1969)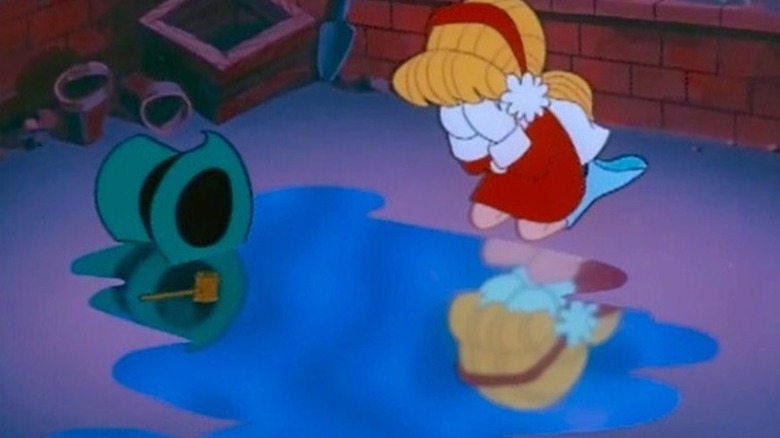 CBS
This animated TV special takes the classic Christmas song of the same name and expands the story to tell the charming tale of a snowman who magically comes to life. When magician Professor Hinkle (Billy De Wolfe) fails to impress a group of children with his tricks, his not-so-loyal rabbit assistant Hocus Pocus runs off with Hinkle's magic hat, which soon falls into the hands of children who are building a snowman. When the hat brings Frosty (Jackie Vernon) to life, the kids are delighted and march through the town with their cool new friend.
If there's one thing we know about snow, however, it's that it soon melts. In their attempts to get Frosty somewhere nice and cool, a young girl called Karen (June Foray) almost freezes and Frosty sacrifices himself to save her. Despite the inevitability of what happens to snow, the moment that Frosty melts into a puddle is undeniably heartbreaking. The rest of this film may be full of festive cheer — something that we're reminded of in flashbacks to Frosty's adventures with Karen and her pals — but here all hope seems lost.
However, the lyrics of the song remind us that "He waved good-bye, saying, 'Don't you cry, I'll be back again someday,'" and thanks to jolly ol' Saint Nick's magic, Frosty is revived. It's a bittersweet and surprisingly touching ending with the message that while good things have to come to an end eventually, with hope — and a little sprinkling of magic — they may just return.
19. The Snowman (1982)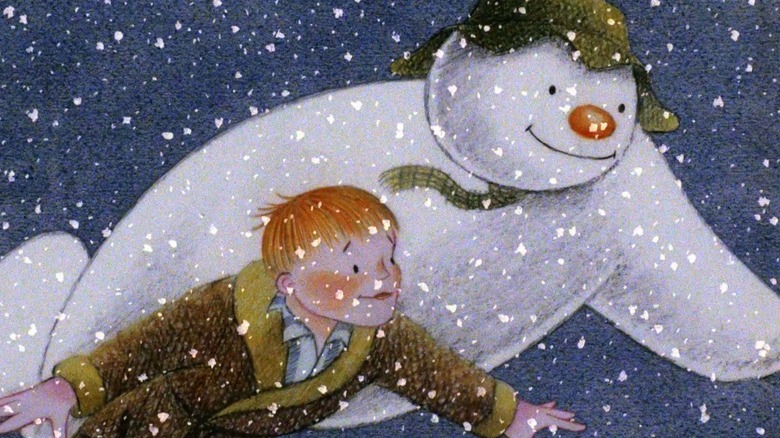 Public Broadcasting Service (PBS)
Based on the book by British author Raymond Briggs, "The Snowman" is a beloved holiday staple with a truly devastating ending. In this wordless short film, a snowman comes to life when a young boy builds it in his backyard. After causing chaos inside the boy's house and almost melting, the snowman decides to take the boy on a journey to his home, and they fly together to a frozen wonderland where they meet Santa.
The flying sequence — set to the song "Walking in the Air" — is enough to bring a lump to your throat, but this is only a warm-up for the ending. Unlike their frosty counterpart, this snowman does not have Santa's magic to stop him from melting, and the film ends with the heartbroken boy looking at the pile of melted snow where his friend had previously stood. This realistic ending is bleak and beautiful in equal measure, particularly given that the boy confirms it wasn't all a dream when he finds the scarf gifted to him by Santa.
There is some good news, however, even if it did come 30 years later. The sequel "The Snowman and the Snowdog" introduces us to another young boy who finds the coal, scarf, and hat that adorned the original snowman, and decides to build his own. It is these items that bring the snowman back once more, and he even has a cute canine friend this time around.