When Will There Be A Christmas Chronicles 3?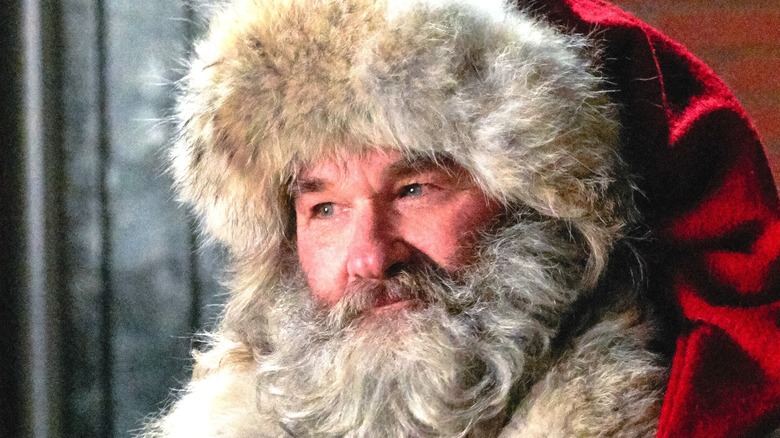 Michael Gibson/Netflix
"The Christmas Chronicles" was a surprise hit for Netflix when it debuted on the streaming service back in 2018. The film featured Hollywood cool guy Kurt Russell putting his own spin on Santa Claus while going on an adventure with two kids through the streets of Chicago on Christmas Eve. It was so successful that it even spawned a sequel in 2020 simply titled "The Christmas Chronicles 2," which featured Goldie Hawn reprising her cameo role as Mrs. Claus. Tyrese Gibson and Julian Dennison also appeared in the sequel.
With a title like "The Christmas Chronicles" it's easy to assume that Netflix would want a franchise; why would they just stop at just two films after both attracted a large number of viewers? The cast and crew behind the holiday franchise have stayed mum on whether or not a third will happen, but judging from the franchise's popularity, it does look likely.
Kurt Russell has 'no idea' what Netflix's plans are for The Christmas Chronicles
"The Christmas Chronicles 2" was officially announced in December 2019, 11 months before the sequel debuted (via People). As of yet, there has been no announcement of a third film, so if you're expecting the next chapter in the 'The Christmas Chronicles' this holiday season, you may have to wait a bit longer. That being said, there's definitely a possibility that a third film could be announced in the coming weeks. This would likely mean that we could expect to see "The Christmas Chronicles 3" around the holiday season of 2022.
According to The New York Times, Kurt Russell seemed to hint that a third installment is possible, though he acknowledged that he has "no idea" what Netflix's plans are for the franchise going forward. So If the streamer does plan on releasing a third movie, filming would likely not take place until the early months of next year at the soonest, but not much later than that, as Netflix will likely want to ensure that the film is ready by Thanksgiving of 2022. As a point of reference, "Christmas Chronicles 2" was in post-production as of May 2020, six months ahead of its release (via Deadline). Hopefully, we'll get an official announcement soon, especially if we're all on Santa's nice list.