Whatever Happened To The Pigeon Lady From Home Alone 2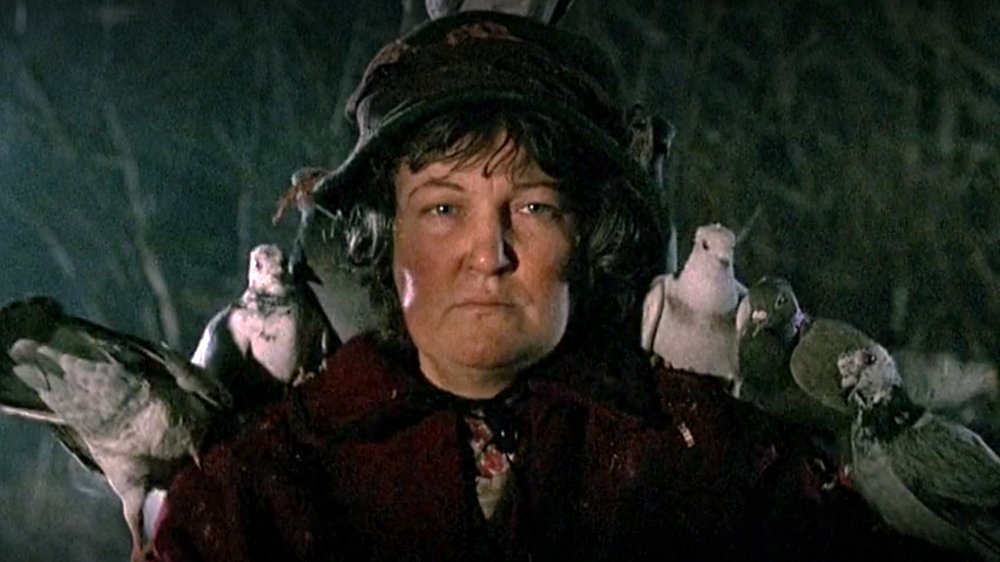 The beloved Christmas movie Home Alone 2: Lost in New York features a subplot in which Kevin McCallister, the frequently abandoned child lead played by Macaulay Culkin, befriends a homeless woman living in Central Park. He refers to the mysterious stranger simply as "Pigeon Lady." At first, she scares Kevin with all of her birds, but later on in the film, the pair share a candid conversation about trust and love in the rafters of Carnegie Hall, and Pigeon Lady tells Kevin about her life before becoming homeless. Her heartfelt story about lost love stands out in a film about the virtues of emotional and material charity — and also features setting Joe Pesci's head on fire, you know, for good measure. During the climax of Home Alone 2, Pigeon Lady comes to Kevin's rescue, dousing the grease-covered bandits Harry Lyme (Pesci) and Marv Murchins (Daniel Stern) in birdseed so her flock could descend and peck them into submission.
The woman who played Pigeon Lady in Home Alone 2, an Irish actress named Brenda Fricker, isn't an American household name, and Pigeon Lady is her most well-known role in the States. What many who grew up watching the movie may not know is that Fricker had been a fantastically successful Oscar-winning actress before taking the Home Alone 2 gig in 1992. At the time, Fricker had a career spanning two full decades already. So, where did she end up in the years after Home Alone 2, and does she continue to act today? 
Brenda Fricker rode to the top on the Hollywood train, then disembarked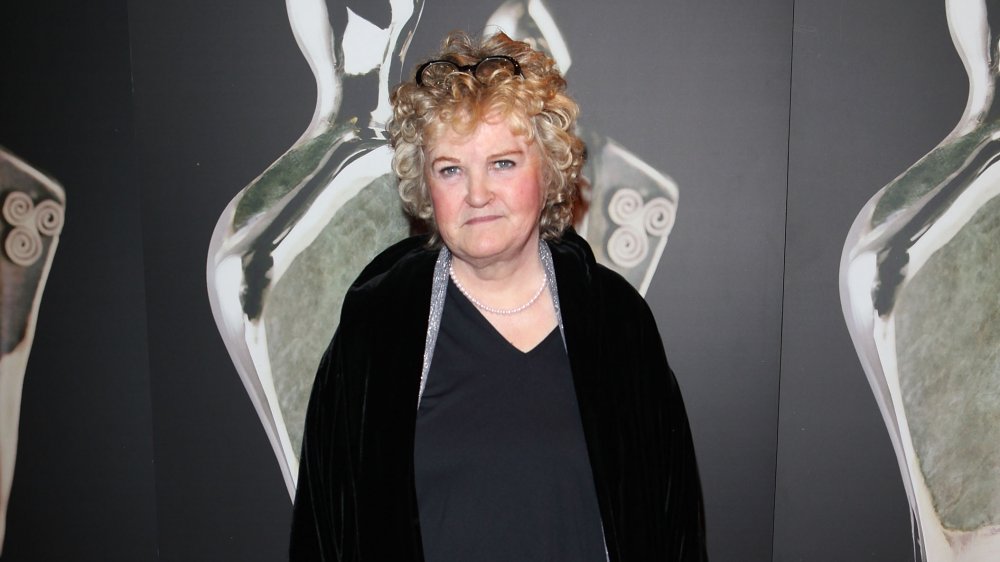 Tim P. Whitby/Getty Images
Home Alone 2: Lost in New York was probably Fricker's most high-profile film from an international perspective, but the big-budget work certainly didn't begin or end there. A big reason why she landed the role of Pigeon Lady at all was thanks to her Academy Award win for Best Supporting Actress in 1990, for her role in My Left Foot opposite Daniel Day-Lewis. That blessing continued for her through the rest of the decade — she held secondary roles in So I Married an Axe Murderer, Angels in the Outfield, and finally A Time to Kill. After that, Fricker declined taking further big Hollywood roles to focus on television and film projects in Canada and the United Kingdom. 
Back in her native country of Ireland, Fricker took notable roles in the 2000s that earned her nominations for Best Supporting Actress IFTAs (Ireland's version of the BAFTAs). She appeared in Veronica Guerin, a biography film starring Cate Blanchett about a famous Irish journalist that was assassinated by drug gangs in 1996; Rory O'Shea Was Here, a story about two disabled men becoming friends and their journey to live more independent lives away from the intensely structured government-run residential home in which they meet; and Albert Nobbs, a Glenn Close-helmed film about a woman in late-19th-century Ireland masquerading as a man to secure quality employment as a waiter. And while she received no major awards for it, Fricker is celebrated in LGBTQ+ film circles for portraying one half of an elderly lesbian couple in the landmark film Cloudburst. Fricker herself considers that role one of the few in her career that made her test and expand her ability as an actress.
Fricker's professional pace began to decline around 2011, but she continued to take the odd role here and there up until her last listed performance in 2015: Mrs. Smith in the Canadian television drama Forgive Me. Her last feature film role was A Long Way From Home in 2013. In 2014, she gave an interview on her life and her departure from feature film work, saying, "There's very little I miss about acting since retiring. I'm just too old for the s*** that went on. When you make a film, it depends how long it takes to find a distributor. It can take five years and then you find yourself doing publicity for something you can't even remember the name of. I shot my last film, A Long Way From Home, so long ago, I had to take out the script to remind myself of the story the other day. I could barely remember the name of it." 
Today, Fricker lives a more laid-back life in Dublin with her two dogs. She has long been divorced and her ex-husband died in 1990, but she says she has plenty of wonderful friends. Now 74 years old (as of December 2019), she seems to have completely given up the reins of acting at last, and that's no burden for her at all — she has no lack of things to keep her out and about at her leisure. "You know, before I retired I thought, 'It'll be lovely. I'll walk the dog and look at the blue sky and listen to the birds.' But I haven't had a minute off since I stopped. Life keeps surprising me," Fricker once told Independent.ie. "It's funny how busy you remain. You wake up with three things to do and suddenly it's eleven o' clock at night." After such an illustrious and award-laden career, Fricker deserves to enjoy a cheeky Guinness or two while in repose.