The Untold Truth Of How The Grinch Stole Christmas!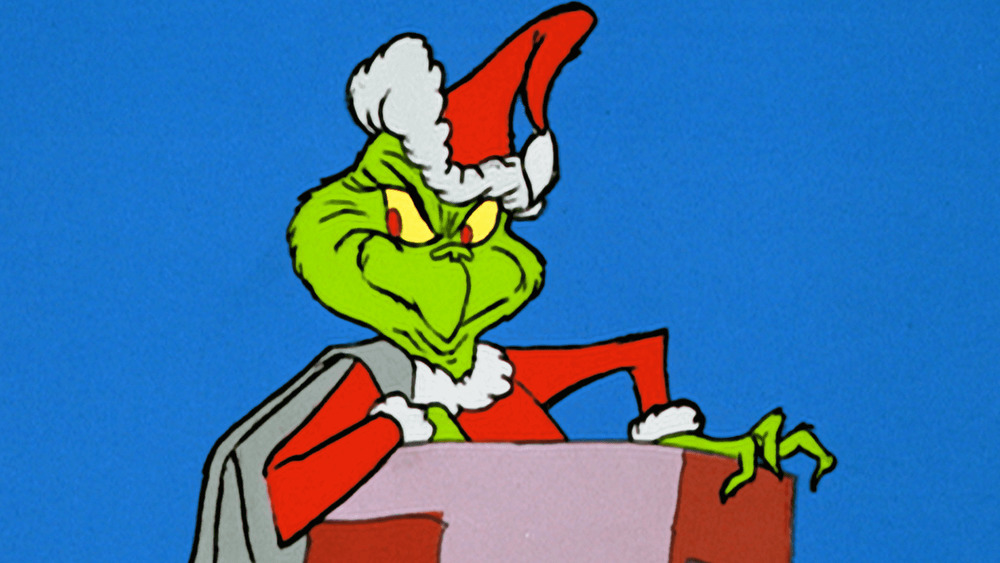 All the Whos down in Whoville liked Christmas a lot ... and everyone everywhere loves How the Grinch Stole Christmas! Dr. Seuss' classic children's book and the 1966 animated adaptation have become as integral to American holiday celebrations as "Deck the Halls" or A Christmas Carol. And depending on who you ask, "Grinch" may have even replaced "Scrooge" as the preferred term for holiday naysayers.
Written in the midst of Christmas' transition from a small religious or family occasion to an annual marketing bonanza, The Grinch's reminder that "maybe Christmas doesn't come from a store" has never stopped being relevant, and it's been copied endlessly by nearly every Christmas story since.
Somehow, Dr. Seuss turned a misanthropic cave-dweller into a beloved icon to children everywhere. He's appeared on the big screen twice, reinterpreted by Benedict Cumberbatch and Jim Carrey, and he's even returned to the small screen on NBC. There's no better explanation for the Grinch's enduring relevance than a minor Christmas miracle, with some help from Dr. Seuss' magic touch. And while they say a good magician never reveals their tricks, there are plenty of behind-the-story secrets about the Grinch that are worth learning.
The book isn't the Grinch's first appearance
Dr. Seuss never hid that he loved recycling his ideas. In a lesser artist, that might look like laziness, but for Seuss, that's all part of the magic. Any time you pick up one of his books, you know you'll probably see woolly, bendy trees, grown men in footy pajamas, and weird machines that defy all the laws of engineering. How the Grinch Stole Christmas! is no exception. Even if you're only vaguely aware of the great artist's work, you probably recognize Whoville from Horton Hears a Who!
And as Charles D. Cohen points out in his essential book The Seuss, the Whole Seuss, and Nothing but the Seuss, the Grinch — or at least his name — appeared before he stole Christmas. In Scrambled Eggs Super!, a boy tours a classic Seussian menagerie of improbable critters in his search for the perfect scrambled eggs, bypassing some of them since they're not laying eggs. He rattles off their names, including one very familiar critter — the Beagle-Beaked-Bald-Headed Grinch.
The name stuck with Seuss, and it reappeared in a story for the magazine Redbook that went unseen for decades before being reprinted in Horton and the Kwuggerbug and More Lost Stories. Titled "The Hoobub and the Grinch," it features another Grinchy namesake, a cheerful con man who doesn't much resemble our beloved crank. And while we're at it, it's a pretty short line from "Hoobub" to "Whoville." Plus, a nameless but very Grinchy character appeared in an ad for Holly Sugar before Seuss finally brought it all together in his 1957 book.
The original Grinch book was part of a very big year for Dr. Seuss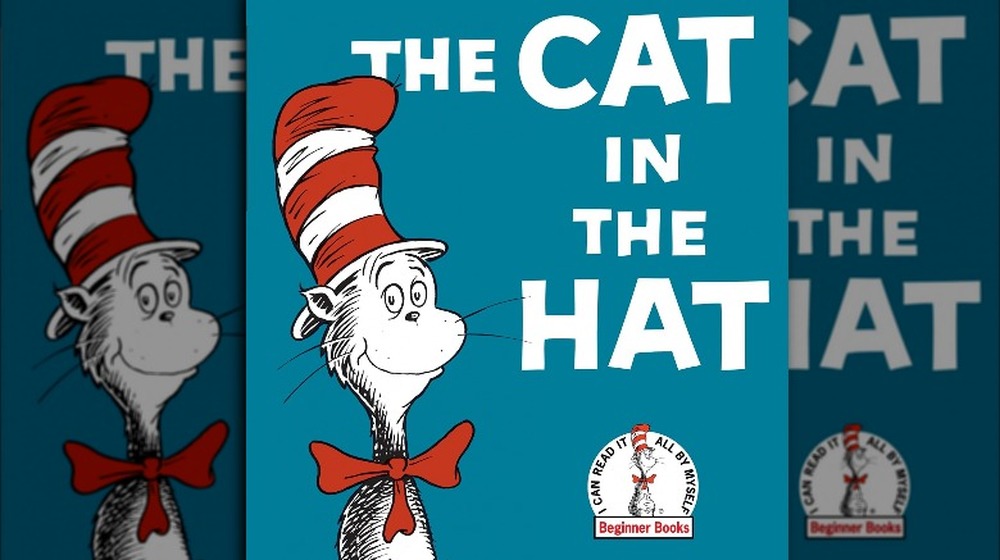 How the Grinch Stole Christmas! wasn't Dr. Seuss' only big project in 1957. If any of Seuss' creations is more beloved than the Mount Crumpit-dwelling hermit, it's the Cat in the Hat, and as it turns out, the two of them are twin brothers. After all, they were both born the same year.
At the time, Dr. Seuss was halfway through his long career, and the back-to-back successes of these two books marked a turning point. Up until then, he'd dabbled in all kinds of projects, from ads to political cartoons to a screenplay for the cult classic The 5,000 Fingers of Dr. T. But the Cat and the Grinch were so huge that they convinced him to go into children's storytelling full-time.
Asked which of his 57 creations he'd rather meet, Seuss told the Dartmouth Alumni Magazine, "I'd like [the Cat in the Hat] because he's against law and order. The fact that he cleans up at the end is just an easy out; he really prefers a mess. So I wouldn't like to have him here — I'd rather visit him in his house. [But] the Grinch? Personally, I like him."
Some real-life Grinches were not amused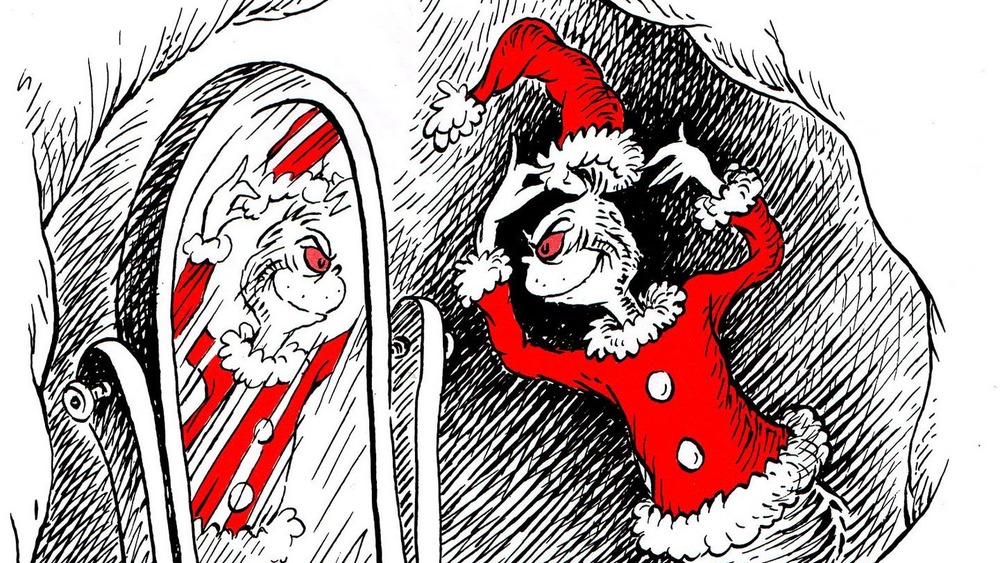 Not everyone likes the Grinch, especially if you're two kids named Grinch who had to deal with bullying at school after the book came out. According to Dartmouth Alumni Magazine, Dave and Bob Grinch of Ridgefield, New Jersey, wrote a letter to Dr. Seuss asking if he could change the name of his book to cut down on the harassment they had to deal with, especially around Christmastime. 
Obviously, Seuss couldn't just change the name of one of his bestselling books, and with so many copies already out in the world, it's hard to imagine it'd make much difference anyway. But that wasn't what Dave and Bob needed to hear, so Seuss wrote back to defend not just them but his own creation, too. As he wrote, "I disagree with your friends who 'harass' you. Can they understand that the Grinch in my story is the hero of Christmas? Sure ... he starts out as a villain, but it's not how you start out that counts. It's what you are at the finish."
The Grinch wasn't always green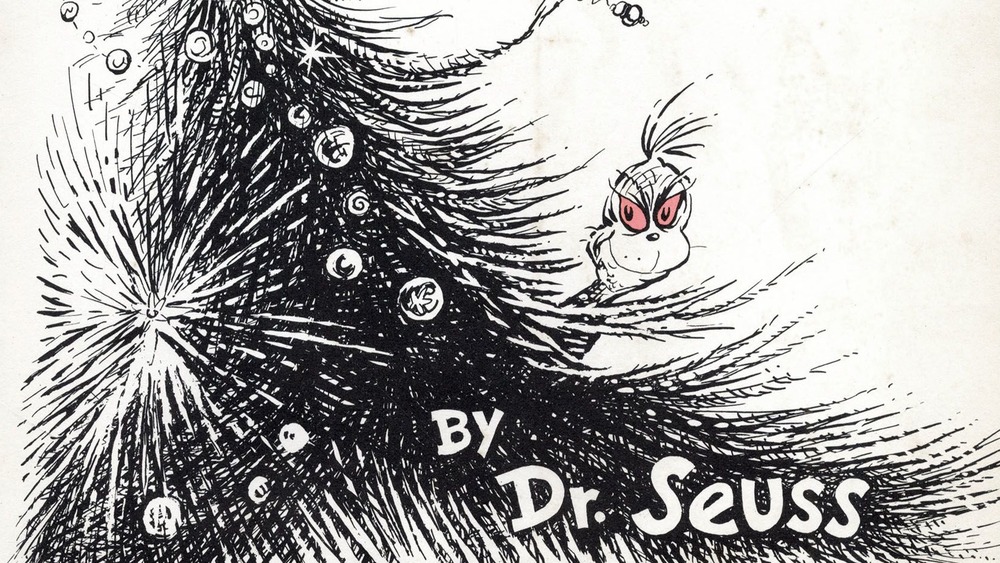 One of the first things we think of when we picture the Grinch is his sickly, lime green complexion. It's the color of the logo for the Jim Carrey movie adaptation, and the posters for Benedict Cumberbatch's version are downright slathered in it. There was even a whole ad campaign where the Grinch endorsed the Wonderful brand pistachio nuts because they're "green and salty, just like me."
But take another look at Dr. Seuss' original book — there's no green in sight! Like most of Seuss' stories, How the Grinch Stole Christmas! was published at a time when color printing was a luxury. As a result, most of them used just a few primary colors, or as in the case of The Grinch, just one. Red was the ideal choice for the Grinch's Santa Claus suit and the festive decorations he dismantles. But that meant the Grinch himself was left uncolored except for his sinister pink eyes (as opposed to the more familiar yellow). 
That wasn't going to work for a full-color animated special, though, so after a long consultation with the Grinch's creator, director Chuck Jones decided to upgrade him to green. (Jones admitted he was inspired by all the lime green rental cars he took back and forth to Seuss' home in La Jolla.)
The Grinch changes color when he has his change of heart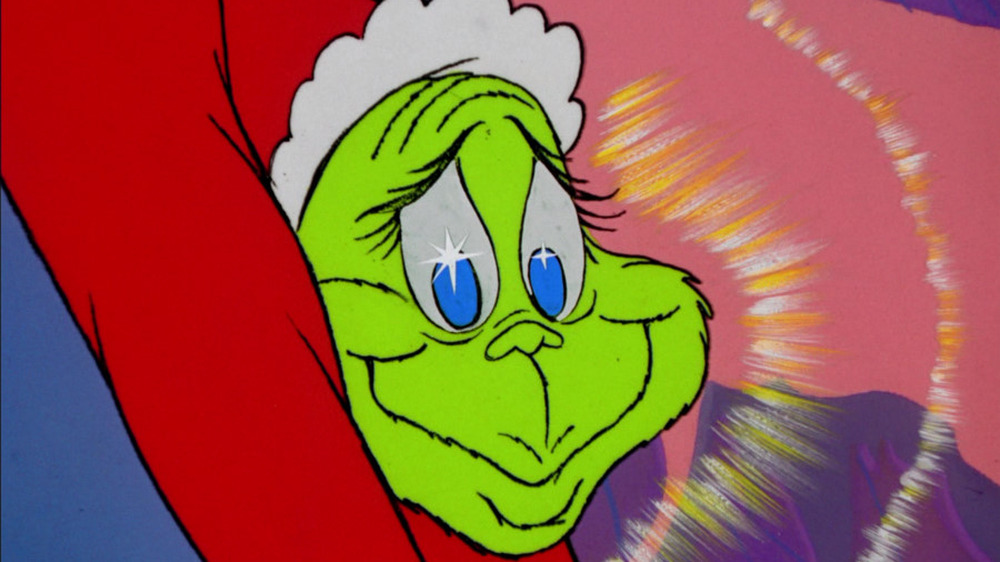 The animated Grinch beefs up the drama of the original book with a show-stopping climax where, after realizing the error of his ways, the Grinch has to save the sleigh full of presents from toppling off of Mount Crumpit. Fortunately, the sight of the Whos celebrating even without their presents makes his two-sizes-too-small heart grow three sizes, and in one of just a handful of new lines added to the narration, Boris Karloff tells us, "And then, the true meaning of Christmas came through / And the Grinch found the strength of ten Grinches — plus two!"
That's not the only change the meaning of Christmas makes to the Grinch. You've probably already noticed that his sinister red eyes turn a more comforting shade of blue. But there's a subtler difference in there, too. For most of the special, the Grinch is a specific, sickly shade of yellowish green. But if you look closely at the reformed Grinch, he subtly changes to a healthier, more bluish shade to sell him as a positive presence once he gets his act together.
The animated special is the work of a Looney genius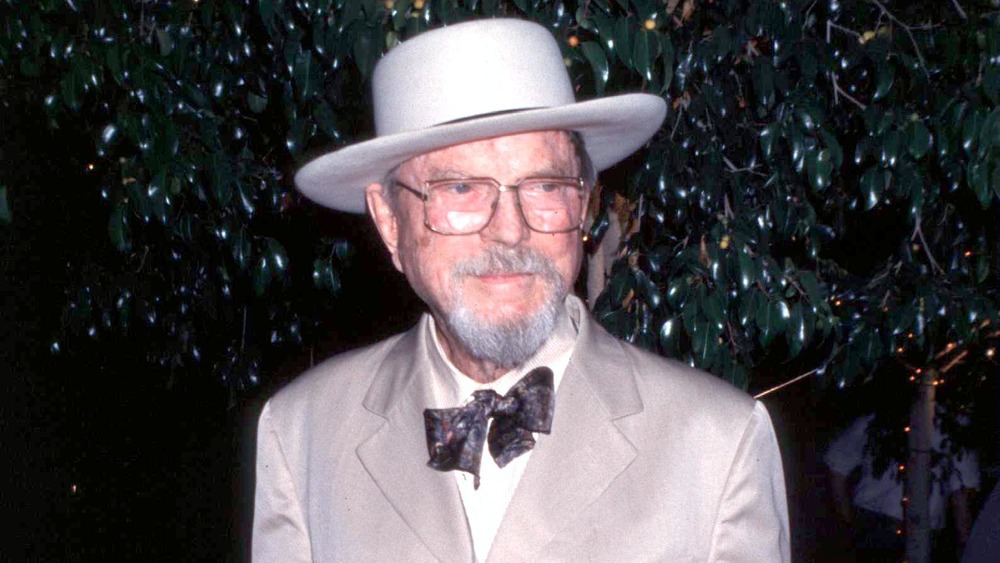 Brenda Chase/Getty Images
How the Grinch Stole Christmas! is one of director Chuck Jones' finest moments, but it's far from the only masterpiece on his resumé. In his biography, Chuck Amuck, he says he got his start as a "cel-washer," cleaning off the celluloid sheets that animated characters were painted on so they could be reused. He then worked his way up to animator for Tex Avery at his legendary "Termite Terrace" studio on the Warner Brothers lot. He eventually became a director, creating some of Looney Tunes' most memorable films and characters, including Wile E. Coyote, Marvin the Martian, and Pepe Le Pew. He developed a distinctive style, especially in his character designs, which favored the big, dilated eyes he gave Cindy Lou Who and Max in The Grinch. And he used those faces for some of the funniest expressions in the business, trying out all kinds of variations on the crooked smiles and scowls that would make their way onto the Grinch.
When Warner Brothers closed down their animation studio, Jones went to MGM. There, he took over the long-running Tom and Jerry series in between more ambitious projects like The Dot and the Line and a feature-length adaptation of The Phantom Tollbooth. For fans of Jones' cartoons, The Grinch is a true melding of his and Seuss' sensibilities. That's especially true in his frequent collaborator Maurice Noble's 250 striking backgrounds, which combine Seuss' off-kilter geometries with the bold, minimalist style of Jones and Noble's Looney Tunes classics, such as What's Opera, Doc? and Duck Dodgers.
How the Grinch Stole Christmas! wasn't the first time that Chuck Jones and Dr. Seuss collaborated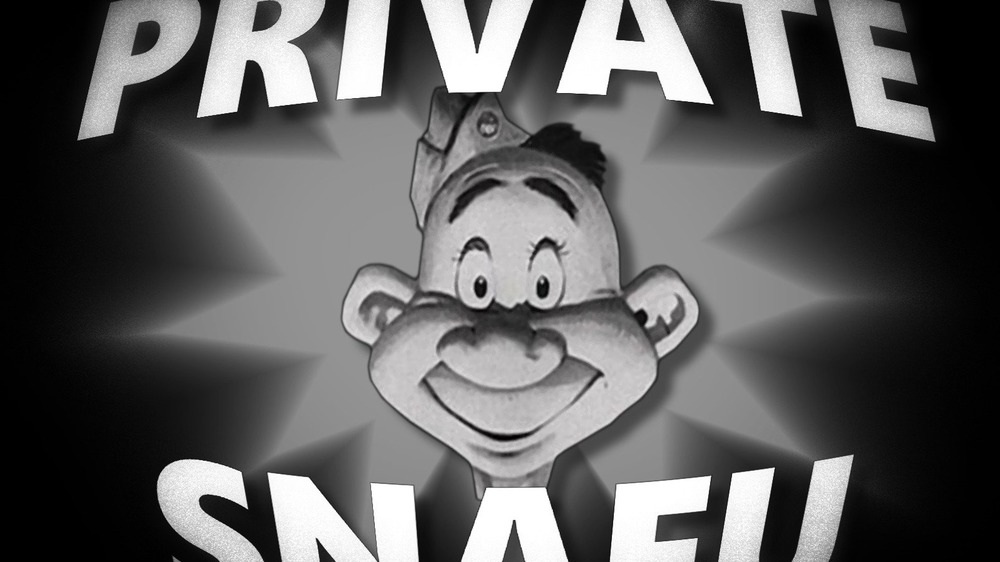 Dr. Seuss was extremely protective of his creations, and Chuck Jones had to convince the author to let him adapt The Grinch. Persistence wasn't the only key to Jones' success, though. After all, he and Seuss had a personal connection. You might even say they were old Army buddies.
During World War II, many studios were pressed into the war effort to make educational films for the military, and the Looney crew was no exception. This led to a series of cartoon shorts about the adventures of Private Snafu, whose name, as the opening narration to every episode explains, stands for "situation normal, all ... all fouled up." Many of these cartoons had a star screenwriter in the person of Dr. Seuss, who worked on the cartoons as part of his military service along with fellow children's author and Ferdinand the Bull creator Munro Leaf and future Beginner Books collaborator P.D. Eastman (Are You My Mother?).
Dr. Seuss and Chuck Jones collaborated on several Snafu shorts, including Gas, A Lecture on Camouflage, and Spies, which Seuss wrote in his trademark rhyming style. That relationship obviously meant a lot to Seuss, since he eventually agreed to work with Jones again, and all of us got a holiday classic out of it.
A Latin hymn inspired The Grinch's soundtrack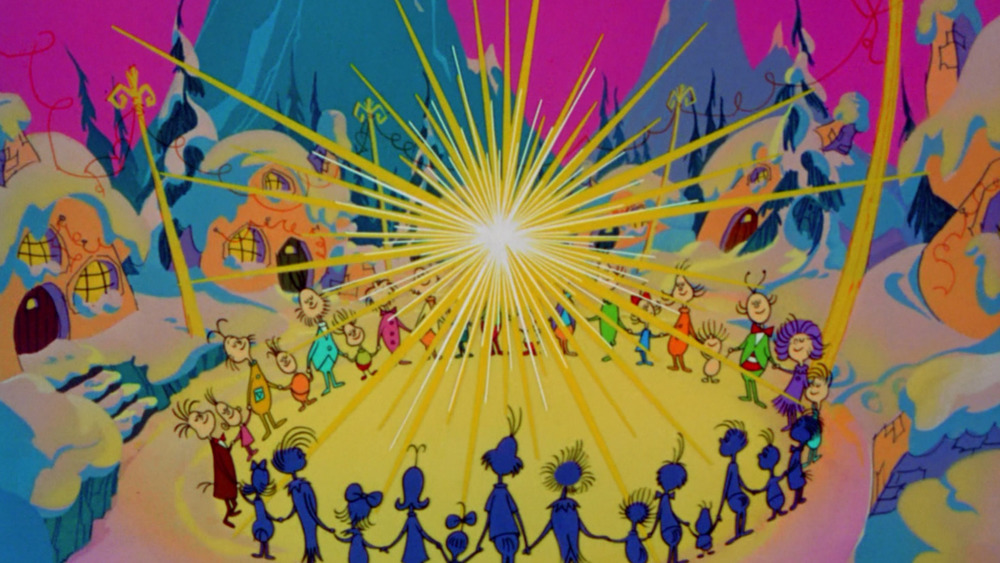 Dr. Seuss wanted to create a truly non-denominational Christmas story, which ended up stumping him when it came time to write the lyrics for the TV special's three new songs. Fortunately, he was able to come up with a typically Seussian solution with the iconic refrain, "Fa-who forays / Da-who dorays," which actually isn't about much of anything at all, but thanks to the writer's flair for nonsense, it makes perfect sense anyway. As Jones put it, the song "seems to have as much authenticity as 'Adeste Fideles' to those untutored in Latin." 
Jones took to calling Seuss' lyrics "Seussian Latin," and the two even planned to have a whole concert of Christmas hymns in the nonsense language, including untranslated dialogue. They decided audiences wouldn't go for it — which, considering what happened when The Star Wars Holiday Special tried a similar idea, was probably for the best. Making up new words as you go along may seem easy, but Dr. Seuss worked hard at it. His papers include multiple drafts of The Grinch's songs, and according to Dartmouth Alumni Magazine, he tried out a whole sleigh-full of alternate lyrics, including "Dah Who Deeno" and "Noo Who Frobus" before finally shaping the song into the version we all know today.
How the Grinch Stole Christmas! features the voice of Frosted Flakes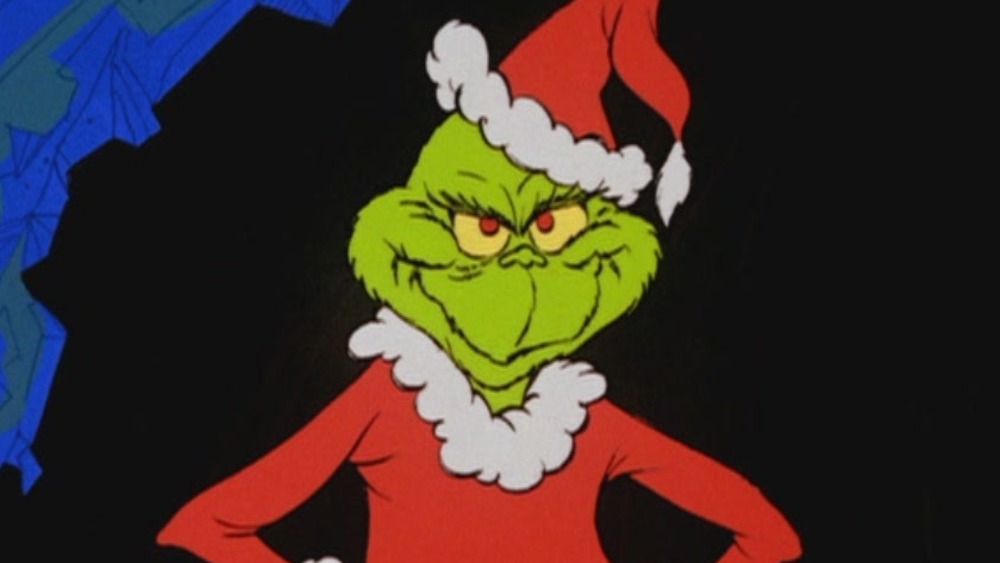 The legendary Boris Karloff got to add another classic monster to his repertoire as the Grinch, and he got to show off his little-used softer side as the grandfatherly narrator. While he's the only actor in the credits, he's not the only one in the special. "You're a Mean One, Mr. Grinch" was originally written for Karloff, but when the producers discovered he couldn't sing, they brought in a ringer.
That would be the booming voice of Thurl Ravenscroft, which he imprinted on all our brains not just here but in a number of other iconic roles. Most famously, he originated the cereal pitchman (pitchcat?) Tony the Tiger and his catchphrase, "They're grrrreat!" He also sang the refrain of "No Dogs Allowed" in Snoopy Come Home and played Kirby the vacuum in The Brave Little Toaster. He's lent his voice to backup vocals and background characters in many Disney classics, including roles as Captain the Horse in 101 Dalmatians and Paul Bunyan. And you can hear him all over Disneyland as one of the singing voices in The Haunted Mansion, a parrot in The Enchanted Tiki Room, Big Al in The Country Bear Jamboree, and the conductor of the Disneyland Railroad.
However, studio mix-up left Ravenscroft out of The Grinch's credits, and Dr. Seuss took it upon himself to correct it, mailing out corrections to newspapers across the country.
Cindy-Lou Who's voice should sound very familiar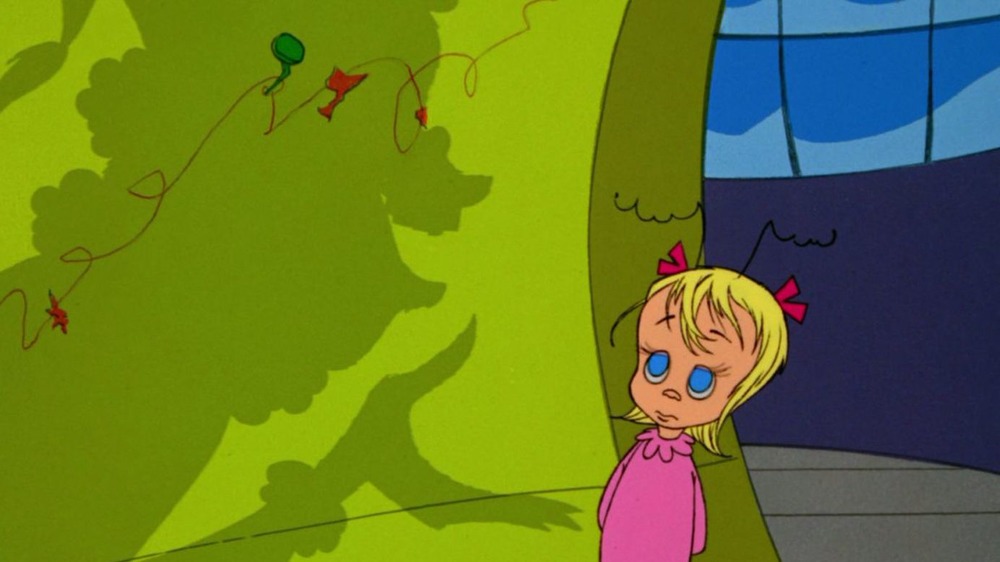 One of Hollywood's most accomplished voice actors appears in The Grinch as Whoville's local adorable moppet, Cindy-Lou Who. That would be June Foray, who in 1966 was already one of the biggest stars in her field and would continue racking up credits until her death in 2017. Beginning her career in radio, she started her animation career at Disney, where she played Lucifer the cat in Cinderella. Plus, Foray returned to the studio nearly half a century later to play Mulan's grandmother.
Foray soon found her niche playing the women of Looney Tunes, most notably Witch Hazel and Tweety Bird's Granny, who she'd continue playing through Cartoon Network's The Looney Tunes Show in the 2010s. TV brought even more iconic roles, including The Twilight Zone's killer doll Talky Tina, George of the Jungle's Ursula, DuckTales' Magica De Spell and Ma Beagle, Spider-Man and His Amazing Friends' Aunt May, and minor characters on just about every other show ever animated. 
But the most memorable of all has to be The Adventures of Rocky and Bullwinkle, where she got to show off her range as everyone from the boyish hero Rocket J. Squirrel to the sultry spy Natasha Fatale. She'd continue playing Rocky from his first appearance all the way to her final screen role in a Dreamworks short to accompany the Peabody and Sherman movie.
The Grinch returned to the small screen for Halloween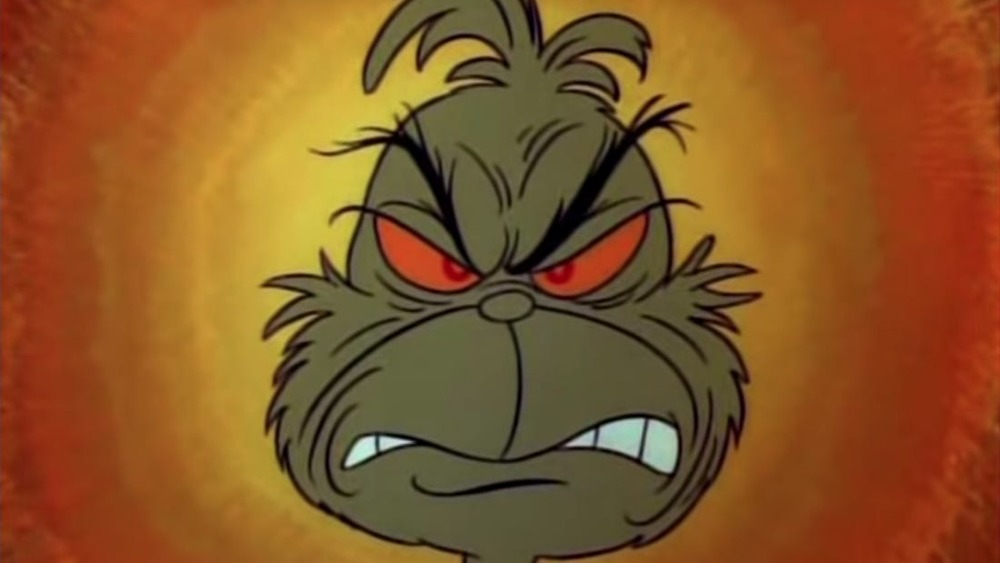 The Grinch returned to ruin another Whoville holiday in 1977's Halloween Is Grinch Night, where we learn that once a year, the "sour sweet wind" summons the Grinch to torment the Whos with the horrors he keeps in his "paraphernalia wagon." Since Boris Karloff died in 1969, Grinch-voicing duties went to Hans Conried, who also played such classic villains as Peter Pan's Captain Hook and Rocky and Bullwinkle's Snidely Whiplash, as well as working with Dr. Seuss on The 5,000 Fingers of Dr. T and an animated adaptation of Horton Hears a Who. 
Grinch Night features an all-new story by Dr. Seuss himself, and it's as full of sparkling wordplay as any of his books. The show's hero, Euchariah, gets stranded in the wind storm after going out to the outhouse, but he doesn't call it that, literally using "euphemism" as a euphemism. And Seuss and crew bring their A-game on the visuals, too, culminating in a weapons-grade psychedelic freak-out when Euchariah enters the paraphernalia wagon. Seuss even tries out some ideas that would make their way into one of his most beloved books, as the Hakken-Kraks from Oh, the Places You'll Go! make an appearance here.
Halloween Is Grinch Night won Dr. Seuss an Emmy, and in true Seuss style, he gave a rhyming acceptance speech: "In our studio out in Van Nuys / There are so many great gals and great guys. / If I thanked them all / We'd be here until fall / And I don't think that would be wise."
The Grinch tangled with another Seuss icon in The Grinch Grinches the Cat in the Hat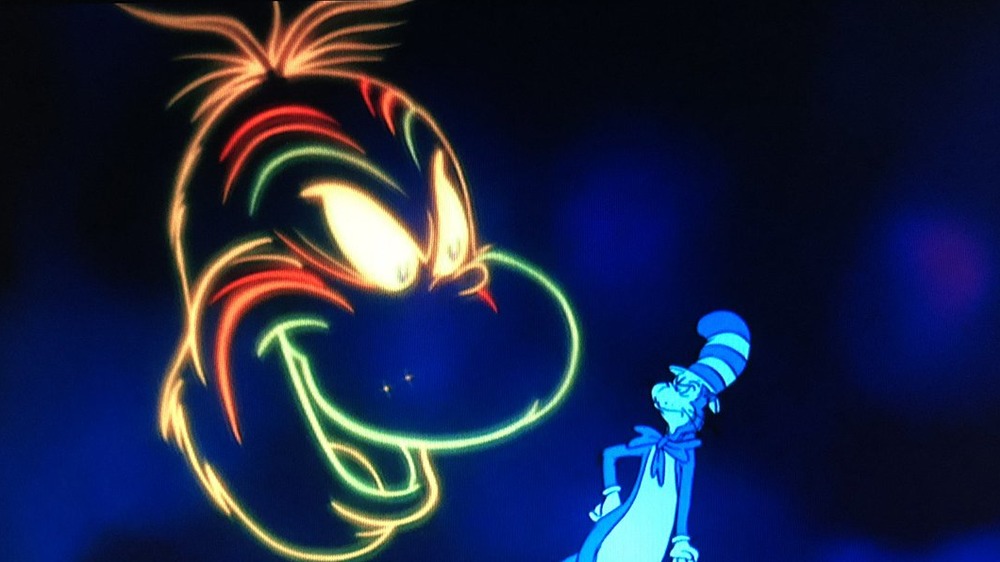 Dr. Seuss returned to the Grinch one last time for an inevitable crossover with his other most famous creation, the Cat in the Hat. As great as it sounds on paper, The Grinch Grinches the Cat in the Hat has the major flaw of making the Cat in the Hat a passive victim of the kind of pranks he played on the two hapless kids in Dr. Seuss' books. It's also probably best not to think too hard about any kind of continuity between the three specials, as it replays the Grinch's redemption arc from How the Grinch Stole Christmas! and moves him from his cave overlooking Whoville to a house in a town full of apparently macroscopic people. (Well, unless the Cat in the Hat is Who-sized, but that'd just raise a whole different set of questions.)
Fortunately, The Grinch Grinches the Cat in the Hat makes up for its occasional missteps with some gorgeous, richly colored background paintings that recreate the classic Seuss style. And if you stick around to the end, you'll get to see the psychedelic chaos the Grinch wreaks with his "darkhouse." ("You've heard of a lighthouse? Well, just for a lark, I've invented a darkhouse — a darkhouse for dark.") And if The Grinch Grinches the Cat in the Hat can't live up to How the Grinch Stole Christmas!, well, few things can. After all, it's a holiday classic that's endured over half a century, and it looks to last at least that long into the future.