The Highest-Rated Christmas Movies According To Rotten Tomatoes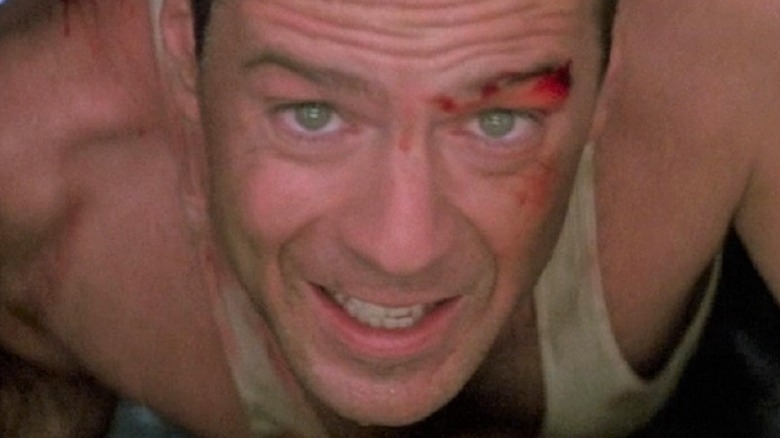 20th Century Fox
Part of the fun during any holiday is watching holiday-related films. Whether it's putting on "Independence Day" on the Fourth of July or John Carpenter's "Halloween" on October 31, movies can be the perfect accessory to any celebration. And you'd be hard-pressed to find a holiday with more movies and specials to choose from than the behemoth that is Christmas. Every year, a new deluge of rom-coms, family flicks, fantasy tales, and horror stories centered around December 25 is unleashed on the public, ensuring you never have a single day without something to watch. 
Still, we all have our old favorites, the films that define the winter holiday season for us. Be it Bob Clark's infinitely rewatchable classic "A Christmas Story," Will Ferrell's hilarious "Elf," or animated specials like "Mickey's Christmas Carol" and "Rudolph the Red-Nosed Reindeer," these movies put the viewer right in their comfort zone in a way that no amount of music or decorations can. For many of us, it just isn't Christmas without our beloved Christmas movies.
So everyone has a personal preference when it comes to the perfect Christmas movie, but which ones are the best? Given the outrageous amount of titles to choose from, deciding that can be incredibly difficult. To help us out, we took a look at what Rotten Tomatoes had to say about the yuletide subject. And according to their rankings, these are the highest-rated Christmas movies of all time.
12. Die Hard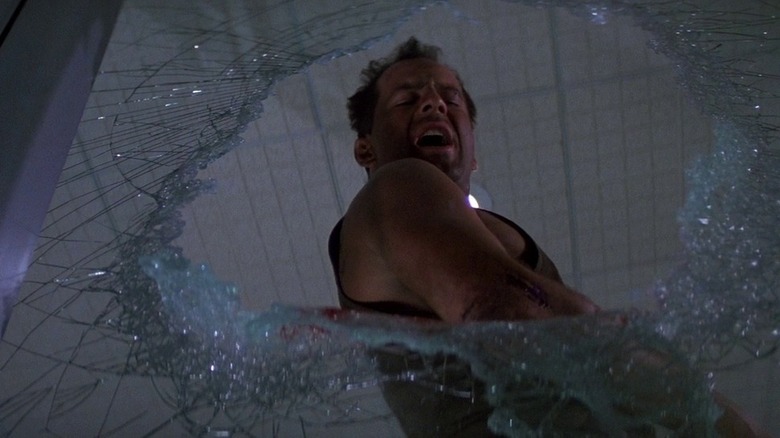 20th Century Fox
Ever year, it seems like the internet loves to debate whether or not the 1988 Bruce Willis action film "Die Hard" counts as a Christmas movie. Even if the film's writer, Steven E. de Souza, all but confirmed its Christmas canonicity on the "Script Alert" podcast, some viewers still aren't convinced. Granted, what is and isn't a Christmas movie kind of depends on your definition. But whatever your criteria may be, chances are that "Die Hard" — with it's music, plot about a terrorist attack during an office Christmas party, and that memorable "ho-ho-ho" line – meets more than a few of your qualifications.
If you're not aware, "Die Hard" is about NYPD cop John McClane flying to Los Angeles on Christmas Eve to be with his estranged wife. She's working the Nakatomi Corporation, which is hosting a wild Christmas party at its big L.A. skyscraper. Unfortunately, McClane arrives just before the entire building is taken over by German terrorists. With no shoes but plenty of quips, it's up to McClane to keep his wife and the rest of the Nakatomi employees safe.
If that doesn't exactly fill you with holiday cheer, don't worry. Aside from its hazy status a Christmas film, "Die Hard" is also considered one of the greatest action films of all time. So, if you're already stuffed on the offerings of more traditional Christmas fare and want something a little different, you can do a lot worse than screening this '80s classic.
11. A Charlie Brown Christmas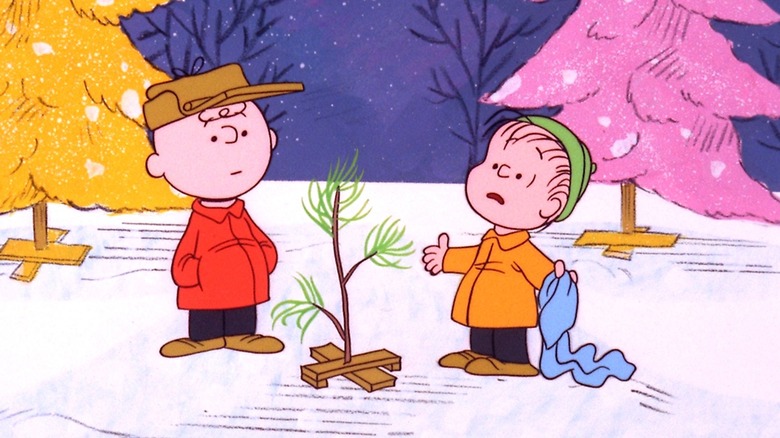 CBS
The should be a law somewhere stating that no list of Christmas movies can be published if it doesn't include an entry for the 1965 animated television special "A Charlie Brown Christmas." The half-hour short, written by "Peanuts" creator Charles. M. Schulz, has been an ever-present pillar of Christmas entertainment since it first premiered on CBS all those years ago. There are a lot of Charlie Brown specials, but this somber look at holiday loneliness has captured the hearts of viewers for generations, and it could be considered required viewing for anyone looking to officially kick off their holiday viewing.
"A Charlie Brown Christmas" sees everyone's favorite neurotic bald child, Charlie Brown, struggling to embrace the joy of Christmas. Even after agreeing to direct a Christmas play, where his artistic authority is ridiculed, Charlie just can't get into the spirit of things. Things get more complicated when the play calls for a big, spectacular Christmas tree, and he returns with a tiny, pathetic branch that's losing its needles. He may love the little plant, but pretty much everyone else hates it, which leads to these kids being reminded that Christmas isn't about the razzle-dazzle and showmanship — or even presents. As a result, the special's message of self-reflection and humility is one that everyone should be able to relate to.
10. Tangerine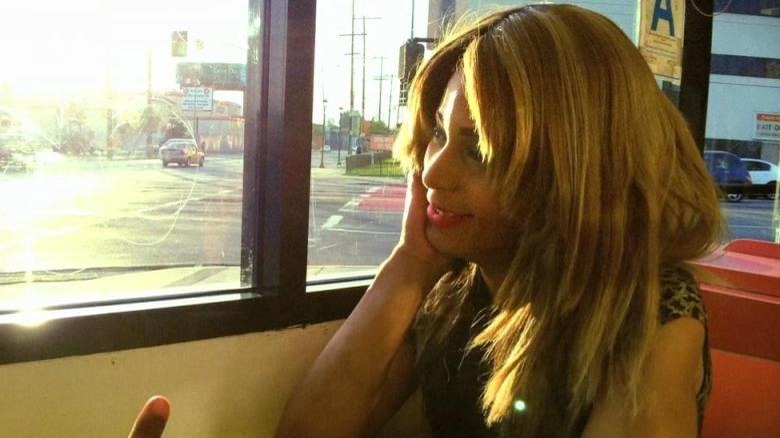 Magnolia Pictures
Sean Baker's "Tangerine" seemingly defies traditional standards for what makes a Christmas movie. Then again, this is a film that challenges your expectations from the very start. Given its subject matter involving transgender sex workers on the streets of Los Angeles, you might expect this to be a dark and depressing indie film about the struggle against crime, drugs, and bigotry. Those elements are present, absolutely, but the film is actually a fast-paced comedy full of stunning performances and a sprinkling of the kind of hope that only comes at Christmas.
Set entirely on Christmas Eve, "Tangerine" tells the story of a sex worker named Sin-Dee who was just released from a 28-day stay in prison and is furious to learn that Chester, her pimp/boyfriend, has been sleeping with someone else. She makes it her mission to track this woman down and confront the man who was supposed to be in love with her. Once the film gets going, it does not stop. The second Sin-Dee leaves the donut shop, we're taken through the dizzying world of this L.A. community with no off-ramp until the story is over.
The film demonstrates that Christmas is different for everyone. For a lot of people, Christmas is just another day, and that's no less valid than a sentimental story full of snow and warm family dinners. Why not push aside the nostalgia-soaked Christmas films you're used to and give "Tangerine" a try?
9. Carol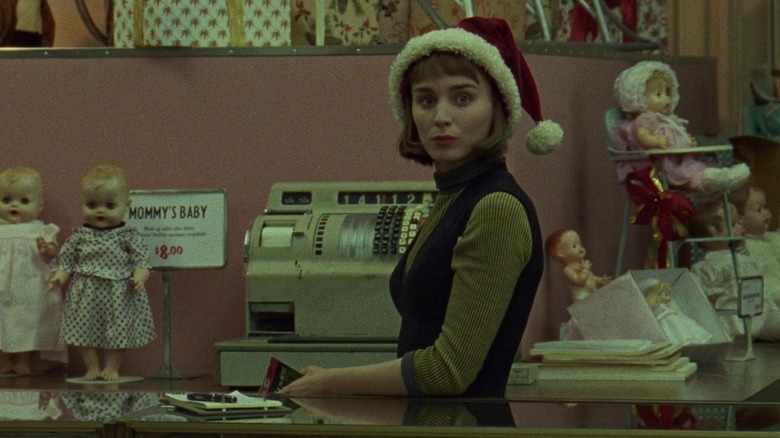 StudioCanal
Can a movie be considered a Christmas film if it doesn't take place solely at Christmas? What if the majority of the film is set in the days leading up to December 25? Well, according to Rotten Tomatoes, the answer is yes, as that's the case with "Carol." Directed by Todd Haynes, the first two acts of this love story feature several trademarks of Christmas cinema, with none of the indulgence. Christmas is simply the backdrop to the events unfolding, just as our lives go an as normal during the holiday. 
The story "Carol" tells is of a love affair between two women in 1950s New York. Therese, played by Rooney Mara, meets Cate Blanchett's Carol while working at a department store. When Carol forgets her gloves at the counter, Therese returns them, striking up a friendship that soon turns into something more. Both are dealing with difficult relationships. Carol is in the middle of an ugly, bitter divorce, and Therese has a fiance she can't connect with. Their romance should be a solace for the two lonely women, but Carol's husband plans to use it against her in the custody fight over their daughter.
"Carol" is perfect holiday viewing for those of us who don't mind some heartache with our cheer. Christmas can be a sad, contemplative time for some, and the story of Carol and Therese shows us that winter certainly can be cold and harsh, but there's always hope on the horizon. 
8. Meet Me in St. Louis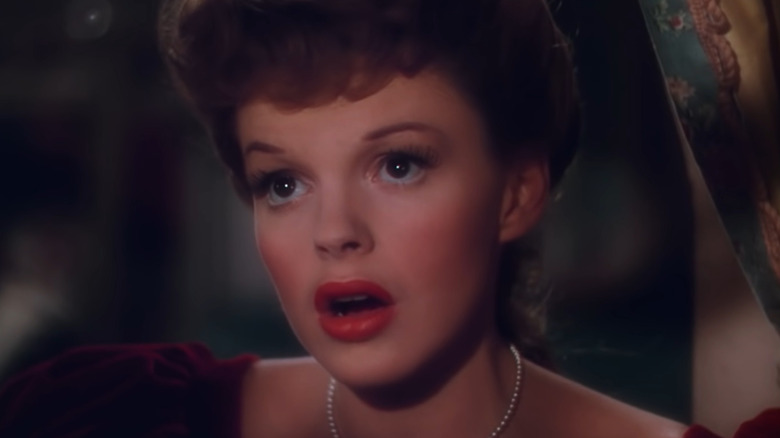 Warner Bros. Pictures
"Meet Me in St. Louis" doesn't take place during Christmas for most of its runtime. This 1944 musical starring Judy Garland tells its story across all four seasons, culminating in a trip to the World's Fair in the spring. However, the most important events do occur during the most magical time of the year.
Being a big Hollywood musical, "Meet Me in St. Louis" is full of memorable song-and-dance numbers, and Garland's rendition of "Have Yourself a Merry Little Christmas" might very well be what makes this a great Christmas film. Knowing that they're going to have to leave their beloved St. Louis for New York after the holiday, Garland's character tries to console her sad little sister (Margaret O'Brien) in a touching and powerful scene that's sure to bring a tear to even the harshest Scrooge's eye.
While it might not be the big, bombastic Christmas-centric musical you might expect, the film has so much heart and its holiday elements are so touching that it truly ranks up there as one of the best Christmas movies.
7. Little Women (2019)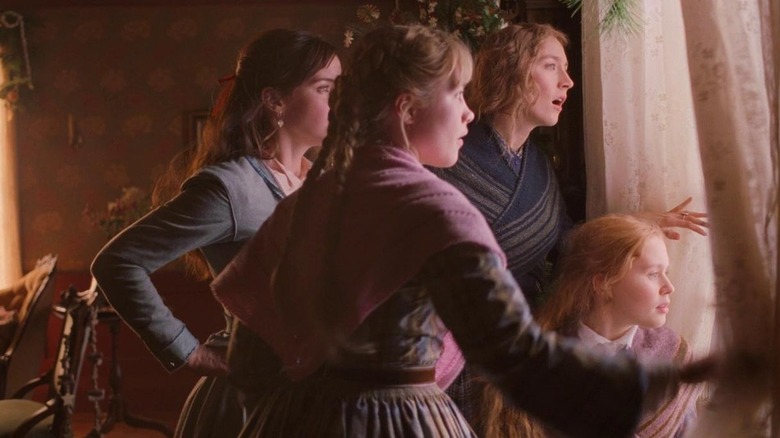 Columbia Pictures
In, 2019, writer-director Greta Gerwig followed up her 2017 film "Lady Bird" with an adaptation of Louisa May Alcott's novel "Little Women." The book was originally published in two volumes but subsequently combined into one. Most of the Christmas stuff associated with the story happens in the first part of the book. But when Gerwig decided to treat the two halves of the book as separate timelines folding over each other, she was able to give both equal attention, with the second volume being the film's current timeline and the first volume serving as flashbacks to fond memories.
This means that the Christmas scenes we get in the 2019 film are about as warm and wonderful as any you're bound to see during your festive movie marathon. Not only are characters embracing the spirit of the holiday by giving their food and gifts to those less fortunate and cherishing the time they have together, as we're all expected to do, but the set design and cinematography are absolutely gorgeous. That's all because of the nostalgia goggles through which Jo is remembering her past. While the modern timeline she lives in is stark and cold, her memories are colorful and cozy, lit by the fireplace and candlelight.
If you're looking to experience images of Christmas that make you long for a simpler, sweeter time, look no further than "Little Women."
6. The Nightmare Before Christmas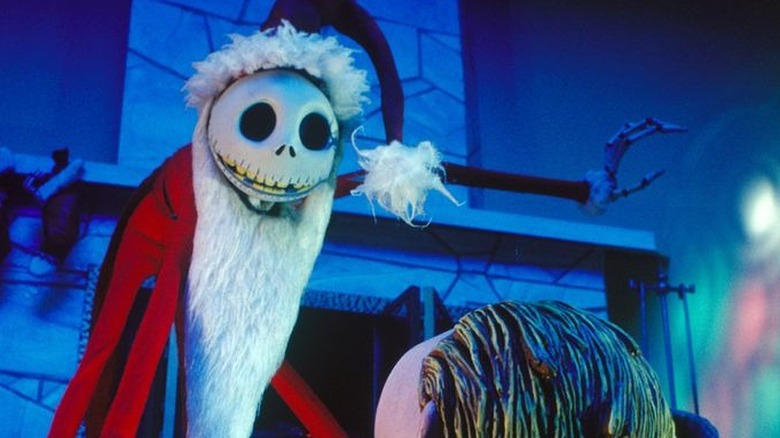 Walt Disney Pictures
Director Tim Burton is no stranger to including Christmas in his films. Movies like "Edward Scissorhands" and "Batman Returns," even "Charlie and the Chocolate Factory," feature the holiday in some capacity. But if there's one movie that has to be at the very top of the "Tim Burton Christmas movie" list, it's the 1993 stop-motion epic that he originated and produced — "The Nightmare Before Christmas."
Set in a world where holidays exist in some kind of multiverse, separate from each other, "The Nightmare Before Christmas" tells the story of Jack Skellington, the Pumpkin King, who becomes disillusioned with his beloved Halloween. He yearns for something more, something new. Upon discovering Christmas Town, with its snow and lights and reverie, Jack becomes obsessed and will stop at nothing to make Christmas part of his life.
Masterfully directed by stop-motion animation king Henry Selick, the film is so imaginative that the viewer is sucked into the world of the story within seconds, quickly forgetting they're watching tiny figures manipulated frame by frame by animators. Also, Danny Elfman's songs, music, and singing performance as Jack gave the world a new classic Christmas song with the joyous "What's This?" 
With its sweetly demented and macabre humor and passion for all things wonderful and broken, "The Nightmare Before Christmas" is a film that deserves you attention every single year.
5. How the Grinch Stole Christmas!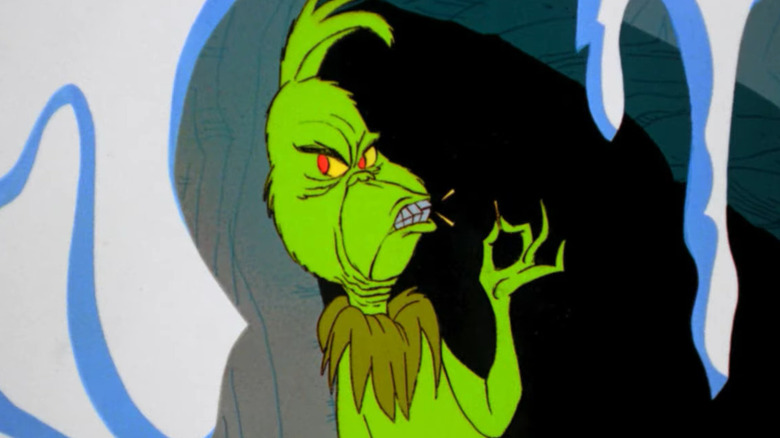 MGM Television
Another titan of Christmas viewing is the 1966 animated television special "How the Grinch Stole Christmas!" Written by children's author Dr. Seuss, adapting from his own book, the massive impact of this 26-minute short is still being felt today. Not only is it aired on television and made available on streaming services each year, it's also been remade as a feature film twice (in 2000 starring Jim Carrey and in 2018 with a CGI film) and a stage production was broadcast live in December 2020. The story of a green, Christmas-loathing recluse who learns the error of his ways is something we cannot get enough of.
However, a number of elements set the original special apart from its counterparts. For one, the animation, as directed by animation dynamo Chuck Jones, mimics the illustration style of the book so faithfully that it's almost like watching the book itself come to life. Also, horror film icon Boris Karloff's performance as both the Grinch and the narrator will forever be associated with the sound of the story. He is so quiet, exact, and perfect that you can't help but hear his voice every time the story comes to mind. On top of that, songs like "You're a Mean One, Mr. Grinch" and "Welcome Christmas" are so wonderful that it's almost as though they've always been part of the holiday tradition, right alongside your usual Christmas carols.
4. The Shop Around the Corner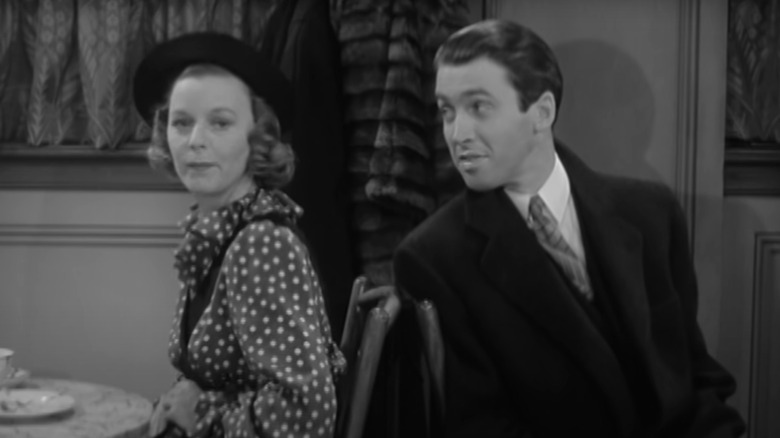 Warner Bros. Pictures
Released in January 1940, "The Shop Around the Corner" is based on a play by Miklos Laszlo and stars Jimmy Stewart and Margaret Sullivan as two employees at a Budapest shop who simply cannot stand each other. At the same time, both are experiencing a romance with a mysterious correspondent through the mail. Of course, neither of them know, at first, that they're actually writing to each other. If that sounds familiar, the film was later remade in 1998 as "You've Got Mail" with Tom Hanks and Meg Ryan.
Part of the tried-and-true formula when it comes to romantic comedies is making sure that your two leads don't connect right away. By setting up your love interests as antagonists at first, when the audience knows they belong together, it makes viewers just want them to hook up even more. "The Shop Around the Corner" is unique in its use of this trope by showing us that these two people clearly love each other very deeply, they just don't know it yet. So the fun in their angry banter isn't in knowing they'll eventually fall in love but in knowing they already are in love.
All of this takes place during the Christmas shopping season, which serves more as a means of deepening the magic of the romance than reminding you of how great the holiday is. Even without the inclusion of Christmas, this would top any list of comedies from the Golden Age of Hollywood.
3. Holiday Inn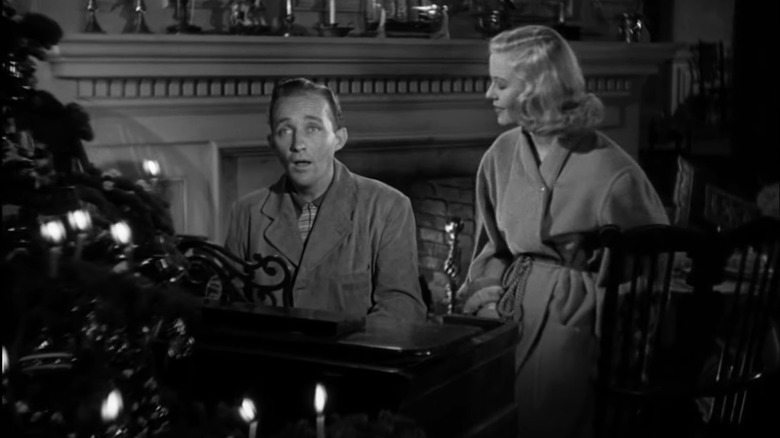 Warner Bros. Pictures
Christmas is just one of many holidays featured in this 1942 musical starring Bing Crosby and the dancing madman Fred Astaire. A trio of performers end their time together when Jim (Crosby) discovers that the woman he loves — and member of the trio — is ditching him for his other partner (Astaire). Jim then retreats to the Connecticut countryside and turns a farm into a holiday-themed music venue called Holiday Inn. This provides the film with ample opportunity to feature musical numbers around holidays such as Thanksgiving, Independence Day, and, of course, Christmas.
Like many musicals of the '30s and '40s, the plot is really just an excuse to dazzle audiences with the kind of dancing and singing they'd normally have to trek all the way to New York to see live. Perhaps the most notable song included (not to mention one of the main reasons this is considered a Christmas film) is the introduction of "White Christmas." This song, naturally, went on to inspire the 1954 film also starring Crosby. It's another one of Hollywood's Christmas songs that has become so ubiquitous with the holiday that it's hard to imagine a time when it didn't exist.
While the film will certainly delight any fan of classic Hollywood musicals, be warned — to celebrate Lincoln's birthday, the cast performs a song called "Abraham" as a minstrel show, complete with blackface.
2. Miracle on 34th Street (1947)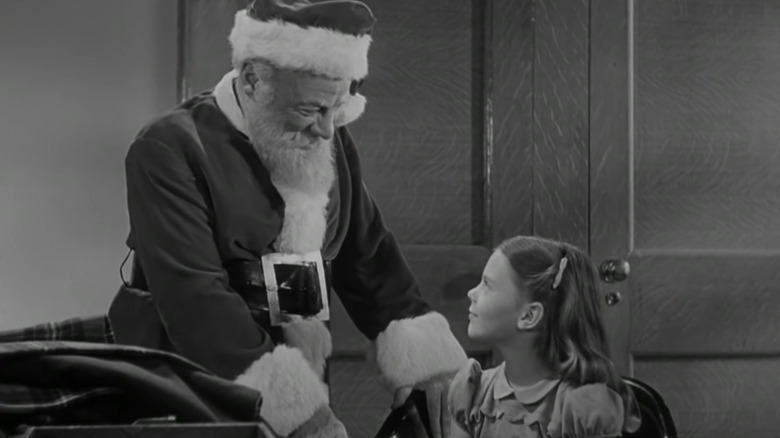 20th Century Fox
There's a lot to love about the original 1947 "Miracle on 34th Street." For one thing, it's a film about reminding us to look for the magic in things. Maureen O'Hara's plays Doris, a hard-working divorcee raising her daughter, Susan (Natalie Wood), not to believe in things like fairy tales, which mirrors our own shedding of innocence and childhood naivete with age. The difference, of course, is that Susan is still a child and deserves to see the world with wonder, which she gets to do upon meeting a man named Kris Kringle who's convinced that he is the real Santa Claus. 
The film begins with the Macy's Thanksgiving Day Parade, an annual event that ends with the appearance of Santa riding his sleigh. Including it here puts the audience in a very real and relatable place. Even though it's 1940s New York, we recognize what that parade means — the start of the Christmas season — and are immediately sucked into all the festivities. From there, we witness the incredibly charming performance of Edmund Gwenn as Kris Kringle as he delights and dazzles both audiences and our cynical protagonists.
"Miracle on 34th Street" been remade numerous times, including a feature film starring Mara Wilson and Richard Attenborough, and all of them have their merits. But the true magic of the original film is Gwenn, who's so convincing as Kringle that he makes you believe in fairy tales all over again.
1. It's a Wonderful Life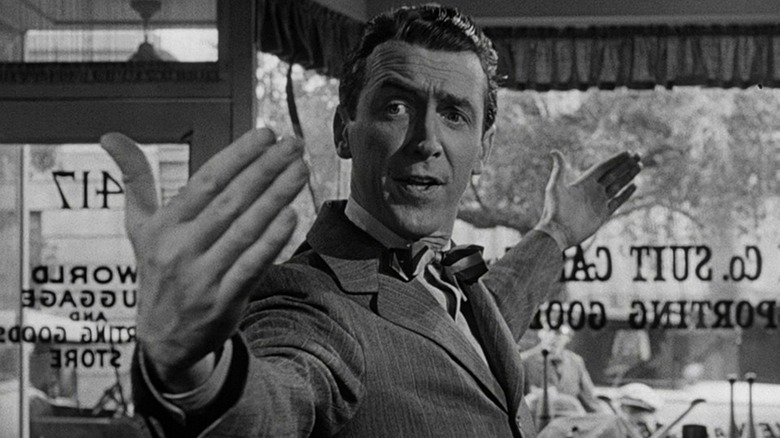 Republic Pictures
If you're a fan of the sitcom "Friends," then you know that the title "It's a Wonderful Life" can seem like a misnomer at first. The life of main character George Bailey is so harsh and borderline miserable that Lisa Kudrow's Phoebe Buffay couldn't even finish watching it. That's entirely understandable as it seems like no matter how hard George Bailey tries, he just can't win. All he wants is to escape his hometown of Bedford Falls to live the life he craves, but every time he gets close, something happens to make him stay put. Sadly, this all escalates to the point where George considers taking his own life.
Frank Capra's 1947 film is based on the short story "The Greatest Gift" by Philip Van Doren Stern, which owes a lot to Dickens' "A Christmas Carol." However, instead of a miserable jerk of an old man being shown his past, present, and future by three ghosts, a very good and decent George sees what the world would be like if he'd never been born, via the help of a guardian angel named Clarence. It's in this alternate reality that he learns that even though he never left Bedford Falls or got to accomplish his dreams, the world without him would be a dark and depressing place. 
This all results in one of the most satisfying endings in film history, set on December 25. When George realizes his life truly is wonderful, you can't help but want to jump from your seat and shout right along with him, "Merry Christmas!"