Holiday Movies That Aren't About Christmas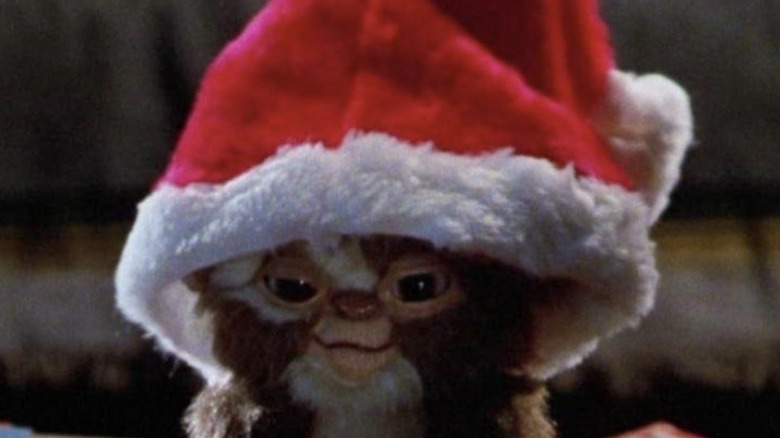 Warner Bros.
It's the most wonderful time of the year: the snow is falling, the sun is setting at 4 pm, and the only way to beat the bitter cold is to curl up with a thick blanket, a warm cup of tea, and a good movie.
The specifics of what makes a movie a "Christmas movie" are harder to pin down than you might expect. Of course, there are films unambiguously linked to the Yuletide season, like Rankin/Bass' "Rudolph The Red-Nosed Reindeer," "Elf," and "Miracle on 34th Street." But there are other films where elves, Santa, and wreathed garlands are in very short supply and yet they feel, for whatever reason, like they have some kinship with the holiday season. 
Maybe they have a hopeful spirit or a thematic interest in family, kindness, and the closeness that makes the winter months bearable. Maybe they are set during the holidays, but the holly jolly atmosphere is more of a vibe than a bona fide plot element.
Leaving the door open a crack to what can qualify as a "Christmas movie" means that a whole host of genres can satisfy the festive film fan. From mischievous gremlins to action-packed spy capers, being flexible with your holiday movie viewing means opening your arms to far more than wholesome, Christmas rom-coms and TV movies. So in that spirit, we've cobbled together fourteen fantastic films that capture the holiday spirit despite not really being about Christmas. So keep those spirits bright, and read on for our picks of great alternative Christmas films.
Phantom Thread (2017)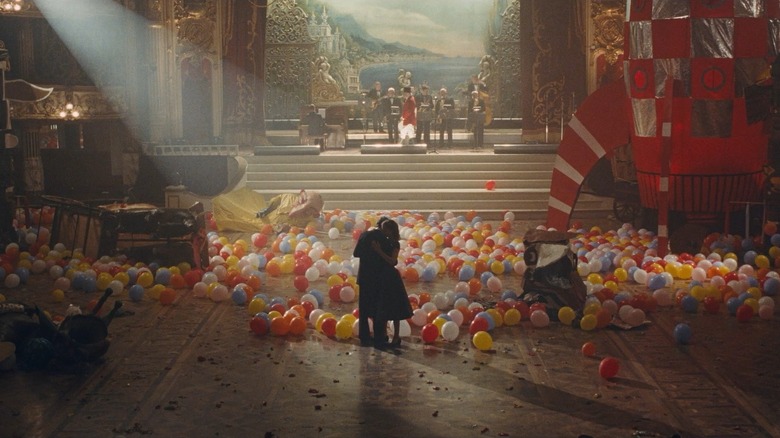 Focus Features
Directed by Paul Thomas Anderson, "Phantom Thread" tells the story of a renowned, and cripplingly particular, British dressmaker named Reynolds Woodcock (Daniel Day-Lewis). After a chance meeting with striking, strong-willed Alma (Vicky Krieps), Woodcock uncharacteristically opens his home, and life, to this enigmatic young woman, who soon becomes a mainstay in his life, his muse, and his lover.
"Phantom Thread" is not explicitly concerned with the festive spirit. But the film was released in theaters on Christmas Day for a reason. In addition to featuring both Christmas and New Year's scenes, "Phantom Thread" is, at its core, all about gift-giving: about tender objects infused with love, home cooked meals, and the marvelous joys of softening your nihilistic heart to lean on others. Keep your eyes peeled for tasteful garlands and crackling fireplaces. The days may be chillier, but the holidays are all about flipping the frowns of curmudgeons upside down. And that's precisely what Alma (and the holidays) aim to do: chip away slowly at Woodcock's icy exterior until his Grinch-y heart grows three sizes.
On Her Majesty's Secret Service (1969)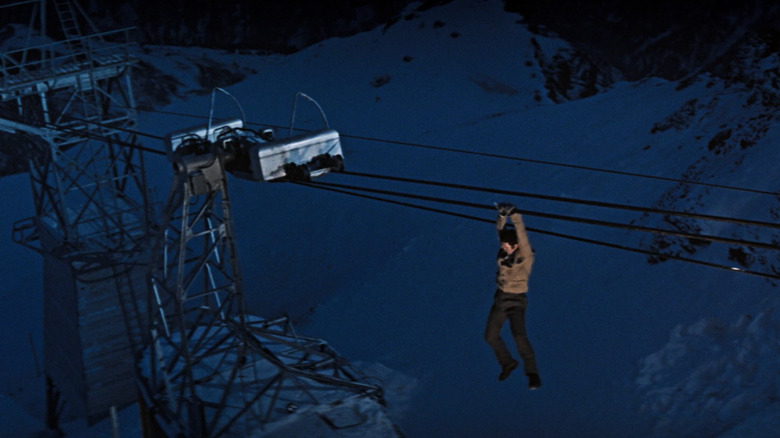 United Artists
George Lazenby only starred in one James Bond film, and it just so happens that the Australian actor's single outing as 007 is a highlight of the franchise. 1969's "On her Majesty's Secret Service" sees the martini-swigging globe-trotting super spy on the heels of his arch-nemesis Blofeld (Telly Savalas), whose latest, most bonkers scheme yet involves an army of international sleeper cell babes armed with a bio-weapon that threatens the existence of mankind. Blofeld's nefarious plan takes place under the guise of a remote mountainside allergy center in the Swiss Alps. Which can mean only one thing for a jack of all trades like 007: winter sports, galore.
In addition to a gloriously shag-carpeted mod-ski lodge, the third act of the film features a thrilling gondola escape, a high-octane bobsled showdown, and some of the best skiing stunts the franchise has ever seen. Turtlenecks abound, the snow-crested Alps glisten in the sun, and you're absolutely going to feel the urge to brew a second cup of hot chocolate (stirred, not shaken ... probably).
Moonstruck (1987)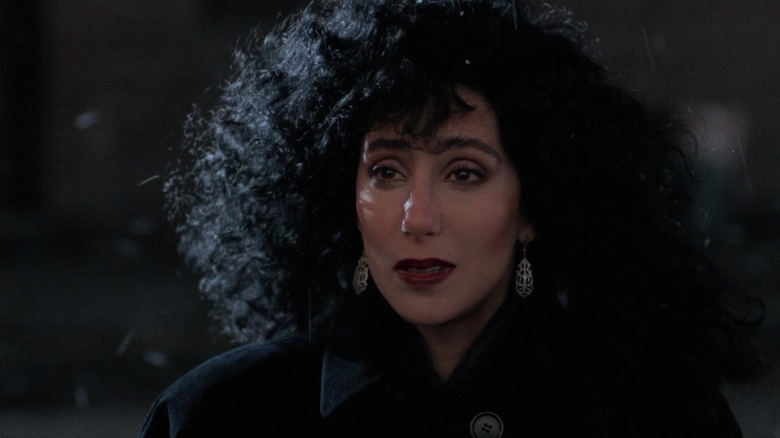 MGM/UA Communications Co.
Nothing says Christmas quite like winter in New York City: the glow of warm neon in the snow, the feeling of escaping the cold by ducking into your local bodega, the glint of the early morning sun on ice-kissed concrete. Directed by Canadian filmmaker Norman Jewison, "Moonstruck" is one of the few romantic comedies to be nominated for Best Picture. The film tells of Loretta Castorini (Cher), a widowed accountant who finds herself in a bind when she falls for Ronny (Nicolas Cage), the hot-blooded brother of her fiancé (Danny Aiello). "Moonstruck" might not be about Christmas in the strictest sense, but every fiber of the film shares a deep kinship with the holidays.
"Moonstruck" takes place in a fanciful Brooklyn that feels as cozy and contained as a warm café in mid-December. From an ever-present chilly lunar glow to the rosy crimsons inviting restaurants, "Moonstruck" feels like walking back home from closing time while the snow begins to fall. Every character sports enviable winter-wear: sherpa-lined jackets, ankle-length coats, scarfs, earmuffs ... you name it. But most of all, "Moonstruck" radiates with a resilient sense of family, which is ultimately what the holidays are all about. No matter how loudly the patriarch blasts his Vikki Carr records or how strained things may seem, in the end, all the grudges and old wounds dissipate in the enchanting afterglow of the winter moon. Snow is temporary, but family is forever.
Carol (2015)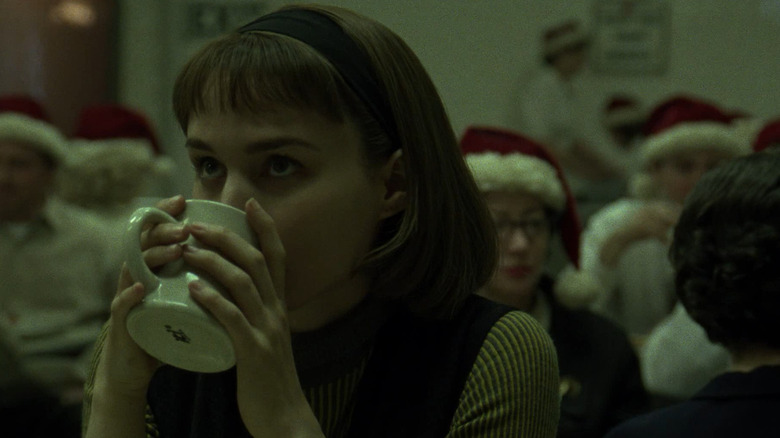 The Weinstein Company
Adapted from Patricia Highsmith's novel "The Price of Salt," Todd Haynes 2015 film tells the story of Therese (Rooney Mara) and Carol (Cate Blanchett), two women separated by class and age who fall into a romance after meeting at the counter of a New York department store in the chilly winter of 1951. As the romance between the socialite and the "shop girl" (as Carol's husband refers to Therese) takes place against the backdrop of Christmas and the New Year, cookies are to be decorated, "Silver Bells" plays peacefully in the background, and a delightfully snowy montage of Christmas-card worthy New York sets the scene.
A subversive lesbian love story with a dreamy sensuality and a visually-pleasing homage to the work of David Lean, "Carol" has been embraced as a Queer Christmas classic. Netflix even released a Christmas sing-along in the film's honor. Bathed in Christmas lights, and embracing the transformative spirit of one year passing to the next, "Carol" has cemented its spot on the roster of the alternative Christmas movie canon.
Lethal Weapon (1987)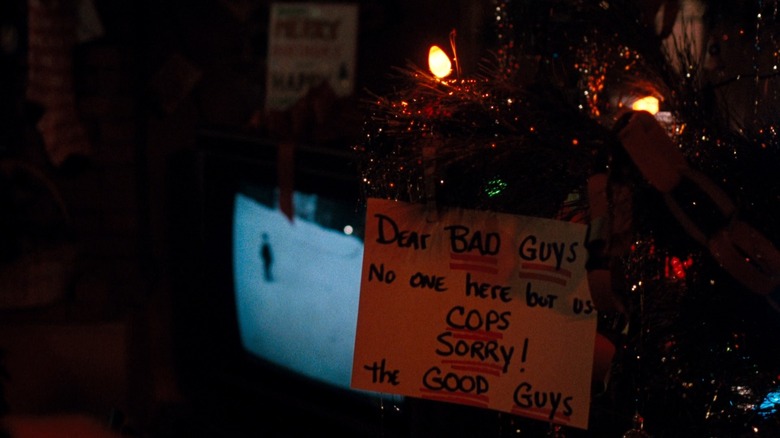 Warner Bros. Pictures
Roger Murtaugh (Danny Glover), a buttoned-down LAPD detective, is partnered up with a widowed cop named Martin Riggs (Mel Gibson) who has a death wish. While the odd-couple butt heads, they embark on their first homicide investigation as partners: untangling a massive drug and prostitution ring. So, where do the holiday vibes come in? Don't let the sweaty Los Angeles sun fool you: "Lethal Weapon" is set during the holiday season. After all, it's written by Shane Black ("The Last Boy Scout," "The Long Kiss Goodnight," "Iron Man 3"), the king of movies-at-Christmas-not-about-Christmas.
When we first meet Riggs, he's in an especially dark place in the wake of his wife's death. The only thing that thwarts his suicide attempt is a Looney Tunes holiday special. What follows is a film keenly interested in one of the core tenants of the holiday season: the life-saving importance of belonging to a family.
Amid all the heroin-smuggling and 1980s action movie pyrotechnics, "Lethal Weapon" is about a very lonely, depressed man who finds a life-saving sense of family just in time for Christmas. Despite their diametrically opposed energies, the Murtaugh clan opens their home to Riggs with open arms.
If you or anyone you know is having suicidal thoughts, please call the National Suicide Prevention Lifeline​ at​ 1-800-273-TALK (8255)​.
Black Christmas (1974)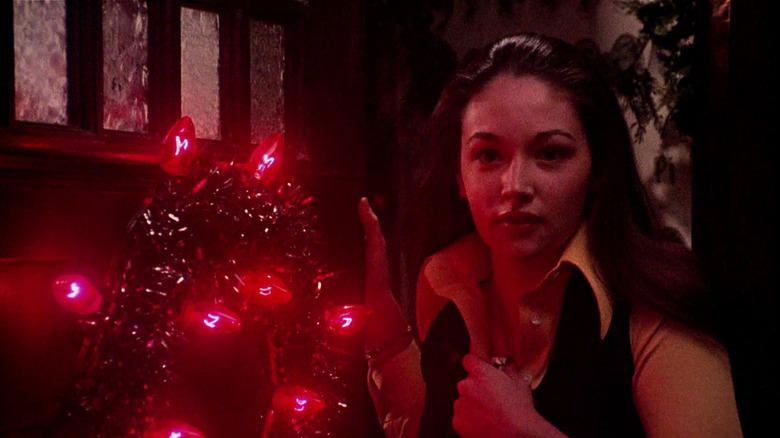 Warner Bros.
While John Carpenter's "Halloween" is sometimes cited as the first holiday-themed slasher, that distinction actually belongs to "Black Christmas," Bob Clark's terrifying Canadian masterpiece. Set around the holidays, the film unfolds in a sorority house where the eggnog flows freely and the warm glow of Christmas lights casts an eerie glow over the ridiculously 1970s decor. The only damper on the festive mood is the mouth-breathing creep who keeps lighting up the girls' landline with perverted ramblings and violent outbursts. Then, when the girls begin to go missing, one by one, the film plays its disturbing hand: the killer is calling from inside the house.
While other films on this list capture the warmer, more cheerful qualities of the holiday season, "Black Christmas" uses the festive trappings of tinsel and garland to create a sense of unease. While Jess (Olivia Hussey) listens to angelic carolers, Barb (Margot Kidder) is upstairs being skewered by the pointy end of a kitchen knife. Shot in Toronto during the winter, "Black Christmas" is a chilly and chilling early slasher that is a holiday must for all the horror fanatics out there.
The Silent Partner (1978)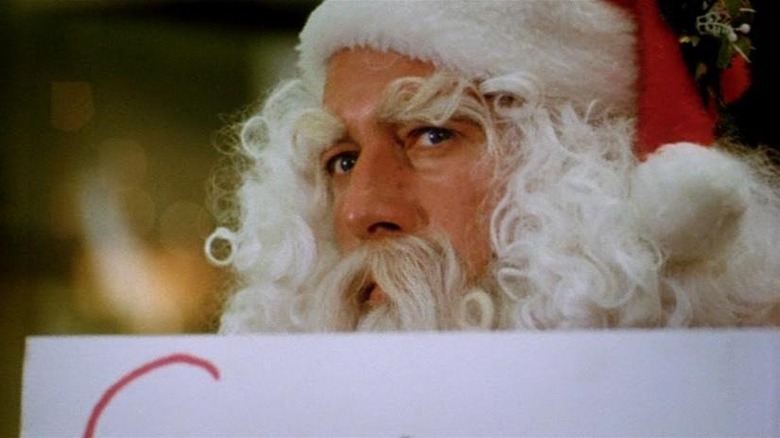 EMC Film Corporation
Nothing says "Christmas" quite like a late-1970s Canadian heist film. Directed by Daryl Duke, "The Silent Partner" follows Miles Cullen (Elliott Gould), a mild-mannered teller at a bank in Toronto's Eaton Centre. It's the holidays, and the mall is bustling, but Cullen's keen eye catches the subtle clues that his place of business is about to be robbed by someone who has been hanging around the bank dressed as Santa Claus. 
Rather than alert the authorities or his bosses, Cullen stashes the majority of the cash from his window in a lunch box, handing only a paltry sum when "Santa" comes calling. When the sadistic psychopath masquerading as jolly old St. Nick learns he's been duped and that Cullen has pocketed $48 grand, the two desperate thieves descend into a vicious game of cat and mouse.
A neo-noir masterpiece hailed by Roger Ebert as "worthy of Hitchcock," the film keenly captures the melancholy, sinister edge of the holiday season — and who doesn't love the subversion of an evil Santa Claus? Fun fact: "The Silent Partner" predates the likes of "Christmas Evil" and "Silent Night, Deadly Night" by several years, so if you need a break from all those heart-warming Christmas classics filled with comfort and joy, check out this Canadian Tax Shelter gem.
Eyes Wide Shut (1999)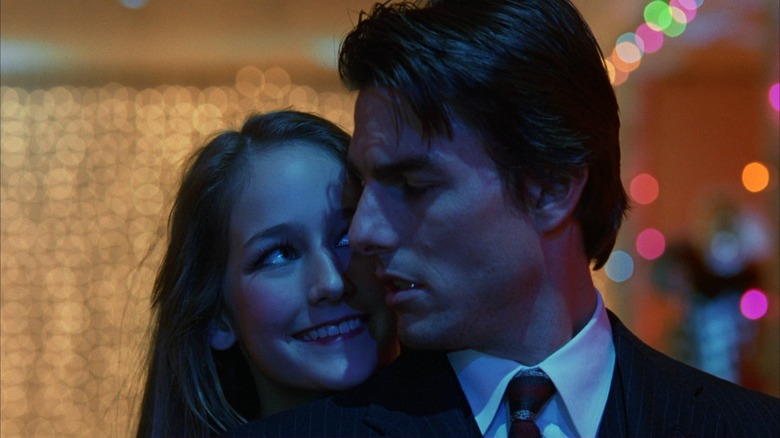 Warner Bros.
When you think of Christmas, clearly you think of Tom Cruise joining a sinister sex cult because his wife has a dream about cheating on him. Right? Stanley Kubrick's 1999 film is a bit slippery when it comes to locking down its genre. Is it a horror film? The mask-wearing cult of uber-wealthy New Yorkers who don't bat an eye at killing anyone who might spill their secret is certainly terrifying. But maybe "Eyes Wide Shut" is more in line with the slew of erotic thrillers that overtook the 1990s like "Jagged Edge," "Basic Instinct," and "Body of Evidence"? Bah humbug to all that; "Eyes Wide Shut" is, at its core, a Christmas movie.
The film takes place against the crisp December backdrop of New York City (a recurring theme on this list). And the multi-colored haze of Christmas lights lurks in the background of nearly every scene, an unspoken reminder that this is the season where most families grow closer together. In his own way, that is what Cruise's Dr. Bill is attempting to do: by launching himself into the deep end of carnal curios, he is attempting to meet his wife halfway, consistently returning to her even as he tiptoes into an orgy of strangers.
Batman Returns (1992)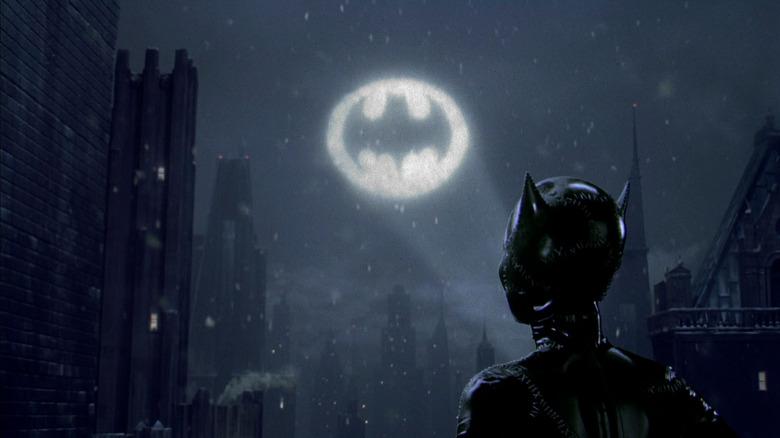 Warner Bros.
There are very few "superhero movies" that cross the aisle to appeal to the goths. There are the "Blade" films, "Constantine," "The Crow," and Sam Raimi's "Darkman." The list of ooky spooky superhero fare is already a short list. Luckily, when the holiday season hits, fans of this under-populated Venn Diagram have one film that never disappoints: "Batman Returns." Remember when superhero movies could traumatize children? What better time to expose the kids in your life to Danny DeVito biting a man's nose off than Christmas?
Over the events of the film, the wicked, thoroughly corrupt world of Gotham City becomes a Winter Wonderland of sewer freaks, attempted infanticide, and enough leather and whip-cracks to raise an eyebrow or two. For all the festive trappings and wrappings of the season, "Batman Returns" has no intention of bestowing anything in the realm of Christmas cheer. The hardened hearts of Gotham's vigilantes remain decidedly unthawed, and while the characters of "Batman Returns" may not be filled with joy, their surroundings certainly are, as director Tim Burton perverts the visual hallmarks of the holiday season. From the opening tree lighting ceremony, to the snow-covered streets, to the constant presence of green, red, and white — if you like your Christmas films (and your superhero films) just a little off, "Batman Returns" is the gift that keeps on giving.
Edward Scissorhands (1990)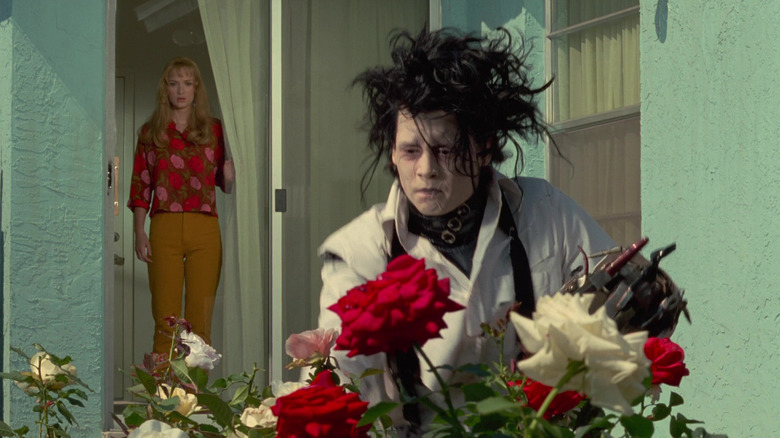 20th Century Fox
There are some films that are obvious, inarguable Christmas movies, and then there are others that, over time, have wormed their way into our holiday-loving hearts; "Edward Scissorhands" is one of those films. 
Directed by Tim Burton (something of a wiz when it comes to making Christmas movies that don't really have anything to do with Christmas), "Edward Scissorhands" tells of an unfinished science experiment named Edward (Johnny Depp) with — get this — scissors for hands. When he's taken in by a suburban family, he falls in love with their teenage daughter Kim (Winona Ryder).
The final act of the film takes place during Christmastime, centering around the annual holiday party of the family's matriarch, Peg. In an especially wintery scene, Edward carves an angel out of ice, creating a sprinkling of "snow" as he whittles away on his sculpture. While the film's literal concern with the holiday season is marginal, its core theme is effectively the ethos of any traditional Christmas movie: the power of kindness, family, and treating others (especially outsiders) with understanding and love. Given that the whole film is about Edward winning over the hearts and minds of his adoptive family, that more than solidifies the film's status as a bona fide holiday flick.
Gremlins (1984)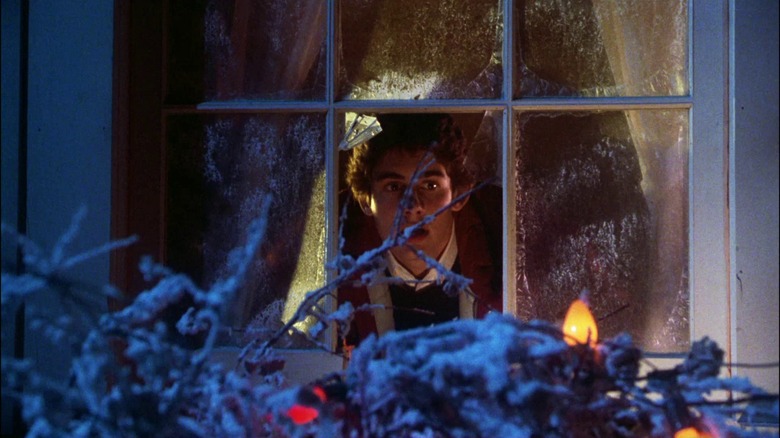 Warner Bros.
There are very few films that successfully walk the tightrope of being a horror comedy, and there are even fewer horror comedies that are actually horrifying. That Joe Dante's "Gremlins" manages to do all that and throw Christmas into the mix is nothing short of a holiday miracle.
A deviously festive classic, "Gremlins" tells of Billy, our intrepid teen hero, who receives a somewhat unconventional pet he names Gizmo as an early Christmas gift. Fuzzy, adorable, and full of personality, Gizmo comes with sinisterly specific, deceptively simple rules. Namely: don't get him wet and do not feed him after midnight. Surprise, surprise, Gizmo gets wet. The result is nothing shy of an absolute nightmare, as the little creature spawns progeny who trick Billy into feeding them after midnight. The giggling hell spawn transform into murderous mayhem-loving monsters, descending upon Billy's small town with glee in their hearts and violent urges unleashed.
In the warm glow of Christmas lights, "Gremlins" opts to frame its festive frights as joyful rather than sinister. The film has a grand ol' time infusing menace into the holiday season, and it's a delightful perversion that is ultimately more upsetting than any of the Gremlin-inflicted mayhem in the film's second act.
Die Hard (1988)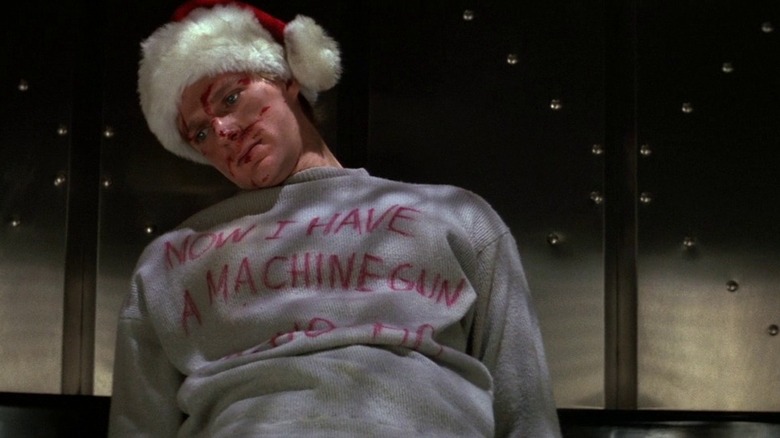 20th Century Fox
If flicks like "Batman Returns" and "Gremlins" are Christmas films for the horror lover in your life, "Die Hard" is what you throw on around the yuletide to appease the dads. Nothing says "dudes rock" quite like Bruce Willis single-handedly defusing a terrorist threat, you know? 
New York cop John McClane (Willis) arrives in Los Angeles to reconcile with his estranged wife. His diplomatic efforts take an unexpected turn when her office Christmas party is overrun with a group of Eurotrash terrorists led by the nefarious Hans Gruber (Alan Rickman). Armed with nothing but his wits and a dogged determination to put a damper on the baddies' efforts, McClane infiltrates the building to save the hostages and bring the bad guys down one by one.
In addition to the requisite holiday trappings (including free-flowing eggnog, Run-DMC's "Christmas in Hollis" and McClane's cheeky Christmas quips), "Die Hard" is, ultimately, about the reunion of a husband and wife. If this list has taught us anything, one of the deeper through lines of alternative Christmas fare is a sense of family, be it found, re-kindled, or otherwise.
The Apartment (1960)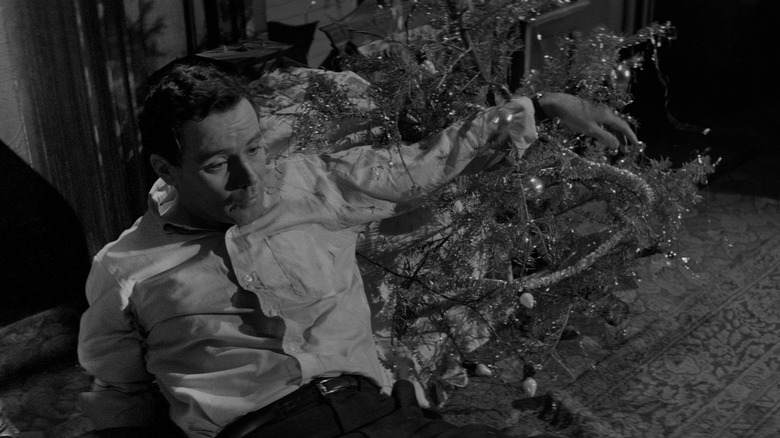 United Artists
Written and directed by the brilliant Billy Wilder, 1960's Best Picture-winning "The Apartment" follows Bud Baxter (Jack Lemmon), a minor clerk who feels anonymous at his enormous New York insurance company. That is, until he devises the perfect scheme to crawl up the corporate ladder: renting out his apartment to high-powered executives as a safe place to take their mistresses. 
These bedroom musical chairs result in inevitable misunderstandings, embarrassments, and humiliations. Fueled by the booze-soaked fumblings of the Christmas season, "The Apartment" may be light on the more wholesome qualities of the festive season, but it carries the vibe of a whiskey-hazed office party.
Christmas in "The Apartment" is not idealized or romantic; there are no roaring fires, jubilant reunions, or sparkling snowbanks. Instead, the film depicts the holiday with a tempered realism: sometimes joyful, sometimes boring, sometimes lonely. Baxter and elevator girl Fran (Shirley MacLaine) have been ground down by their corporate world. They are the equivalent of drooping Christmas trees, in desperate need of a tender touch. Christmas is a time of year where loneliness can feel particularly bitter. But, as this film suggests, it is also a time of hope — an earnest belief that every wandering soul has the ability to find their way back onto the beaten path.
Harry Potter and the Philosopher's Stone (2001)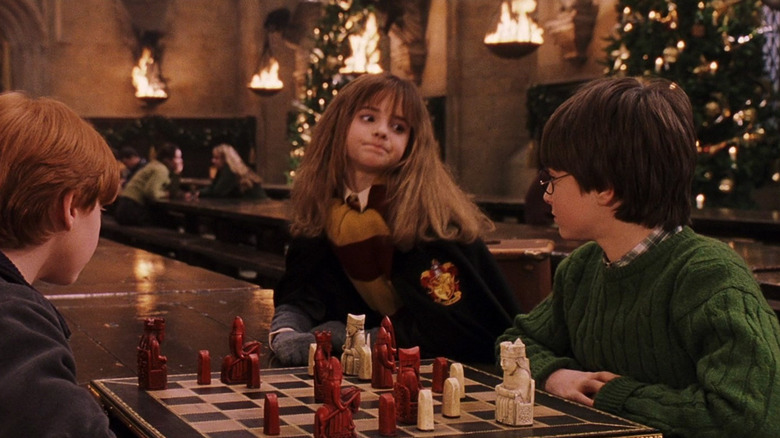 Warner Bros. Pictures
Sure, only one chunk of the first film in the "Harry Potter" franchise takes place during Christmastime. But what's the first thing that pops into your head when you think of that inaugural journey into the wizarding world? Because for many, it's Christmas at Hogwarts. With no desire to return to his abusive aunt and uncle, fledgling wizard Harry (Daniel Radcliffe) opts to spend the holiday period at school with his friend Ron (Rubert Grint). The two boys use the (relative) emptiness of the school to their advantage and investigate the titular Philosopher's Stone over the break. From the dreamily extravagant Christmas feast to Harry receiving an all-time banger gift (his father's invisibility cloak), Christmas is an integral ingredient to the first "Harry Potter" film.
Released in mid-November, "Harry Potter and the Philosopher's Stone" has a festive vibe that feeds into the film's core emotional thrust — namely, Harry finding his own sense of family, after years of being alone and unloved. He gets Christmas presents, and so do Harry Potter fans every time they watch this warm, festive flick.