The Surprising Movie Robert Downey Jr. Calls His Best Film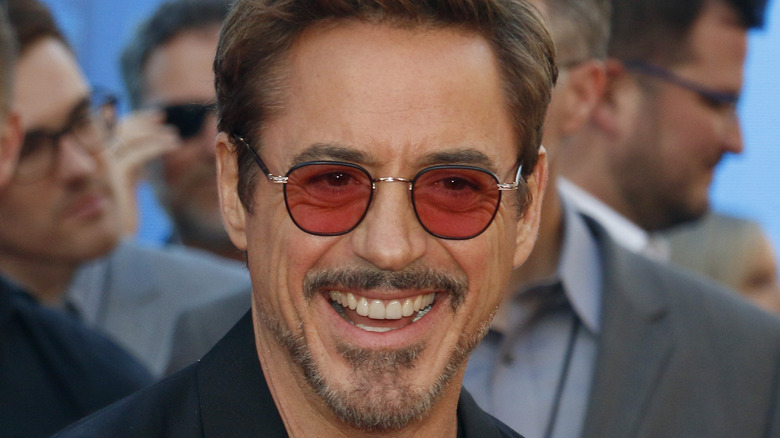 Shutterstock
Robert Downey Jr.'s career may have reached astronomical heights when he was cast as Tony Stark, aka Iron Man, in the very first film of the Marvel Cinematic Universe, but before that, his presence in Hollywood wasn't so solid. He started out doing roles in '80s comedies like "Weird Science" and "Back to School," and then proved his dramatic acting chops "Less than Zero." In the '90s, Downey Jr.'s film credits were a bit hit or miss. Though he received an Oscar nomination for his portrayal of Charlie Chaplin in the biopic "Chaplin," movies like the sappy rom-com "Heart and Souls" and the underwhelming thriller "In Dreams" weren't a big help in moving his career forward.
That isn't to say that Downey Jr. didn't have a few successes in the '90s and early 2000s. His starring role in the 1995 historical drama "Restoration" was well received by critics (via Rotten Tomatoes), and the film itself earned two Academy Awards for Best Costume Design and Best Art-Set Direction, per Oscars.org. Downey Jr. also had a recurring role in the hit David E. Kelley dramedy series "Ally McBeal," playing the title character's love interest in Season 5.
Downey Jr.'s many film and TV roles over the decades have, in one way or another, helped to shape his career. Yet, there's one film in the actor's repertoire that he credits as his best — and even claims helped land him the role of Iron Man.
Kiss Kiss Bang Bang is RDJ's 'calling card'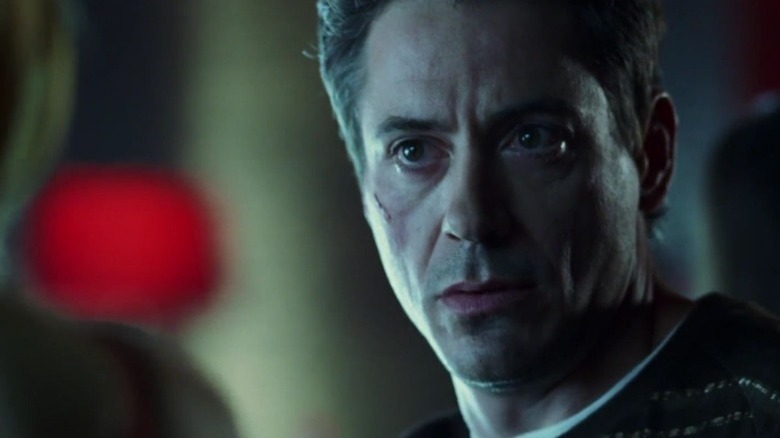 Warner Bros. Pictures
In January 2020, Robert Downey Jr. sat down as a guest on the "Joe Rogan Experience" podcast. The pair talked a lot about Downey Jr.s role in the MCU, as well as the process of how the movies are made. At one point in the conversation, Downey Jr. mentioned the 2005 action-packed dark comedy "Kiss Kiss Bang Bang," which was produced by Downey Jr.'s friend Joel Silver. Surprisingly, he considers "Kiss Kiss Bang Bang" the best movie he's been in, and credits it with being a driving force in helping him join the MCU.
"'Kiss Kiss Bang Bang,' which is, I think, in some ways the best film I've ever done," Downey Jr. told Rogan. "It wound up being a calling card. It came out, and it bombed, but Jon Favreau saw it, and he said, 'This guy could do an action movie.' And so that wound up being my calling card into the Marvel Universe." Jon Favreau, of course, directed "Iron Man" in 2008, and gave Downey Jr. his next big launch into stardom.
"Kiss Kiss Bang Bang," written and directed by Shane Black, made only $15.7 million worldwide at the box office, but was a big hit with critics and later with audiences after being distributed for home release. The film has a certified fresh score of 86% on Rotten Tomatoes, with an audience score of 87%. 
Downey Jr. had such fond memories of the film that he tagged Black to direct and write the script for "Iron Man 3" after Favreau bowed out of the franchise (via the Hollywood Reporter). Although "Iron Man 3" is largely considered the weakest of the "Iron Man" films, it now makes sense why Downey Jr. put so much faith in Black. Whatever fans may think of Black's interpretation of Iron Man, fans have him to thank for RDJ's entrance into the MCU — at least, according to the man himself.