Ghostbusters: Afterlife Actress Mckenna Grace Dishes On The OG Cast, Paul Rudd, And The Reitmans - Exclusive Interview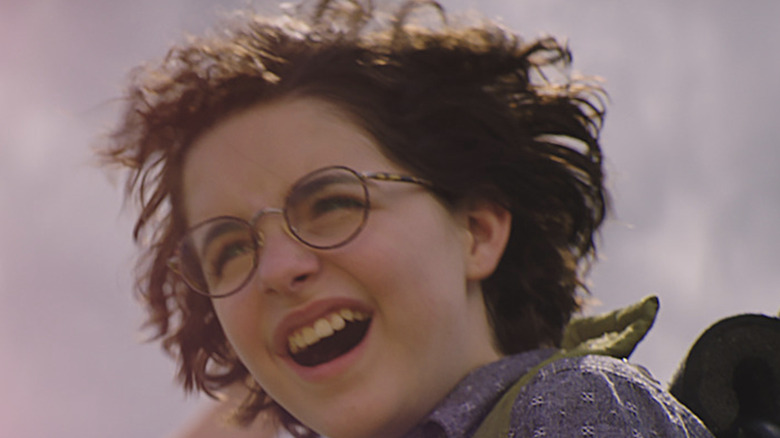 Sony Pictures
Watch out ghosts: "Ghostbusters: Afterlife" actor Mckenna Grace is living out her childhood Ghostbusting dreams at just 15 years old, and she's ready to kick some spirits right out of this dimension. However, Grace is no stranger to the Hollywood spotlight, having snagged major roles since she was a kid. The actor is a pro at taking on young versions of iconic characters like Emma in "Once Upon a Time," Caroline in "The Vampire Diaries," Tonya in "I, Tonya," Theo in "The Haunting of Hill House," Sabrina in "The Chilling Adventures of Sabrina," and even Carol in "Captain Marvel." Basically, if any show or movie needs a young badass blonde, Grace is your girl. 
In addition to her flashback work, Grace starred alongside Chris Evans in "Gifted" and scored recurring roles on popular TV shows like "Young Sheldon," "Fuller House," and "The Handmaid's Tale." Now, Grace is getting her Ghostbusting on as Phoebe in the "Ghostbusters" sequel, "Ghostbusters: Afterlife." In the film written and directed by Jason Reitman (son of original director Ivan Reitman), she plays the eccentrically nerdy granddaughter of the late great Dr. Egon Spengler (Harold Ramis) and sister to Finn Wolfhard's character Trevor.
During an exclusive interview with Looper, Mckenna Grace dished on the pressure of taking on the Ghostbusting mantle from the original cast and working with such icons. She also covered what it was like working with Paul Rudd and Finn Wolfhard and revealed how involved Ivan Reitman was in the project. 
Becoming a Ghostbuster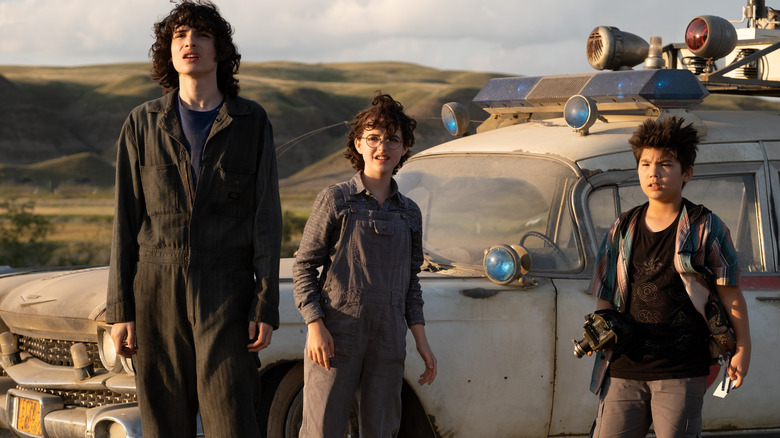 Sony Pictures
Were you a fan of the original "Ghostbusters," and what was it like working with such legends? Were there any fun moments on set, and did they give you any pearls of wisdom about taking up this crazy Ghost-Busting mantle?
I was a mega-fan of the "Ghostbusters" films. It's always been one of my favorites growing up. Absolutely. Working with people, these legends, the original Ghostbusters, was crazy every day. You walk on set, and you're like, "Oh, this isn't real. Oh, there's Bill Murray. Oh, there's Dan Aykroyd. There's Ernie [Hudson]."
It's really crazy. I've never really done anything like it. I feel like I have gotten a lot of advice from them, and I've talked to them so much, but I feel it's so crazy being able to have conversations with them. I get the gist of it, but then I just forget the specific ... I'm like, "Oh my God. That was so cool. Wait. No, I forgot."
An unlikely friendship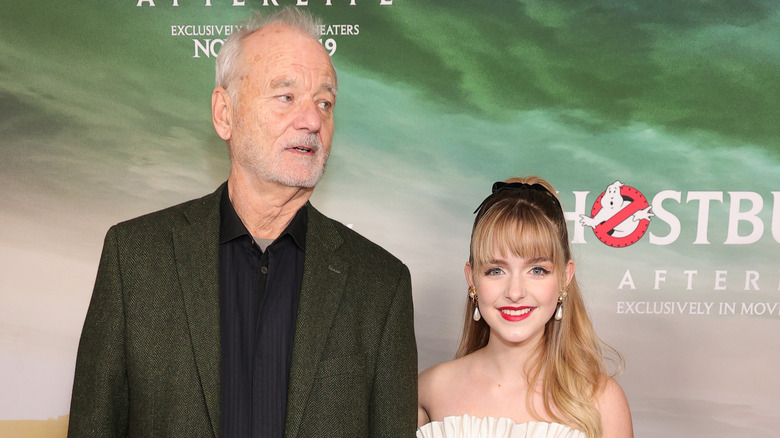 Theo Wargo/Getty Images for Sony Pictures
Can you think of any fun moments from set that you had with them?
Bill was a really funny guy, and I feel like Ernie's just so friendly. And then Mr. Dan is just so sweet. All of them were really fun. I think that my favorite memories are actually from the premiere, which was yesterday.
My great-grandpa, he came to the "Ghostbusters" premiere with me. I got to bring some family and friends, and my great-grandpa came, and he has this big old walking stick. And it just looks like a random stick that he picked up off the ground except polished. And he's standing there right next to the carpet while they finally get everybody together, the whole cast and everybody for a group photo, and then standing by Bill and Bill Murray goes, "Who's that guy with the stick? He looks like a caveman." And I go, "Sir, that's my great-grandpa." And he goes, "Does he live in a cave?"
Oh, no!
And I go, "Sir, how dare you?" And he goes, "What? He could pull it off." And then I go, "Oh my gosh." And my Pawpaw, he sees that we're talking about him and he's real old, and he has his hearing aids. And then he sees that we're looking at him and talking about him. And then he starts walking forward, going, "Huh?" And I go, "Pawpaw! Pawpaw! No! We're taking a group photo. Back up! Back up!" And then he goes, "Huh?" And keeps walking forward. And everybody's like, "Who's this old man on the carpet?" And I'm like, "Pawpaw. Pawpaw, get back!" And then Bill goes, "Get him in the picture! Get him in here."
And then he grabs my great-grandpa and pulls him into the group picture that's just supposed to be the cast and the director. And I was like, "Oh. My. God. I'm so embarrassed." And then Bill and my great-grandpa just start talking. And I'm like, "How did my great-grandpa manage to make friends with Bill Murray in 0.5 seconds of being here? What just happened?" [That's] my favorite Bill Murray story, even though I have three.
Paul Rudd: The man, the myth, the jokester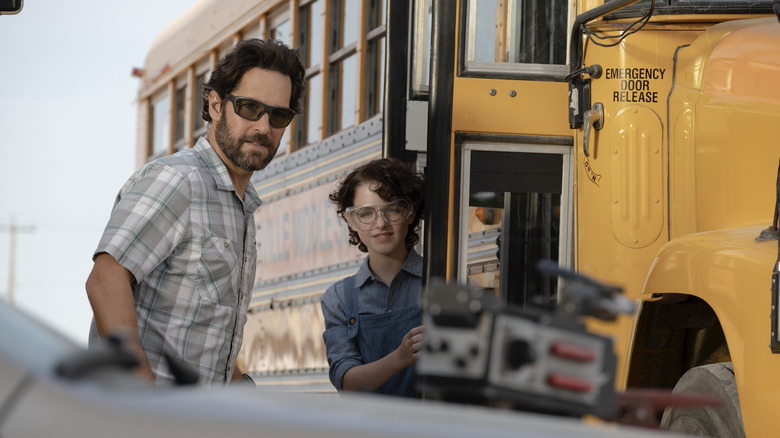 Sony Pictures
So you also had some hilariously iconic moments with Paul Rudd in the movie. What was it like working with him, and did anything happen that we might see in a gag reel? He's a known jokester.
Mr. Paul was really funny. Mr. Paul ... he's great. I wish that there was a gag reel. I feel like there was so much funny stuff that we did that didn't make it in. There's always going to be gag reel stuff for Paul. It's Paul Rudd. Sexiest man alive. Hilarious. He's great. I'm sure if there was a gag reel, it would be filled with Mr. Paul. There's nothing very specific that I can remember, but he's very nice and very funny.
Did he give you any advice about the business or anything like that?
I always get questions like that, but I feel whenever I'm on set or whenever I'm talking with other actors, it's fun to ask them more questions that are less about the business. I feel like I'd want to know what his favorite color is or something more than his advice, which is really funny.
So I can't remember what his favorite color would be. Man. I'm a bad coworker, but nothing that I can remember. Though I was chatting with him at the afterparty last night, and he's just very kind. He does give me advice and talk to me about the film, and it's really kind.
Siblings on and off the screen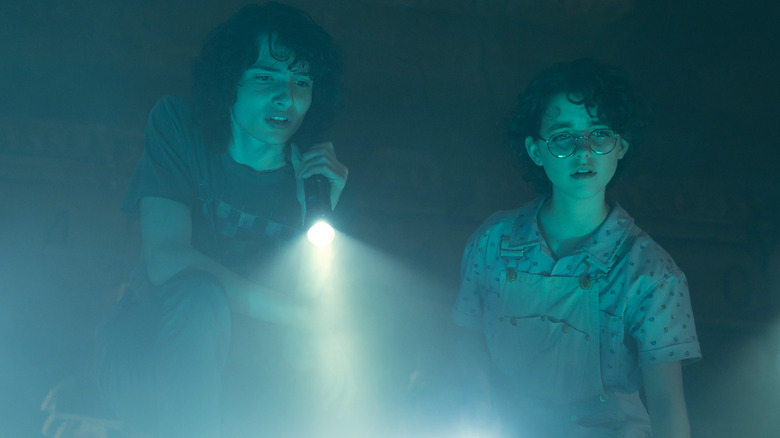 Sony Pictures
You also had a great onscreen sibling dynamic with Finn Wolfhard. How did that translate offscreen as well? And what were some of your favorite scenes with him?
Finn is great. I love Finn. I feel like we bonded the most actually over the press that we just recently did for the film, which is fun. It's funny because as I was telling you the story about Bill Murray and my great-grandpa. I was thinking, 'cause Finn wasn't able to make it to the premiere because ... Look at him go! He's in Romania to shoot an A24 film right now.
Finn, he's so cool. I'm so happy and proud of all the stuff that he's doing. I love everything that he does. I listen to his band all the time. I think that he's so cool. I look up to him like a big brother. He's really fun. He's so smart and creative. He's the coolest person I know, I think.
As you can tell, I genuinely just adore him as a person. But as I was telling you that story about Bill, since Finn couldn't make it, I was like, "Ah man. [I've] got to text Finn after this and tell him that story." He would think that's hilarious. He's great. We have a good relationship. I think that he was just lovely. I'd love to work with him on other stuff.
Passing the Ghostbusters torch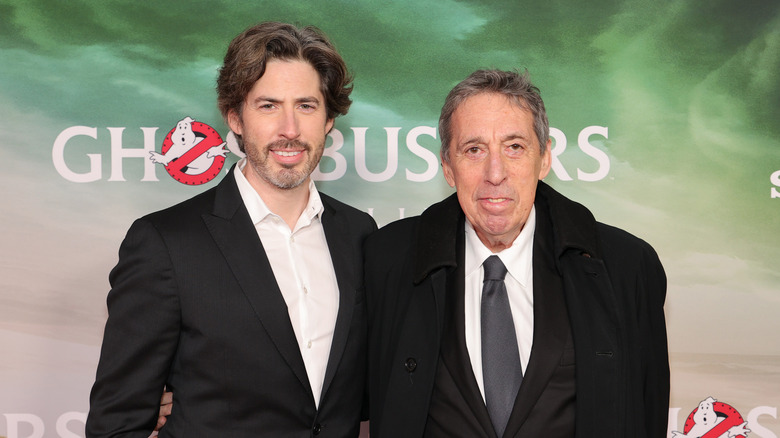 Theo Wargo/Getty Images for Sony Pictures
It's really special that Jason Reitman is taking the torch from his dad, the original "Ghostbusters" director Ivan Reitman. Did you get to work with Jason at all? And how involved, if at all, was Ivan in crafting the story?
Well yeah, I worked with Jason every single day. He was our director. Ivan was on set most days, and it was really cool to be able to see that dynamic between father and son on a project that's so close to their family name. It was really cool.
Yeah, I worked with Ivan and Jason. Mostly Jason, but it was really cool to have Mr. Ivan on set as well. I know both of them very well, and it's an honor to be on set with people like that. I worked with them a lot, and it was really great. People are always like, "Uh, how much did they argue on set since they're father and son?"
But they have a really good relationship. They didn't really argue. They worked together really well.
Mckenna Grace: An honorary Avenger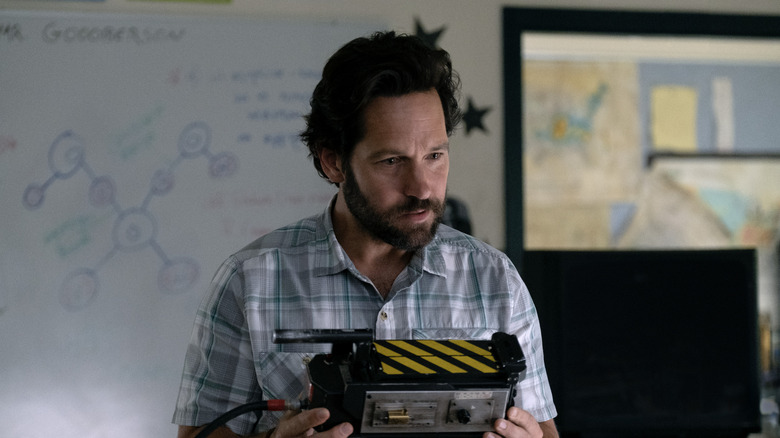 Sony Pictures
So you've now worked with multiple Avengers between Paul Rudd and Chris Evans. What was it like working with Chris? And do you have any interest in joining the MCU [further], and would you be team Captain America or team Ant-Man?
[Jokingly] I didn't know that they were fighting. It's fun, though, because whenever I work with people, I like to see how many people I can see that I work with in "The Avengers." I think right now I've worked with Paul Rudd, I've gotten Ant-Man, Captain America, Captain Marvel, and the Winter Soldier, and I don't know if I can think of anyone else that I've worked with that's in a Marvel film.
I think that being a part of a Marvel film is such an iconic thing. I would love to do something like that. I think that would be a dream come true. But working in "Captain Marvel" was like a dream come true as well, to have a small cameo in that. That was so cool.
It's always really funny to me whenever I work with more people that are in the Marvel [franchise] because then everybody talks about it on Twitter, on TikTok. And they're like, "Why is she meeting all the Marvel people?" And I'm like, "I don't know! But I'm happy about it."
I absolutely love Marvel. It's my favorite franchise, and I'm totally going to just glaze over the Ant-Man or Captain America question. [Laughs] Just not going to answer. No comment. I will not pick a side.
"Ghostbusters: Afterlife" is playing exclusively in theaters now.