Paul Rudd's Best On-Screen Performances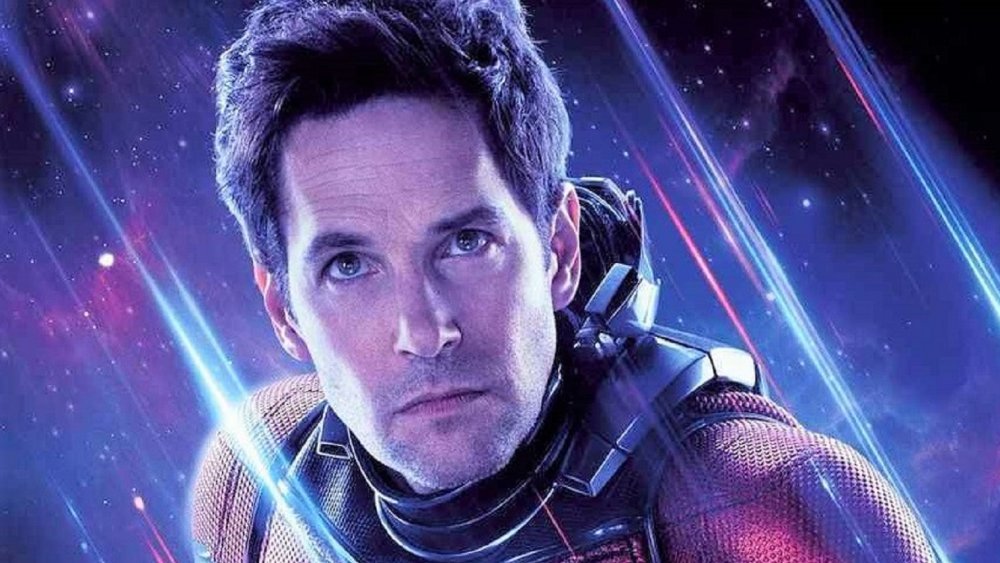 When it comes to modern movie stars, few actors are as universally beloved as Paul Rudd, an effortlessly charming comedic tour de force who seems to have access to some sort of fountain of youth. Seriously, the dude is ageless.
Born in New Jersey and raised in Kansas, Rudd got his official on-screen start in 1992 on the television drama Sisters, and his big-screen debut arrived shortly after that. Since then, Rudd has established himself on Hollywood's A-list, appearing in everything from superhero blockbusters to gut-busting comedies to popular television shows. No matter what, audiences are always happy to see Rudd thanks to his affable attitude and endearing presence, which makes it hard to pin down his very best work. However, some of his performances stand out from the pack. From the Marvel Cinematic Universe to his start as a big-screen heartthrob, here are Paul Rudd's very best on-screen performances.
Clueless introduced Paul Rudd to moviegoers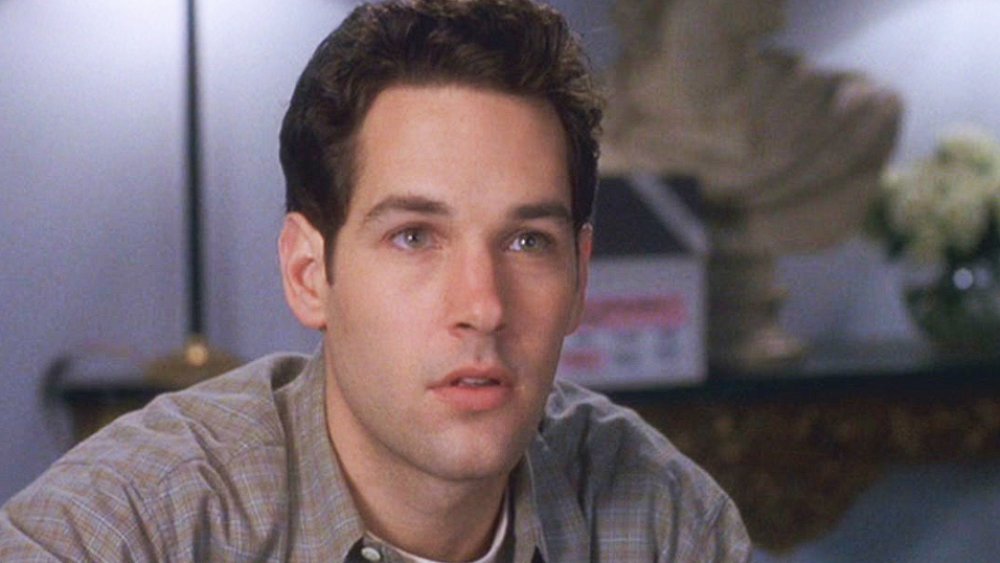 Paul Rudd appeared in a few movies in 1995, the year that marked his official film debut — including Halloween 6: The Curse of Michael Myers and as the doomed Paris in Baz Luhrmann's Romeo + Juliet — but none of them are quite as memorable as Clueless. 
In the film that officially served as Rudd's big-screen debut, Alicia Silverstone plays Cher Horowitz, a well-meaning but spoiled Beverly Hills teenager who just wants to help those around her. As a modern adaptation of Jane Austen's Emma, director Amy Heckerling's beloved film casts a sharp eye on teen culture in the 1990s, and it casts Rudd as Cher's former stepbrother, Josh, a college student who considers himself far more knowledgeable than Cher.
However, by the time the film comes to a close, Cher and Josh realize that they actually have feelings for each other, getting together just as the movie ends. Though some fans have pointed out the inherent weirdness of two ex-step siblings forming a romantic bond, Rudd's Josh is undeniable as a romantic lead and hilarious to boot, and to this day, many Rudd fans remember his performance as Josh above any of his other roles. Clearly, his first outing cemented his legacy for years to come.
Paul Rudd stole the spotlight in Wet Hot American Summer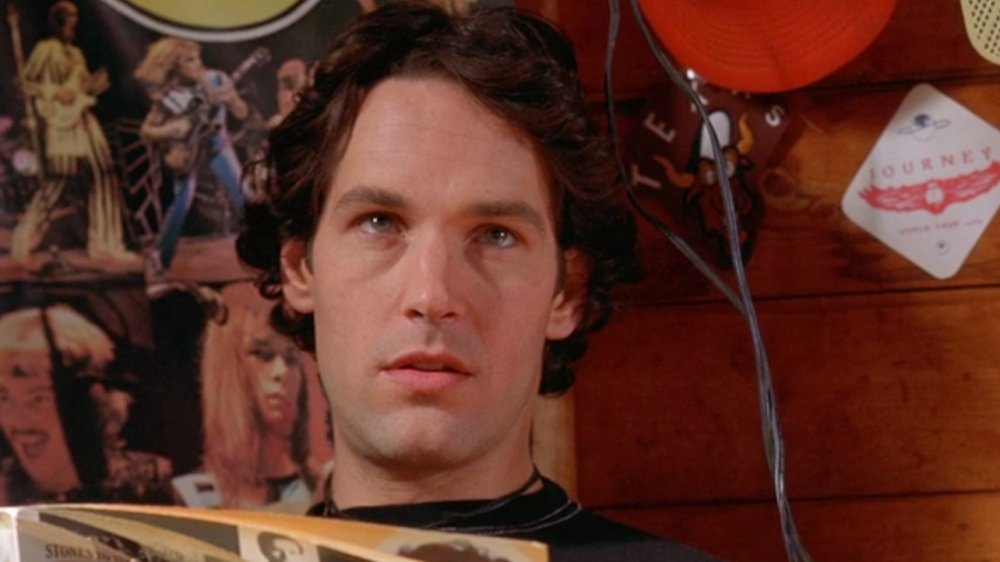 After making his big-screen debut with Clueless, Paul Rudd started popping up in the kind of movie that would ultimately form the backbone of his career — ridiculous, over-the-top comedies. In 2001, Rudd joined the sprawling ensemble cast of David Wain's Wet Hot American Summer, which chronicles the last day at Camp Firewood in 1981.
As Andy, Rudd is downright loutish, refusing to ever follow his bosses' orders, openly cheating on his girlfriend, and even letting campers drown on his watch. However, he gets his comeuppance later when the meek Coop (Michael Showalter) teams up with the camp's wild card cook, Gene (Christopher Meloni), to help steal Andy's beautiful yet naive girlfriend, Katie (Marguerite Moreau). Wet Hot American Summer has become a bona fide comedy cult classic in the years since its release — even spawning follow-up prequel and sequel series on Netflix, which also feature Rudd alongside the original cast — and if you're wondering why, look no further than Rudd's insane, over-the-top performance, especially the scene where he "cleans up" the camp's cafeteria.
Anchorman is one of Rudd's funniest films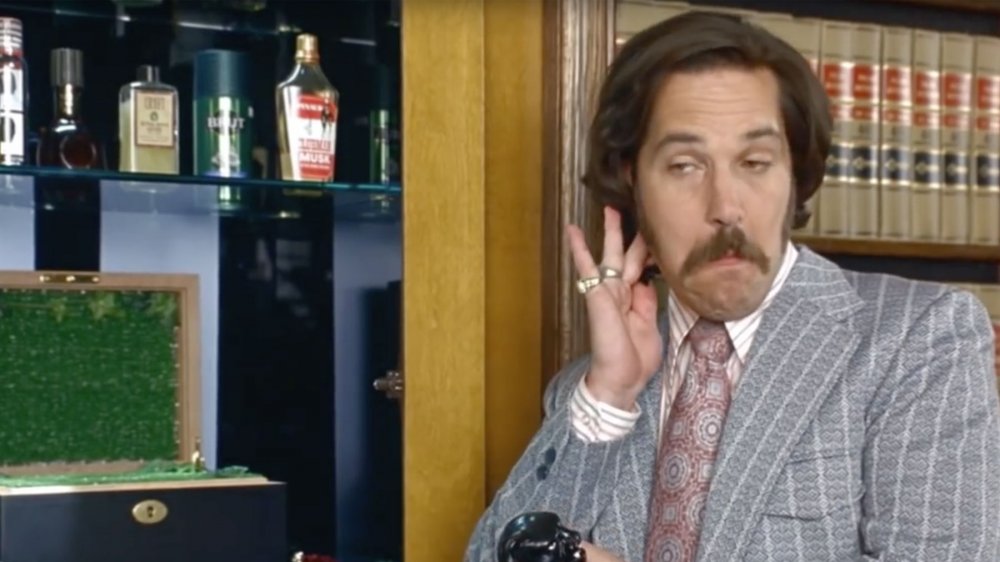 At first glance, you might not even recognize Rudd in 2004's Anchorman: The Legend of Ron Burgundy, standing alongside star Will Ferrell's Ron Burgundy, San Diego's most beloved newscaster. As a part of the top-rated Channel 4 News Team, Rudd sports an over-the-top mustache and long hair to play Brian Fantana, the team's resident ladies' man who works as their intrepid field reporter. Whether he's spraying himself down with Sex Panther cologne to ensnare the ladies or yelling at a pregnant panda for making him look like an "idiot," Brian Fantana is, somehow, charming underneath his relentless machismo, and Rudd plays perfectly alongside fellow comedy stars Ferrell, David Koechner, and Steve Carell.
Years after the first Anchorman hit theaters, the Channel 4 News Team reunited in 2013 for Anchorman 2: The Legend Continues, and though it didn't quite capture the magic of the original, it was still a pure delight to see Rudd and the gang return for another ride. Rudd is always hysterical, but his role as Brian Fantana is definitely one of his funniest.
The 40-Year-Old-Virgin has an impressive supporting cast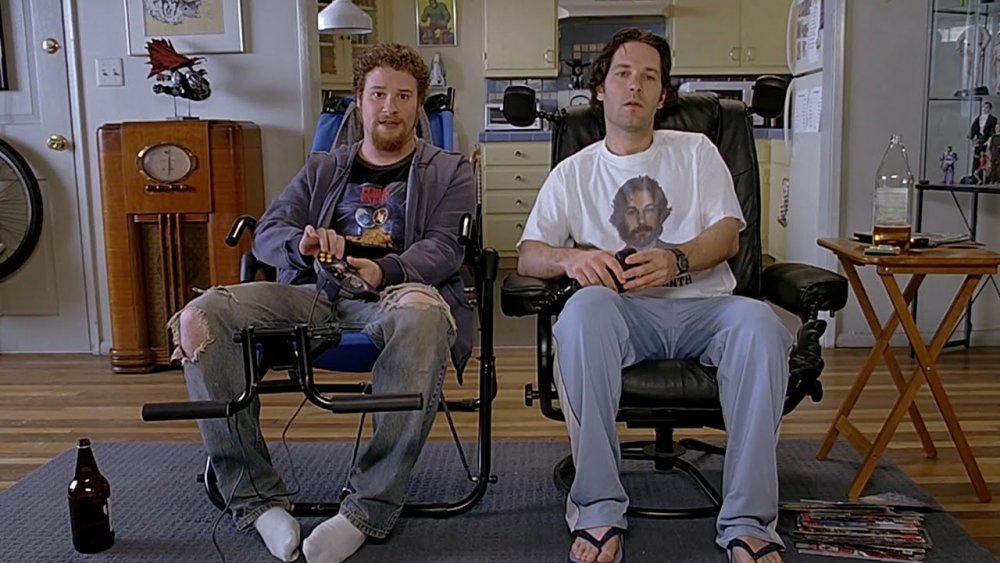 Though Judd Apatow's unexpectedly heartfelt directorial debut, 2005's The 40-Year-Old Virgin, centers mainly on Steve Carell's titular character, its supporting cast, which includes Rudd, is pretty stellar. 
Unlucky in love and content to be alone, Andy (Carell) spends his days working at Smart Tech, a fictional electronics store in California, alongside his co-workers Jay (Romany Malco), Cal (Seth Rogen), and David (Rudd). Andy isn't particularly close with any of his colleagues at first, but after they invite him to a guy's night and he divulges his secret — that, at age 40, he's never been with a woman — the trio takes Andy under their wing to help him meet the girl of his dreams.
From his obsession with his ex-girlfriend, Amy (Mindy Kaling), to his rage over the constant Michael McDonald videos that play at Smart Tech, Rudd finds real depth in David, even in his silliest moments. The 40-Year-Old Virgin is all about Carell's career-defining performance, but it wouldn't feel complete without Rudd and the rest.
Rudd reunited with Judd Apatow for Knocked Up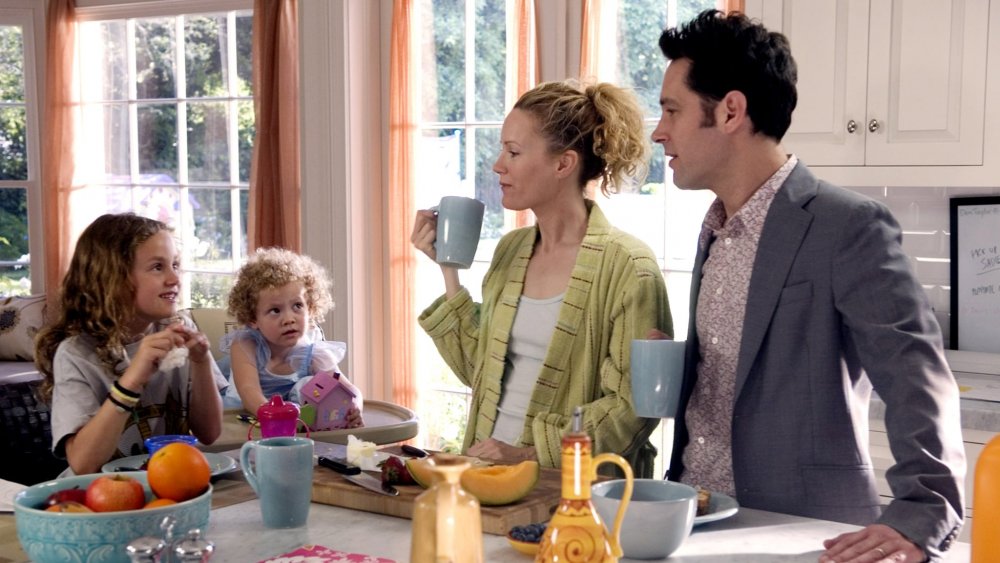 After the critical and commercial success of The 40-Year-Old Virgin, Judd Apatow became one of Hollywood's most in-demand comedic directors, and he continued that streak with Knocked Up in 2007, reuniting several of his cast members from his directorial debut. The story of an unlikely couple — slacker Ben (Seth Rogen) and uptight Alison (Katherine Heigl) — who get pregnant and must figure out how to raise a child together, Knocked Up is a perfect example of Apatow's tendency to mix comedy with intense real-life emotional stakes, especially when it comes to its supporting characters.
Throughout her pregnancy, Alison has the unwavering support of her controlling, often difficult sister, Debbie (Apatow's real-life wife, Leslie Mann), while Ben forms an immediate bond with Debbie's well-meaning but absent-minded husband, Pete (Rudd). As Ben and Alison try to become a real couple, they're constantly faced with their future when they see Debbie and Pete, who balance their relationship with parenting their two daughters, Charlotte and Sadie (played by Apatow and Mann's daughters, Iris and Maude). Rudd and Mann might be supporting characters in Knocked Up, but they ultimately leave as big of an impression as Rogen and Heigl.
Forgetting Sarah Marshall features a brief but hilarious Paul Rudd performance
Jason Segel rose to prominence on cult favorites like Freaks & Geeks and network sitcoms like How I Met Your Mother, but in 2008, the star branched out on his own alongside director Nicholas Stoller for Forgetting Sarah Marshall, which Segel penned himself. Segel plays Peter, a guy who works as a composer for his famous girlfriend's (the titular Sarah Marshall, played by Kristen Bell) hit crime show, and he's living a seemingly happy life until Sarah suddenly breaks up with him for another man. Heartbroken, Peter decides to take a vacation to Hawaii, and though he runs into Sarah and her awful new pop star boyfriend, Aldous Snow (Russell Brand), at the resort, he also meets Rachel (Mila Kunis) and realizes he might be ready to move on.
Rudd only plays a bit part in Forgetting Sarah Marshall, but his ridiculous role as Chuck — the resort's surfing instructor who's known by his Hawaiian name of "Kunu" — is completely unforgettable. From his terrible surf lessons to his constant inappropriate comments, everything Rudd does in the film is hilarious, rounding out its excellent cast of supporting players to perfection.
I Love You, Man put Rudd front and center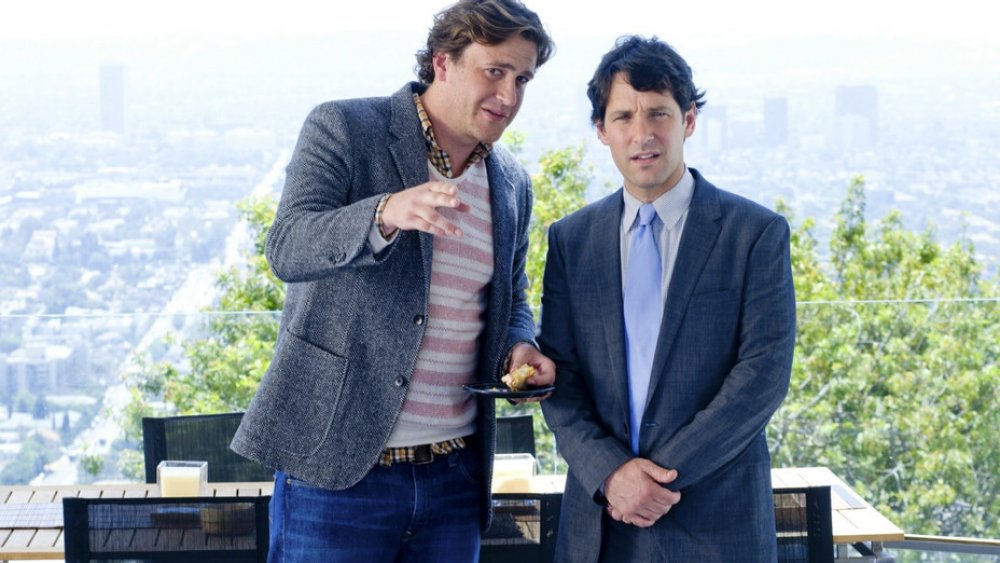 One year after their brief time together in Forgetting Sarah Marshall, Rudd — who clearly makes a habit of working with an overlapping group of excellent comedic actors time and time again — reunited with Jason Segel in 2009's I Love You, Man, an ode to male friendship. 
Ahead of his wedding to Zooey (Rashida Jones), real estate agent Peter (Rudd) realizes he doesn't have very many male friends, and after a few disastrous attempts, he ends up forming an incredibly close bond with Sydney (Segel), an erratic, eccentric guy who shows up at one of Peter's open houses just to hit on single women. Almost immediately, Sydney and Peter become best friends, but a rift opens up between them when Sydney, overly familiar around Peter's family, makes inappropriate comments about Zooey ahead of the wedding.
Thanks to Segel and Rudd's easy chemistry, I Love You, Man ends up being a heartwarming yet hilarious ride. Not only that, it proved Rudd's worth as a leading man. Up until this point, Rudd usually played a supporting role to actors like Segel, but in I Love You, Man, he was given the opportunity to share center stage.
The Perks of Being a Wallflower proved Paul Rudd could do drama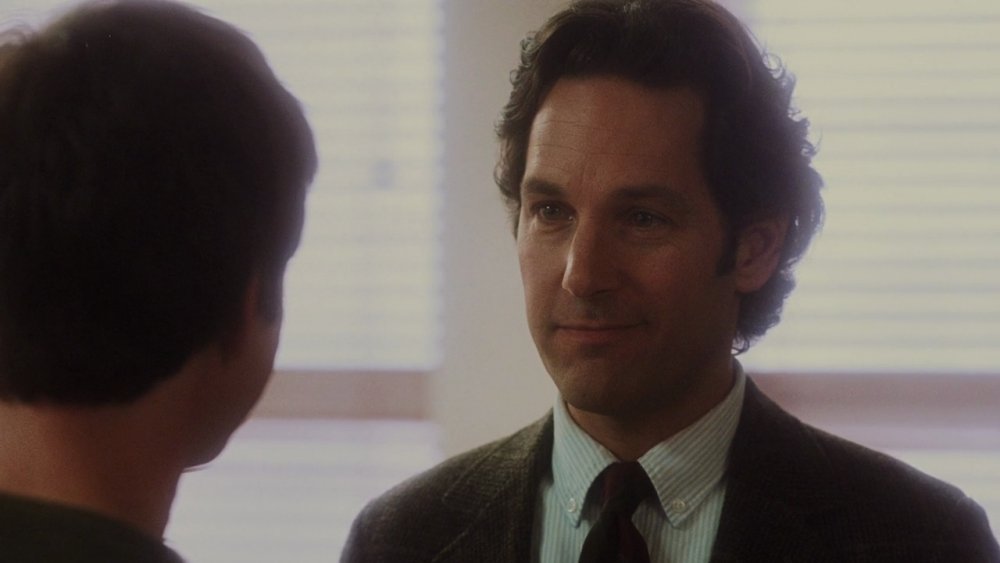 An adaptation of Stephen Chbosky's beloved young adult novel, 2012's The Perks of Being a Wallflower — which Chbosky adapted and directed himself — is told from the perspective of Charlie (Logan Lerman), a shy high school freshman looking for a way to fit in after spending the last year seeking treatment for his mental health. Before long, he befriends seniors Sam (Emma Watson) and Patrick (Ezra Miller), who take Charlie under their wing, though he has difficulty balancing his new friendships with his feelings for Sam, who has a boyfriend. Amidst all of that, Charlie must battle his personal demons, which threaten to derail his mental health and his life at all times.
In a rare dramatic turn, Rudd plays Mr. Anderson, Charlie's English teacher, who recognizes that Charlie is struggling and keeps a close eye on his favorite student throughout the year. As he gives Charlie assignments outside of the curriculum, Mr. Anderson also provides Charlie with the most profound advice in the film — "We accept the love we think we deserve" — and uses his effortless charm to provide the movie with an important emotional core, lending Charlie support at every turn.
Rudd got to mix emotions with comedy in This Is 40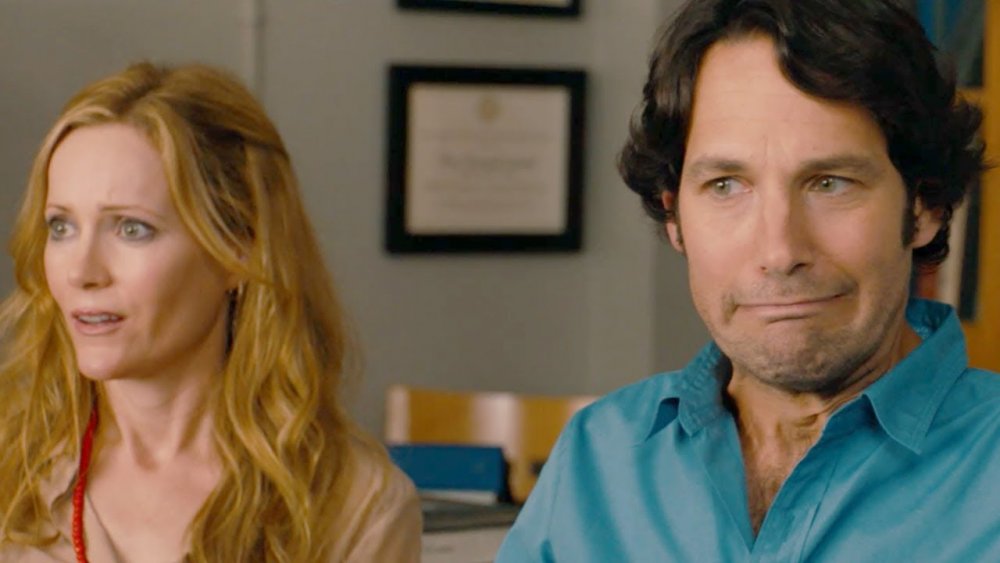 After Knocked Up proved to be a rousing success, Judd Apatow planned an entire film around Rudd and Leslie Mann's characters, Pete and Debbie, producing the Hal Ashby-esque This Is 40 in 2012. Five years after the story of Knocked Up, This Is 40 picks up on Debbie's 40th birthday, which is fraught thanks to tension between the long-married couple and their constantly squabbling daughters, Charlotte and Sadie (Iris and Maude Apatow). When Debbie finds out she's pregnant with a third child, a rift opens up between the two, especially as they start to argue over money problems, career goals, and other problems. Of course, they reconcile when all is said and done.
Naturally, both Rudd and Mann, who understand the characters of Debbie and Pete, create even more relatable and lived-in characters during their second film, and by allowing their story to be front and center, Apatow paints a touching, funny, and sometimes difficult portrait of what it means to be in your 40s with a family. After years in the business and with the backing of his frequent collaborators Apatow and Mann, Rudd definitely proved he could marry emotional pathos and broad comedy with This Is 40.
He was one of Parks and Recreation's best side characters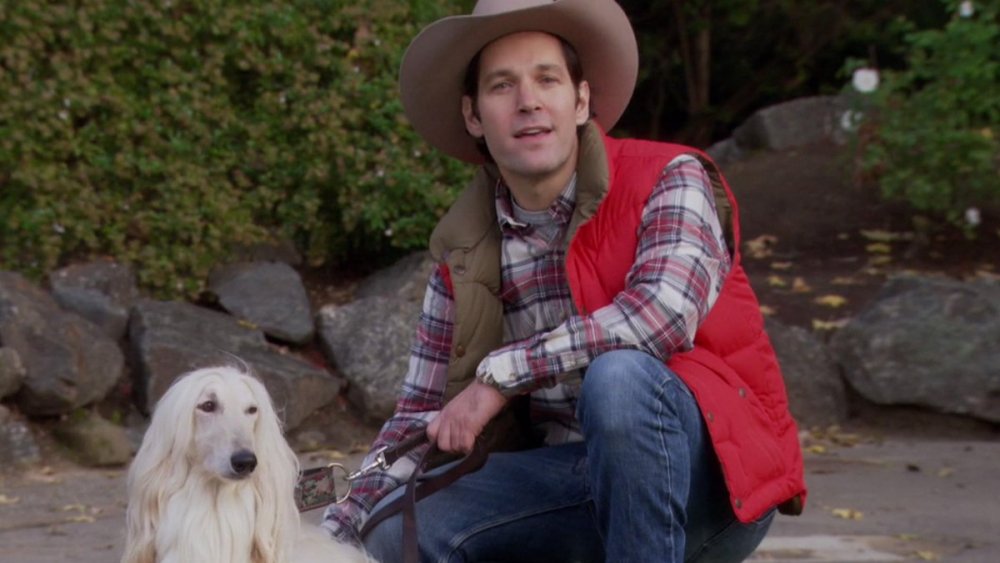 Paul Rudd doesn't spend a ton of time on NBC's political mockumentary Parks and Recreation, but his impact is colossal regardless. After four seasons, intrepid and dedicated Parks deputy director Leslie Knope (Amy Poehler) decides that she wants to run for city council in the town of Pawnee, and with the help of her colleagues and friends, she seems destined to succeed. However, before long, Leslie is faced with a challenging opponent — Bobby Newport (Rudd), the privileged heir to Pawnee's corrupt Sweetums candy corporation.
Bobby isn't a bad guy, but he is, to put it lightly, extraordinarily dim-witted, and he seems convinced that he's entitled to the city council position just because his father is famous. Despite a disastrous debate, the race is close, but Leslie prevails, leaving Bobby relieved and also releasing Paul Rudd so that he could do other projects. But out of all of Parks and Recreation's supporting characters, Bobby Newport is definitely one of the most popular.
He satirized rom-coms with They Came Together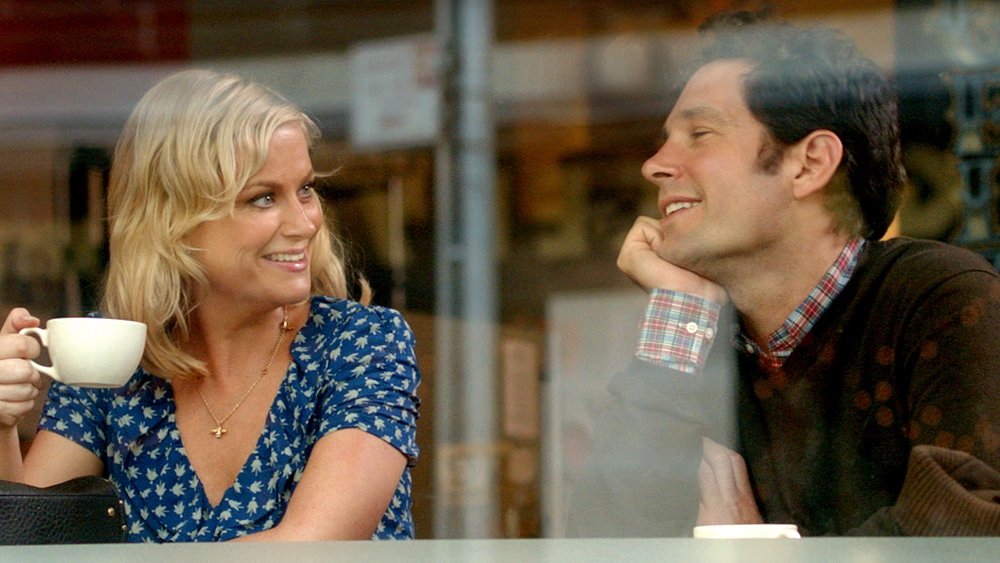 Between Parks and Recreation and Wet Hot American Summer, Paul Rudd has worked with Amy Poehler multiple times, but in 2014, the two finally got to headline their own film in They Came Together. 
Working with Wet Hot American Summer director David Wain and co-star Michael Showalter once again, Rudd and Poehler perfectly parody the typical romantic comedy as Joel and Molly, two star-crossed lovers in New York City. (Throughout the film, as they tell their love story to friends, they constantly mention that New York is basically its own "character" in their tale.) Naturally, Joel and Molly only meet because his large candy corporation wants to buy her sweet little candy store, but despite their professional differences, they fall in love.
Infused with a healthy amount of slapstick and with a supporting cast that includes Christopher Meloni, Cobie Smulders, Bill Hader, Ellie Kemper, and Kenan Thompson, just to name a few, They Came Together is a simple, funny spoof, and it's sure to please thanks to Poehler and Rudd's effortless chemistry. Next time you need an easy laugh, you'll definitely want to catch Rudd's performance in They Came Together.
Paul Rudd became an A-lister with the Ant-Man series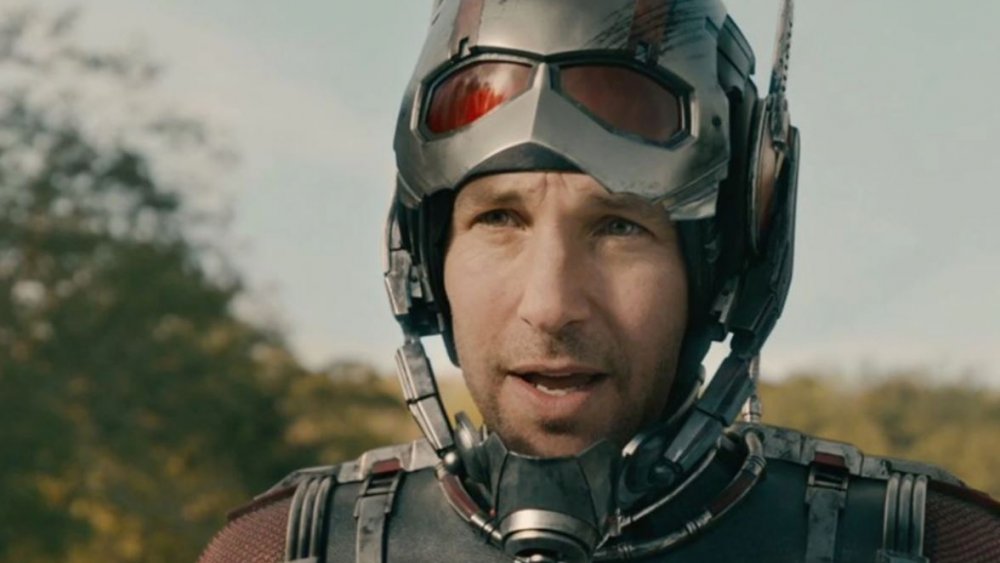 After years as a supporting comedy player, Paul Rudd got an enormous career bump in 2015 when he scored one of the most coveted gigs in Hollywood — a superhero in the Marvel Cinematic Universe. As the MCU conquered the box office and charmed fans and critics alike, they enlisted Rudd to play Ant-Man, introducing Scott Lang's origin story as director Peyton Reed explained how Scott became the MCU's smallest superhero. 
In the first film, we witness Scott's first major battle against Yellowjacket (Corey Stoll), as well as his backstory with Hank Pym (Michael Douglas) and his Pym particles, which give Scott the power to shrink, providing a fun and explosive first outing for the character. Rudd's take on Ant-Man proved pretty popular, and to nobody's surprise, a sequel arrived in 2018 entitled Ant-Man and the Wasp. In the second film, the franchise gives Hank's daughter, Hope van Dyne (Evangeline Lilly), a bigger role as she dons the Wasp outfit to try to save her mother, Janet van Dyne (Michelle Pfeiffer), from the Quantum Realm. All in all, Rudd has made a fantastic addition to the Marvel Cinematic Universe, anchoring his films with his signature goofy spirit.
He cemented his superhero cred with Civil War and Endgame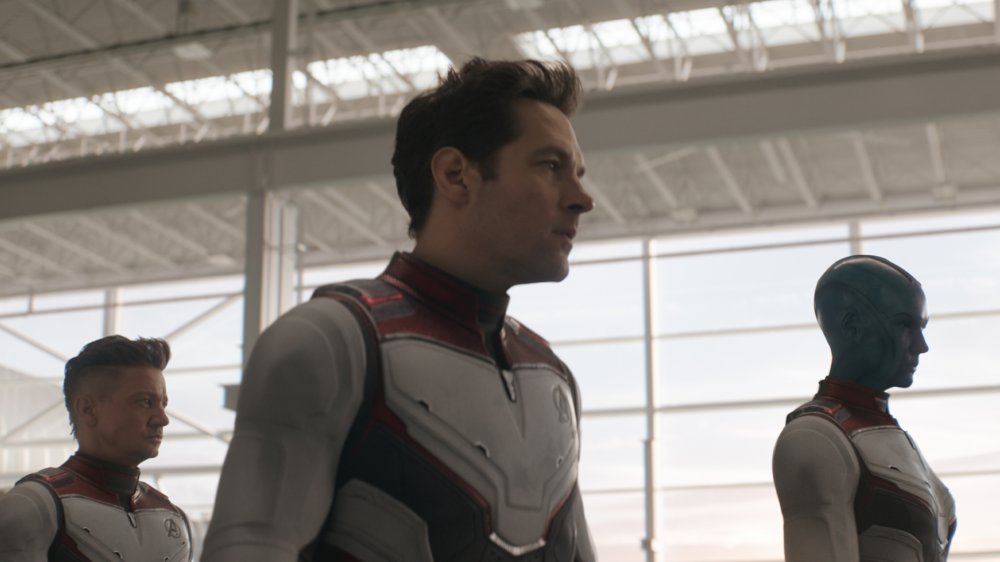 Paul Rudd hasn't just appeared in his own movies within the Marvel Cinematic Universe, but he's also shown up in some of the MCU's most popular ensemble films. In 2016, one year after his debut in Ant-Man, Rudd appeared in his first crossover MCU film with Captain America: Civil War, where he joins in the fight between Captain America (Chris Evans) and Iron Man (Robert Downey Jr.) that divides new and old Avengers alike, allying himself with Captain America.
However, Rudd's biggest role in the MCU thus far is definitely in 2019's defining blockbuster Avengers: Endgame, where, after escaping from the Quantum Realm, he finds himself in a fractured world after Thanos' (Josh Brolin) snap erased half of all life in the universe. Teaming up with the remaining Avengers, Scott is instrumental in helping them learn how to time travel and save the other heroes, with his dingy brown van proving invaluable in the final fight against Thanos. Civil War and Endgame were huge ensemble pieces, but even so, Rudd continued to prove his worth within the MCU by stealing the show.
Living with Yourself gives us two Paul Rudds for the price of one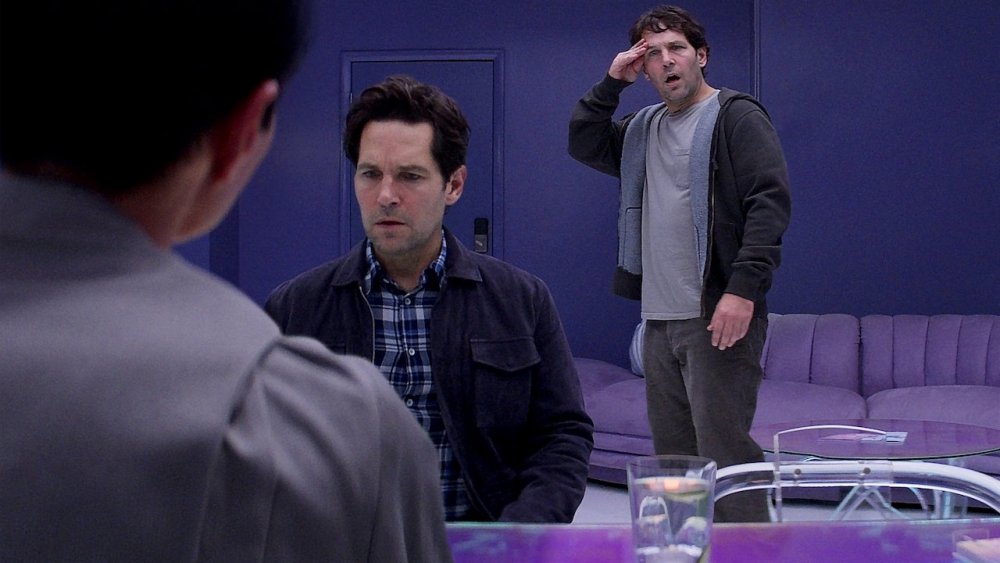 In case one Paul Rudd wasn't enough for you, the actor's 2019 Netflix series stars not one but two Paul Rudds competing against each other for the spotlight, which produces some pretty delightful results. 
After going to a mysterious "spa" recommended by his friend, Miles (Rudd) somehow wakes up in a ditch in the woods, and things only get weirder from there. When he goes home, he finds a happier, better clone of himself romancing his wife, Kate (Aisling Bea), and he soon realizes what happened. As it turns out, the spa cloned him, swapping in the presumably superior double into Miles' humdrum life. From there, Miles and his clone must duke it out to see which one gets to stay, as well as hide their bizarre secret.
It's not easy to play against yourself, but Rudd does so with aplomb, and he even earned a Golden Globe nomination in 2020 for Best Actor — Television Series Musical or Comedy. If you want the full Rudd experience, you'll definitely want to watch Living with Yourself.