Matt Smith Teases What To Expect From Morbius And House Of The Dragon - Exclusive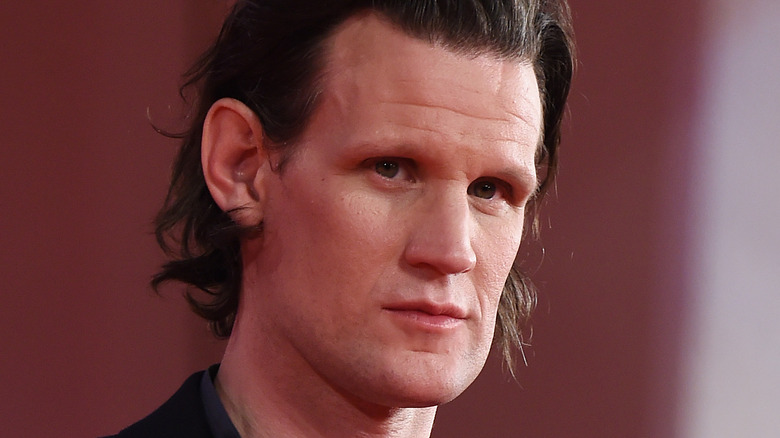 Stefania D'alessandro/Getty Images
Matt Smith may be best known to the public as the star of two acclaimed TV series: "Doctor Who," on which he broke out in a big way as the 11th iteration of the Doctor, and "The Crown," where he portrayed a young version of Prince Philip for two seasons of the massively successful Netflix royal drama.
Smith has also appeared in other TV shows and several movies, including the latest effort from director Edgar Wright, "Last Night in Soho." The former Time Lord also has two new projects coming up on both the small and big screens, and each might raise this talented British actor's profile even higher than it is now.
In "Morbius," due out January 28, 2022, Smith will star opposite Jared Leto, who plays the title role of the Marvel scientist-turned-living-vampire. Smith will play Loixas Crown, who has a 24-year history in Marvel Comics as the villain Hunger and frequently faced off against Spider-Man.
The film version of Crown is described as an old friend of Dr. Michael Morbius who contracts the same rare blood disease as the doc. Whether or not Crown turns into a full-fledged bloodsucker remains to be seen, but we're leaning toward "he does," since he's also been pinpointed as the movie's villain. Smith tells Looper he is "very excited for that to come out."
Then, there's "House of the Dragon," the long-awaited series set in the same world as "Game of Thrones," but 300 years earlier. The HBO series will focus on the history of the Targaryen clan, the delightful family that eventually produced the city-destroying, mass-murdering Queen Daenerys Targaryen. Smith plays Prince Daemon Targaryen. What else can he spill about both projects?
Morbius has a foot in two different genres and universes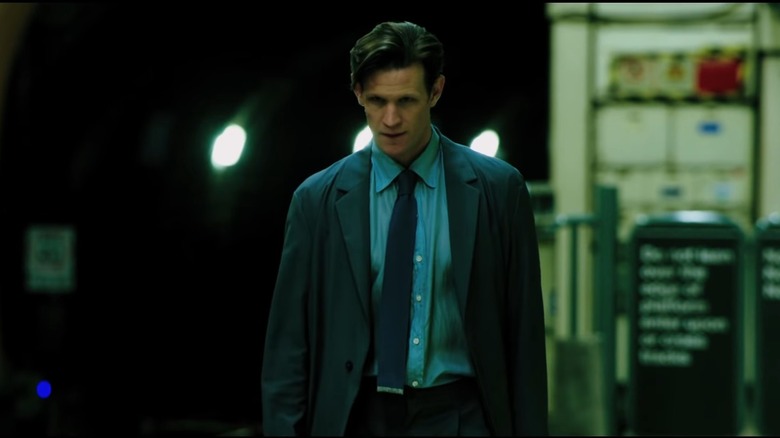 Sony Pictures
As with any Marvel-related project, Smith is sworn to secrecy by the studio. We do know that "Morbius" is set in what is now known as Sony's Spider-Man Universe, which has already produced two "Venom" movies and, in theory, shares the current version of Spider-Man himself (Tom Holland) with Disney's Marvel Cinematic Universe. Spidey has yet to show up in a SSMU film, although he does appear on a news broadcast at the end of "Venom: Let There Be Carnage."
The Morbius character has long been both a nemesis and occasional ally of the wallcrawler, and came out of a supernatural corner of Marvel Comics — even though he was a scientifically created "living" vampire — that also eventually featured titles such as "Tomb of Dracula" and "Werewolf by Night." With that in mind, Looper asked Matt Smith if "Morbius" is more of a horror movie or a superhero adventure.
"Well, I think it's a bit of both," he says. "It's a horror and superhero movie. Also in many ways, it plays out as a quite contained family drama on some level as well, but with flying vampires and bloodlust and all that sort of stuff, and a few scares along the way. Very excited for that to come out, actually."
House of the Dragon has everything we like about Game of Thrones - with a difference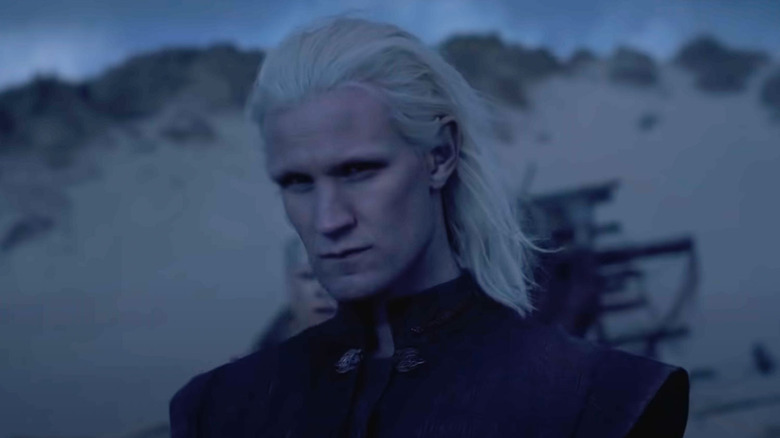 HBO
As for "House of the Dragon," which Smith says is "still filming," it's very clearly set in the same landscape as "Game of Thrones," but with some differences. "Obviously ... there's dragons and swords and all of the intrigue and dastardly goings on that happen in the court of the Targaryens."
But, Smith adds, "I suppose fundamentally, it's a different story. We're 300 years before 'Game of Thrones.' We're spending time with a smaller group of characters to a certain degree ... I think it's up for other people to decide how they're similar or different. I just turn up and try and get the lines in the right order."
So much of the world-building in "Game of Thrones" came down to the sets and locations, the incredible production design, and the elaborate costumes, and Smith says that the latter is an important part of  "House of the Dragon" as well.
"We have a wonderful costume designer called Jany Temime, who did lots of the "Harry Potters" and she did (the James Bond film "Skyfall")," Smith enthuses. "I have to say the costumes in 'House of the Dragon' are just absolutely beautiful. She's done such great work. That's one of the things that I think we can really be proud of in this show, is the costumes have really delivered."
"Morbius," as mentioned earlier, opens on January 28, while the ten-episode first season of "House of the Dragon" will premiere on HBO in 2022 but has yet to receive an official start date — either way, there's lots of Matt Smith coming your way next year.
"Last Night in Soho" is in theaters now.