House Of The Dragon Showrunner Dishes On How The Show Will Feel Different From Game Of Thrones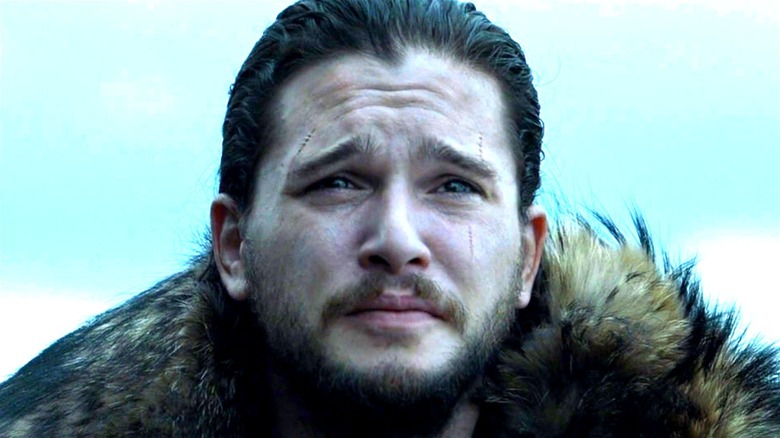 HBO
In early October, HBO finally released the first trailer for its "Game of Thrones" prequel, "House of the Dragon." The new series takes place some 200 years before the events of "Thrones," during a time of civil war between Daenerys Targaryen's (Emilia Clarke) royal ancestors. The teaser is fairly lean, offering only rapid-fire glimpses of elegant costumes and intense action scenes containing small details that are easy to miss, and has left fans wondering how the prequel series will compare to its HBO predecessor.
Obviously, we'll meet a lot more characters with the Targaryen family's trademark white hair, and more dragons with riders atop their backs, but beyond that, everyone is waiting to see if "House of the Dragon" will successfully capture the magic of the first several seasons of "Game of Thrones," or fail to avoid the show's later mistakes. Of course, a lot of that will come down to how well the series' creative team oversees it, with Ryan Condal ("Colony," "Rampage") and Miguel Sapochnik (who directed and executive produced several notable "Game of Thrones" episodes) acting as its co-showrunners.
Taking all that into account, Sapochnik recently teased how he and Condal are approaching "House of the Dragon," as well as how it will differ from "Game of Thrones."
House of the Dragon will pay respects to Game of Thrones, but won't mimic it
Speaking with The Hollywood Reporter, "House of the Dragon" co-showrunner Miguel Sapochnik revealed that the goal of the show's creative team is to "complement" its HBO predecessor, and not so much change everything from the ground up as create a series that echoes "Game of Thrones" while still being its own thing. "It wasn't broken so we're not trying to reinvent the wheel," Sapochnik said. "'House of the Dragon' has its own tone that will evolve and emerge over the course of the show. But first, it's very important to pay respects and homage to the original series, which was pretty groundbreaking."
Sapochnik went on to note that, while he was part of the "Game of Thrones" creative team and feels his experience is helpful in running "House of the Dragon," he's not angling to replicate the complete "Game of Thrones" vibe. "We can't say, 'Well, when we did Thrones, we did it this way...' If you start every sentence with that, you've lost," the showrunner said. "This is something else, and should be something else. It's a different crew, different people, different tone. Hopefully it will be seen as something else. But it will have to earn that — it won't happen overnight."
"House of the Dragon" certainly has big shoes to fill considering its predecessor's enormous cultural impact. However, the prequel series will also have to win over disheartened fans still unhappy with the widely disliked last season of "Game of Thrones." Fortunately, the prequel's large number of dragons should help it stand out a bit from what came before it.