The CW Is Holding Black Lightning For Midseason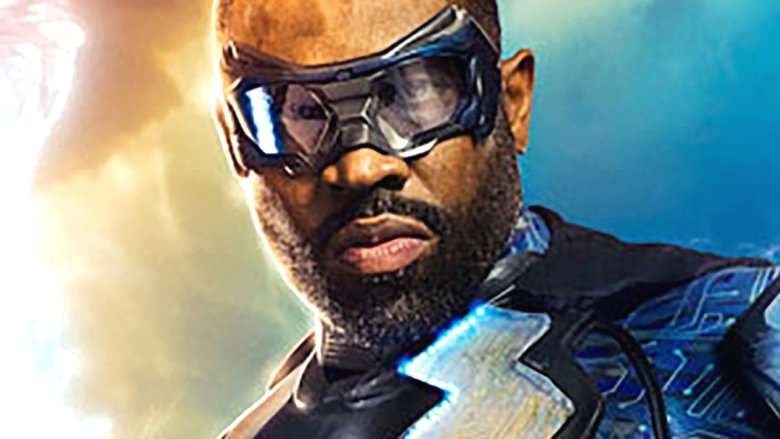 It will be a bit longer before the newest superhero shows up on The CW. Previous reports that the network would be holding Greg Berlanti's Black Lightning for midseason have been confirmed, as the show is missing on the network's fall schedule, released Thursday. (via Variety)
Two of The CW's upcoming new series pop up on the schedule: military drama Valor and the network's Dynasty reboot. Valor follows an elite unit of U.S. Army helicopter pilots called the Shadow Raiders who are sent on a top secret mission to Somalia. However, things quickly begin to go wrong, and only two members of the team return home safely: Warrant Officer Nora Madani (Christina Ochoa) and her commanding officer, Captain Leland Gallo (Matt Barr). As people on the home front try to figure out what went wrong with the mission, Nora and Gallo realize that their comrade Jimmy (W. Tre Davis) is alive and being held captive by a group of ruthless terrorists, and they set out to save him. Charlie Barnett, Corbin Reid, Nigel Thatch, and Melissa Roxburgh also star.
Dynasty is The CW's modern take on the popular 1980s soap. The series will star Elizabeth Gillies as Fallon Carringon, a charismatic, cunning woman who believes she's poised to take over as the new COO of her father's (Grant Show) global energy empire– until she meets her new stepmother-to-be, Cristal (Nathalie Kelley). Fallon teams up with a few different people to try to take Cristal down, but she presents a worthy opponent, despite the dangerous secrets from her past. James Mackay, Alan Dale, Sam Adegoke, Robert Christopher Riley, and Rafael de la Fuente also star in the series, which comes from Gossip Girl's Josh Schwartz and Stephanie Savage.
Black Lightning's midseason entry could mean it doesn't premiere until 2018. The newest superhero series from Arrow-verse creator Berlanti will star Cress Williams as Jefferson Pierce, a father of two and a principal at a charter high school that serves as a safe haven in a neighborhood full of gang violence. Pierce is hiding a secret: his ability to harness and control electricity, something which he used for years during his time as a vigilante. Although he gave that up long ago, he decides to return to the life under the mask when the local gang The One Hundred begins to threaten the community. Nafessa Williams, China Anne McClain, and Christine Adams also star.
The other entry being held for midseason is the Lucy Hale-starring Life Sentence, which features the former Pretty Little Liars actress as Stella, a girl who spent the last eight years of her life living like she was dying– because she really thought she was. When Stella finds out her cancer has been miraculously cured, she has to face the real-life consequences of all of the "live in the moment" decisions she made. Things are complicated even further when she discovers that her family has been hiding their real problems from her for years while they thought she was dying; as the secrets begin to spill out, Stella has to find a way to cope. Elliot Knight, Dylan Walsh, Gillian Vigman, Jayson Blair, Brooke Lyons, and Carlos PenaVega also star.
You can view The CW's full fall schedule below. While we endure the (very long) wait for Black Lightning, see how some big and small screen DC superheroes should really look.
Monday
8 p.m. – Supergirl
9 p.m. – Valor
Tuesday
8 p.m. – The Flash
9 p.m. – DC's Legends of Tomorrow
Wednesday
8 p.m. – Riverdale
9 p.m. – Dynasty
Thursday
8 p.m. – Supernatural
9 p.m. – Arrow
Friday
8 p.m. – Crazy Ex-Girlfriend
9 p.m. – Jane the Virgin