See The CW's Black Lightning In Costume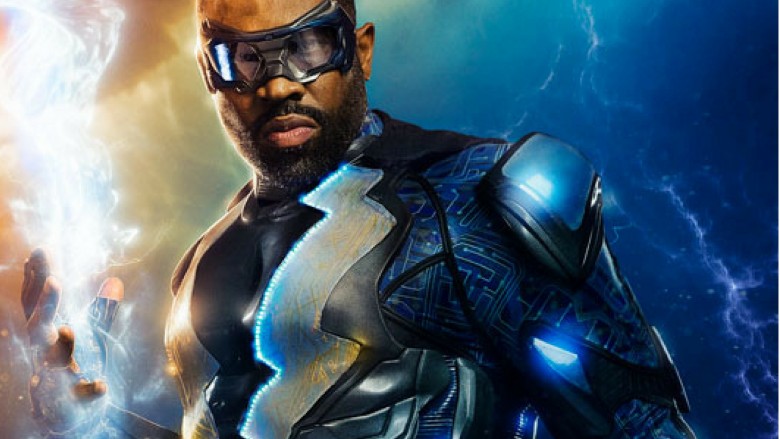 The CW
The CW has released the first look at Cress Williams as the reluctant hero Black Lightning in the upcoming superhero drama series.
From CW mega-producer Greg Berlanti (he of the Arrow-verse, where Black Lightning may or may not end up), follows Jefferson Pierce, a former hero who quit the crime-fighting life so that he could become a high school principal. However, he is convinced to return to the world of heroics when one of his star students is recruited by a gang. He will be backed up by his two daughters, played by Nafessa Williams and China Anne McClain, who, in the comics, assume the alter egos Thunder and Lightning.
The costume design for Pierce comes from Laura Jean Shannon and, according to IGN, it has some echoes of another superhero costume she also worked on: Iron Man. The blue and silver suit has a high tech feel to it, with two lightning bolts down the center and other callbacks to the weather phenomenon hidden in the designs on the sleeves and legs. The suit also looks to be highly functional, with armored areas in the chest but less rigid areas in the arms and legs, allowing for heavy movement. The mask is similar to the Green Arrow's, although it has larger eye holes covered by plastic.
Overall, the costume seems pretty similar to the character's comic book iteration, with a few of the more expected changes for live-action. "In updating the suit, it will signal to a new generation that it's time to harness and release our power, and become our own superheroes," said executive producer/writer/director Salim Akil of the changes, in a statement.
Black Lightning is in contention for the fall season, with the pilot currently filming in Atlanta. If the show is picked up to series, it will already have a one-up costume-wise on some of these other DC superheroes who look nothing like their comic book counterparts.