Kumail Nanjiani Had A Hilarious Remark About His Avengers Campus Double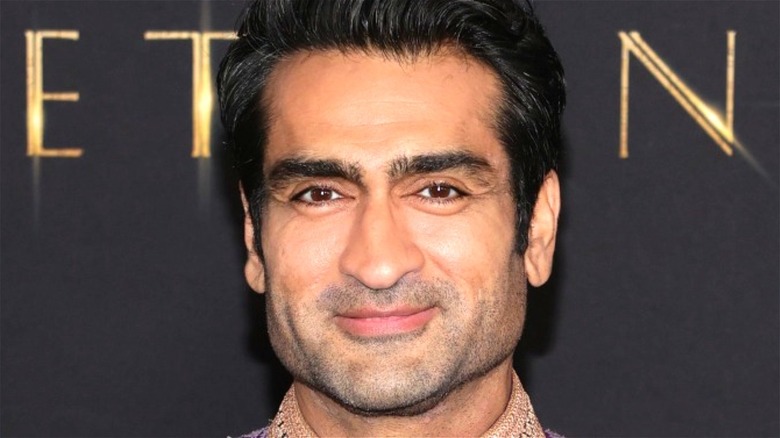 Rich Fury/Getty Images
Few stars have had the kind of come-up that Kumail Nanjiani has had. The "Silicon Valley" alum has transformed from schlubby everyman comic to bona fide movie star with the release of Marvel's "Eternals," which saw a wide release to theaters today, November 5. Nanjiani even underwent a massive lifestyle change to get insanely shredded for the role of Kingo (despite the fact that no one asked him to do this). Beneath his now-chiseled exterior, however, Nanjiani is still the quick-witted comic he's always been. 
Meanwhile, the Disneyland resort has recently opened the doors to its Marvel Cinematic Universe attraction, the Avengers Campus, which offers themed rides, food, and the chance to mingle with your favorite Marvel heroes. Those heroes, of course, are actors employed by the resort, and today the characters from "Eternals" made their debut at the campus, including a version of Nanjiani's Kingo. Upon seeing the promo images, which depict the Disneyland actors posing in costume, Nanjiani had a perfectly hilarious response.
Kumail Nanjiani thinks his Avengers Campus actor is hotter than him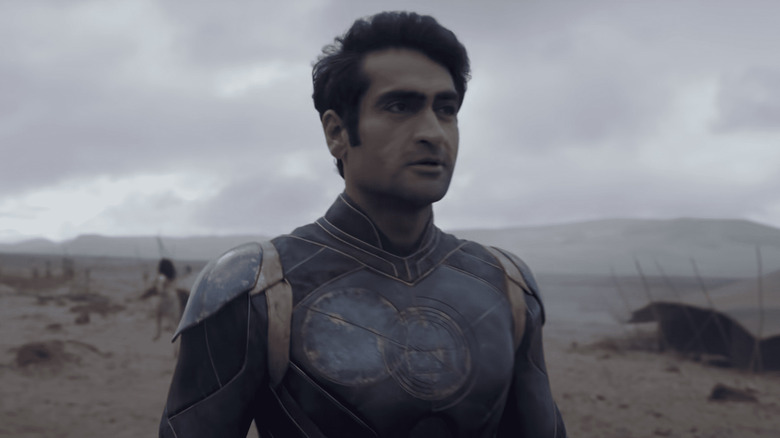 Amy Sussman/Getty Images
The official "Eternals" Twitter account blasted out a promo this morning, proclaiming, "#Eternals have arrived at #AvengersCampus in #CaliforniaAdventure at #Disneyland," alongside a photo of three Disneyland actors dressed in "Eternals" costumes. One of the three actors is in the role of Kumail Nanjiani's character, Kingo, an ancient hero moonlighting as a Bollywood star. The Disneyland actor is a dead ringer for Nanjiani, and the "Silicon Valley" comedian, long accustomed to poking fun at himself, had a perfect response.
Nanjiani retweeted the promotional photo with the caption, "Uhhhh ok this feels super weird. Pretty sure my theme park double shouldn't be more handsome than me. #Eternals is in theaters RIGHT NOW. Please go see it before they replace me with this guy in the movie." 
Though few could disagree at Nanjiani's level of handsomeness these days, you should still take his advice and see "Eternals" in theaters now. And remember to stick around for the post-credits scenes.