Kumail Nanjiani Admits To Feeling Conflicted About Changing His Body For Marvel's Eternals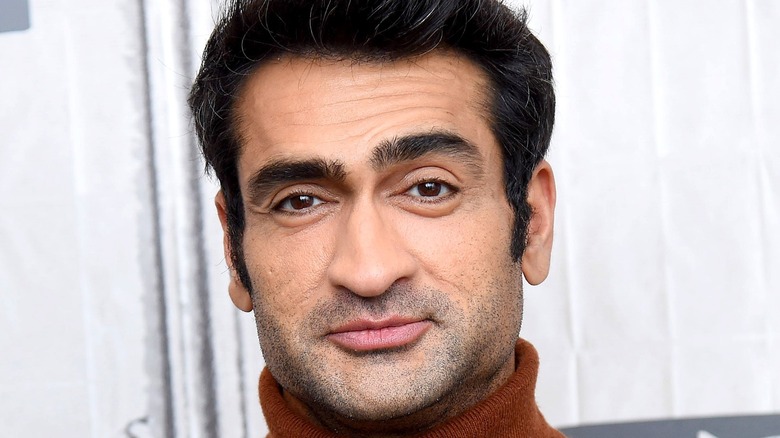 Gary Gershoff/Getty Images
In case you hadn't heard, Kumail Nanjiani got seriously buff for his upcoming role in Marvel's "Eternals." The new superhero bonanza will see the renowned funnyman portraying Kingo, a member of a not quite immortal race of super-powered alien beings who've been living on Earth in secret. And while the role didn't explicitly require the actor (perhaps best known for his comedic work in "Silicon Valley," and "The Big Sick") to get in superhero shape, Nanjiani shocked fans and co-workers alike with his full-body transformation.
That transformation has been the subject of considerable discourse for months now, and per the actor's recent comments to GQ, he's indeed grown weary of all the talk. In fact, when asked about getting ripped for his MCU debut in "Eternals," Nanjiani bluntly responded, "I've found out over the last year and a half, since I did that picture, that I am very uncomfortable talking about my body—and it's become less and less and less comfortable." 
Ironically, that very GQ piece is dedicated almost entirely to the subject of Nanjiani's physical overhaul. And even if the actor is clearly proud of both the work he put into transforming his body, and the unexpected career opportunities said transformation has apparently brought his way, he's clearly a bit conflicted about it being the only thing interviewers seem to want to talk about these days.
Nanjiani is worried about perpetuating toxic masculinity with his new physique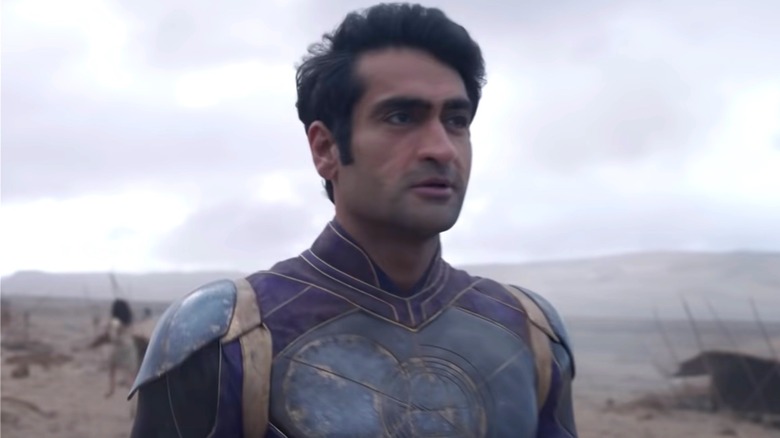 Marvel Studios/Walt Disney Pictures
Turns out, not everybody at Marvel was happy about Kumail Nanjiani's transformation either, with the actor telling GQ that his "Eternals" director had an unexpected reaction, "Chloé [Zhao] got a little upset at me for getting in shape." For his part, Nanjiani conveyed the transformation was initially more about cultural pride than vanity, saying, "If I'm playing the first South Asian superhero, I want to look like someone who can take on Thor or Captain America, or any of those people." 
Still, he freely admits the change was at least partially inspired by the brutish physicality of the action icons he grew up admiring, "We saw these guys who were like Adonises and gods and we were like, 'Oh, that's what strong men look like. Not that they can access their feelings, or cry, or say when they're sad, or say when they're scared. They have a six-pack up to their necks."
That very fact also has Najiani worried his new physique might inadvertently perpetuate certain tropes of toxic masculinity, "It is aggression. It is anger. A lot of times we are taught to be useful by using physical strength or our brain in an aggressive, competitive way." Nanjiani continued, "It's about defeating. And that's what the male ideal has been. Dominating. Defeating. Crushing. Killing. Destroying. That's what being jacked is." 
Worries aside, Nanjiani will undoubtedly undercut any toxicity with a performance full of the warmth, empathy, and signature snark we've come to expect of him. And yeah, he'll likely kick a bit of ass too.