Kumail Nanjiani's Kingo Goes Full Bollywood In A New Eternals Clip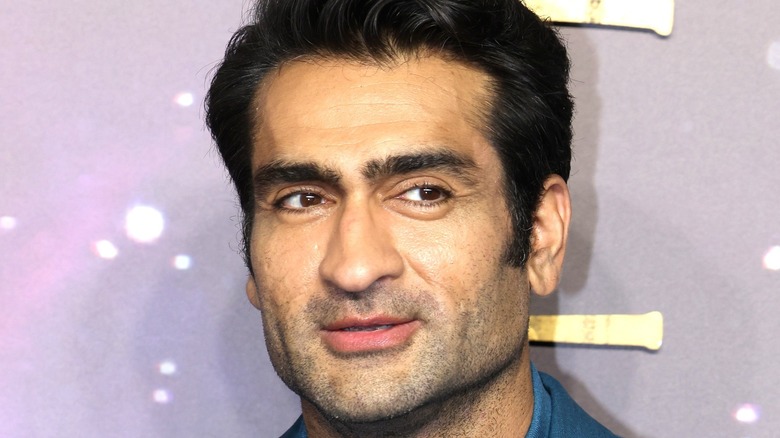 Tim P. Whitby/Getty
Marvel's "Eternals" is almost here. The movie premieres in theaters on November 5, and as is so often the case when there are mere days to wait for a new addition to the Marvel Cinematic Universe, the hype is reaching fever pitch. Chloé Zhao's movie's sizable cast of interesting characters, A-list actors, and teases of a truly cosmic scale mean that any and all MCU enthusiasts are likely eagerly awaiting to finally see what the fuss is all about. 
One of the most interesting characters in the "Eternals" roster is Kumail Nanjiani's Kingo, an Eternal with the self-professed superpower of finger guns, who spends his spare time as a buff Bollywood hero. Now, a brand new clip that centers on the character has been released, and while Kingo's finger guns aren't on display, his civilian identity as a Bollywood actor most certainly is. Let's take a look at Kumail Nanjiani's Kingo going full Bollywood in this new "Eternals" clip.
Kingo's Bollywood dance scene
The new clip, which can be viewed on the YouTube page of "Good Morning America," depicts Kumail Nanjiani's Kingo in full leading man form, in the middle of shooting one of Bollywood's iconic, elaborate dance scenes. However, the filming of the scene soon ends, and Kingo is delighted to spot fellow Eternals Ikaris (Richard Madden), Sprite (LiaMcHugh), and Sersi (Gemma Chan) standing on the sidelines, looking to have a word with him. Viewers are also introduced to Karun (Harish Patel), Kingo's long-serving manager — and a hilarious anecdote about how the guy originally mistook the long-living Kingo for a vampire, and attempted to drive a stake through his heart. The scene soon takes a turn for the grim, as the others inform Kingo of the evil Deviants' return — at which point the Bollywood star immediately drops his happy-go-lucky superstar facade, and becomes deathly serious.
The scene does a wonderful job of introducing the viewers to the world Kingo has been living in, and his movie star status — and the character's mood whiplash when the Deviants are mentioned serves as an excellent teaser of the true danger these antagonists seem to pose. 
"Eternals" is scheduled to premiere in theaters on November 5.