Marvel Made Some Interesting Comments About Kumail Nanjiani's Eternals Transformation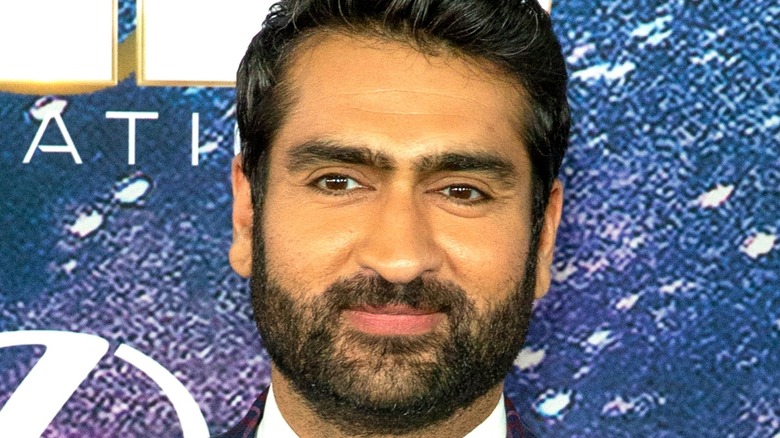 Lev Radin/Shutterstock
For very physical movies like, say, DC and Marvel superhero films, you often hear about an actor's training regimen to prepare for the role. For example, Dwayne Johnson got totally ripped to play Black Adam in the DCEU movie of the same name that's due out this December. Sebastian Stan went through an intense exercise regimen so he could look good shirtless as the Winter Soldier in various Marvel projects. It's not just the men, either. Gal Godot went beast mode to live up to Wonder Woman's standards.
The practice of going hard on physical training to convincingly play a superhero is standard practice these days. Fans also like knowing how much work goes into creating worlds onscreen and how those already attractive actors create that sense of realism with their discipline, intensity, and commitment to their roles. But, recently, Marvel made some comments about the physical transformation actor Kumail Nanjiani underwent to play Kingo in "Eternals," and they're not what you'd expect.
Kumail Nanjiani's physical transformation worried an Eternals producer
Like many actors entering the world of superheroes, Kumail Nanjiani bulked up for his role as Kingo in the upcoming Marvel movie "Eternals." In an October interview with GQ, the actor opened up about becoming this MCU character. He shared, "If I'm playing the first South Asian superhero, I want to look like someone who can take on Thor or Captain America, or any of those people," he said. "I was like, I want this to be believable. I want to feel that kind of powerful in this role."
Nanjiani's transformation was jaw-dropping, to say the least. The actor set the internet ablaze when he debuted his new physique on Instagram in December 2019. Yet, when Marvel executives saw the extent of Nanjiani's physical preparation, they were surprised. In a set visit interview, "Eternals" producer Nathan Moore told ScreenRant, "I will say this because this is the truth. We were like, 'Hey Kumail, don't worry about it. You don't have to get in a ton [of shape]. Like, this isn't the movie where we have to work out a ton.' But he wanted to do it, and at some point, I had to call him and say, 'Kumail, I think you got too big.' [...] He was so excited to be in the movie, he was just invested, but yeah, he got big. I've been in the gym with him — it is very intimidating."
Eternals director Chloé Zhao was also worried about her star
Marvel producer Nathan Moore isn't the only person who has commented on Kumail Nanjiani's physical transformation. "Eternals" director Chloé Zhao also felt she had to speak to her star about the issue. Zhao wanted Nanjiani to know he was hired for his humility and charisma, not his appearance. She explained in the same October GQ profile, "I wanted to make sure he didn't feel like he had to do it for me."
Nanjiani has also spoken candidly about how difficult the process was on him. In that buzzy 2019 Instagram post, he explained, "It would have been impossible without these resources and time," while also celebrating all of his hard work. But he also discussed the changes he saw mentally and emotionally once he started getting more muscle. This included a new focus on what scale said and issues with body dysmorphia (via Buzzfeed), not to mention the toxic masculinity that his new physique seems to be perpetuating. "It is aggression," he said in GQ about that jacked-up look that he aspired to, even as a young man in the '80s. "It is anger. A lot of times, we are taught to be useful by using physical strength or our brain in an aggressive, competitive way. Not in an empathetic way. Not in an open, collaborative way."
Marvel's "Eternals" opens November 5, and at that time, fans will get to see his transformation (as well as the transformation of his co-stars) in action for themselves.