How Stuart Martin And Guz Khan Trained For Their Army Of Thieves Roles - Exclusive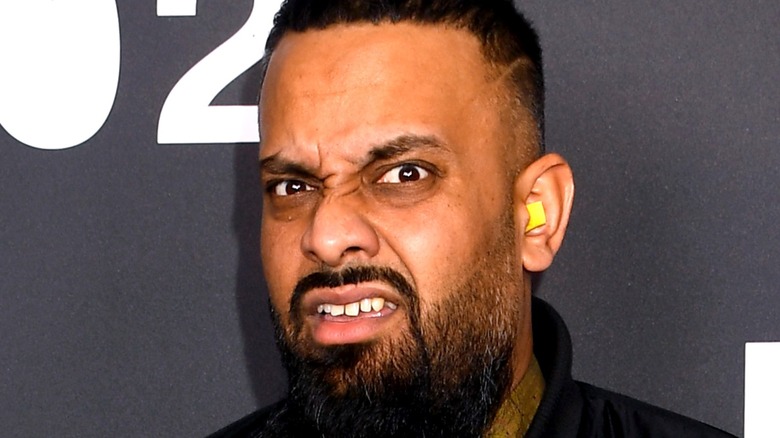 Dave J. Hogan/Getty Images
From "300" to "Zack Snyder's Justice League," actors have discovered over the years that if you're cast in one of the esteemed filmmaker's productions, there's going to be some serious action in the film and intense training that accompanies the role. For example, the cast of Zack Snyder's zombie heist opus "Army of the Dead" were trained by Navy SEALs to learn how to handle the heavy-duty weaponry needed to cut their way through a zombie-infested Las Vegas and crack into a casino vault containing $200 million. Now, for the "Army of the Dead" prequel "Army of Thieves," it's time for the film's stars Guz Khan and Stuart Martin to learn a very particular set of sets.
While the characters in "Army of Thieves" are fortunate enough to avoid any zombie obstacles, there's still a lot of training that goes into boosting a group of iconic safes located across Europe. Streaming exclusively on Netflix, "Army of Thieves" tells the origin story of safecracking extraordinaire Ludwig Dieter (Matthias Schweighöfer). Dieter, as it turns out, began as a lonely bank teller and safecracking enthusiast in Europe fascinated with the legend of an inventor named Hans Wagner, who purportedly created a group of seemingly uncrackable safes. In an odd twist of fate tied to the early days of the zombie outbreak, Dieter is recruited by a prolific thief, Gwendoline (Nathalie Emmanuel), to join her crew to crack the elaborate Wagner contraptions in a short window of time.
Each of Gwendoline's crew members have an important task in "Army of Thieves." Dieter and hacker Korina's (Ruby O. Fee) tasks are strictly cerebral in nature, but Gwendoline's and combat expert Brad's (Martin) duties require some physicality. Getaway driver Rolph (Kahn) has, naturally, precise behind-the-wheel skills.
Guz Kahn helps drive the action in Army of Thieves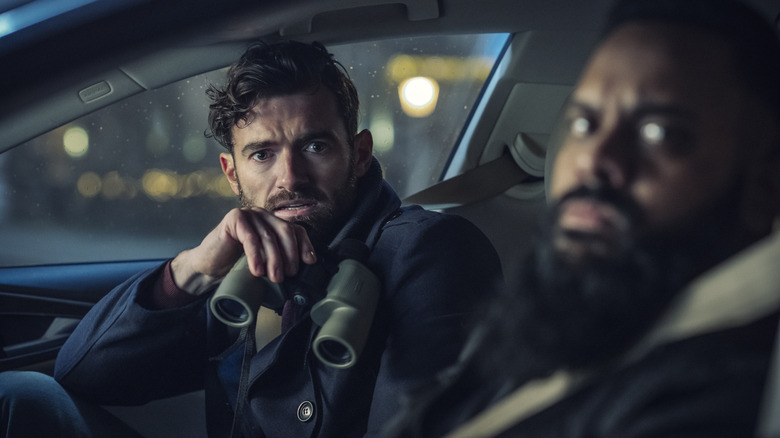 Netflix
In an exclusive interview with Looper to discuss "Army of Thieves," Khan, who was joined by Martin, detailed what went into action behind the bank heists in the film. Because their roles are criminal in nature, the skills were sometimes tricky skills to learn for the duo, considering they involve the type of things people don't want on your Google search history.
"Me and Stu, little-known fact that Hollywood doesn't know, were actually in prison for armed robbery in the early 2000s, so it came as second nature to us both," Khan said, jokingly, of his and Martin's criminal exploits in the film. "No, genuinely, with everything that we did — Stu definitely from the action point of view, training every day with a combination of boxing and weights — and the whole team was doing that but me."
While Khan's scenes in "Army of the Dead" didn't involve any fisticuffs, he did put his hands to good use while training to be a getaway driver.
"I did actually get to go and do a really fun day of stunt driving, and Stu was there for that as well," Khan told Looper. "It was just incredible to be kind of drifting cars in the middle of a pandemic in Prague when nobody had really gone out of the house for about six months — and me and Stu, we're living our best lives over there. It was an incredible experience."
"Army of Thieves" and "Army of the Dead" are both streaming exclusively on Netflix.