Army Of The Dead Star Matthias Schweighöfer Talks His Work With Snyder And Bautista, Teases The Prequel Army Of Thieves - Exclusive Interview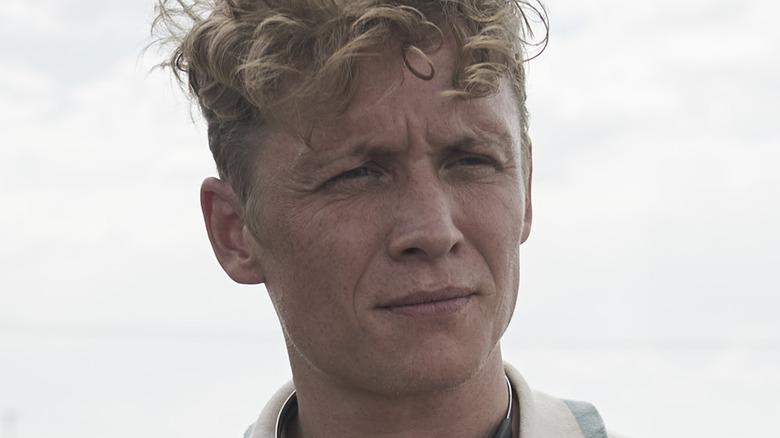 Netflix
Director Zack Snyder's new zombie heist thriller "Army of the Dead" is certain to get fans buzzing for many reasons, not the least of which the breakthrough performance of Matthias Schweighöfer — a German film star poised to win over American audiences with his humorous character who masterfully breaks the tension amid the zombie madness.
Schweighöfer is certainly no stranger to screens both big and small, having made his debut in the 1994 in the German drama "Ärzte." Since then, the actor has amassed more than 75 roles, mostly in Europe, but has appeared in the occasional American film, including the 2002 horror thriller "Feardotcom" and the 2007 historical World War II drama "Valkyrie" opposite Tom Cruise.
In "Army of the Dead," which opens in select theaters May 14 for a one-week run before it debuts on Netflix May 21, Schweighöfer plays Ludwig Dieter, an expert German safecracker hired by zombie war veteran Scott Ward (Dave Bautista) and his band of mercenaries to break into a vault beneath a casino on the Las Vegas strip. The stakes to retrieve $200 million from the heavily fortified vault are sky high, with only 32 hours for the crew to get in and out, and chances of survival are thin since Sin City was walled off from the rest of the world after its inhabitants fell victim to a zombie outbreak.
Schweighöfer, in an exclusive interview with Looper, detailed his work with Snyder and Bautista on "Army of the Dead," the method behind his comedy, and the unexpected acting and directing gig he landed after working on the film.
Army of the Dead led to Matthias Schweighöfer directing Army of Thieves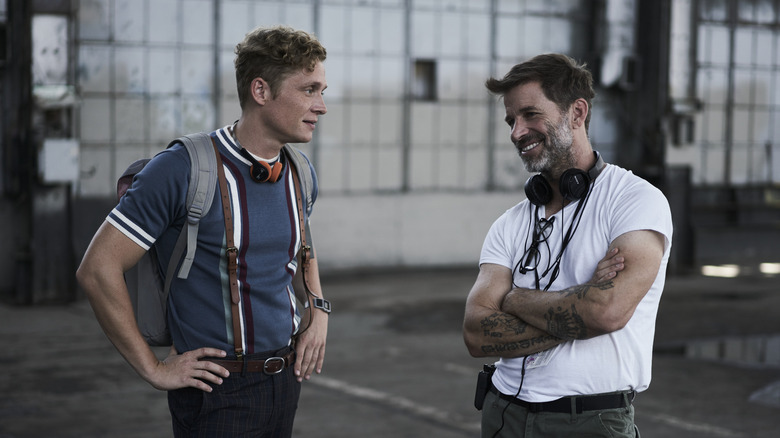 Neflix
With his remake of "Dawn of the Dead," Zack Snyder arguably redefined the zombie genre. I'm just wondering, going back 17 years, what are your recollections of the first time you saw the film, and did it inspire a goal of maybe working with Zack someday?
Oh, to be honest, when I saw "Dawn" the first time, I really was shocked by the opening sequence with the girl in the bedroom. That was like really the first time I had experienced the zombie universe with "Dawn of the Dead," and I was truly impressed. But yeah, to be honest, since "Dawn" and since "300," I wanted to work with Zack because I think he is a great, great director and filmmaker. So there's a dream coming true.
And now there's "Army of the Dead." It's interesting in that it's a part of a three-pronged story, effectively, along with the prequel movie "Army of Thieves" and the anime-style prequel series "Army of the Dead: Lost Vegas." What is great about that is not only do we get to see more of Ludwig Dieter in "Army of Thieves," but you also direct the film. I'm wondering if the opportunity to star in "Army of the Dead" and star in and direct "Army of Thieves" came about at the same time.
[Laughs] No, it was a long process and it was hard work for me and the first idea of doing the prequel we had was when we finished "Army of the Dead." At first, I thought it was a joke because it sounded so abstract and so crazy. But then two months later when they finished, when I first saw the first edit, the first cut, and then Zack called me and said, "Do you want to produce this movie with my company? And do you want to be the director and the star of the film?" And it was like, of course I said, "What, oh, my God, yes — wait, wait, wait, wait, wait a minute — Okay, let's do this!"
But especially me and Zack, we didn't think about that when we shot "Army of the Dead." While shooting, we didn't talk about any prequel or the anime at the time. But I was very happy. So it was super surprising after that whole [movie], giving Dieter this kind of, this character, you know?
Zack Snyder immediately knew Matthias Schweighöfer was the actor to play Dieter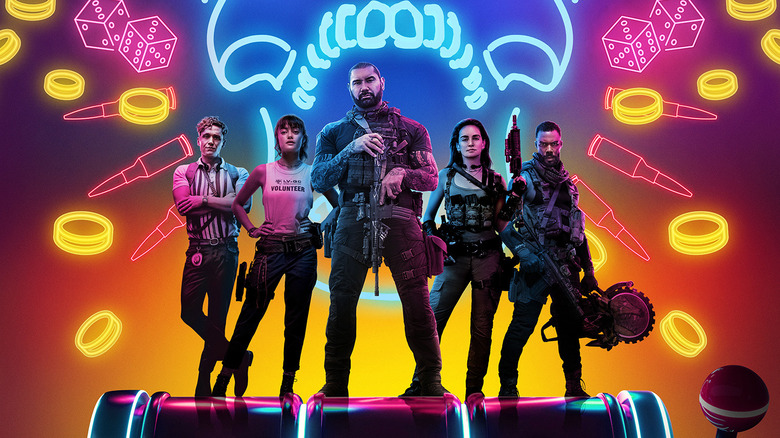 Netflix
You bring to "Army of the Dead" more than a couple of decades of experience in German film and television. Did Zack ever explain to you what it was in your career that made you the guy to play Dieter?
Oh, he has. One day I received this phone call from my agent and he told me there is this project called "Army of the Dead," and he asked, "Can you please tape yourself?" So I did that. And I think on the second look, I just realized that this movie would be directed by Zack, and I was so nervous. But then Zack called me that day and said, "Hey, Matthias, I watched your tape — and I saw you and I said, 'That's Dieter, so we have to hire Matthias.' And here we are. Welcome to the show!"
Zack seems to be such a warm, giving, collaborative and creative filmmaker — an actor's dream, really. Still, was there anything that surprised you about working with him on "Army of the Dead?"
Yeah, I think he's a great visionary and he's a great, fantastic human being, by the way. I'm a Pisces, he's a Pisces and his wife Debbie [who produces the film] is a Pisces, too. So that's like three fish in the ocean. Fishes? Is it fish or fishes? Fishes, right?
Fish, I think.
Fish? Okay, oh there is no plural from fish, okay, so it's fish. No, but I thought it was really interesting because he operated the camera the whole time on "Army of the Dead." It was so interesting to see his empathy for creating a vision by just running the camera the whole time by himself, watching actors at the same time, and being the DOP at the same time. That was really, really interesting.
Dave Bautista provided true leadership on the set and off, Matthias Schweighöfer says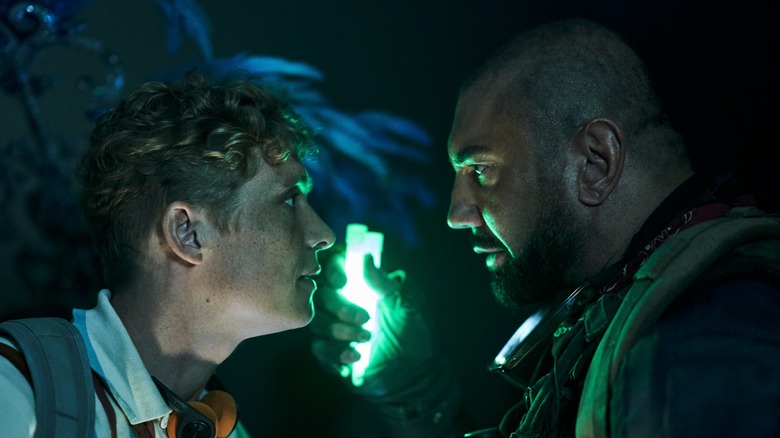 Netflix
Of course, you got Dave Bautista to work with, along with a terrific cast. I can't help but think that in addition to being the crew's leader on film, Dave really provided a sense of leadership to the cast. Was that your takeaway working with Dave?

Okay. I'll tell you a story. Dave Bautista, I really love him with all my heart, because first I was always very nervous because it was so totally new for me to meet such a big star. But I will never forget on the last day of shooting in New Mexico, Dave made us all these little gifts and I received a card for the gift from Dave and I have it at my home. He wrote me a little message, and it was, "Hey Matthias. Thank you for being on that film. I just wanted to say you're by far the most talented person on that show. So cheers to your future." And I will never forget this.
Every time when I meet Dave, he's like, "Hey Matthias, you're great. I love you. Dieter is, like, your performance is amazing." And he's a fantastic leader. He's a great human being and especially his way of acting. [The way he made] his way into Hollywood is so good. He's a really great actor.
Dieter isn't afraid to express his horror at the zombies in "Army of the Dead," a lot of times for our benefit, because we can nervously laugh at this stuff. But seeing these gnarly beasts in person, did you get nightmares? I mean, this is some really scary stuff.
This is some really scary stuff. And I still, you know, it's all about anxiety. Because of zombies the whole time. When we did ADR [re-recording for that film, I took my daughter with me to the ADR studio ... You know, I will never forget it, but she will never watch a zombie movie again, maybe "Army of the Dead" because she's older now, but you're totally right. These zombie scenes are so scary and so special that yeah, the audience will be so happy to watch the movie.
Matthias Schweighöfer reveals how he helped create the laughs in the film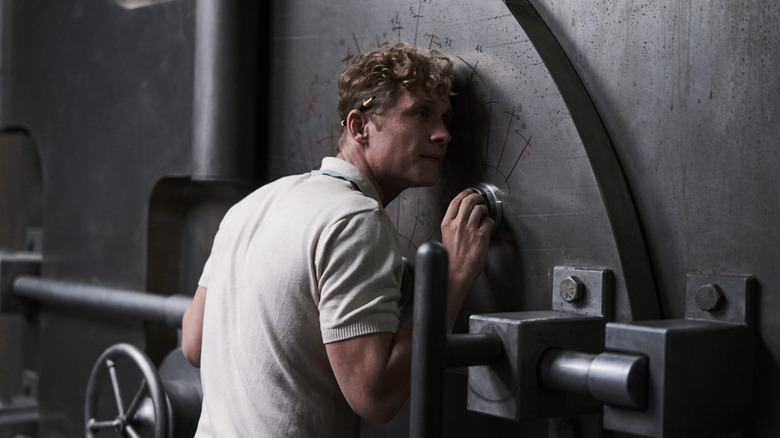 Netflix
Of all the characters in the film, Dieter provides us the most laughs. How tough was it bearing that responsibility to bring the tension-breaking comic relief? I mean, it couldn't have been easy.
To be honest, it was — you know, Zack was building this beautiful stage for my character. So first when we start prepping the film, we had to do the Navy SEAL training and the guys told me, "Hey Matthias, all the other actors, they have to learn how to infiltrate a room and work with these guns, and you have to do everything wrong and different. So when they go backward, you go forward. When they go forward, you go backward." And that was like easy for me. "So when they're silent, you can be loud." So I took all these little parts and I created like something. Yeah, that was fun. You know, every day I really was just looking for mistakes from the other actors, okay? Then I could go, "That's what I can do different," you know? And that was fun. Yeah. It was cool.
I can't wait to see "Army of Thieves." How different of a feel does it have from "Army of the Dead"? I would imagine zombies are involved in "Army of Thieves," of course, because this is part of a larger story.
Kind of. Right. Kind of. And it is the same universe, of course. It's more like a heist movie and it will be really entertaining. You will see heist stuff there that has never been seen before.
Also starring Ella Purnell, Ana de la Reguera, Omari Hardwick, Nora Arnezeder, Raúl Castillo, Garret Dillahunt, Hiroyuki Sanada and Tig Notaro, "Army of the Dead" opens in select theaters nationwide on Friday for a one-week run before debuting on Netflix May 21.