Read This Before You See Army Of Thieves
This content was paid for by Netflix and created by Looper.
"Army of the Dead" fans are in for a wild new ride when "Army of Thieves" arrives on Netflix on Friday, October 29. The new film is a prequel to Zack Snyder's zombie apocalypse sensation, taking place half a world away from the undead action and introducing fans to the thrilling history of the world's finest safecracker, Ludwig Dieter (Matthias Schweighöfer).
Dieter's ability to perform under pressure is on full display in "Army of the Dead," as he pulls off the ultimate heist right in the heart of the hungry shamblers' hideout. But "Army of Thieves" gives audiences a chance to learn so much more about this philosophical master thief's background, lifting the veil on why Dieter was so willing to run into grave danger for the chance to unlock the fabled Gotterdammerung safe.
Even without swells of biters surrounding him, Dieter's experience in "Army of Thieves" is still a heart-racing adventure, so fans of "Army of the Dead" will not want to miss out on this delicious new installment to the saga. Here's what else you should know about "Army of Thieves" before the film drops.
The perfect combination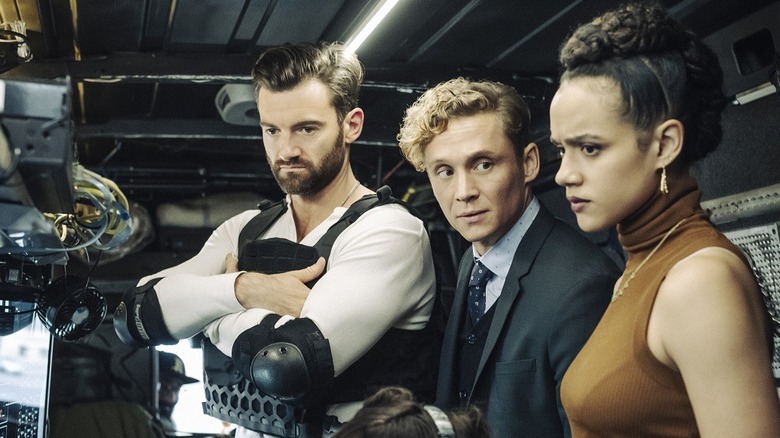 Stanislav Honzik/Netflix
"Army of Thieves" is the ultimate passion project for its creators. Not only does Matthias Schweighöfer return to his colorful "Army of the Dead" role, but he's also the one behind the lens, directing the movie. Schweighöfer, who hails from Germany, has directed several of the films that he's starred in and also has ample experience as a producer on his projects, so he was a shoo-in for helming this production.
Zack Snyder himself came up with the concept of this follow-up film after seeing Schweighöfer's enigmatic performance as Dieter. As he explained at the "Army of Thieves" panel at Comic-Con, "Matthias is hilarious, and [I thought] there's something there. And I basically just called up Shay [Hatten], who wrote 'Army' with me, and I was like, 'What about this idea: some kind of 'Italian Job'-version movie but with learning his backstory about why he loves these safes?" From there, Snyder and Hatten fleshed out the script for the picture.
Snyder's wife and producing partner, Deborah Snyder, was particularly enthralled by the chance to take the "Army of the Dead" story into new arenas, saying, "It was set at a time where zombies existed in the world, but it wasn't a zombie film. Who's done a prequel where it's a different genre film? 'Cause to me, this is more of a romantic-comedy heist film than anything else. [But it] happens to live in this world where zombies are in the U.S., and it's causing the banking system some instability, so it's having people move money around."
Schweighöfer was ecstatic by Snyder's invitation to return to the role and jumped at the opportunity to work on the film, which was shot in the Czech Republic in late 2020.
The new team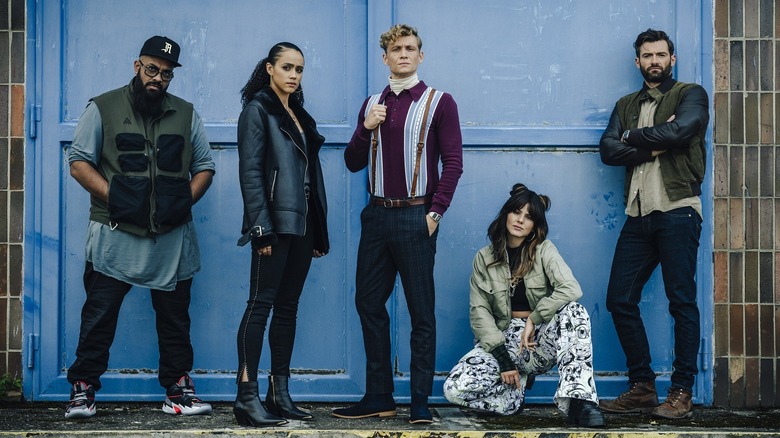 Stanislav Honzik/Netflix
Ludwig Dieter might have formed an instant bond with some of his new friends in the "Army of the Dead" heist crew, but it wasn't his first time being part of a close-knit team of talented burglars. In "Army of Thieves," the character begins as a small-town bank teller, but he's eventually recruited into a ring of high-profile bandits.
The leader of the group is the mysterious Gwendoline, who's portrayed by "Game of Thrones" favorite Nathalie Emmanuel. The actress — who's also known for her work in the "Fast and the Furious" films, along with shows like "The Dark Crystal: Age of Resistance" — said she was "drawn to the script and the character" because Gwen's "main asset is her ability to ... read people. She's very instinctual." Emmanuel also described Gwen as being someone who isn't necessarily in the heist game for the money, but "she has a code and a conduct" and relishes the quest itself.
Also starring in the film is Ruby O. Fee as Korina. Like Schweighöfer, Fee has starred in a number of German pictures, and she's also known for her recent work in films like "Polar." Meanwhile, Stuart Martin stars as Brad Cage, and fans may recognize him thanks to television series such as "Medici," "Jamestown," and "Miss Scarlet and the Duke." Rounding out the main cast is Guz Khan as Rolph. Khan previously worked with Emmanuel on the small-screen adaptation of "Four Weddings and a Funeral," and he's also known for shows like "Turn Up Charlie" and "Man Like Mobeen." Together, these five make for quite a dynamic team as they embark on the adventure of a lifetime in Europe, all while the zombie catastrophe begins to unfold over in America.