How Justice League Helped Zack Snyder Create The Army Of The Dead Universe - Exclusive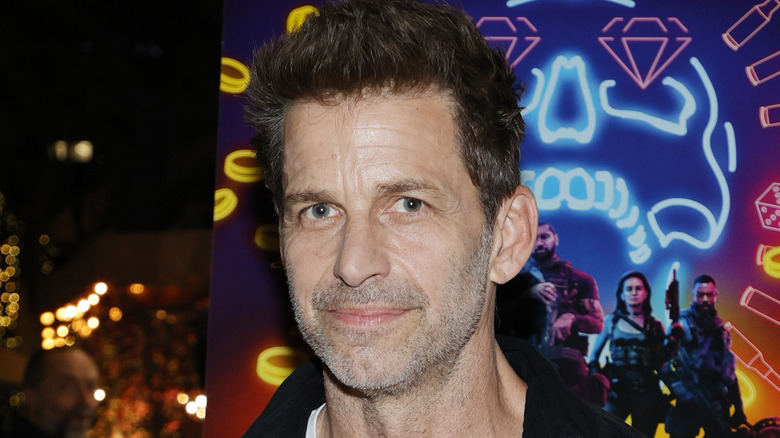 Amy Sussman/Getty Images
Released in March 2021, "Zack Snyder's Justice League" marked a sea change for the esteemed filmmaker, as he was finally able to release his long-awaited superhero extravaganza the way he originally envisioned it. The director's four-hour tour de force presents a comprehensive take on the hotly anticipated gathering of several DC icons, including Superman (Henry Cavill), Batman (Ben Affleck), Wonder Woman (Gal Gadot), Aquaman (Jason Momoa), The Flash (Ezra Miller) and Cyborg (Ray Fisher). Punctuating the film are appearances by legendary supervillains Darkseid (voice of Ray Porter), Steppenwolf (voice of Ciarán Hinds), and The Joker, which sees Jared Leto reprise the version of the character he first realized in 2016's "Suicide Squad.
Made exclusively for streaming on HBO Max, "Zack Snyder's Justice League" (also known to fans as "The Snyder Cut") yielded impressive viewership during its first weekend in March. Hopefully, this boosted Snyder's confidence as he prepared for another streaming movie event: the release of the Netflix-produced "Army of the Dead" in May.
"Army of the Dead" marked Snyder's return to the zombie genre for the first time since his groundbreaking 2004 reimagining of George A. Romero's zombie classic "Dawn of the Dead." While it took the writer-director 17 years to return to the genre, something happened while Snyder was working on his version of "Justice League" that effectively ensured fans that they would not have to wait nearly as long to enjoy his future zombie tales.
Justice League helped Zack Snyder realize that his movie universes have no boundaries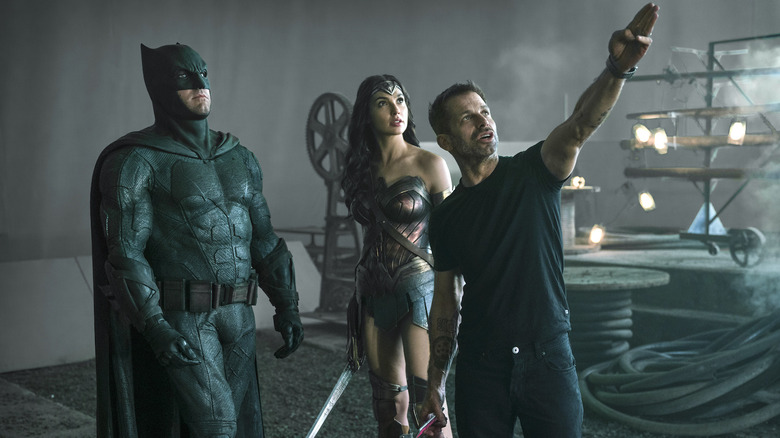 Clay Enos/HBO Max
Just as "Army of the Dead" was entering post-production, work was already underway on "Army of Thieves," a prequel movie that examines the origin of lovably offbeat safecracker Ludwig Dieter (Matthias Schweighöfer). Entrusting Schweighöfer — a prolific German actor and director — to both helm and star in "Army of Thieves" allowed Snyder and his wife and collaborator, Deborah Snyder, to set the wheels in motion on yet another "Army" universe prequel project: director Jay Oliva's anime-styled series "Army of the Dead: Lost Vegas."
In an exclusive interview with Looper, Snyder and Schweighöfer sat down to discuss "Army of Thieves." During the conversation, Snyder credited "Justice League" with giving him the confidence to explore uncharted territories of a narrative and its characters in a different cinematic universe.
"I think if you look at what we're trying to do with 'Army of the Dead,' 'Army of Thieves,' 'Army' animated — the whole 'Army' universe — the thing I think that I got from doing 'Justice League' is that sort of epic world-building; that sort of epic mythological, kind of multi-layered world of making something that's rich for the fans that they can really enjoy a full meal, and they can keep eating until you explode," Snyder observed for Looper. "The fun of that and the joy from really filling in all the corners of the [DCEU] was the same. That experience really made me go, like, 'God, I really want to whole-cloth something like that,' and [the 'Army' universe] has given us that opportunity in a really fun way. We hope to continue doing it."
Army of Thieves expands the Army of the Dead tale to Europe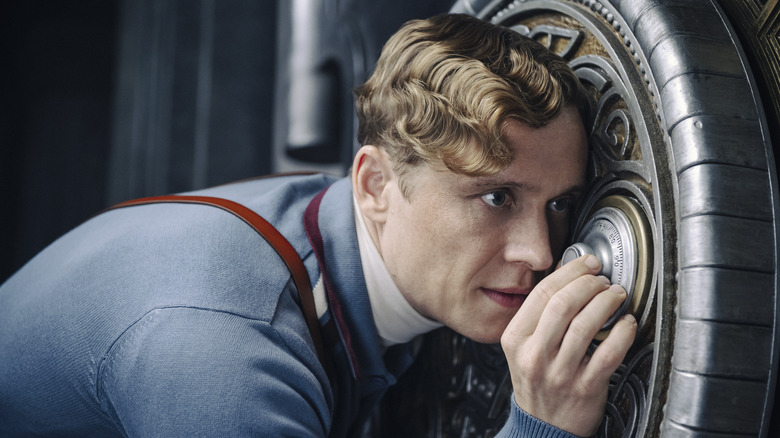 Netflix
Perhaps the most interesting aspect of "Army of Thieves" is that it's a heist comedy, a decidedly different genre from the horror stylings that provided the framework for "Army of the Dead." Set in Europe, just as the zombie outbreak chronicled in "Army of the Dead" spreads, "Army of Thieves" introduces Dieter (Matthias Schweighöfer), a bank teller by day and a safecracking enthusiast who creates YouTube videos about his favorite subject in his off-hours. It's not long until Gwendoline (Nathalie Emmanuel), an expert thief, recruits him to crack a handful of legendary safes located across the continent.
The setting gives Schweighöfer the unique opportunity to tell a distinctive European heist tale. The star of the Netflix film explained to Looper, "It's based on Norse mythology and that we have 'Der Ring des Nibelungen' ['The Ring of the Nibelung'] as an opera that tells the story about these epic four safes. It's an opera by Richard Wagner."
He continued, "That's what I love about this and what makes it a European thing. It's from this old composer with these big crazy hours of music and a story, as well as a back story. So, I love that we had a chance to create ['Army of Thieves'] around this foundation."
Also starring Guz Khan, Stuart Martin, and Ruby O. Fee as the other members of Gwendoline's crew, "Army of Thieves" is now streaming exclusively on Netflix. "Army of the Dead" is also streaming exclusively on Netflix. "Army of the Dead: Lost Vegas" is expected to be released by the streamer sometime in 2022.