Why NCIS Fans Thought This Actress Was Related To Nell Jones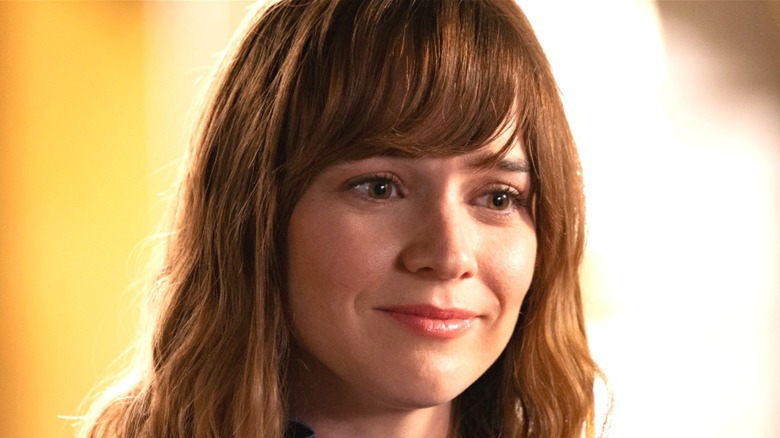 CBS
Penelope "Nell" Jones (Renée Felice Smith) has been a part of the "NCIS: Los Angeles" team since all the way back in Season 2, first appearing as a recurring character in the episode titled "Special Delivery." Since Episode 11 of that same season, Jones became a main character, serving as an intelligence analyst in the Office of Special Projects alongside fellow analyst and off-and-on romantic partner, Eric Beale. It was revealed that they had moved in together during Season 10, but during Season 11 they were seen experiencing relationship troubles. However, after the Season 12 finale, it seems that both Jones and Beale are leaving the "NCIS: Los Angeles" team for a job that Beale got in Japan. Sadly, we're now several episodes into Season 13 and both characters have still not appeared.
Throughout Jones' time with the team, there hadn't been much revealed about other close people in her life besides the rest of the "NCIS" team and Beale. However, in Season 9 it is revealed that Jones has an older sister with a similar career.
Who is Nell's sister on NCIS: Los Angeles?
In the episode titled "This Is What We Do," Homeland Security sends Specialist Sydney Jones, sister to Nell Jones, to assist NCIS as they investigate a Border Patrol incident. Fans noted Sydney's bossy behavior and her attempts to control her sister, always pulling the older sibling card. The actress who plays Sydney is Ashley Rae Spillers, who has previously appeared in the HBO comedy series "Vice Principals." Spillers shows up as Sydney Jones again in the Season 10 episode "Born to Run" where she is caught up in a Russian plot to steal information from the Department of Defense. Nell ends up helping her sister get out of the situation with the help of Beale and the rest of the team, but this appearance of Sydney made fans even more curious about their upbringing. Unfortunately, we might never get it if Nell is truly gone from "NCIS: Los Angeles." 
For some time, fans were convinced that both Spiller and Smith were actual sisters in real life due to the incredible resemblance in both actors. However, this was proven to be untrue, and the theory that they were actual sisters in real life can be credited to the chemistry between Spiller and Smith, the "NCIS: Los Angeles" casting team, and the incredible makeup and costuming department. As cool as would be for the two to really be sisters, we have to officially clear the air: Ashley Rae Spillers is definitely not related to Renée Felice Smith.