Why Some NCIS: Los Angeles Fans Are Worried This Will Be The Last Season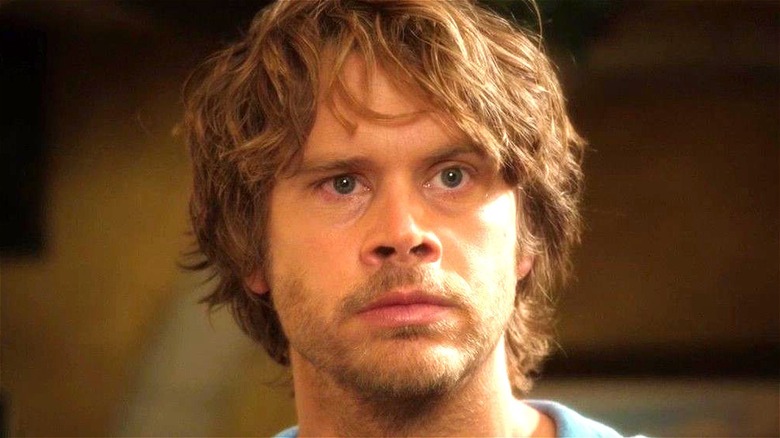 CBS
"NCIS: Los Angeles," the first "NCIS" spinoff, is now in its 13th season. Although that doesn't come close to the original "NCIS," which recently began its 19th season, that's still a very nice run for a broadcast television series — or heck, any television series. However, if the complaints by fans are any indication, "NCIS: Los Angeles" may be in danger of ending up on the chopping block. 
Every fandom has its detractors, of course, and comments online don't necessarily translate to ratings. While the metrics by which networks decide to cancel television shows are notoriously complicated (per Vox), it's too early to tell if Season 13 ratings will average out to be better or worse than Season 12 (as compiled by TVSeriesFinale.com). However, the first couple of episodes of "NCIS: Los Angeles" haven't done as well as the first two episodes of last season, which could spell trouble — especially if fans are talking to one another or viewing comments online, and deciding to skip the show because this season doesn't look good. Should that become a trend, it might get reflected in the ratings and make fan fears into a reality.
So what is it about this seasons that has viewers concerned? According to Reddit threads on the most recent episode, the show's quality is going down because of the writing.
The most recent episode dealt with a hate crime that fans thought wasn't well-written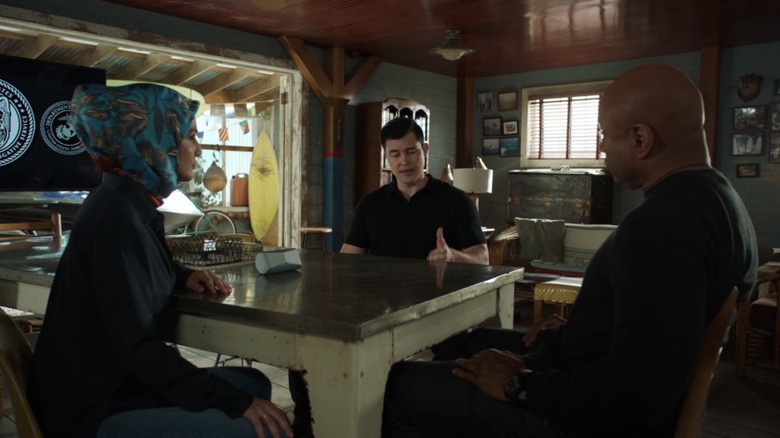 CBS
The second episode of "NCIS: Los Angeles" 13th season, "Fukushu," dealt with current events in its signature way. In this case, it tackled what they initially believe is a racism-fueled crime against a 72-year-old Japanese-American Vietnam veteran, Craig Tanaka, who is the father of an Los Angeles Police Department officer. He's beat up on a beach by two masked assailants, and his prospects are not good. Unfortunately, fans felt the way the show dealt with the issue didn't work well.
According to fans, this slipshod writing was reflected in mischaracterization. CodyHodgsonAnon19 noted that Deeks' (Eric Christian Olsen) patriotic speech about the U.S. within the episode seemed out of character with "his whole general approach to life and society. The sudden blurting of extreme nationalism didn't seem in character to me. Where it probably would've suited ... pretty much any of the other characters on the show better," the user said. 
User Ranowa agreed, pointing out that if a show is going to tackle topical issues, "You need to hire writers that can actually handle it. And these can not. Which was pretty evident to me when we'd had three separate speeches on how horrible hate crimes are within the first fifteen minutes before any investigation had taken place to actually establish it was a hate crime, and the episode ended off on the usual note 'actually, kidnapping and torture by the police is okay, as long as it's against a super bad guy.'"
Fans think this season isn't showing much promise so far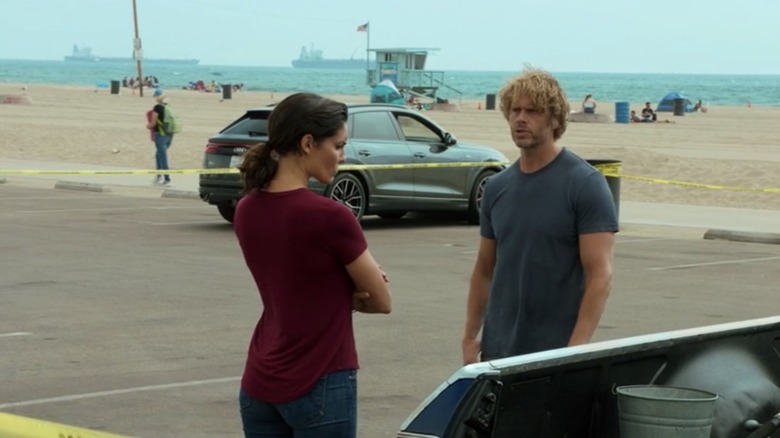 CBS
Some fans pointed out that, without evidence, the team assumed the incident was a hate crime from the get-go. User tmstms believed that, had they just connected the crime to COVID-19, which experts believe is, in reality, a major cause of the rise in crimes against people of Asian descent (via NPR), the show would have made more sense. 
The racism storyline isn't the only thing that fans were criticizing, either. Some are starting to get tired of Deeks and Kensi (Daniela Ruah) always discussing family planning, which has recently turned their thoughts to adoption — and pondering, in this episode, the challenges of adopting a child of another race. "Getting real tired of the depressing Kensi-Deeks family planning talks every single episode," said one user. 
As a result, commenters were not kind to "NCIS: Los Angeles." "Worst episode I've ever seen," said Dextracious. Others had similar thoughts: "So far two sub par episodes this season. I think we are seeing the end of this show," SonnyBoy35aa said. If others agree and the ratings reflect this, perhaps fans are right to wonder if "NCIS: Los Angeles" has a future. Still, considering most seasons have had 18-24 episodes, the CBS procedural crime series has plenty of time to turn this around.