NCIS: Los Angeles' Season 13 Premiere Tribute To Michele Poulik Explained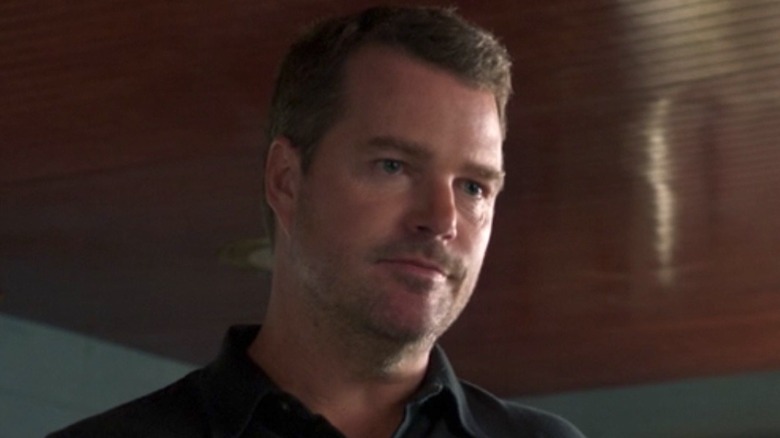 CBS
On Sunday night, Season 13 of "NCIS: Los Angeles" premiered with the episode "Subject 17." The new episode focuses on several storylines picked up from the franchise's shortened Season 12. These arcs include Callen's (Chris O'Donnell) efforts to find out Hetty's (Linda Hunt) secrets, Joelle's (Elizabeth Bogush) return to capture Katya (Eve Harlow), Kilbride's (Gerald McRaney) expanded role on the team, the further adventures of Kensi (Daniela Ruah) and Deeks (Eric Christian Olsen) as they try to expand their family, and the search for an informant.
With all of these big arcs established in the season premiere, you'd be forgiven if you missed a simple black-and-white title card at the end of the episode that read, "In loving memory of Michele Poulik whose smile, presence, and laughter, lit up every day." If you did see it, though, you may be wondering who exactly Poulik is and why she received a public tribute on the "NCIS: Los Angeles" season premiere. Here's what we know about the late "NCIS" team member.
Michele Poulik was set decorator on NCIS: Los Angeles for more than a decade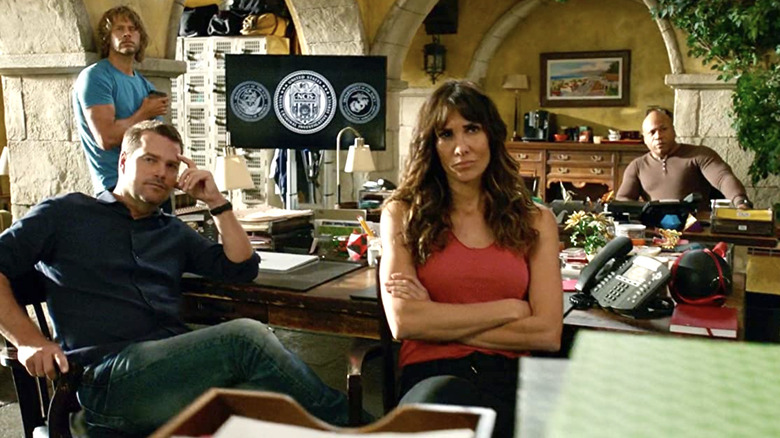 CBS
Michele Poulik was a veteran set decorator whose career working on Hollywood sets began with the 1988 Bruce Campbell movie "Moontrap" (via IMDb). She joined the crew of "NCIS: Los Angeles" in 2009, and she was an integral part of the CBS show for more than a decade before her passing. Poulik was not involved with the pilot, but, per Entertainment Weekly, she worked on more than 280 episodes, including the Season 12 finale.
Poulik died on August 2, 2021, at her home in Los Angeles. Her obituary on the Set Decorators Society of America (SDSA) website notes that she is survived by her sister and her two dogs, Daisy and LuLa. Poulik was born in Toronto, Canada, but her family later moved to the Detroit area. She started her film career as a writer and producer of an independent film called "Singing Birds." Her big break came when she worked on the Detroit location of Harrison Ford's 1990 movie "Presumed Innocent." After that, she moved to Los Angeles, where audiences saw her set work in films like "Army of Darkness," "Hard Target," "The Shield," and HBO's "From the Earth to the Moon," which got her an Emmy nomination in 1998.
"Michele was a fixture in the Film & Television industry, well-respected by producers and actors for the creativity, work ethic, and spirit she brought to all her projects; and beloved by her peers and industry insiders, for her generosity, knowledge, and humor," the SDSA statement on Poulik's passing reads. "She consistently brought an extra sense of style to any project and a sense of delight to anyone working with her."