When Can You Watch Eternals On Disney+?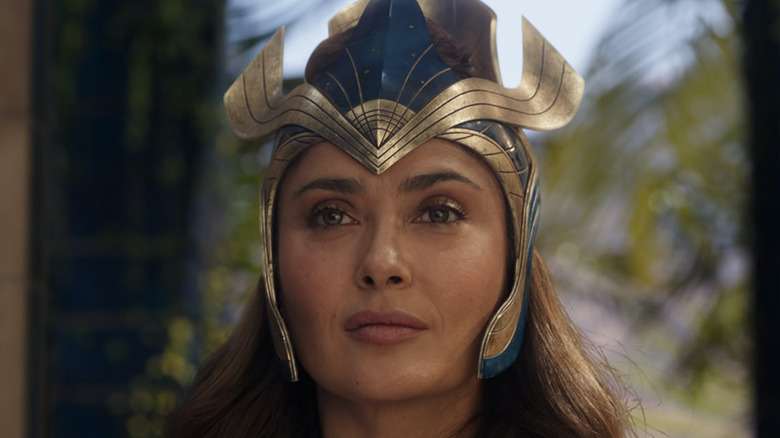 Marvel Studios
We may receive a commission on purchases made from links.
The Marvel movie train keeps moving right along after the successful release of "Black Widow" in July and "Shang-Chi and the Legend of the Ten Rings" in September. The latest film in the constantly expanding franchise, the Chloé Zhao-directed "Eternals," introduces an entirely new cast of characters from the comics who have not yet been seen in the Marvel Cinematic Universe. The film is set to hit theaters in the U.S. on Nov. 5.
Gemma Chan, Richard Madden, Angelina Jolie, Kumail Nanjiani, and Salma Hayek, among others, star in the movie as immortal beings who've protected Earth since before the age of men. When dangerous creatures known as the Deviants return, they reunite to defend humanity once more. Hopefully they'll bring with them some much-needed answers as well, like what they were doing when Thanos (Josh Brolin) decided to destroy half the living beings in the universe.
If you're not planning on seeing "Eternals" in theaters come early November, you'll have to wait a while for those answers though.
Eternals will have a 45-day theatrical window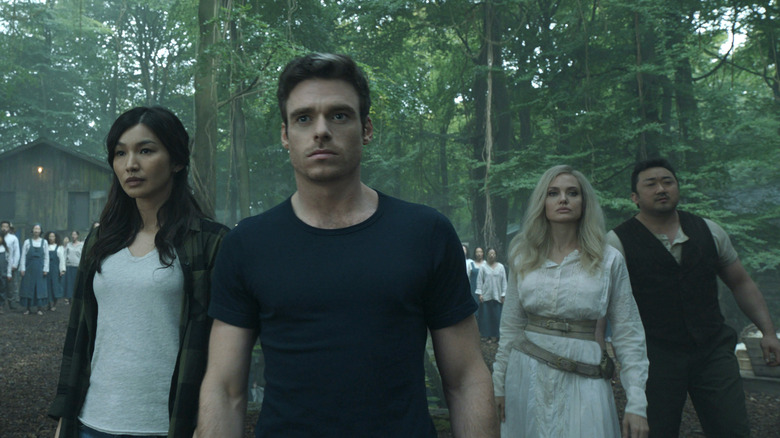 Marvel Studios
Unlike with "Black Widow," which was available to stream on Disney+ the same day it was released in theaters through the Premier Access service (an additional $29.99 fee on top of the monthly subscription cost of $7.99), Disney has chosen not to utilize the hybrid release model that became popular earlier in the pandemic for "Eternals." Instead, it will follow the path recently charted by "Shang-Chi."
This means the movie will be given a 45-day exclusive theatrical window—which is much shorter than traditional windows—and thus will not be available to stream on Disney+ even with Premier Access. This is unfortunate for those who still cannot attend a movie in person or do not feel safe doing so. The upside, however, is that when "Eternals" does eventually arrive on Disney+, it will be at no extra cost to subscribers. So then the question becomes when, exactly, is "Eternals" going to arrive on Disney+? And how can one watch it if they don't have a subscription?
Eternals could be streaming on Disney+ in time for Christmas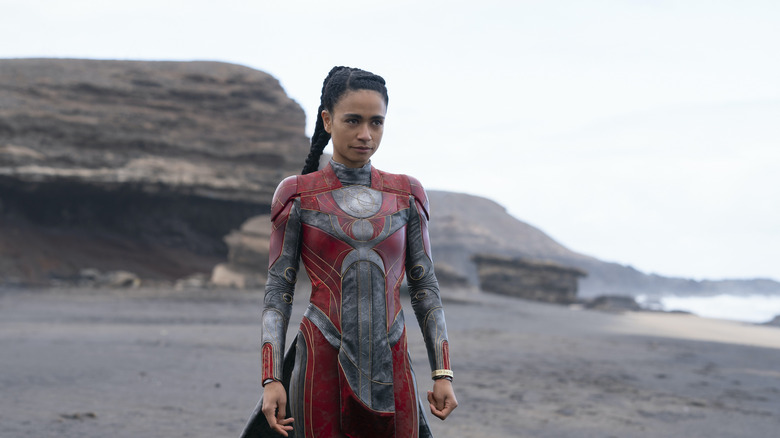 Marvel Studios
Knowing that "Eternals" has a 45-day theatrical window means the absolute earliest the film could be added to the service is Dec. 20, which would allow families to enjoy it over the holidays. However, Disney has not yet confirmed a streaming release date for the movie. As we saw with "Shang-Chi"—which will hit Disney+ on Nov. 12 as part of a planned Disney+ Day celebration—"Eternals" might not be available as soon as the exclusivity window ends. So, it could be as late as mid-January if the movie sticks to the time table set by "Shang-Chi" or it could be even later if Disney returns to the traditional, pre-pandemic release calendar, which saw films arrive on streaming six to eight months after release.
However, once "Eternals" does begin streaming, there are a few ways you can watch it for "free." Right now Verizon is offering six months of Disney+ free when customers sign up for select Unlimited plans before Nov. 30. Current wireless customers who switch to those plans can also get up to six months free. Meanwhile, if you already subscribe to Disney+ and want to take advantage of the offer, you can still get the promotion if you bundle your plans — meaning your paid subscription will be paused until the promotion period ends.
Alternatively, new subscribers to Amazon Music Unlimited ($7.99 per month) will receive six months of Disney+ free when they sign up for the service (offers can be redeemed through July 12, 2023, as long as one is subscribed to an eligible paid plan). Some existing and former Amazon Music Unlimited subscribers can also get three months free. You can find out more information about the promotion here.