Are People Getting Tired Of Marvel Movies?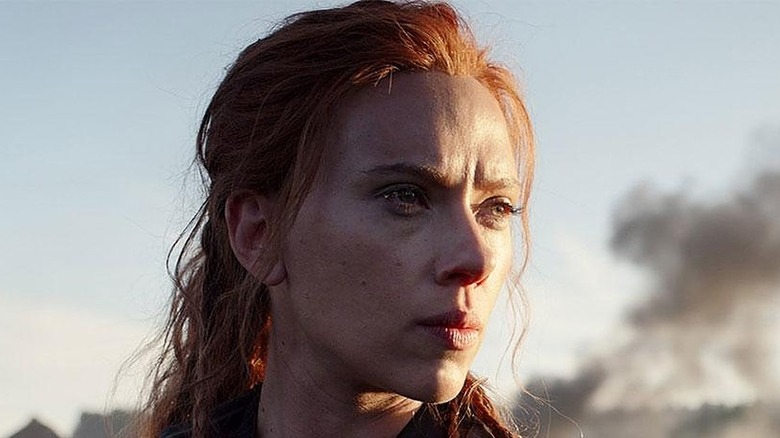 Marvel Studios
No genre or franchise remains dominant at the box office forever. Westerns and musicals, for example, were go-to sources of box office success in the first half of the 20th century before sputtering out in the 1970s. Dystopian young adult novel adaptations, meanwhile, seemed omnipresent in pop culture — until they suddenly weren't. There will also come a time when the Marvel Cinematic Universe is no longer a massive pop-culture juggernaut. Like the nefarious Thanos, it's unstoppable. But it's always been a question of when this will happen, with several seemingly opportune moments for a backlash against the franchise (like bungling "The Avengers" and inspiring a wave of resentment towards the shared universe concept) never developing further.
The initial box office performance of "Black Widow" not being as gigantic as the most lucrative MCU features inspired some to wonder if this is it: Is this the moment people finally get tired of Marvel movies? Answering that question is a complicated process that requires delving into the various reasons why the Marvel Cinematic Universe may have finally overstayed its welcome. It also entails exploring if the "Black Widow" box office stats are a harbinger of doom for this franchise or something more nuanced. "Are people getting tired of Marvel?" is a question that's been on the lips of many for a while, and now is a fitting time to explore the answer to that query.
What inspired this question?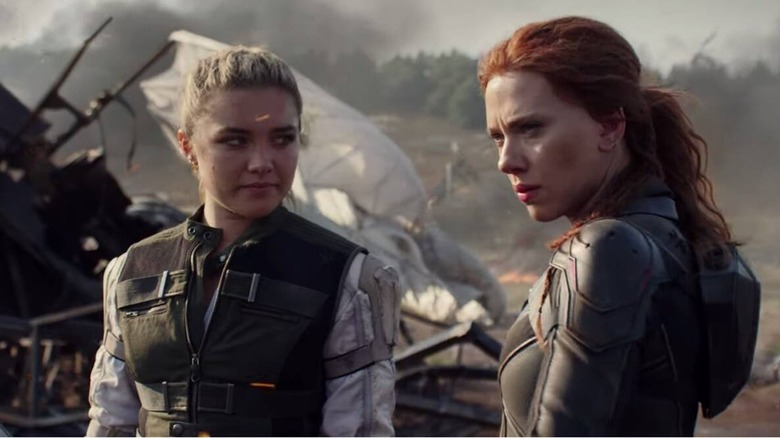 Marvel Studios
Discussions about the state of the Marvel Cinematic Universe were reignited by the box office performance of "Black Widow." After scoring $80 million, the biggest domestic box office debut since the coronavirus (COVID-19) pandemic began, this MCU feature fell 67% in its second weekend. Grossing an additional $25.8 million, this was the sharpest second-weekend drop ever for an entry in this franchise and followed a similarly abnormal Friday-to-Saturday decline over its opening weekend. The film rebounded a bit in its third weekend, but its 55% drop in this frame was still far from an ideal hold. 
Despite somewhat troubling trends, "Black Widow" still grossed a solid $132 million in its first ten days of release. The expectation that this sum would be even higher, as well as the film's simultaneous launch as a PVOD title on Disney+, led to media analysts criticizing the financial results of this project. Not only that, but the volatile state of the theatrical exhibition industry as a whole inspired comments from powerful figures in the business: The National Association of Theater Owners released a statement condemning Disney's simultaneous theatrical/PVOD release pattern and blaming it for "Black Widow" not doing better at the box office.
What analysts are saying about Black Widow and the state of the MCU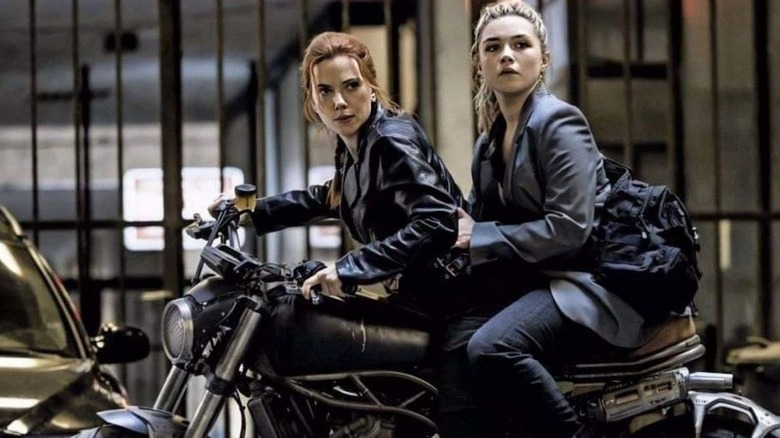 Marvel Studios
In the wake of these developments, especially the second-weekend drop at the "Black Widow" box office, Steven Zeitchik of the Washington Post published a piece that didn't just explore the box office trajectory of the latest MCU feature, but also highlighted perspectives from assorted media analysts on what the film's finances meant for the broader Marvel Cinematic Universe. Most of it wasn't good. "I assumed this would be a bigger, more consistent hit," observed Josh Spiegel, a radio personality and prominent Disney expert. "If 'Black Widow' can only do what it did in its second weekend, there's a part of me that says people may be a little tired of Marvel. That should make Disney worried."
Meanwhile, others interviewed for the piece saw the "Black Widow" box office as being more indicative of faulty release strategies than an indictment of just one franchise. "I think what this shows is that if you're making a movie available quickly for free on streaming, people will just wait," noted Alicia Reese, an analyst for Wedbush Securities. While the takeaways from the film's debut vary, the conversation surrounding "Black Widow" and the future of the MCU has clearly expanded to contemplate whether or not the franchise as a whole has finally hit a speed bump at the box office — and beyond.
The ramifications of the MCU being passé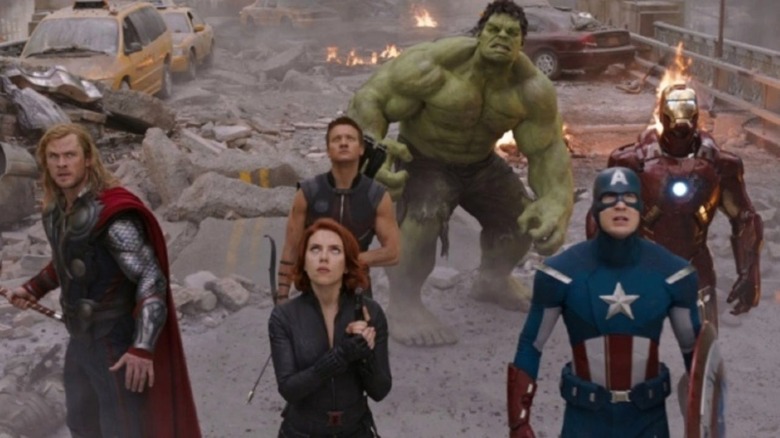 Marvel Studios
The notion of the Marvel Cinematic Universe being past its prime at the box office would have enormous consequences on countless fronts. For starters, Marvel Studios' parent company, Disney, would be quite unhappy with the thought of the MCU no longer being the top dog, or even just reliably profitable at the worldwide box office. Since acquiring it in 2009, Walt Disney Pictures has come to rely on Marvel Studios to provide the company with a regular annual slate of incredibly successful blockbusters. This was apparent from the get-go, when the first MCU title distributed by Walt Disney Pictures, "The Avengers," became Disney's highest-grossing feature ever in North America at the time of its release.
That level of success has endured throughout the years and inspired Disney, just before the pandemic, to announce an avalanche of MCU properties that would debut on Disney+ and in theaters over the next decade. The studio's commitment to all things Marvel was apparent as late as just weeks before the "Black Widow" debut when Disney quietly revealed that 2023 would be the first year to house five separate Marvel Studios movies. If the "Black Widow" box office truly indicates decreasing interest in the Marvel Cinematic Universe, it would be a massive blow not only to these plans but to Disney's future as a media entity.
Did Avengers: Endgame represent a peak for the MCU?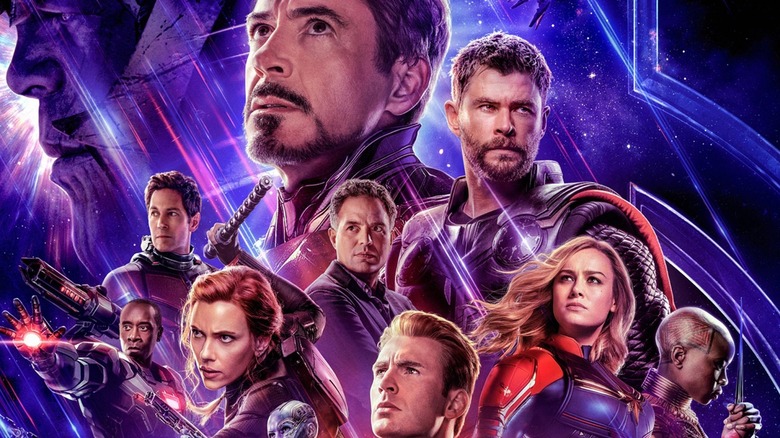 Marvel Studios
"Avengers: Endgame" wasn't just a box office phenomenon, it was also the closing chapter of the Infinity Saga. With several beloved characters, like Tony Stark and Steve Rogers, bidding farewell, not to mention a climactic blowout battle incorporating a staggering number of Marvel Cinematic Universe superheroes, it was a massive adventure that truly felt like a fitting cap to years of storytelling. As a cherry on top, this conclusion also delivered unprecedented box office results that briefly made "Avengers: Endgame" the biggest film of all time at the worldwide box office. How could the Marvel Cinematic Universe ever hope to top any of these ingredients for success?
A question that may once have seemed like a fun challenge could be an ominous query in the current pop culture landscape. The biggest downside to creating something that functioned so well as a definitive ending was that it gave regular Marvel Cinematic Universe moviegoers a chance to step off this train. Even as the franchise barreled forward with constant announcements of further projects in development, many viewers could've used "Endgame" as a chance to pause their investment in this series. This opportunity was exacerbated by the pandemic, which afforded audiences a two-year gap in which to divert their attention to other movies. If this is actually what many did, "Black Widow" could be the first indicator that "Avengers: Endgame" may have done its job a little too well in getting audiences to say farewell to The Avengers.
Have the Disney+ TV shows taken precedent for audiences?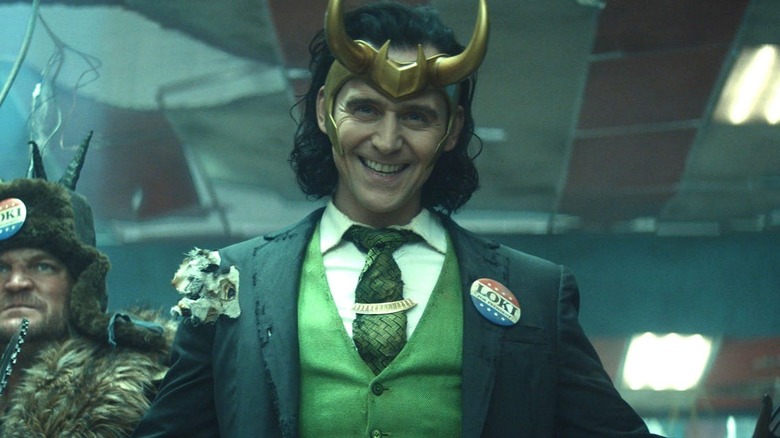 Marvel Studios
"Black Widow" wasn't just the first Marvel Cinematic Universe movie to debut theatrically in the wake of the coronavirus (COVID-19) pandemic. It was also the first title to arise in the wake of Marvel Studios releasing expensive event TV shows on Disney+. Programs like "WandaVision" and "Loki" took the long-running MCU saga to a whole new domain of storytelling. The results of this expansion have been a slew of Emmy nominations, varying degrees of praise, and memes. Lots and lots of memes.
But did bringing the MCU to the world of premium streaming television end up detracting from the specialness of the franchise's theatrical releases? It's possible. The week "Black Widow" came out, fans of this saga that needed a Marvel Cinematic Universe fix didn't have to wait until the feature hit theaters. They could just catch a new episode of "Loki" on Wednesdays. The existence of these well-crafted shows may help Disney+ stand out in the streaming landscape, but it's not a big leap to imagine them also diluting the uniqueness and urgency of theatrical productions like "Black Widow."
Too much MCU all at once?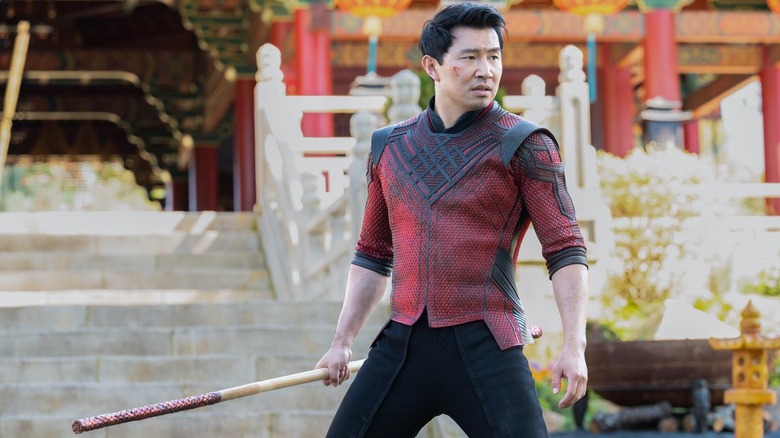 Marvel Studios
It isn't just on Disney+ that audiences have been inundated with Marvel projects. The marketing for "Shang-Chi and the Legend of the Ten Rings" and "Eternals" also kicked off in the three months leading up to "Black Widow." These trailers, as well as announcements for merchandise for this December's "Spider-Man: No Way Home," were meant to enhance the excitement surrounding all future developments related to the Marvel Cinematic Universe.
However, combine all those marketing materials with the near-weekly arrival of new episodes of MCU TV programs, and that's an unprecedented amount of simultaneous creative endeavors from one franchise. Despite the two-year gap between "Spider-Man: Far from Home" and "Black Widow," the current content saturation makes it seem almost as if the MCU never left at all. It wouldn't be surprising if the hurricane of franchise properties all jostling for a place in 2021 sanded off the anticipation for "Black Widow."
Necessary context for Black Widow's second-weekend drop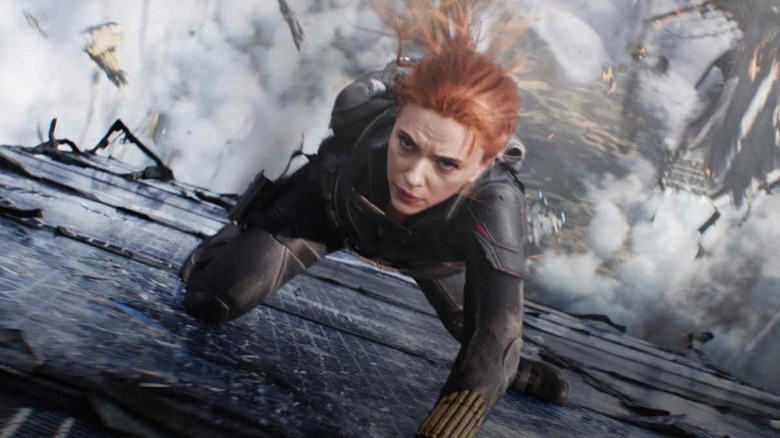 Marvel Studios
Oddly missing from the reports on the film's second-weekend decline was extra context regarding the historical box office performances of MCU movies that open in July. Three prior entries in this franchise ("Captain America: The First Avenger," "Spider-Man: Homecoming," "Ant-Man and the Wasp") that bowed in this month all dropped 60+% in their sophomore frames. This is largely due to these films burning off extra demand during summer weekdays when kids are out of school, a luxury not afforded to Marvel Studios titles opening in early May.
Comparing the 67% second-weekend drop in the "Black Widow" box office to the 62% decline of "Ant-Man and the Wasp," one sees an steeper descent but not an extraordinary one. It's also encouraging that, aside from that highly unusual Friday-to-Saturday drop over its opening weekend, the newest film's day-to-day increases and decreases have been similar to recent July Marvel Studios titles like "Spider-Man: Far from Home." "Black Widow" isn't burning down box office records, but it's also performing similarly, in general, to other installments in this franchise that have opened in July. As for why that second-weekend drop was larger than usual, this appears to be related to a broader trend of movies that debut in simultaneous theatrical/PVOD release models and tend to have harsher second-weekend drops than movies that play exclusively on the big screen.
Black Widow's still on track to be the biggest movie of summer 2021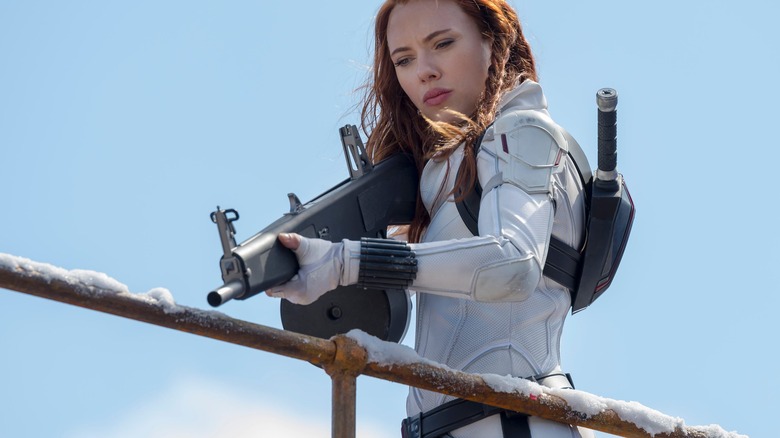 Marvel Studios
Also oddly lost in the middle of pieces like the one from The Washington Post was the fact that by the end of its third week, "Black Widow" was still well on track to surpassing "F9" to become the biggest movie of 2021 domestically. This is in spite of the fact that "Black Widow" can be rented on a streaming service whereas 2021's incumbent highest-grossing films in North America, "F9" and "A Quiet Place: Part II," were both initially released as theatrical exclusives.
While studios prefer hard numbers over chart placements to brag about, "Black Widow" is a strong film for all its shortcomings: The fact that it was still expected to beat out all other 2021 releases evokes the legacy of past Marvel Cinematic Universe titles, like "Guardians of the Galaxy" or "Iron Man 3," that ruled the summer moviegoing seasons they debuted in. Meanwhile, the sharp 65+% second-weekend drops that greeted "F9" and "Space Jam: A New Legacy" indicate that the frontloading of blockbuster titles is a symptom of the recovery period for audiences' moviegoing patterns. In the context of the entire marketplace, the performance of "Black Widow" looks more like a reflection of trends specific to the summer of 2021 than a declaration of the Marvel Cinematic Universe's viability in the theatrical marketplace.
Foreign box office difficulties for Black Widow, and why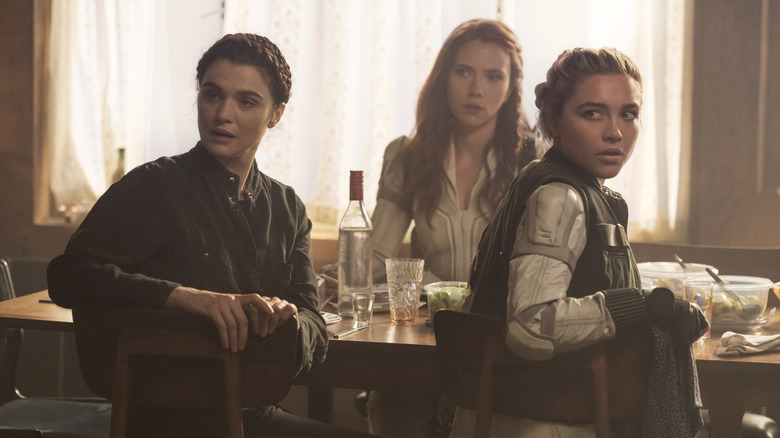 Marvel Studios
In its first three weeks, "Black Widow" took in over $160 million internationally, a sharp drop from what Marvel Cinematic Universe titles have usually amassed in their first few weeks of release. However, those preceding titles were able to drop in almost all foreign territories at once, whereas "Black Widow" had yet to debut in several key markets even weeks after its release. Thanks to the impact of COVID-19 on the worldwide theatrical scene, the ability of "Black Widow" to play in as many countries as typical Marvel Cinematic Universe fare was severely limited.
This was evident most notably in regards to China, which hadn't even given this blockbuster a release date yet weeks after it premiered. Considering how critical China is for Marvel titles ("Spider-Man: Far from Home" grossed $198.9 million in the country), its absence alone makes it difficult to compare the debut of "Black Widow" to prior Marvel films at the foreign box office. As with its domestic performance, "Black Widow" wasn't the only summer blockbuster to make significantly less overseas than its direct predecessors, with "F9" also coming in shy of the last three entries in the "Fast & Furious" saga.
With all these factors considered, it becomes significantly more difficult to tell if the "Black Widow" box office is a reflection of the worldwide marketplace's attitude towards the broader MCU franchise. Like so much of this movie's performance, the film's overseas intake appears to be more of a microcosm of the difficulties facing theatrical releases of its time.
All franchises are down right now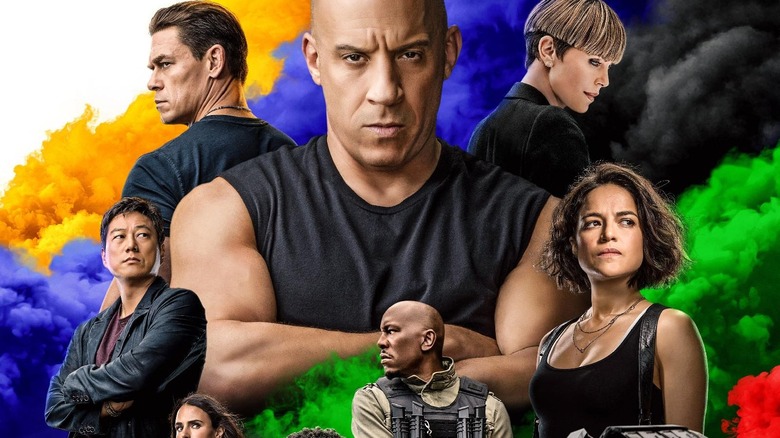 Universal Pictures
The summer of 2021 boasted several robust box office performers that indicated the return of some level of normalcy to the theatrical exhibition industry in North America. However, even the most optimistic analyst would note that all of the year's major titles managed to come up short of their predecessors. "A Quiet Place: Part II" lagged behind the domestic gross of the first "Quiet Place," while the domestic haul for "F9" more resembled the North American intake of "Hobbs & Shaw" than "The Fate of the Furious."
Among releases from the Mouse House, "Cruella," when compared to other live-action remakes of classic Disney cartoons, came in on pace to score lower domestically than "Christopher Robin," let alone as high as "Maleficent." Looking at all these titles, it becomes clear that movies entering the volatile world of big-screen moviegoing in 2021 definitely make some money, just not as much as they would have even two years ago. Over time, we'll see how that improves, but by the standards of its contemporaries, it appears "Black Widow" coming up short of, say, "Captain Marvel" is a byproduct of this feature of the marketplace rather than a reflection of the Marvel Cinematic Universe in its entirety.
Comments about superhero fatigue have always been bandied about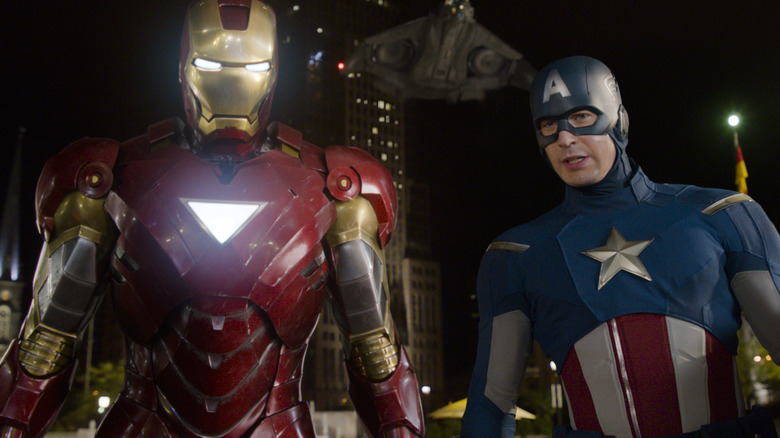 Marvel Studios
The contemplation of "Black Widow" signaling the end of the Marvel Cinematic Universe echoes preceding instances where the specter of "superhero fatigue" was raised as a way of either explaining why a superhero movie came up short at the box office or simply offering a general assessment of pop culture at large. For instance, Comics Beat published a piece in May 2015 claiming "Avengers: Age of Ultron" spurred on superhero fatigue (four years later, the record-breaking performance of "Endgame" offered a resounding rebuttal). Meanwhile, the substandard box office returns of titles like "Green Lantern" and "The Wolverine" were attributed to supposed widespread superhero fatigue by outlets like Time and Buzzfeed, respectively.
Such pieces have often raised valuable points about the problems with a pop culture scene only dominated by superheroes. However, numerous examples of this type of writing have tried to ring the death knell for superhero movies just before another entry in the subgenre comes along and dominates the box office. One can't help but be reminded of that when reading some of the analyses of the "Black Widow" box office. Perhaps in the long run the feature will be seen as a herald of the Marvel Cinematic Universe losing its grip on the summer blockbuster scene. Until then, though, it may be better to wait and see more evidence before making any declarations, lest these assessments go the way of misdiagnosing superhero fatigue.
It's too early to say anything definitive about the MCU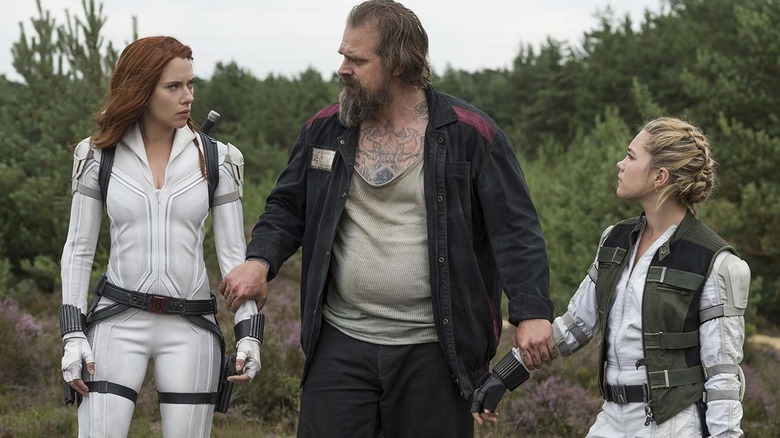 Marvel Studios
Though the theatrical space in North America was already faring significantly better at the time of the "Black Widow" premiere than it was as late as mid-May 2021 — when "Spiral: The Book of Saw" topped the domestic box office for two consecutive weekends despite never grossing more than $9 million in either one — there is still a ways to go before total normalcy returns. With that in mind, it's no exaggeration to say that the global box office, not just domestic, is in a state of recovery. This makes the domestic box office performance of "Black Widow," as well as the current viability of the Marvel Cinematic Universe, harder to parse out than it would be under pre-2020 circumstances.
The ultimate deciding factor in whether or not audiences are done with the MCU will come later this year. "Black Widow" is not the last installment in this franchise to grace the big screen in 2021. Upcoming titles like "Shang-Chi and the Legend of the Ten Rings" and "Eternals," both — unlike "Black Widow" — opening exclusively in theaters and coming after a couple of months of readjustment to seeing movies theatrically again, will be much more helpful in providing clarity on how big-screen consumers feel about this franchise. For now, things look unclear, but the extraordinary box office track record of the Marvel Cinematic Universe, including "Black Widow" outperforming all other 2021 domestic releases, indicates that it wouldn't be wise to bet against this saga.