Why Disney's Hybrid Movie Release Model Isn't Going Anywhere
Marvel Studios
The COVID-19 pandemic has left no part of the human world untouched since lockdowns first went into effect in early 2020, and that includes the entertainment industry. TV shows and films around the world were put on hold as effective safety practices could be put in place, which often meant that release dates were pushed. Eventually, studios started releasing new movies again. However, things looked a bit different.
Since some movie theaters were still closed while not everyone felt safe going to the ones that were open, some movies — like Disney's live-action "Mulan" — wound up bypassing the wide theatrical release and going straight to streaming in the United States while opening in select theaters internationally. As more and more theaters reopened, some studios with in-house streaming services, like the Walt Disney Company and Warner Bros., also opted to send their major films to those services — Disney+ and HBO Max, respectively — on the same day they were released in theaters.
This hybrid release model allows viewers to watch new films from the comfort of their homes, but it has caused a major issue for some of the talent involved. Scarlett Johansson's final Marvel film — the spy thriller "Black Widow" — was delayed by more than a year because of the pandemic. When it was finally released, it opened in theaters but was also made available to stream on Disney+ under the service's "Premier Access" banner, which meant subscribers could pay an additional $29.99 to view it the same day. 
Johansson has since filed suit against Disney, claiming this hybrid model is a breach of contract and ultimately limited the film's overall box office performance. Because her earnings are tied to the movie's total haul in her contract, this model ultimately limited Johansson's salary. And despite the highly publicized lawsuit, it does not sound like Disney is planning on changing its ways any time soon. Here's why.
Disney's Bob Chapek defends the company's hybrid release model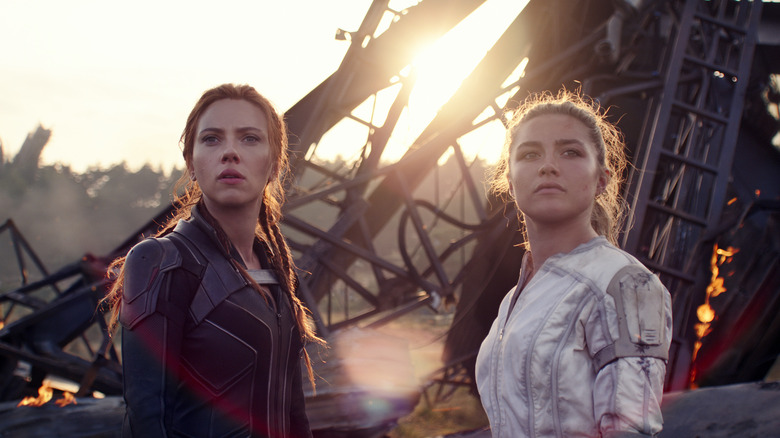 Marvel Studios
During Disney's quarterly earnings call on Thursday, Aug. 12, 2021, company CEO Bob Chapek spoke about the unprecedented times we're living in and how that affects the company's decisions regarding its distribution of movies. He noted that the company makes deals in advance without knowing what's on the horizon. But while films like Marvel's "Shang-Chi and the Legend of the Ten Rings" and Ryan Reynolds' "Free Guy" will only be released in theaters because of deals made months before the Delta variant led to another surge in cases, Disney does enjoy a decent amount of flexibility when it comes to how it distributes titles.
"A lot has changed recently and, again, these films that we're releasing right now were imagined under a completely different environment than unfortunately the fate has delivered us," Chapek said. However, he also noted that few things are set in stone and that the company will continue to use the hybrid release model of "Black Widow" and other films moving forward because the pandemic has led to a great deal of anxiety.
"We're all reacting to a very fluid situation in terms of the marketplace. ... We have the ability to take out a lot of titles not only in the theatrical marketplace for those that prefer to watch a film that way, but also at the same time through our Disney Premier Access," he said. "Bob Iger and I, along with the leaders of our creative and distribution teams, determined this was the right strategy because it would enable us to reach the broadest possible audience."
Chapek reiterated multiple times during the call that decisions on films are made on a case-by-case basis and are based on the conditions of the global marketplace as well as consumer behavior. "We will continue to utilize all available options going forward, learn from insights gained with each release, and innovate accordingly while always doing what we believe is in the best interest of the film and the best interest of our constituents," he said.
So essentially, no matter what lawsuits might come Disney's way, the hybrid model isn't going anywhere anytime soon.