Check Out A Pair Of New Clips From Star Trek: Prodigy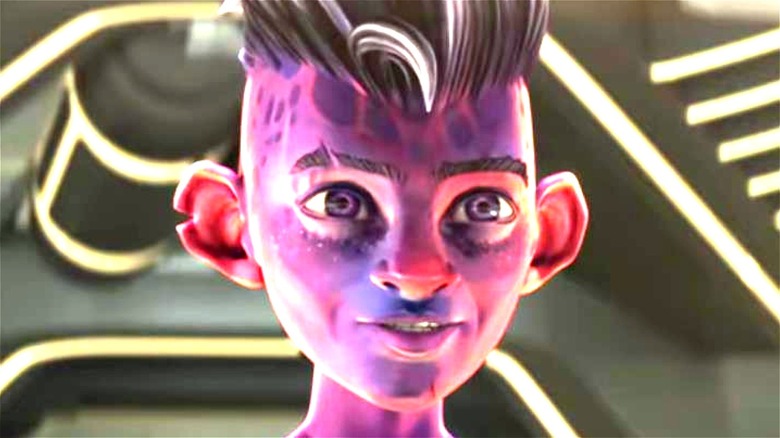 Paramount Plus
This week, CBS has given interested viewers a double-whammy sneak preview of the upcoming animated show, "Star Trek: Prodigy." The show is part of a new slate of spinoffs set in the "Star Trek" universe that has been expanding lately. The Paramount+ show is aimed squarely at the younger fans of the long-running sci-fi franchise. While live-action is traditionally the prime directive for "Star Trek" projects, cartoons are not unprecedented (see: "Star Trek: Lower Decks"), but a show oriented toward kids and young adults is a first for the franchise.
"Prodigy" will include "Star Trek: Voyager" alum Kate Mulgrew, who reprises her role as Captain Janeway in animated form. Set after the events of "Voyager," the animated series follows a crew of stranded aliens who work together to pilot an abandoned Starfleet ship, the USS Protostar. Notable members of the voice cast include Jason Mantzoukas, of "Brooklyn Nine-Nine" and "Big Mouth" fame, as mischievous Tellarite Jankom Pog, and "Hamilton" star Daveed Diggs, who voices the recurring character Tysess.
The newly released clips of "Prodigy" showcase brand-new characters, familiar locations, and mysterious villains, so here's the breakdown.
New Star Trek: Prodigy clips tease lots of action and teamwork
Two new clips from the upcoming "Star Trek: Prodigy" animated series were uploaded to the Paramount Plus YouTube Channel this week. Both clips tease the ways in which a whole new generation of Trekkies can enter into this far-reaching and legendary science-fiction universe. The first clip, titled "Power" (via YouTube), sees Dal (Brett Gray) introduced to Rok-Tahk (Rylee Alazraqui) aboard the USS Protostar. After Rok-Tahk restores power to the ship, Dal admits to having harbored preconceived notions about his newfound companion's Tellarite culture.
The second clip, "Truck" (via YouTube), is the more action-heavy of the pair. Dal pilots what appears to be a maintenance transport of some sort and makes a daring escape from an unnamed facility full of industrial-looking architecture. He is pursued by tiny robots with glowing blue tails, which look like they'd deliver a nasty blow if necessary. Just as it seems Dal will make it to safety, a shadowy figure watching him from a viewscreen proclaims, "No one shall escape!"
Despite its child-friendly style and story, "Star Trek: Prodigy" will likely hold appeal for adult viewers, too, as these clips prove. With so many impressive names adorning the casting bill, hopes are high for this animated show to boldly go where no "Star Trek" show has gone before.