Star Trek: Strange New Worlds Drops A Revealing New Teaser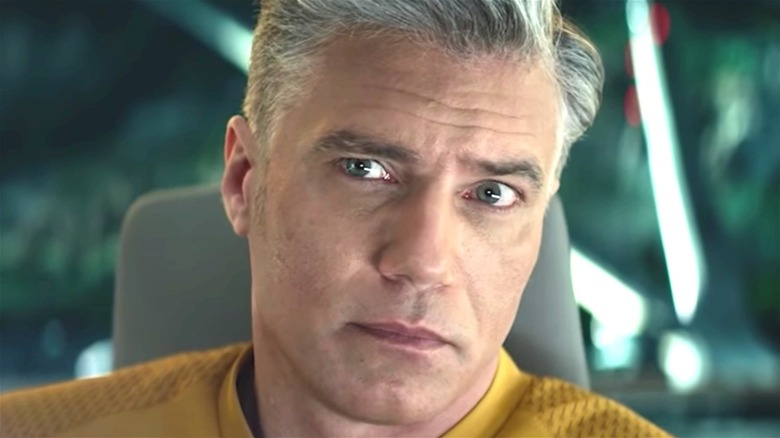 Paramount+
September 8, 2021 marked the 55th anniversary of the debut of "Star Trek: The Original Series" — a landmark big enough on its own to make Star Trek Day extra special this year. Of course, we've also got more to look forward to than ever before: While "Star Trek: Lower Decks" is currently airing, we've got "Star Trek: Prodigy," and "Star Trek: Discovery" Season 4 coming this year. And next year will see the next season of "Star Trek: Picard" and the debut of the new series, "Star Trek: Strange New Worlds."
We already knew "Strange New Worlds" would be different from all the other shows in the current lineup of Trek series because of its intentional, episodic nature. We also knew we'd continue to see these fresh incarnations of Spock, Number One, and Captain Christopher Pike as portrayed by Ethan Peck, Rebecca Romijn, and Anson Mount, respectively.
And while we may not have gotten a trailer for the show, we did find out through a brief teaser some very compelling information about the remainder of the crew — including some characters with names long-time Trek fans will very much remember.
Some very familiar Trek icons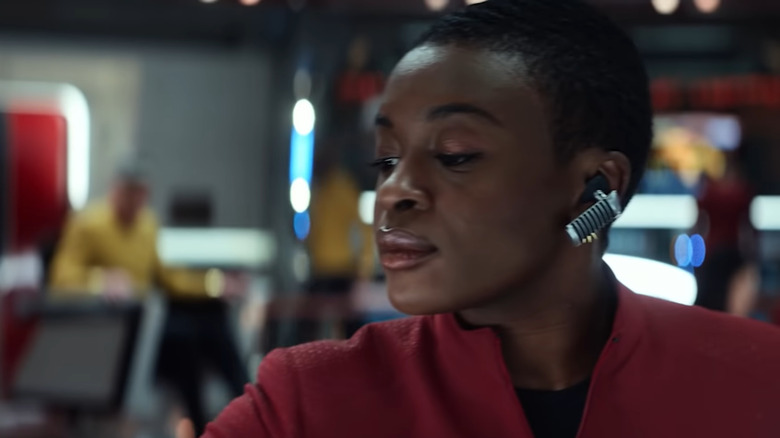 Paramount+
"Star Trek: Strange New Worlds" focuses on the version of the Enterprise we saw in the original pilot for "Star Trek: The Original Series" — and that means seeing more of Christopher Pike as captain, seeing the evolution of a more emotional Spock, and discovering the depths of "Number One," a character originally played by Majel Barrett.
As progressive as "Star Trek" tried to be in the 1960s, it seemed that a woman playing a first officer was a bridge to far, so Barrett was recast as Nurse Chapel when the show returned under the leadership of Captain James T. Kirk (William Shatner). One of the big pieces of news is that both of Barrett's characters, Una Chin-Riley (aka Number One) and Nurse Chapel will be a part of "Strange New Worlds." In the new series, Chapel will be played by Jess Bush.
There are two other returning faces as well, which are very much worth noting. The first is probably the most exciting announcement for casual and die-hard fans alike — communications officer, singer, and fan dancer Nyota Uhura will be aboard, as played by relative newcomer Celia Rose Gooding. It'll be interesting to see how different Uhura will be under a different captain and earlier in her Starfleet career.
The other major announcement for the serious Trek fans is that Baba Olusanmokun is playing Dr. M'Benga. Originally portrayed by Booker Bradshaw, M'Benga was the Chief Medical Officer when Leonard "Bones" McCoy" (DeForrest Kelley) was unavailable. As a result, we never got the full picture on who M'Benga is — but now we will.
New characters (and one other familiar name)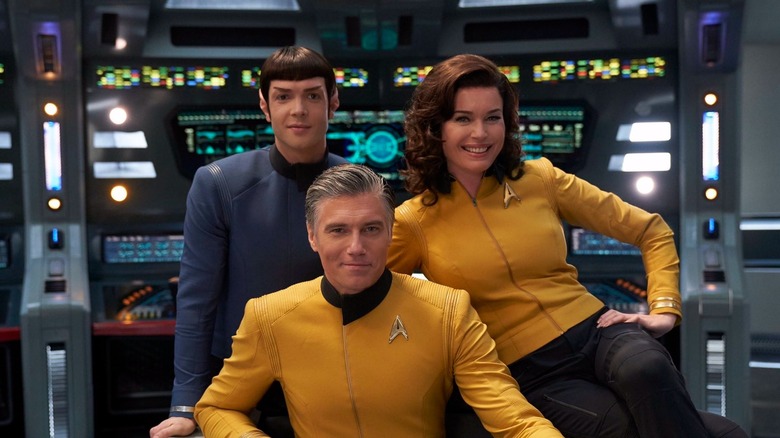 Paramount+
The teaser for "Star Trek: Strange New Worlds" didn't just introduce us to characters we've seen before; it also gave us a look at some of the new characters we'll see aboard the Enterprise, as well. 
Melissa Navia will be playing Lieutenant Erica Ortegas, for example. We've also got Bruce Horak taking on the role of Hemmer, an Andorian. having an Andorian on the bridge crew is exciting, because it feels like a nod to "Star Trek: Enterprise" and that crew's growing relationship with Jeffrey Comb's Andorian character Shran.
There's one other character who will have fans raising their eyebrows — La'an Noonien-Singh as played by Christina Chong. For those not in the know, that surname is shared by arguably the most iconic villain in all of Trek — Khan Noonien-Singh. Khan, originally played by Ricardo Montalbán, was a genetically modified psychopath from the past and Kirk's nemesis — and we're assuming La'an having the same name is no accident. How that connection will play out, we don't yet know.
"Star Trek: Strange New Worlds" begins airing in 2022.