Star Trek: Prodigy Just Revealed The Return Of Huge Fan Favorite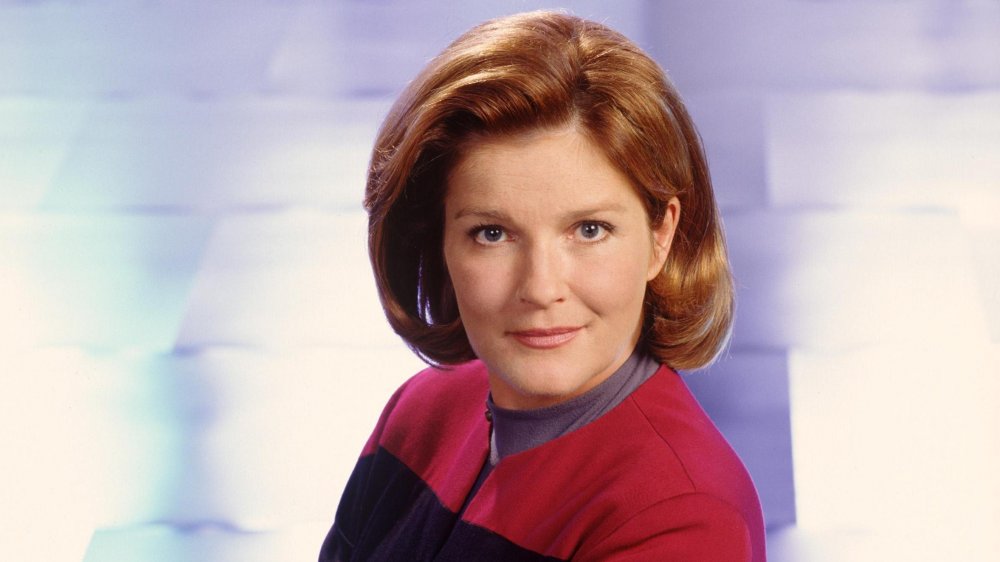 CBS
We've heard tons about the future of Star Trek lately: Lower Decks wrapped its first season, Discovery's third season is about to start further out in the Trek timeline than we've ever gone before, and Strange New Worlds is currently winding up its gears. One thing we've heard very little about, though, is Star Trek: Prodigy.
Prodigy is from CBS' Eye Animation Productions, the freshly minted animation arm of CBS Studios. Acting in contrast to Star Trek: Lower Decks, Prodigy is aimed directly at children and will air on Nickelodeon. Until recently, all we've really known is that the show stars a group of teenagers who find and take control of a derelict starship and use it for their own purposes — fun, mischief, mayhem, and even redemption are all on the table.
Now, thanks to the live New York Comic Con digital Star Trek panel on October 8, we know one more thing about Prodigy: it will feature the return of a captain from Trek's past. Yes, Kate Mulgrew is reprising her role as Captain Kathryn Janeway of the U.S.S. Voyager.
Why Kate Mulgrew is returning to Star Trek and Janeway
It may be hard to believe, but it's been almost 20 years since Star Trek: Voyager's final episode "Endgame" aired and brought Voyager's intrepid crew where they were always headed: home. Aside from her appearance in the feature film Star Trek: Nemesis in 2002, Kate Mulgrew hasn't portrayed Janeway since. After Jeri Ryan reprised her role of Seven of Nine on Star Trek: Picard, fans speculated, hoped, and dreamed that Mulgrew would find her way back to the world of Star Trek.
"Welcome home, Kate," executive producer Alex Kurtzman said, revealing the actress at the end of the Star Trek New York Comic Con 2020 stream. It was a huge surprise to viewers who were only expecting to hear from the casts and crews of Lower Decks and Discovery, but with the phrase, "permission to come aboard," there was Mulgrew, back for the first time in nearly two decades.
Although Mulgrew admitted that at first she was unsure about coming back, she confessed she's now thrilled. "I have invested every scintilla of my being in Captain Janeway, and I can't wait to endow her with nuance that I never did before in Star Trek: Prodigy," said Mulgrew. "How thrilling to be able to introduce to these young minds an idea that has elevated the world for decades. To be at the helm again is going to be deeply gratifying in a new way for me."
Mulgrew went on to enthuse over the power of Trek to appeal to multiple generations, but especially children. "To be able to do that again, anew, is delightful," she said.
Janeway will star as the captain on Star Trek: Prodigy sometime in 2021.