The Real Reason Daredevil, Ghost Rider, And Blade Were Kept Out Of The MCU's Movies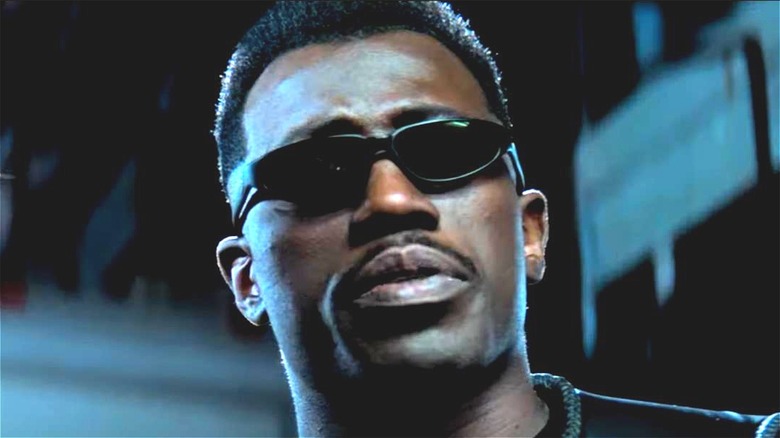 New Line Cinema
We may receive a commission on purchases made from links.
The world of Marvel is vast, sprawling, and features many interesting characters, some of which were already immensely popular prior to the release of "Iron Man" in 2008 — an event that kicked off the creation of the Marvel Cinematic Universe. In fact, there are still some iconic Marvel Comics figures that have never been brought to life on the big screen in the MCU — at least, not yet. 
Some of these characters include Daredevil, who was the subject of a 2003 movie from 20th Century Fox and was played by Ben Affleck; Ghost Rider, who was portrayed by Nicolas Cage in two Sony films in 2007 and 2012; and Blade, who was played by Wesley Snipes in three New Line Cinema movies and was also the subject of a short-lived television series.
Now, a new book released October 19, titled "The Story of Marvel Studios: The Making of the Marvel Cinematic Universe," offers some insight into why the previously mentioned characters have never appeared in any MCU movies to date.
Marvel Studios had no access to the characters
As fans are probably already aware, Marvel superheroes have appeared in various different cinematic franchises and universes over the years. The Marvel Cinematic Universe, which is overseen by Marvel Studios, is the big one. However, before Marvel began making its Disney+ shows, a number of Marvel superhero shows were made for Netflix, like "Luke Cage," "Iron Fist," and "Jessica Jones." Similarly, ABC had "Marvel's Agents of SHIELD" and "Agent Carter." Altogether, these shows were part of a planned television empire that was being built under the Marvel Entertainment umbrella, which existed at the time as a separate entity from Marvel Studios.
Fans have long thought that Marvel Studios simply wasn't interested in using some of the characters that ended up appearing in those shows. However, "The Story of Marvel Studios: The Making of the Marvel Cinematic Universe" reveals that this isn't true. In fact, when the 2010s saw the rights for characters like Ghost Rider and Blade begin reverting back to Marvel, it turns out that it was Marvel Entertainment that decided to keep them out of the hands of Marvel Studios.
The book reveals (via The Direct) that, "It was decided by Marvel Entertainment's higher-ups that because the movie side was already deeply committed to their successful 'Avengers' characters, and the impending 'Guardians of the Galaxy' characters, that the returnees would instead help build a planned TV empire under the direct control of Marvel Entertainment (entirely separate from Marvel Studios). The film side had no control over those characters, despite their interest in developing them. Instead, they all went to Marvel Entertainment."
Marvel's 2019 consolidation changed all that
Marvel Entertainment went on to incorporate several of the aforementioned characters into different TV shows – even having Ghost Rider appear in "Agents of SHIELD." In 2019, however, Marvel's TV arm was folded into Marvel Studios.
That move resulted in Marvel Studios president Kevin Feige being given full control over the company's film, TV, and animation projects (via The Hollywood Reporter), which has simultaneously increased the possibility that shows like "Agents of SHIELD" and "Daredevil" will no longer be considered canon in the MCU. Indeed, the consolidation has given Feige the control he didn't have before, which may explain why some of these previously sidelined characters are rumored to be coming to the MCU in the very near future.
For instance, Ghost Rider is rumored to have a cameo appearance in next year's "Doctor Strange in the Multiverse of Madness" (via That Hashtag Show). Charlie Cox's Daredevil is also heavily rumored to appear in "Spider-Man: No Way Home" (via BGR.com). A Mahershala Ali-led "Blade" film is currently in the works as well (via Nerdist), and online rumors suggest that the studio may even be interested in having Krysten Ritter play Jessica Jones again in the MCU.
All of which is to say that, whatever happened in the past is clearly water under the bridge now that Kevin Feige is in full control, with the Marvel Studios head free to, once again, pick and choose who gets to be in the MCU.