Directors Who Have Their Own Action Figures - And Those Who Need Them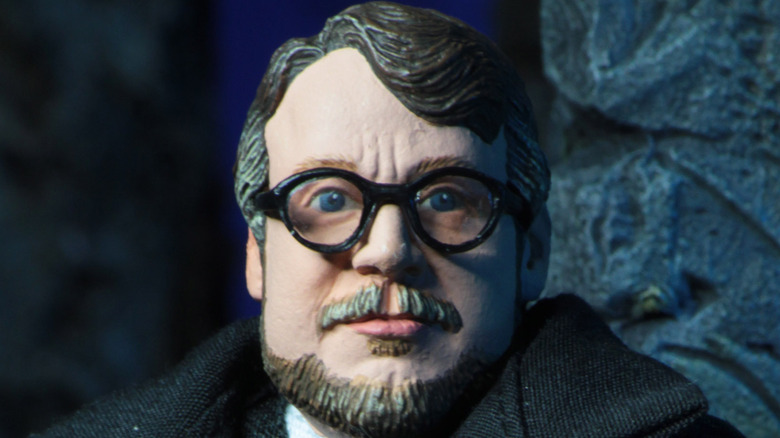 NECA
Action figures have brightened the lives of movie geeks for decades. On one hand, they're fun to collect — but truth be told, they're ultimately a genius marketing tool to help raise awareness of a movie, a practice defined by "Star Wars" creator George Lucas after the release of "Episode IV" of his space opera in 1977. With the introduction of movie action figures on the cultural landscape, fans young and old suddenly had the opportunity to relieve favorite "Star Wars" scenes on their bedroom floors or work desks, as mini versions of Luke Skywalker, Han Solo, Princess Leia and Darth Vader offered space adventures beyond the big screen, scripted only by their owners' imaginations.
In the years that followed, countless actors have been immortalized in plastic for their efforts in the "Star Wars" saga, the Marvel Cinematic Universe, modern and classic horror and fantasy films, and even for TV shows that hit the cultural zeitgeist like "The Walking Dead" and "Stranger Things." However, fans of movies and TV shows know it's not only the actors who put the action into what viewers see on screen — it's also the directors.
So, then, why is there such of a lack of action figures of directors? While some toy and collectibles companies have embraced the big picture and cast molds for filmmaking heroes, there's a sore need for more. Considering the vast contributions to geek culture by the names below, here's a look at some directors whose action figures are begging for a place in your toy collection — and others that desperately need to be immortalized in plastic.
Quentin Tarantino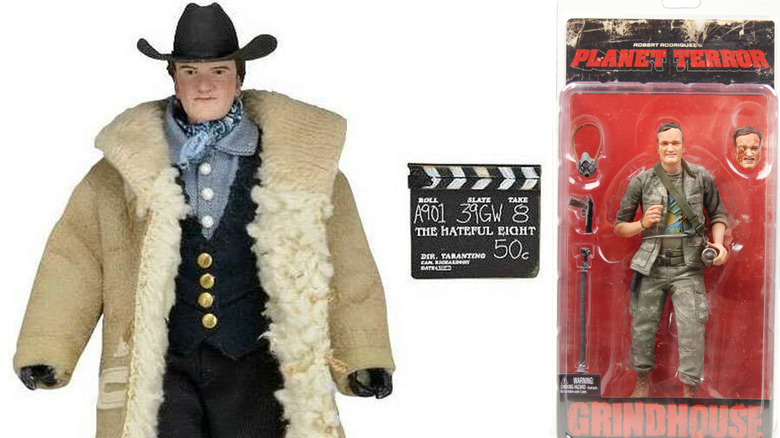 NECA
Action figures have always held a special place in the heart of Quentin Tarantino — when he wrote his now-legendary, oft-autobiographical screenplay for "True Romance" in the early '90s, the writer/director put in a line where Clarence Worley (Christian Slater) marveled: "We gotta love dolls. They're real cool. Did you know they came out with dolls for all the actors in 'The Black Hole?' I always found it funny that, somewhere, there's a kid playing with a little figure of Ernest Borgnine."
While Tarantino doesn't make movies that can be marketed to kids — and thus, hyped before its release with toys in department stores — his films have nonetheless become such pop culture juggernauts that many have inspired adult-targeted action figures, predominantly found online and at conventions, comic shops and specialty retailers. Aimed at adult collectors, 3 3/4-inch action figures of "Pulp Fiction" characters have been released by Funko in conjunction with Super7, and larger versions have been produced by various other companies. This 3 3/4-inch line included the gourmet coffee-drinking Jimmie Dimmick (Tarantino), who famously saved the hides of Jules Winnfield (Samuel L. Jackson) and Vincent Vega (John Travolta) after the latter accidentally shot an associate during a bumpy car ride in broad daylight.
The National Entertainment Collectibles Association — known widely by its acronym, NECA — has taken things a step further with Tarantino in recent years by producing a 7-inch version of his rogue soldier character in the "Grindhouse" feature "Planet Terror." NECA paid the ultimate tribute to Tarantino, though, with an 8-inch figure of the Oscar-winning writer and director to commemorate his epic Western "The Hateful Eight." Dressed in winter cowboy attire, the Tarantino figure includes Wild West-style threads, a heavy overcoat, a cowboy hat, and a personalized director's clapboard with shooting information about the film.
The Tarantino figure is in good company, as NECA produced all eight main characters from "The Hateful Eight," including Major Marquis Warren (Samuel L. Jackson), Daisy Domergue (Jennifer Jason Leigh), and John Ruth (Kurt Russell). Perhaps you may find the thought funny that, somewhere, there's a kid playing with a little figure of Quentin Tarantino.
George Lucas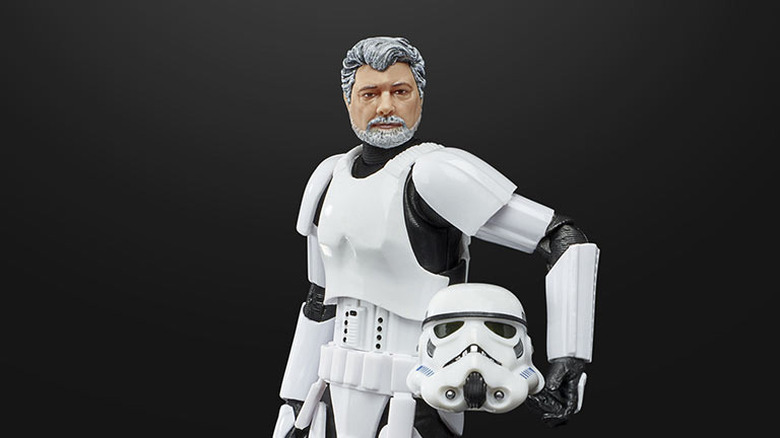 Hasbro
Hasbro took flight with an inspired idea in 2002, creating a 3 3/4-inch-tall George Lucas action figure named Jorg Sacul, the surname of which is Lucas spelled in reverse. Wearing an X-Wing pilot uniform with a removable helmet, the Jorg Sacul figure was a convention exclusive to honor the "Star Wars" writer/director at the franchise's "Celebration II," commemorating the 25th anniversary of the first film.
Hasbro would honor Lucas' accomplishments twice more in the ensuing years, first as a 3 3/4-inch figure based on his cameo as Baron Papanoida — a blue-skinned aristocrat who pops up briefly at the Coruscant Opera House in "Star Wars: Episode III – Revenge of the Sith." A year later, Lucas was back in standard figure form as part of a mail-away promotion where a younger, black-haired version of Lucas appeared in a Stormtrooper's disguise.
Soon, Lucas will be promoted to 6-inch action figure scale, as part of Hasbro's "Star Wars: The Black Series" line. Much like his 2006 plastic doppelganger, the "American Graffiti" filmmaker will be wearing a Stormtrooper disguise, this time with a removable helmet and blaster, as well as a bit more grey in his beard. The figure is slated for release in 2022, to celebrate the 50th anniversary of Lucasfilm.
Alfred Hitchcock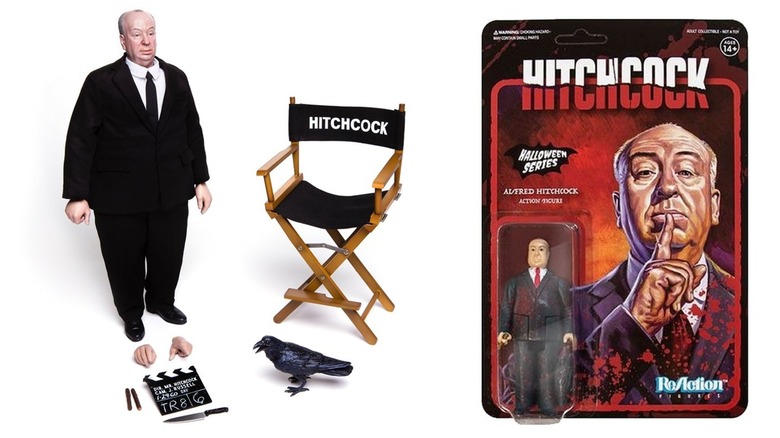 Mondo/Super7
Specialty toymaker Super7's aim isn't at young collectors, so much as adults with an affinity for classic films in genres including sci-fi, fantasy, and horror. In addition to creating retro-style 3 3/4-inch figures for such horror movie licenses as Universal Studios' Monsters line (including Frankenstein, Dracula, the Wolfman and the Creature from the Black Lagoon), the company has spent recent years making fun figures for more modern horror icons like Chucky from the "Child's Play" series, Michael Myers from "Halloween," and Ash (and some of his Deadite foes) from "Army of Darkness."
The company's greatest masterpiece, however, might be its tribute to a filmmaker whose work is a genre unto itself: "Psycho" director Alfred Hitchcock. Mounted on a blister card with a vivid illustration of the master of suspense, Super7 released four different variations of the 3 3/4-inch Hitchcock, in black-and-white (in an homage to the presentation of many of his films), glow-in-the-dark, color, and a "Halloween Series" release that includes blood-splattered effects on the card and figure itself. Naturally, the Hitchcock figure comes with accessories, including a cigar and a crow, representing the winged menaces in his 1963 classic thriller "The Birds."
For high-end collectors, a 12-inch-tall version of Hitch was produced in 2016 by film collectible company Mondo. That version came with clapboard, director's chair, a pair of cigars, a "Psycho"-style butcher knife and a crow. Now, fans could finally recreate all those classic Hitchcock cameos with a tiny replica of the filmmaker in their own homes.
Guillermo del Toro
NECA
Like many of his fans, Oscar-winning director Guillermo del Toro is a collector himself — as the contents of his Bleak House residence/museum (including props, life-size replicas, and action figures) attest. For obvious reasons, del Toro's self-described mancave isn't typically accessible to many people outside of the entertainment industry — so in 2016, the director brought Bleak House to the masses, with 500 artifacts from his eclectic personal collection becoming part of a seven-city museum tour around the world.
In 2018, NECA teamed with the writer-director for a Guillermo del Toro Signature Collection, which began with the release of an exclusive 8-inch clothed figure of the filmmaker himself, along with a miniature book of his sketches. Now, del Toro fans could begin assembling a miniature Bleak House-type collection of their own, pairing the director alongside 7-inch scale figures based on many of his masterpieces. Among them are Santi (Junio Valverde) from del Toro's early horror thriller "The Devil's Backbone"; the Pale Man and the Faun (both Doug Jones), as well as Ofelia (Ivana Baquero), from "Pan's Labyrinth"; and Amphibian Man (Jones again) from "The Shape of Water" — the film that earned del Toro a Best Director Oscar, as well as a statuette for Best Picture.
Peter Jackson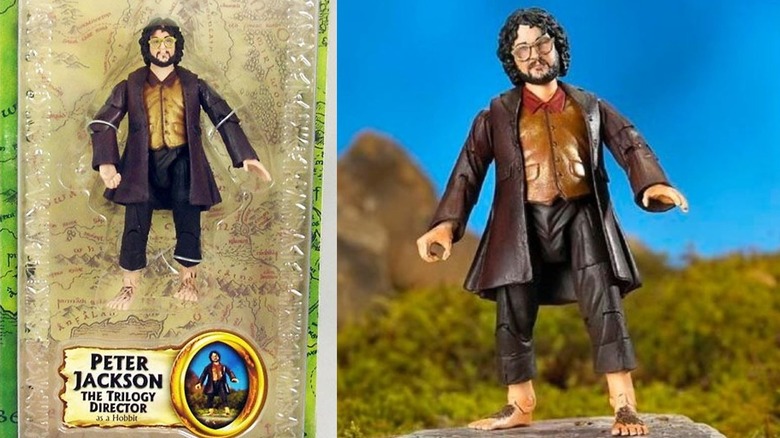 Toy Biz
Like Hitchcock, Peter Jackson made it a signature move to pop up briefly in cameo appearances in his films, including the first chapter in the adaptation of J.R.R. Tolkien's "The Lord of the Rings" trilogy, "The Fellowship of the Rings." While Jackson didn't get any action figures based on his appearance in the film, Toy Biz — which held the license to produce 6-inch scale action figures of the characters for the entirety of the trilogy — eventually found a way to commemorate Jackson's contributions to the landmark film saga.
In 2002, the company released a figure of the filmmaker on a blister card, along with a label that simply read: "Peter Jackson, The Trilogy Director, as Hobbit." As such, the 6-inch scale figure appeared in the same sort of costume and diminutive size as Frodo Baggins (Elijah Wood) and Samwise Gamgee (Sean Astin) figures, much shorter than the Aragorn (Viggo Mortensen) and Gandalf (Ian McKellen) versions. Toy Biz, unfortunately, skimped on the bare bones Jackson figure — so no accessories were included, save a pair of his spectacles.
James Cameron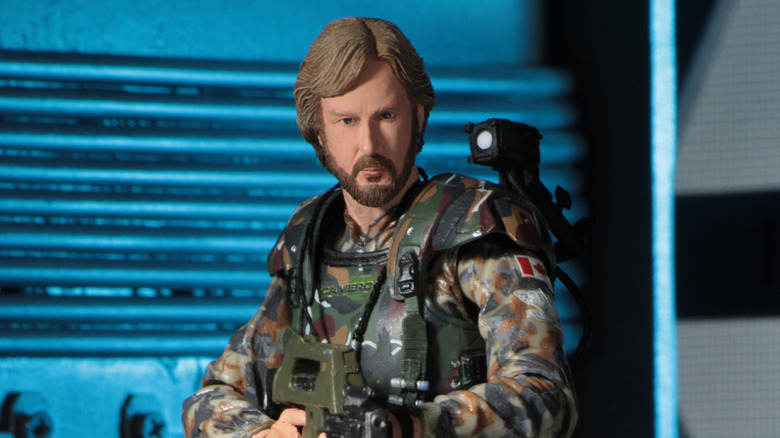 NECA
Like his sci-fi filmmaking predecessor George Lucas, many of writer/director James Cameron's films have screamed for action figure lines over the years, including such classics as "The Terminator," "The Terminator 2: Judgment Day," and "Avatar." His sci-fi blockbuster "Aliens" inspired a line, too, but the initial offerings by Kenner Toys in 1992 mostly consisted of Xenomorphs — along with generic versions of some human characters.
When NECA resurrected the "Alien" line in 2012, the company not only brought to life highly-detailed figures of the Xenomorphs, but also human characters crucial to those films as well. At first, fans were treated to lifelike sculpts of Lieutenant Ripley (Sigourney Weaver), Corporal Hicks (Michael Bien) and Private Hudson (Bill Paxton — complete with a "Game over, man! Game over!" look on his face) from "Aliens," and five years later, an essential crew member joined them.
Although the Colonel James Cameron "Aliens" action figure was released in 2017 — more than 30 years after the release of the film — it featured the likeness of the filmmaker when he made the movie in the mid-1980s. The figure is a hybrid of sorts, effectively representing the filmmaker as if he were a character in the story. As such, Cameron is dressed in Space Marine fatigues with accessories that include a director's viewfinder and clapboard. Now, all NECA needs to do is make another figure of "Alien" director Ridley Scott, so these two masterful auteurs can fight and film alongside one another.
Dave Filoni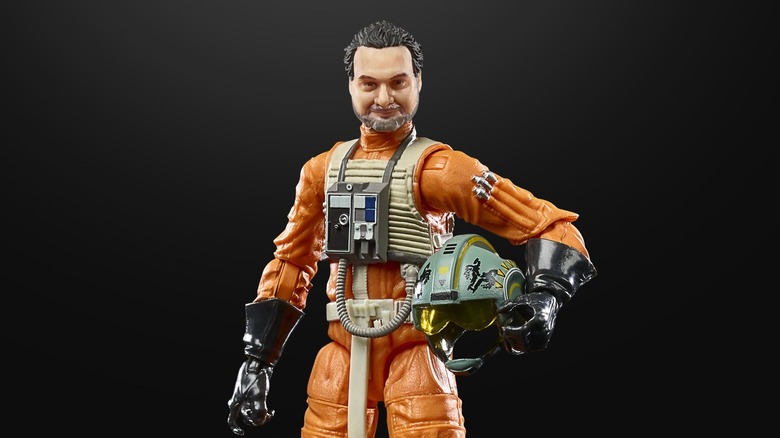 Hasbro
Following in the footsteps of George Lucas, writer-director Dave Filoni — the creator of "Star Wars: The Clone Wars" animated series and Jon Favreau's principal collaborator on "The Mandalorian" — is getting his likeness reproduced in action figure form.
Offered as an exclusive during Hasbro's annual PulseFest in late October, Filoni's action figure is based on his character cameo of X-Wing pilot Trapper Wolf. Trapper appeared alongside two of Filoni's director colleagues in Season 1, Episode 6, as Rick Famuyiwa and Deborah Chow also made cameos as X-Wing pilots Jib Dodger and Sash Ketter, respectively. Filoni turned up in a Trapper Wolf cameo once more in "The Mandalorian" Season 2, in Episode 2.
If fans had a harder time recognizing Filoni in the episodes, it's likely because he wasn't wearing the signature fedora that often accompanies him in behind-the-scenes footage. Instead, the writer/director was wearing an X-Wing pilot's helmet, which unsurprisingly will be one of his accessories for the action figure release. Also accompanying Filoni's Trapper Wolf figure is a rifle blaster.
Jon Favreau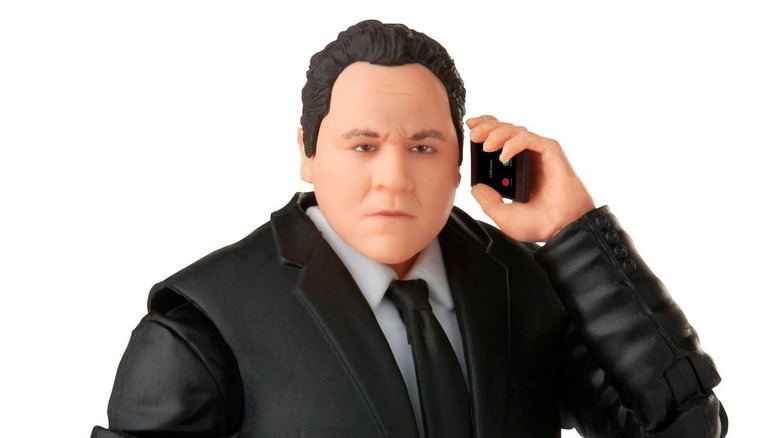 Hasbro
While Dave Filoni has an action figure in the works, another force, so to speak, who has yet to make his plasticized debut in the "Star Wars" universe is the "The Mandalorian" series creator Jon Favreau. There's no question that Filoni and Favreau rejuvenated the franchise with "The Mandalorian," which of course opened the door to the return of a fan favorite character opposite Mando in the series and in the upcoming "The Book of Boba Fett." With a Filoni and Lucas 6-inch figure on the way, it only appears to be a matter of time before Hasbro bestows Favreau with one of his own.
Until then, fans can get creative and purchase a 6-inch-tall Favreau figure as Tony Stark's faithful bodyguard, Happy Hogan, which is part of a two-pack that includes Iron Man Mark 21 in Hasbro's Marvel Legends "Infinity Saga" line. Although footage of Favreau on the set of "The Mandalorian" shows the filmmaker to be a casual dresser, his black-suited Happy Hogan figure will certainly suffice, especially since the more formal wear gives off a Hitchcockian vibe.
Christopher Nolan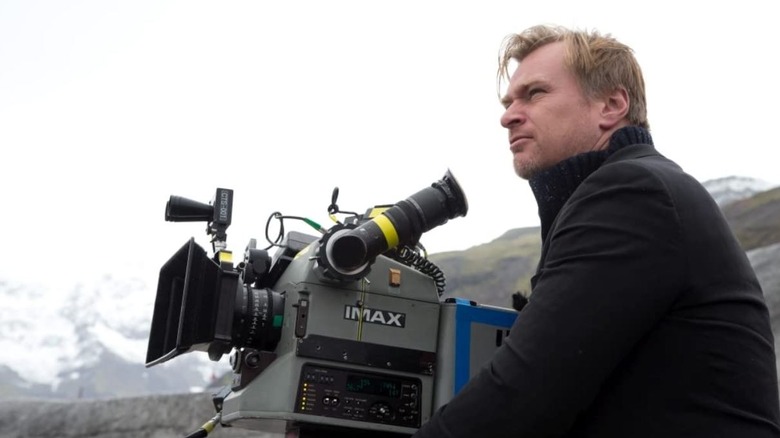 Paramount Pictures
Fans might not realize it, but if it weren't for Star Wars action figures, we could have been denied one of the greatest moviemaking minds of all time.
"I started making Super 8 films when I was 7 years old," Christopher Nolan said in a compilation of interviews in conjunction with a retrospective appearance at the Walker Art Center in Minneapolis in 2015. "My first few films were little action-figure extravaganzas, and soon, as 'Star Wars' came out and changed everything, my movies were 'Star Wars' rip-offs for years, with spaceships and action figures. They were little, mini epics. It was great fun."
Since then, of course, many of Nolan's films have inspired action figure lines and vehicles of their own, from Mattel's creations based on "The Dark Knight Trilogy" to even "Interstellar," where NECA made a two-pack of 8-inch action figures of the astronauts Joseph Cooper (Matthew McConaughey) and Amelia Brand (Anne Hathaway). 
Although the internet has occasionally has put forth its own suggestions for a Nolan figure, none exists yet. For this auteur, who frequently advocates for the biggest and best theatrical presentation possible, perhaps a figure could include his ideal accessory: an IMAX camera.
Steven Spielberg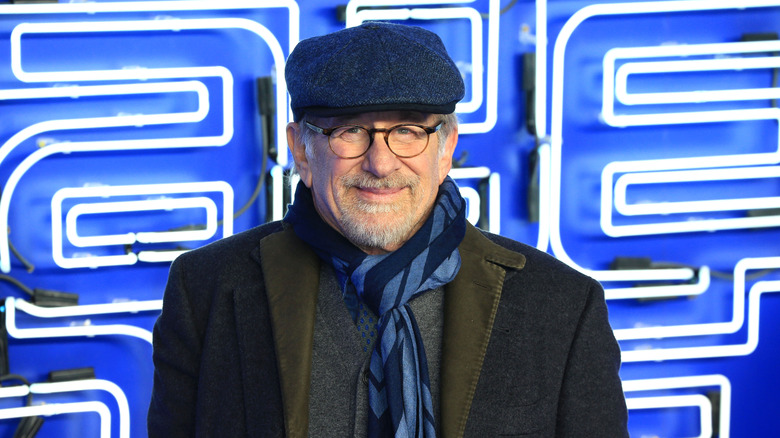 Cubankite/Shutterstock
How could there not be a Steven Spielberg action figure? From "Jaws" to the "Indiana Jones" movies to even "Animaniacs" and the "Jurassic Park" franchise, it feels like there have been so many ideal opportunities where one could have been made. 
Apart from his good friend and collaborator George Lucas, perhaps no filmmaker has had a bigger impact on the blockbuster movie business. Yet, the closest thing fans have received to a Spielberg figure came in 2000, when LEGO released the Steven Spielberg MovieMaker set, which included a LEGO minifigure of the director.
As to why there isn't a Spielberg action figure, it may simply come down to companies not being able to secure the rights; perhaps Spielberg just doesn't want one in the world — after decades of being one of the most powerful people in Hollywood, he could certainly get a figure into production tomorrow if he so wished.  
Here's hoping Spielberg will see the stunning work toy companies are doing now with action figures based on his films and decide the time is right to join Hitchcock, Tarantino and others on the shelves of collectors. Currently, Mattel is making 6-inch figures of such "Jurassic Park" favorites as Dr. Ian Malcolm (Jeff Goldblum) and Dr. John Hammond (Richard Attenborough), and NECA has an 8-inch version of "Jaws" star Robert Shaw as Quint, with a figure of Matt Hooper with the likeness of Richard Dreyfuss on the way. Or, if worse comes to worse, perhaps somebody could launch a "Blues Brothers" toy line and make a figure for the Cook County Assessor's Office clerk.
Tim Burton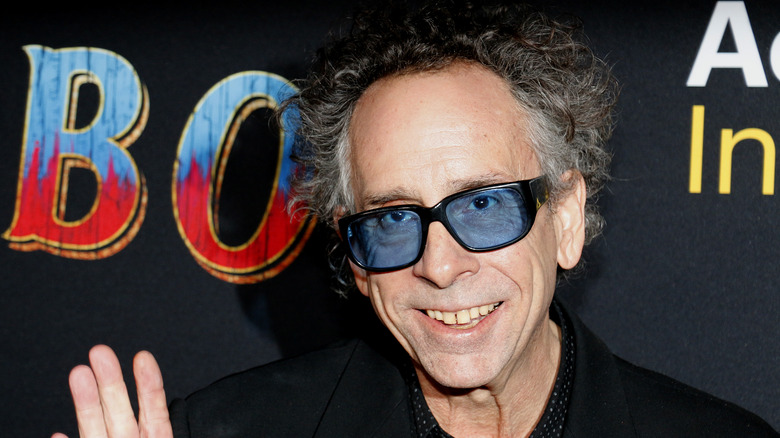 Tinseltown/Shutterstock
Tim Burton is another iconic filmmaker whose work has yielded multiple toy lines, yet the director has somehow never appeared in action figure form himself. 
With titles ranging from the "Batman" movies to "Beetlejuice," "Edward Scissorhands," "Mars Attacks," and "Alice in Wonderland," the possibilities of what his figure could look like are positively tantalizing. Taking things a step further, if a live-action figure isn't possible, imagine one based on Burton-driven projects like "The Nightmare Before Christmas," "Corpse Bride," or "Frankenweenie" — all accompanied by toy lines, any of which could serve as a gateway for a super-stylized, creepy Burton doll.
Of course, since the characters in those films — sans Jack Skellington, who has empty eye sockets — have big eyes with small pupils and are spindly-framed, an action figure of Burton inspired by his stop-motion world would have to be stylized as such. However, given their love for his animated work, especially "The Nightmare Before Christmas," it's hard to think Burton admirers wouldn't be thrilled to get their favorite director in puppet-styled action figure form.
Other directors who deserve action figure greatness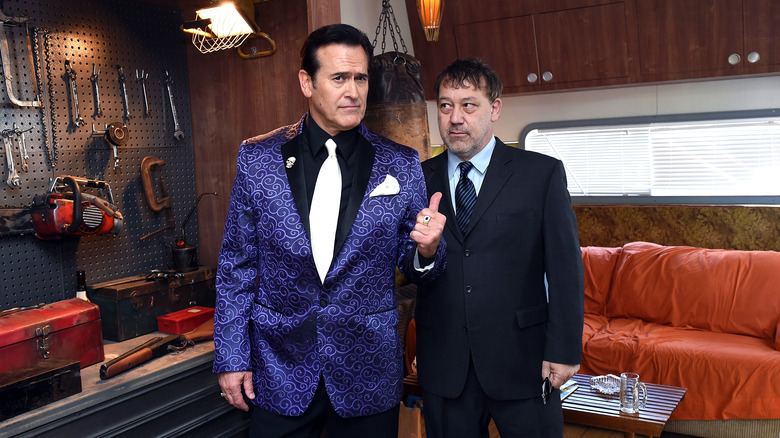 Nicholas Hunt/Getty Images
Since 2000, companies like McFarlane Toys and NECA have been producing action figures based on director Sam Raimi's "Evil Dead," "Evil Dead II," and "Army of Darkness." Those films star Raimi's longtime friend/collaborator Bruce Campbell as chainsaw-handed anti-hero Ash Williams, but the collectors who bought all those Ash figures would undoubtedly also welcome a Raimi one.
Then, of course, there's the director who just happens to also be an on-screen icon who has represented the word "action" for longer than most actors have been alive: Clint Eastwood. Believe it or not, there have been precious few attempts to translate anything from the Dirty Harry movies, the Sergio Leone westerns, classics like "The Outlaw Josie Wales" or "High Plains Drifter" or even the "'Every Which Way but Loose'/'Any Which Way You Can'" flicks into action figure form. Yup, at 91 years old, he was punching people out in "Cry Macho," yet still not an action figure to be found. 
Thankfully, high-end collectibles company Sideshow seems to have something in the works. Come on, toymakers, any Eastwood action figures from his legendary career would make our day.