The Surprise Member Of The Star Wars Universe Getting Their Own Action Figure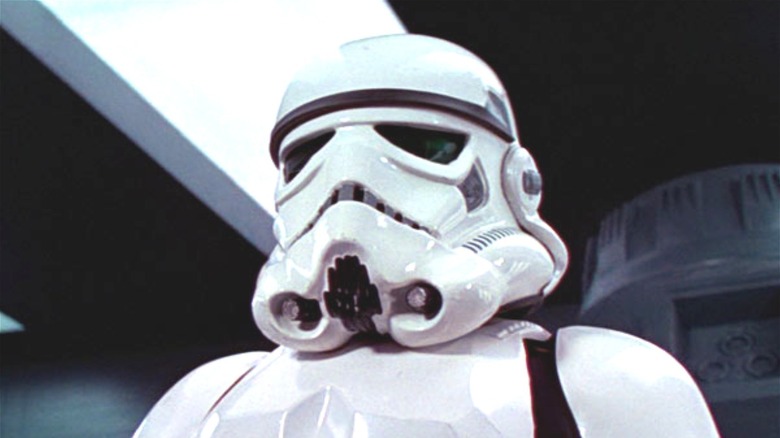 Lucasfilm/Disney
"Star Wars" forever changed Hollywood in several different ways after its blockbuster release on May 25, 1977, especially the method of how movies are marketed. One of the revolutionary ways the franchise got — and continues to get — word out about its films and TV series is through its line of action figures. Simply put, the figures allow dreaming youngsters and nostalgic adult fans to relive their favorite moments of writer-director George Lucas' sprawling space opera in the comforts of their own homes.
First produced by Cincinnati-based toymaker Kenner and now through Rhode Island toy giant Hasbro, the "Star Wars" action figure line has grown considerably over the past four decades. Originating as a series of basic 3¾" playthings with five points of articulation for the original trilogy, the figures have advanced in sophistication in the ensuing years. Today, the figures not only come with multiple points of articulation, but advanced face-printing technology has allowed Hasbro to stunningly recreate the visages of such iconic "Star Wars" characters as Luke Skywalker (Mark Hamill), Han Solo (Harrison Ford), and Princess Leia (Carrie Fisher).
Of course, "Star Wars" has produced its share of legendary masked characters, too, throughout the film and television saga, as multiple versions of Darth Vader and his Stormtroopers have been immortalized in plastic. And, as we've learned throughout the saga, those masks are definitely removable. Hiding under one of those masks is an upcoming action figure of the "Star Wars" creator himself.
Hasbro is creating a George Lucas action figure to celebrate 50 years of Lucasfilm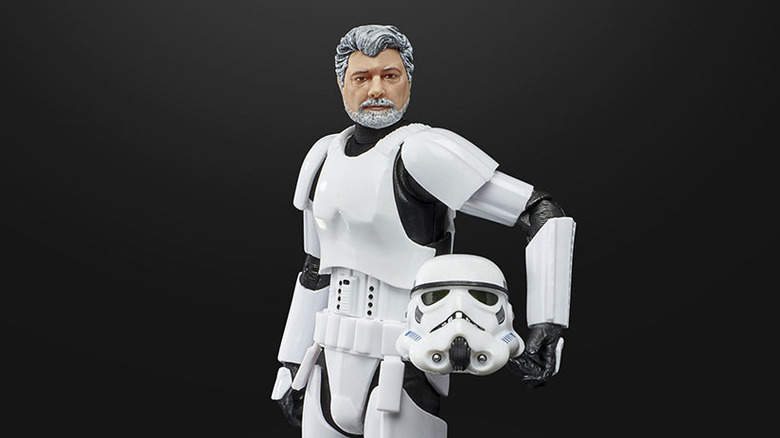 Hasbro
Adding to its slate of commemorative action figures to celebrate 50 years of Lucasfilm, Hasbro has announced (via The Hollywood Reporter) that it is producing a special figure of George Lucas for its Black Series line. Aimed at collectors, the Black Series figures allow for more detail because they are bigger in scale at 6-inches tall.
As such, the "George Lucas (in Stormtrooper disguise)" figure — which depicts Lucas in all of his grey-haired glory — will mark the first time the director has been produced as a Black Series figure. Previously, younger versions of Lucas have appeared in 3¾" form as an X-Wing fighter pilot, a "Star Wars" convention exclusive, and a Stormtrooper as a mail-away exclusive. Hasbro is making the new Lucas figure — which comes with a removable helmet and blaster — available to collectors in 2022 through an exclusive arrangement with Amazon.
"When the opportunity came to design the George Lucas figure, we were especially excited for this project, said Hasbro senior director of product design Vicky Stratford in a statement on StarWars.com. "This figure is just one of the many ways we can honor his legacy for years to come, and we hope fans cherish it as much as we did."
A new direction in action figures?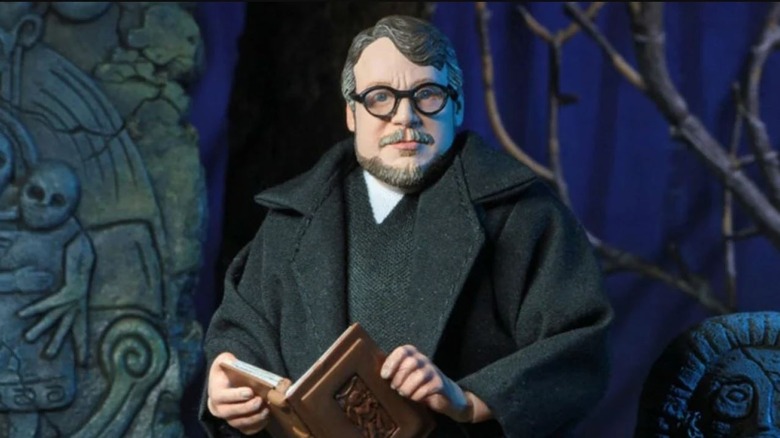 NECA
The release of the George Lucas action figure is the latest in what appears to be a growing trend in the toy industry. For the most part, action figures have generally been produced of actors or creature characters in films; but the upcoming Lucas action figure is the second figure of a "Star Wars" filmmaker in the pipeline.
In July, Hasbro announced (via Collider) that it was producing an exclusive Black Series action figure of "The Mandalorian" writer-director Dave Filoni (in his cameo X-Wing Fighter gear) for its annual PulseCon event in October. "The Mandalorian" creator Jon Favreau has yet to get his own "Star Wars" action figure, but in the meantime, diehard fans can buy a figure of the actor-slash-filmmaker as his character, Happy Hogan (Tony Stark's bodyguard) in the Marvel Cinematic Universe. According to Comics Beat, the 6-inch Favreau figure, which is packaged with an Iron Man Mark 21 figure, is available in Hasbro's Marvel Legends "Infinity Saga" line.
The production of director action figures is not exclusive to "Star Wars" and MCU movies. Another notable filmmaker to get his own action figure is Oscar-winning director Guillermo del Toro. Produced by toy and collectibles maker NECA as part of its Guillermo del Toro Signature Collection — which includes character figures from such del Toro classics as "The Devil's Backbone," "Pan's Labyrinth," and "The Shape of Water" — the eight-inch figure of the director was an exclusive at San Diego Comic-Con in 2018 (via /Film).