The Best Time Jennifer Leigh Ever Broke Character In The Hateful Eight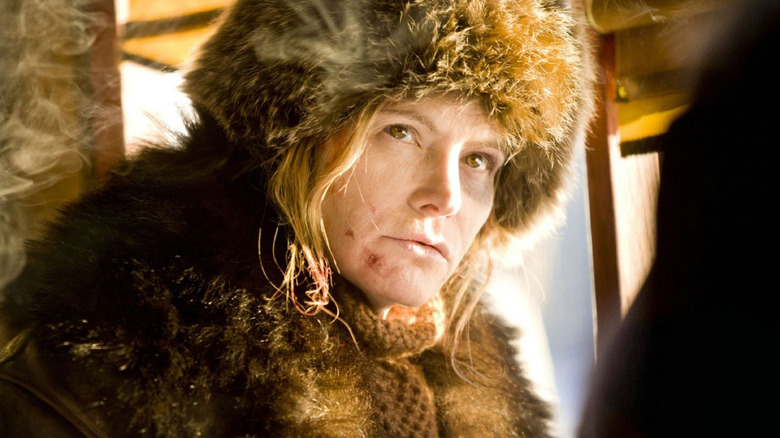 TWC
Quentin Tarantino's 2015 Western thriller "The Hateful Eight" is an enjoyably tense time, a mixture of Old West bravado and a noir mystery piece feature a group of shady individuals weathering a fierce winter storm. Bounty hunter John "The Hangman" Ruth (Kurt Russell) has only one thing on his mind: turning in the nefarious outlaw Daisy Domingue (Jennifer Leigh) over to the authorities at Red Rock, Wyoming, and collecting a sizable bounty. Riding a stagecoach through the winter landscape, the pair soon encounter Major Marquis Warren (Samuel L. Jackson), another bounty hunter, and Chris Mannix (Walton Goggins), a man claiming to be the recently appointed Sheriff of Red Rock.
Lost in the storm, the stagecoach is forced to take shelter at Minnie's Haberdashery, a way station located on a lonely mountain pass. There they're met by four more strangers: Bob (Demián Bichir), who's looking after the place while Minnie is away, Oswaldo Morbray (Tim Roth), the hangman of red rock, cow-hand Joe Gage (Michael Madsen), and retired Confederate General Sandford Smithers (Bruce Dern).
A shocking, smashing scene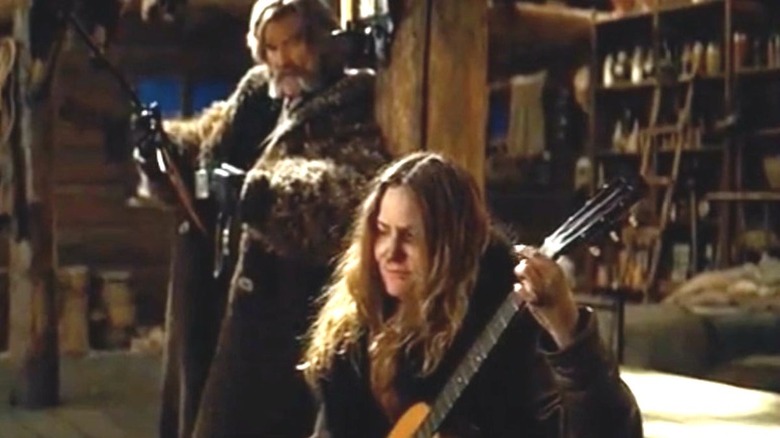 TWC
At one point during the nefarious doings at Minnie's, Daisy takes a guitar and begins to play a tune, singing the folk song "Jim Jones At Botany Bay" and generally showing off her talent with the guitar to the assembled people in the room. In a moment of annoyed pique, Ruth takes the guitar and without a word smashes it to pieces, completely shocking Daisy and leaving her absolutely speechless. It's a moment filled with tension and uncertainty, as by this point we're not entirely certain who to empathize with. It's also a moment that Tarantino left in the film when a miscommunication led to Leigh's shocked reaction (via Screen Rant).
The guitar used in the scene was an antique from the 1870s worth approximately $40,000 dollars and on loan from the Martin Guitar Museum. When Russell was scripted to destroy the guitar, six replicas were created for the purpose of being smashed into splinters. Unfortunately, due to a miscommunication, Russell was under the impression the guitar had already been replaced with one of the replicas and broke it to bits. Leigh's reaction in the scene is 100% genuine, and eagle-eyed viewers can see her looking out at the crew in absolute shock rather than facing John and the door, as she does in the following shot.
As a result of the mishap Martin has since enacted a policy to never lend guitars on movie sets ever again. Given how costly this mistake proved, that's likely a wise precaution.