Why The Phone Call Voices In The Guilty Sound So Familiar
This content was paid for by Netflix and created by Looper.
"The Guilty" takes the concept of phoning it in to all-new levels. The film, which is directed by Antoine Fuqua, features Jake Gyllenhaal as Joe Baylor, a police officer who has to spend an intense night working the dispatch lines as he awaits a morning court hearing that will decide his future with the force. Throughout the evening, he fields calls of all stripes, and with a wildfire raging throughout Los Angeles, he also grapples with an already-strained response system.
Though there are a few folks who share the screen with Gyllenhaal — including Adrian Martinez as the kind but agitating dispatcher Manny — some of the most compelling characters of the story aren't seen but heard through the call system. In fact, the bulk of the action takes place over the phone as Joe attempts to navigate some complicated rescues from a distance. And chances are good that you might recognize some of the talented actors who lend their vocals to "The Guilty," so here's a look at why the phone call voices in the film sound so familiar.
Emily Lighton (Riley Keough)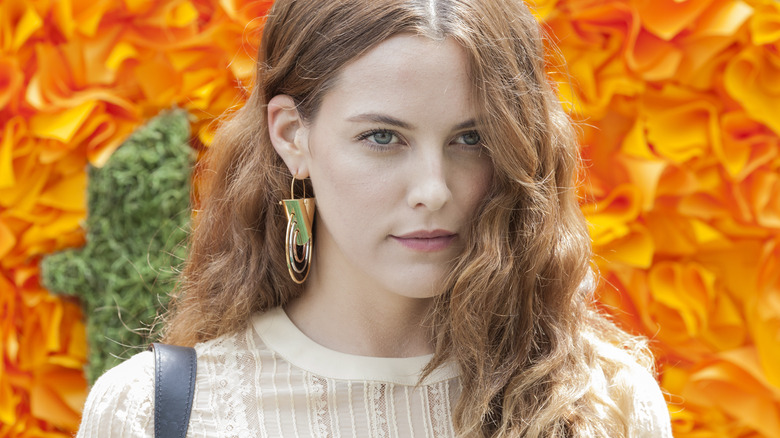 lev radin/Shutterstock
Apart from Joe, the star of "The Guilty" is undoubtedly Emily Lighton, who's voiced by Riley Keough. When Emily calls in, cleverly pretending that she's speaking to her child, Joe realizes very quickly that she's in trouble and chooses to go along — over the phone, of course — for her ride in that mysterious white van. Convinced that Emily has been abducted, Joe takes extraordinary measures to find her and becomes personally invested in an elaborate rescue effort of his own direction.
Keough puts on a marvelous performance as the puzzling voice at the end of the line, and with her credentials, it's no wonder she does such a phenomenal job pulling off this complex character from start to finish. Keough was born to be famous, as the granddaughter of the legendary Elvis Presley and the daughter of Lisa Marie Presley. But she's also made quite a name for herself in the acting industry, with memorable performances in films like "Mad Max: Fury Road," "The Girlfriend Experience," and "American Honey." Recently, she stunned with her performance as a very different kind of passenger in "The Devil All the Time" — which Gyllenhaal produced, by the way — and as the wildly unpredictable Stefani in "Zola."
Henry Fischer (Peter Sarsgaard)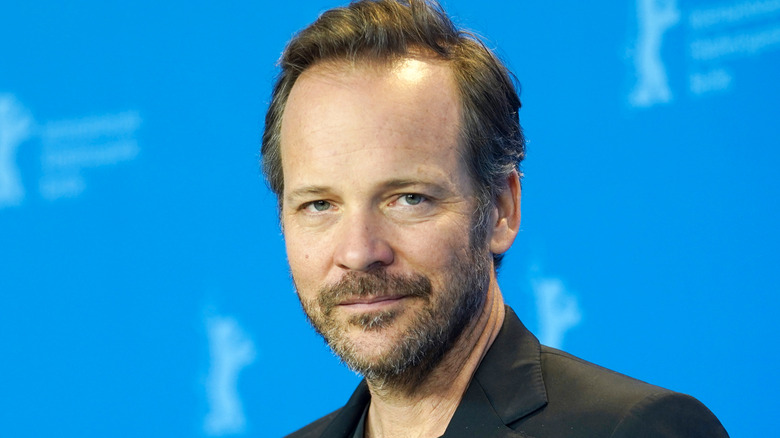 Denis Makarenko/Shutterstock
Another major player of the phone game in "The Guilty" is Peter Sarsgaard, who portrays Emily's ex, Henry Fischer. Throughout his conversations with Joe, Henry is reluctant to reveal his true intentions in abducting Emily, and Sarsgaard does a marvelous job navigating the line between making Henry a dangerous and despicable character and making him a somewhat sympathetic one by the end.
Sarsgaard is one of the most well-respected actors in the business because he's consistently great in every role, including this one. Fans may most recognize him for his work in films like "Shattered Glass," "Garden State," "Kinsey," and "An Education," but he's also stunned on the small screen with series like "The Killing" and "Interrogation." Plus, he's worked with Gyllenhaal in the past in the films "Jarhead" and "Rendition," and he's had experience working with Fuqua before as well, starring as the villain in the director's 2016 remake of "The Magnificent Seven."
Abby (Christiana Montoya)
Young actress Christiana Montoya makes a major breakout in the role of little Abby, the daughter of both Emily and Henry. In her calls, Montoya successfully conveys the fear and confusion of a little girl whose household has been upended by her mother's disappearance, along with the unreliable narration of a child who doesn't understand the gravity of what she's witnessing and certainly can't convey it properly. Her cherubic voice also helps convince us that this is the kind of case that would completely captivate Joe, as his fight to save Emily becomes about more than just rescuing her but fulfilling a promise he makes to Abby.
Montoya is a star on the rise, with an already impressive filmography that includes the short film "Bea at Rehab," the Manchester Orchestra's music video for "Bed Head" (pictured above), and the television movies "Picture Perfect Lies" and "A Dangerous Defense." And with the kind of emotional resonance that she manages to pull off by her voice work alone, we can bet she's got a very sunny future ahead of her too.
Rick (Eli Goree)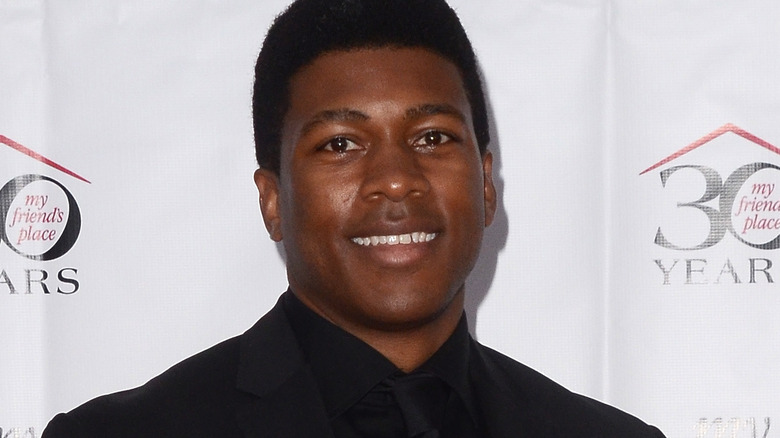 Kathy Hutchins/Shutterstock
Another call-in character that manages to pull on all the heartstrings in "The Guilty" is Rick, Joe's police partner who's also preparing to be the star witness at Joe's upcoming hearing. As we hear in their conversations, Rick is experiencing some serious hesitation about the testimony he'll be expected to give in the morning, but he's still as solid as a rock when Joe needs him to step up and kick in Henry Fischer's door to find out some vital information on him as the kidnapping continues.
Rick is portrayed with some serious gravitas by Eli Goree, a highly prolific actor who you might recognize from his roles in movies and television. Film fans are likely to recognize him for his roles as Dave Albritton in "Race" or as Cassius Clay/Muhammad Ali in "One Night in Miami..." Meanwhile, television audiences will no doubt remember him as Wells Jaha in "The 100," Quincy Carter in "Ballers," and as Mad Dog in "Riverdale."
Sgt. Bill Miller (Ethan Hawke)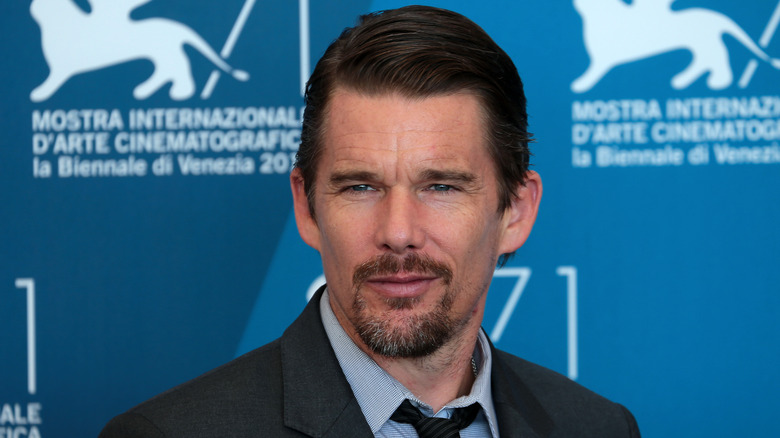 Matteo Chinellato/Shutterstock
Perhaps the most cavalier character that Joe comes into contact with throughout "The Guilty" is Sergeant Bill Miller, who has, like Joe, been relegated to phone duty — albeit, for very different reasons. Sgt. Miller is clearly close to Joe and sympathetic to his plight, and he even coaches him a bit on how to have the best outcome at his upcoming hearing. Throughout the night, though, Joe has to ring up Sgt. Miller for some assistance with Emily's case, and the sarge becomes increasingly concerned about and stern with Joe.
The character is critical to fleshing out Joe's dark history and the haughty mindset he's in when we first meet him, and who better to make such a pivotal voice role work than the incredible Ethan Hawke? For starters, Hawke is a frequent collaborator of Fuqua's, having starred in several of his prior films, including an Oscar-nominated turn in "Training Day," along with roles in "Exit Strategy," "Brooklyn's Finest," and "The Magnificent Seven." Hawke is also known for so many other screen roles, including his celebrated work in movies like the "Before Sunrise" trilogy and "Boyhood" and television series like "The Good Lord Bird." With over three decades of incredible work under his belt, Hawke is still one of the most in-demand actors of his time, so it's hardly a wonder his voice in this film rings so true.
CHP Dispatcher (Da'Vine Joy Randolph)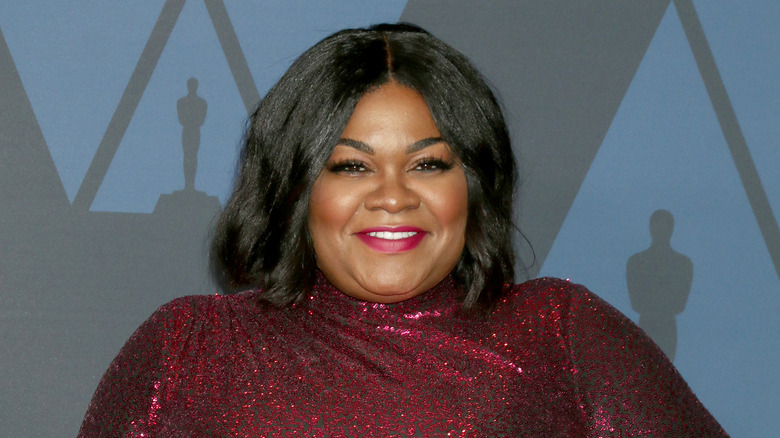 Kathy Hutchins/Shutterstock
Throughout Joe's terrible night of trying to track down Emily, another frequent contact for our protagonist is a dispatcher for the California Highway Patrol. She wants to help him with his rescue effort, but she also doesn't have time for Joe's histrionics when he has such little information to go on, especially since she has so much on her own plate, what with a massive natural disaster in progress all around them.
That no-nonsense CHP dispatcher is voiced by Da'Vine Joy Randolph, who's quickly become one of the most important working actresses on the television scene. Chances are, you've seen her on-screen before in her small-screen roles in series like "Selfie," "Empire," and "High Fidelity," and she's also appeared in several memorable film roles, including Roslyn in "The United States vs. Billie Holliday," Jenny in "Kajillionaire," and Lady Reed in "Dolemite Is My Name."
Katherine Harbor (Edi Patterson)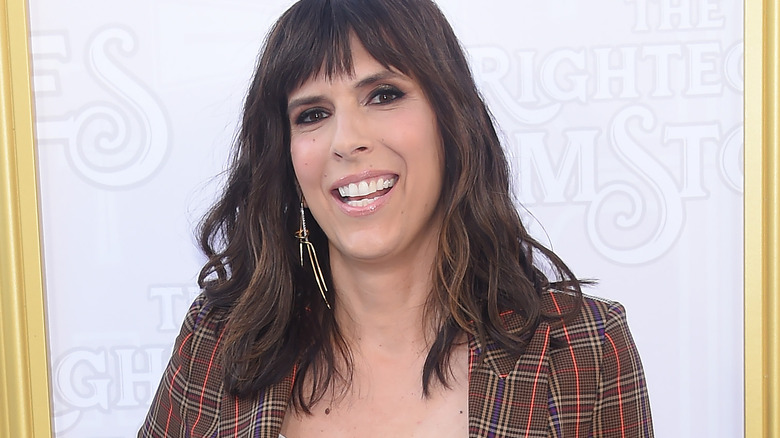 DFree/Shutterstock
One character who proves to be a real thorn in Joe's side throughout his troubled night at dispatch headquarters is a reporter named Katherine Harbor, who calls him several times seeking comment or insight into his upcoming legal dilemma. Though she doesn't offer many details about her planned coverage — or even the case at the center of her investigation — she does promise to give him a fair shake to tell his own side of the story, even though he rebuffs her offers multiple times.
Harbor is voiced by actress Edi Patterson, who's amassed an impressive filmography over the last several years. You may recognize her voice from her work on the animated television series "We Bare Bears," but she's also known for her on-screen work in series like "Vice Principals," "The Last O.G.," and "The Righteous Gemstones." And fans of detective movies will definitely recognize her as Fran the housekeeper from "Knives Out," a small character who winds up playing an absolutely crucial part in solving the mystery around the death of a famed novelist.
Jess Baylor (Gillian Zinser)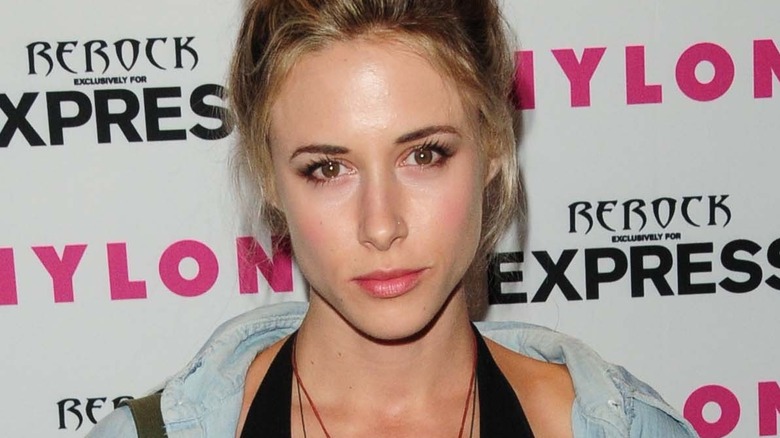 s_bukley/Shutterstock
Of all the upsetting calls that Joe fields throughout the night, perhaps the ones that hit him the absolute hardest are those he shares with his apparent ex-wife, Jess Baylor, who's voiced with heartrending effect by actress Gillian Zinser. Jess, who shares a child with Joe, is clearly invested in her ex's wellbeing and is patient as he engages in his late-night rants on the phone. However, we also get to hear just how completely exhausted she is by dealing with his erratic behavior long before the evening in question, as she refuses to budge on his desire to strengthen his relationship with both her and their daughter.
As Jess, Zinser is collected and firm, but she's also very careful in choosing her words for maximum effect. As for where you may have seen (or heard) her before, fans will know Zinser for her previous work in series like "90210" and "Stumptown," along with films like "Holy New York."
Dru Nashe (Beau Knapp)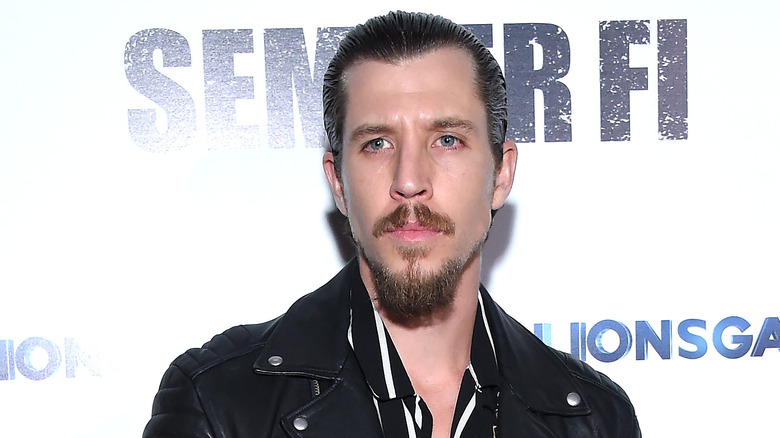 DFree/Shutterstock
Voiced by actor Beau Knapp, Dru Nash is a caller who doesn't garner a whole lot of affection from Joe during his night at the dispatch center. Granted, Dru's call comes early in the night, before the heaviness of the evening truly sets in, but Joe doesn't have a lot of sympathy for the guy and considers his plight to be one of his own making, especially since Dru has no interest in having the police or an ambulance attend to him.
As for the actor himself, fans may recognize Knapp's voice from any number of his roles, including in his previous collaboration with both Fuqua and Gyllenhaal in the boxing flick "Southpaw," along with films like the detective drama "Destroyer," Eli Roth's "Death Wish," the hilarious mystery comedy "The Nice Guys," and sci-fi thriller "The Signal," along with series like "Seven Seconds" and "The Good Lord Bird."
Matthew Fontenot (Paul Dano)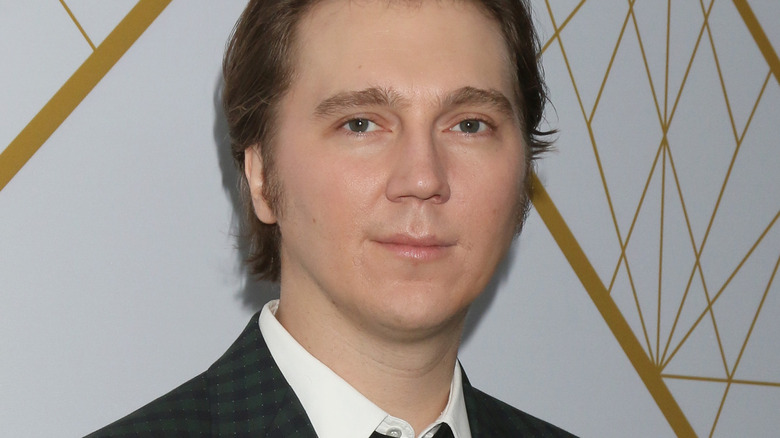 Kathy Hutchins/Shutterstock
A caller who does little to inspire any policing instincts in Joe Baylor, Matthew Fontenot claims to have lots of friends in high places. He says he's in town purely for business, but he finds himself in quite the sticky situation after an unfortunate robbery. As Joe deduces, his new caller has been separated from his wallet and laptop after eliciting certain services from a person in the financial district, and Joe is highly unimpressed by Matthew's cover story or his unwillingness to step out of the vehicle to read out the license plate on his fancy rental car.
Fans may recognize the voice of Matthew Fontenot as none other than actor Paul Dano, the celebrated star of films like "There Will Be Blood," "Little Miss Sunshine," "Prisoners," and "Love & Mercy." In addition to big Hollywood films, Dano has made a number of celebrated small screen appearances in miniseries like "War and Peace" and "Escape at Dannemora," cementing himself as one of the best character actors of his generation.
Patrolman Rodrigues (Terence J. Rotolo)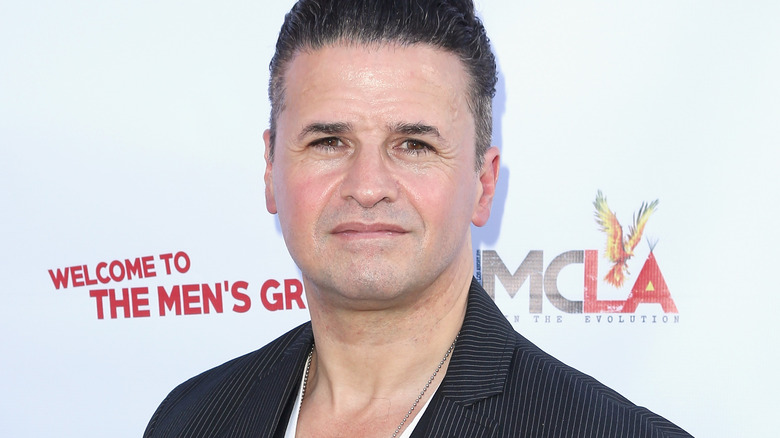 Tasia Wells/Getty Images
One of the most dispiriting calls of this difficult evening at dispatch comes when Joe is connected with a California Highway Patrol officer by the name of Rodrigues. The patrolman follows a lead to pull over a white van on the highway, based on Emily's description of her captor's car, and discovers that this isn't the right vehicle. In fact, given the thick cover of smoke from the wildfire in progress, it might not even be the right color of van that was noted on the bulletin.
Patrolman Rodrigues is voiced by Terence J. Rotolo, who's been impressing audiences with his acting and stunt work for decades. Rotolo previously worked with director Fuqua on "The Magnificent Seven," and he's also known for his work in TV's "Power Ranger" series and films like "Dead Rising," "The Scorpion King," and "Master and Commander," just to name a few projects.
Crashed cyclist (Dillon Lane)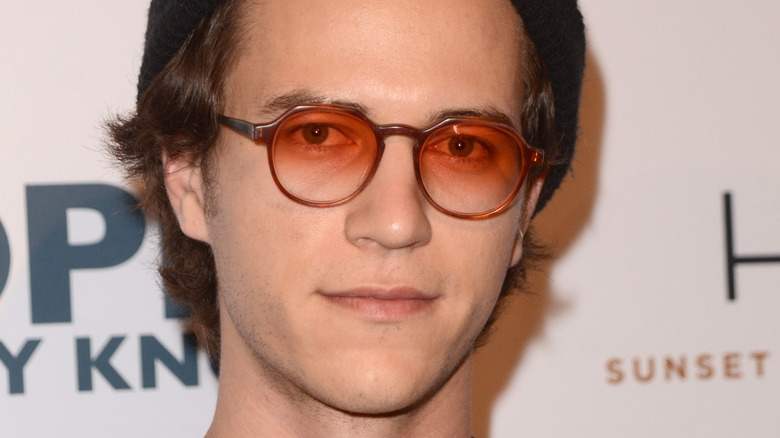 Kathy Hutchins/Shutterstock
One 911 caller who gets little attention or care from Joe Baylor during his no good, very bad night at dispatch is a victim of a cycling crash. Unfortunately, the poor guy calls in at a moment when Joe desperately needs to keep his line open in case Emily tries to patch into him again. Though the cyclist claims he has an injury to his knee, Joe has absolutely zero intention of following through on that case and instructs him, with little patience, to call for a rideshare and avoid hitting the road after too many drinks.
Voicing this unfortunate sap is actor Dillon Lane, who fans may know for his small screen work in series like "Bucket and Skinner's Epic Adventures," "Modern Family," and "Better Things," not to mention an appearance in Season 2 of the hilarious comedy sketch show "I Think You Should Leave with Tim Robinson."
Nightclub caller (Bill Burr)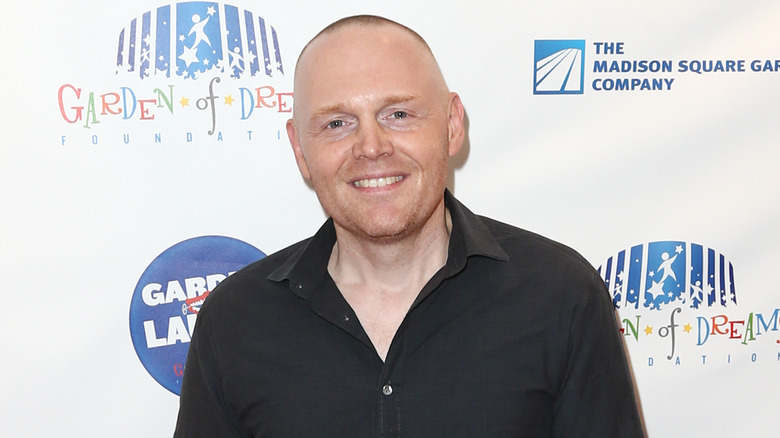 Debby Wong/Shutterstock
Perhaps the caller who gets the very least amount of help from the distracted Joe during his call into dispatch is the unnamed fellow who dials 911 for some assistance getting into a nightclub. According to his initial report, this chap's attempt to patronize a place called The Barracuda doesn't go as planned, as the doorman has reportedly launched an offensive against our caller and his crew. However, Joe has absolutely no time or energy to waste on the guy and even throws a few four letter words his way as a parting gift before slamming the phone down on him.
The voice at the end of this colorful call may sound pretty familiar because it's none other than Bill Burr, who fans can frequently hear using such choice words in the animated series "F Is for Family." You may also know Burr for his many electric comedy specials, including "I'm Sorry You Feel that Way," "Walk Your Way Out," and "Paper Tiger," or even his more dramatic work in series like "Breaking Bad" and "The Mandalorian."
Tim Geraci (David Castañeda)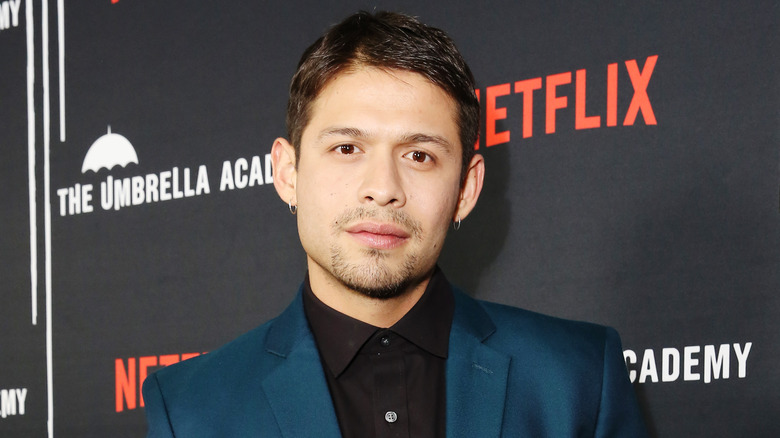 Rachel Murray/Getty Images
Undoubtedly the most devastating call that Joe has to deal with all night is the one from Tim Geraci. He's a Los Angeles Police Department officer who responds to a request for a visit to the home of the abducted Emily Lighton to perform a welfare check on Abby and her baby brother, Oliver ... and he discovers a horrific scene. While young Abby is well enough upon Tim's arrival, and he's able to coax her into trusting him and his partner, Tim makes a terrible discovery in Oliver's room that changes the entire story about what's going on between Henry and Emily.
The character of Tim is voiced by actor David Castañeda, who may be best known for his role as Diego Hargreeves in "The Umbrella Academy." Castañeda has also starred in series like "Switched at Birth" and "Jane the Virgin" and films like "Sicario: Day of the Soldado." But even without showing his face in "The Guilty," the actor makes a lasting impression with his performance as the officer who gets a good look at what the characters in this film are capable of.